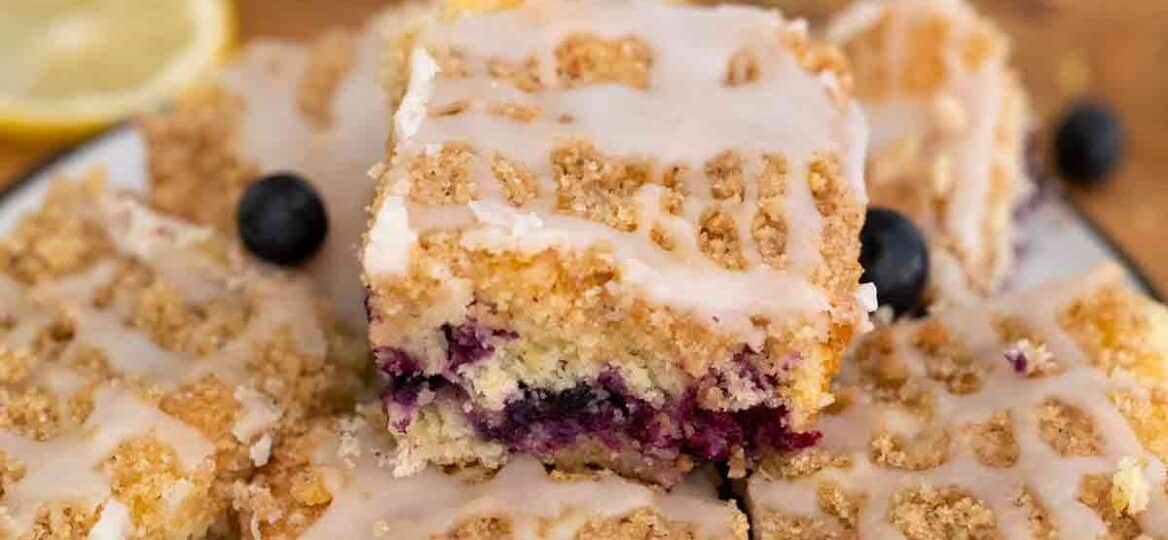 Blueberry Buckle Recipe [Video]
Blueberry Buckle is an old-fashioned dessert bursting with juicy blueberry flavor! This dessert is the perfect go-to for comfort food on a hot summer day!
Can't get enough of the taste of berries? Make sure to check out my recipes for Raspberry Angel Food Cake, Cranberry Cheesecake, and Arugula Strawberry Salad.
Homemade Blueberry Bars Recipe
Blueberry Buckle is a nice twist on the classic coffee cake. It has a buttery crumb top with a moist filling that easily melts in your mouth.
Furthermore, blueberries are loaded with antioxidants which makes your skin look great and helps fighting aging. It also helps regulate blood sugar so don't feel too guilty munching on it.
This recipe is also great even when using other fresh or frozen fruits. So, if you have loads of them in your fridge, you should really try making this one.
Not a lot of people have tried a buckle dessert that is why it is great to let them taste something new.
In addition, it is so easy to make that even amateur bakers can follow. I hope you enjoy baking this delicious delight.
What is a buckle?
It is a cake loaded with varying kinds of fruits from berries to cherries. They are also topped off with a crumbly mixture.
How to make Blueberry Buckle?
Prep oven. Grease desired container pan. Preheat your oven to a degree of exactly 350F.
Mix ingredients in separate containers. Whisk sugar, butter, egg, lemon juice, and zest. In a separate bowl, mix flour, baking powder, and salt.

Add fruit for filling. Combine the two mixtures. Add milk in between. Pour the blueberries with cornstarch.

Prep toppings. Mix butter, sugar, flour, cinnamon, and nutmeg.

Bake. Pour batter on greased pan. Lay down the mixture of finely crushed toppings. Then, pop it in the oven for 40 minutes.

Serve. Let it cool first before serving. Mix powdered sugar and lemon juice for the glaze. Drizzle it once cool and then serve.
Does blueberry buckle need to be refrigerated?
If you want to keep it longer, then you really need to have it refrigerated. For a shorter time, just leave it in a container with a cover and then refrigerate. You can enjoy it for up to 2 days.
Otherwise, you can also cover it in plastic wrap or a zip lock bag and place it in the freezer. This will keep it fresh for at least a month.
Best Blueberry Buckle toppings:
Although the classic topping combination is nutmeg and cinnamon, you can spice things up by following different variations. Another favorite of mine is ginger crumb which simply consists of a mixture of sugar, flour, candied ginger, and melted butter.
A healthy variation is a gluten-free streusel. You can do this simply by replacing all-purpose flour with a gluten-free baking blend. Finely chopped nuts which consist of walnuts and hazelnuts also taste splendid as toppings.
More delicious desserts:
A bite of a sweet dessert can turn a bad day around. Knowing how to bake one is great so you can easily have comfort food whenever you crave some.
As such, make some of my delicious dessert recipes:
Recipe Tips:
This dish can be served as bars which is perfect when you have guests. However, if you're eating it with a small number of people, such as your close family and friends, you can eat it directly from the pan.
Aside from blueberries, you could also try this recipe with other fruits such as granny smith apples, peaches, and plums.
Try pairing this sweet delicacy with a nice hot cup of London Fog Latte or even cold caffeine such as Spicy Iced Coffee Latte.