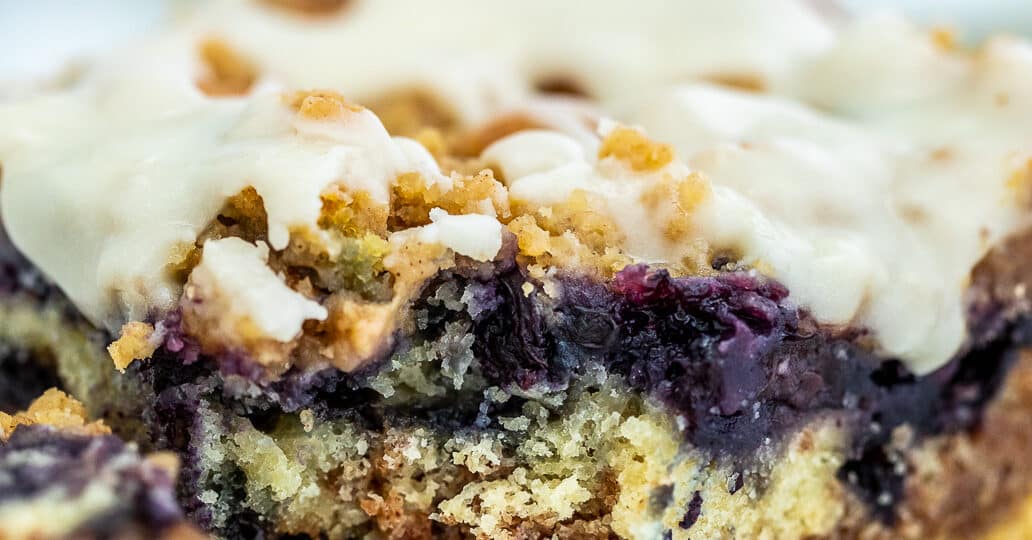 Blueberry Coffee Cake Recipe [Video]
Blueberry Coffee Cake is such an ideal coffee companion for its perfect tango of sweetness and sourness. Hot or cold, it is a flavorful and super delicious dessert!
If you want a fruit-based dessert, try this recipe! Also, check out the other recipes like Blackberry Cobbler, Pumpkin Mousse, and Strawberry Banana Bread.
Blueberry Coffee Cake (aka Boy Bait)
This Blueberry Coffee Cake is moist, fruity, and crunchy at the top with the streusel. I love it with my cappuccino in the morning and with this pastry, my breakfast is complete!
It does not need too many ingredients and it is really easy to make. And I also like how pretty and festive this dessert is! Also, the blue color simply adds more personality and makes it even more appetizing. It is quite addicting, too. Even without a latte, I will still devour this dessert and my husband likes it, too.
This has become his excuse for enjoying a nice cup of espresso. No wonder why this dessert is sometimes called Boy Bait. It was the name of this dessert as called by the teenage girl who entered a baking competition in the 1950s and placed second.
What is a coffee cake?
It is a pastry that can be served as a dessert or as breakfast. It usually does not have coffee as an ingredient, but it is called as such because it pairs well with the caffeine-laden drink.
The Europeans, particularly the Germans and the Scandinavians, brought the recipe in America. The original recipes included yeast, flour, dried fruits, and spices.
But centuries later, the recipe changed a bit with the addition of other ingredients like fresh fruits, cheese, and whatnots. Usually, it has streusel toppings as also present in this recipe.
How to Make Blueberry Coffee Cake:
Feel free to watch the recipe video tutorial attached. It shows all the steps taken to make this easy recipe.
Prep for baking: Lightly grease the pan and sprinkle some flour.
Make the cake: Combine the dry ingredients into a flour mixture. Then, add-in the butter. Mixing these will result in a crumbly mixture. Next, add the eggs and the rest of the batter ingredients until soft and fluffy. Fold in the blueberries. Pour half of this batter into the pan.
Fill in: Simply put in all the ingredients in a bowl then, combine. Then, put a layer on top of the batter and finish off with the remaining batter.
Top with streusel: Combine the ingredients with a fork to form the crumbly texture. Sprinkle on top of the batter. Then, add more berries on top, too.
Bake: Put it in the oven and bake for about 45 to 50 minutes at 350 degrees Fahrenheit.
Glaze: Prepare it by mixing sugar, milk, and vanilla extract. Once the cake has cooled, drizzle the glaze on top and serve.
How do you make a crumble topping?
You only need to mix these basic ingredients: butter, flour, and sugar. Also, add some cinnamon. It adds a lot of flavor to it!
Combine the cinnamon and sugar, and then, pour in the melted butter. Then, add the flour and the whole thing will solidify. Next, using a fork or your fingers, combine everything until crumbly. It is that simple!
Can I use frozen blueberries to make it?
Yes, sure! Don't thaw the frozen fruits anymore or it will be watery. Then, simply just att them directly to the batter.
How to Store Blueberry Coffee Cake?
Refrigerate: For up to a week, leave it sealed in an airtight container in the fridge.
Freeze: It freezes well and you can consume it within 3 months. Just wrap it tightly or put it in a freezer bag.
Recipe Tips:
For other flavors, try cranberry and cherry with cream cheese.
To make it gluten-free. Simply replace the flour with a gluten-free version of blended flour. Also, you may need to add xanthan gum. This will act as a binder in the absence of gluten.
The buttermilk adds tang, too. See this post for a homemade buttermilk substitute.
Also, if you are looking for the Classic Coffe Cake recipe, you can find it in this link.