Strawberry Banana Bread [video]
Strawberry Banana Bread is like a smoothie in solid form! It is refreshingly sweet, moist, perfect for summer, and just a great way to enjoy these fruits! Also, watch the short video tutorial below and learn how to make this recipe hassle-free!
This recipe is as easy as our other bread recipes like the Snickerdoodle, Lemon Poppy Seeds, and Homemade Brioche!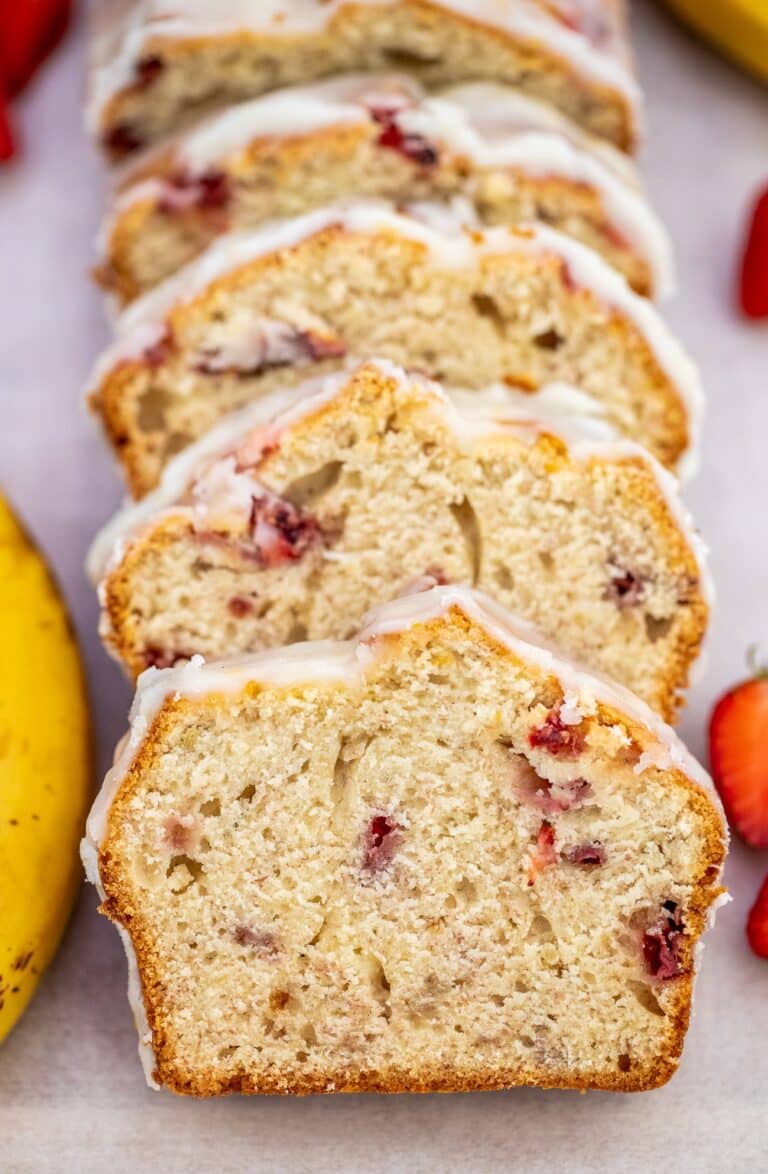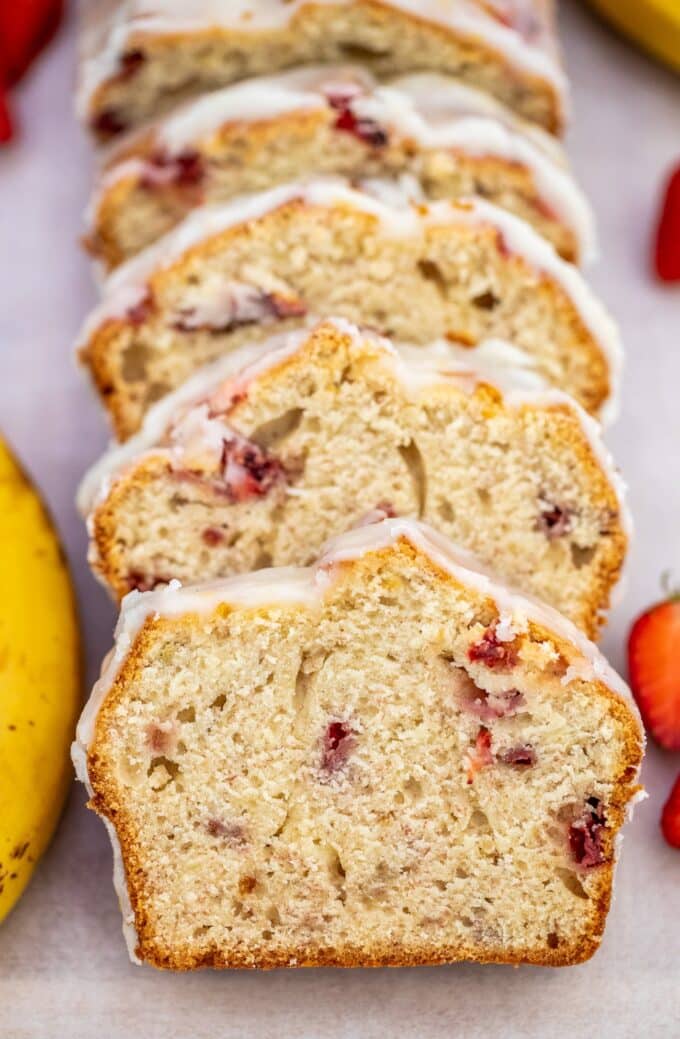 Strawberry Banana Bread Recipe
Strawberry Banana Bread features two of my most favorite fruits of all time. I am glad that they go really well together. We even have a smoothie recipe combining both!
Both fruits are extremely flavorful and healthful, too. They have antioxidants, high levels of potassium, and what the berries lack in carbohydrates, the bananas can balance out.
With the addition of the berries, more flavors burst, and a touch of color is added. In this easy recipe, we use lemon glaze. The banana is sweet naturally and the slight sourness from the berries and lemon is a welcome balance.
This pastry is a classic and will always be a crowd favorite. It is a light snack perfect for a midday break. Or, you can have it for breakfast, too. It is so easy to make! Make one now!
What is banana bread:
It is a kind of loaf made with bits of ripe bananas. These bits add moisture and sweetness to the pastry.
In fact, people invented it following the Great Depression when food was scarce. People did not want to waste food, even bananas which are about to go bad.
And since the manufacturing of baking powder and baking soda also began around that same time. Then, the banana bread was invented.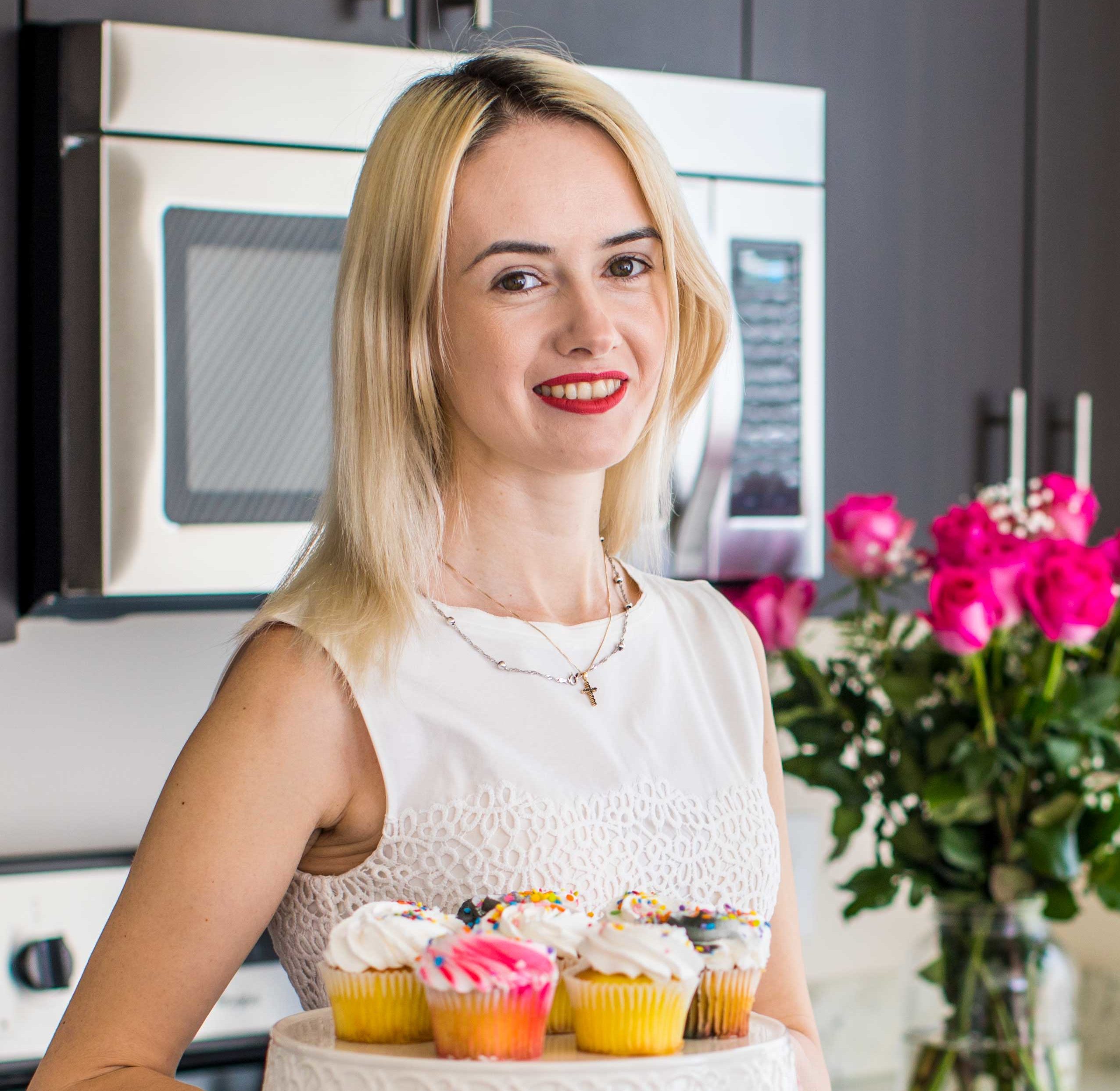 Follow us on Pinterest for more delicious recipes!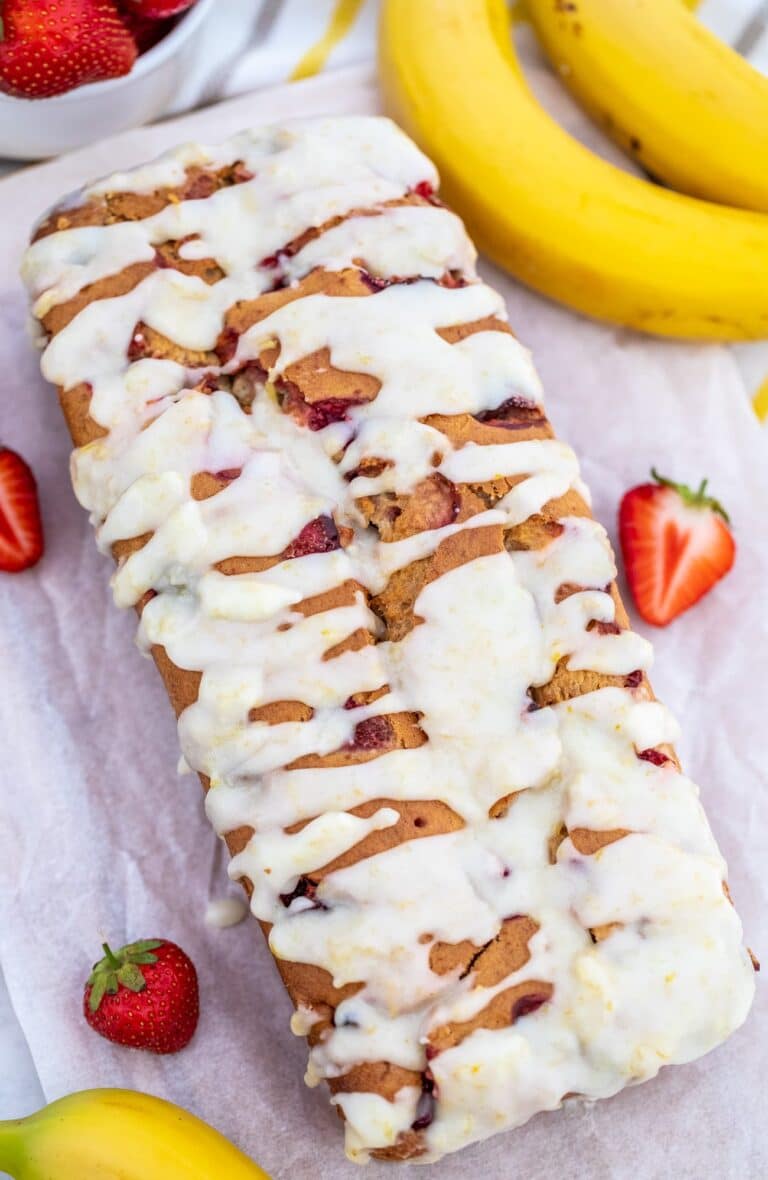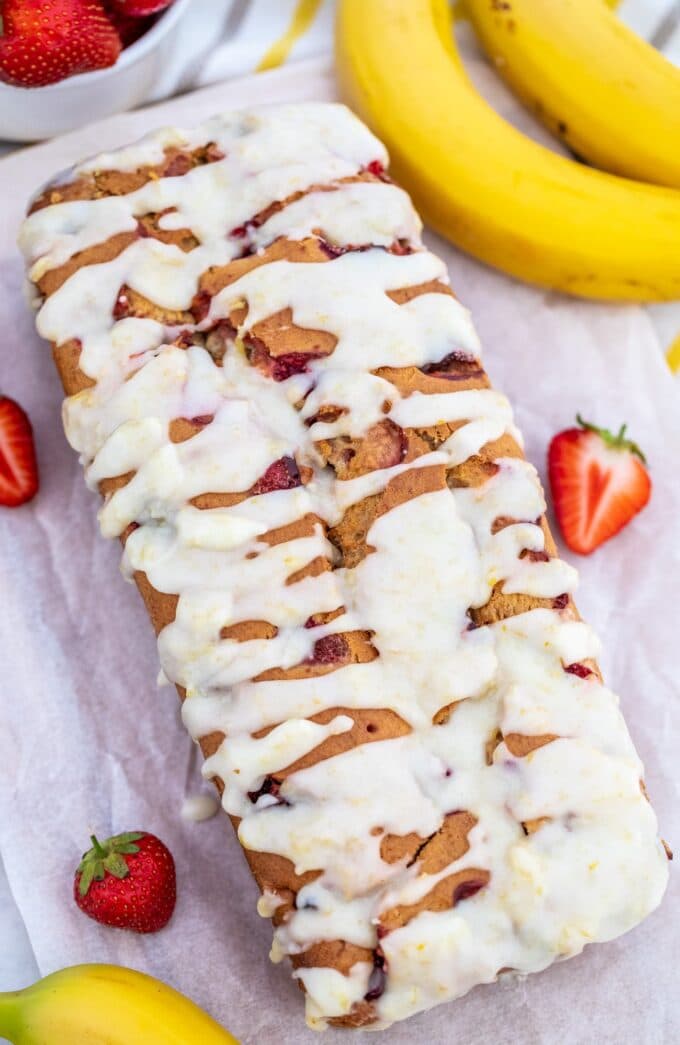 How do you make strawberry banana bread:
Prepare for baking: Preheat the oven at 375 degrees and then, spray the loaf pan with non-stick spray.
Prepare the flour mixture: Combine flour, baking soda, and salt in a bowl. Set this aside.
Cream the butter and sugar: Let the butter warm up to room temperature by leaving it at the counter for about an hour. Then, in a large bowl, once soft, mix the sugar with the butter until you form a mass of creamed butter about double the original.
Add in the wet ingredients: In the same bowl, add in the eggs, mashed bananas, sour cream, and vanilla.
Incorporate the dry ingredients: While mixing, slowly add in the flour mixture as well as the flour-covered strawberries.
Bake: Transfer into a loaf pan and bake for 15 minutes. Then, lower the temperature to 350 degrees and bake for about 30 minutes more. Check for doneness by inserting a toothpick (should come out with just a few crumbs).
Cool: Let the bread cool before transferring to a wire rack.
Glaze: Mix together the confectioner's sugar, lemon juice, and lemon zest until desired consistency. Drizzle this lemon glaze over the bread.
How do you make fluffy banana bread:
To make it fluffier, you can add some oil. Also, sifting the flour aerates it and results in a fluffy and moist bread.
How to keep banana bread moist after baking:
You can wrap the whole thing with plastic wrap and then either refrigerate it or freeze it for later.
Can you use fresh strawberries for strawberry banana bread:
Yes! Just toss them with flour before putting them into the batter so that they will not sink or add too much water.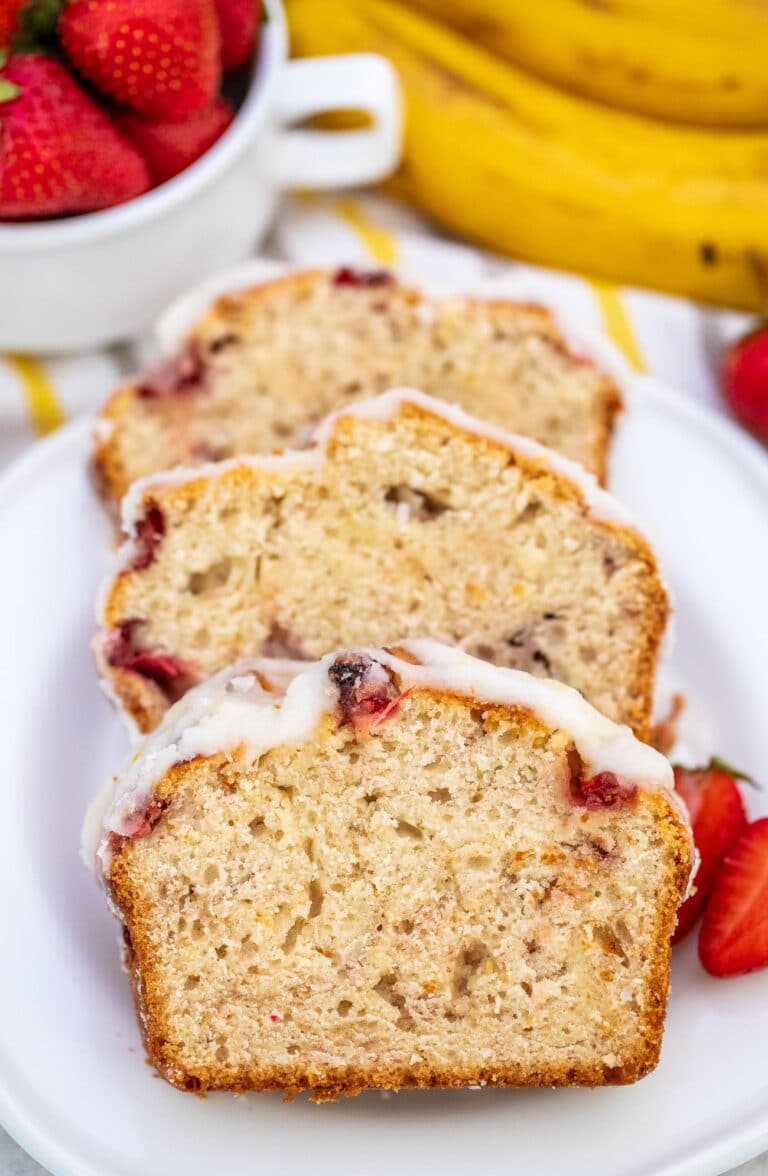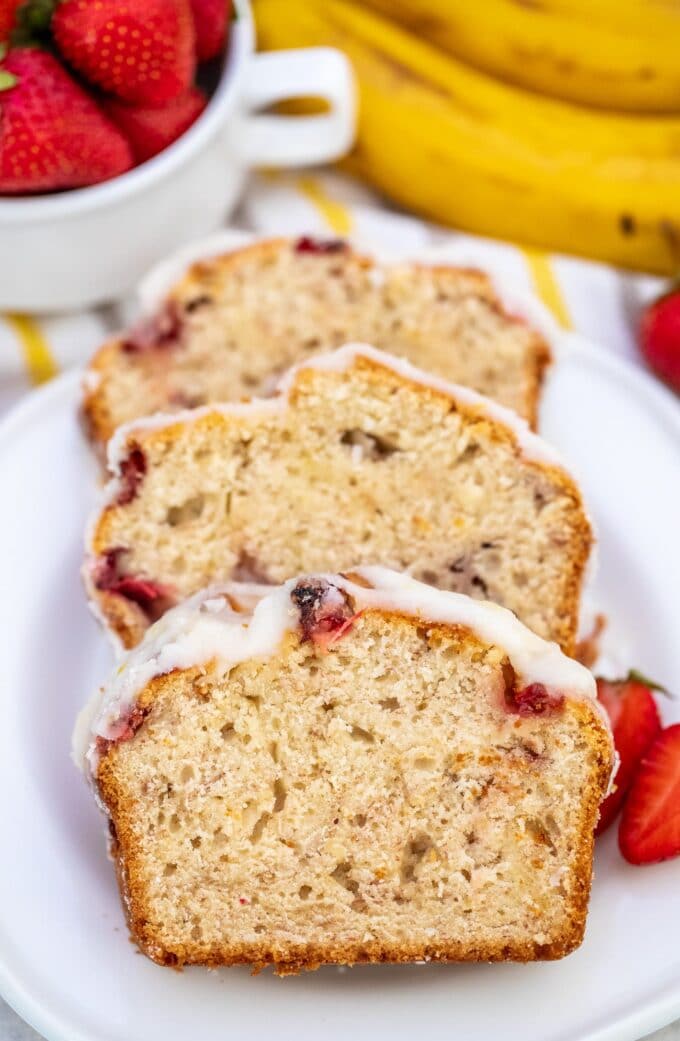 Banana Bread Variations
This recipe is a new addition to the numerous ripe banana recipes that we already have. Check them out!
How to Store it:
Remember to cool it down before wrapping and storing to avoid the growth of molds that may result from the condensation of moisture inside the wrapper.
Room temperature: Store covered at room temperature for about 5 days.
Refrigerator: Wrap it first tightly then, put it in the fridge. It will last for about a week.
Freezer: You wrap this tightly in the freezer bag and it will last for up to 6 months! Simply thaw overnight if you wish to reheat it.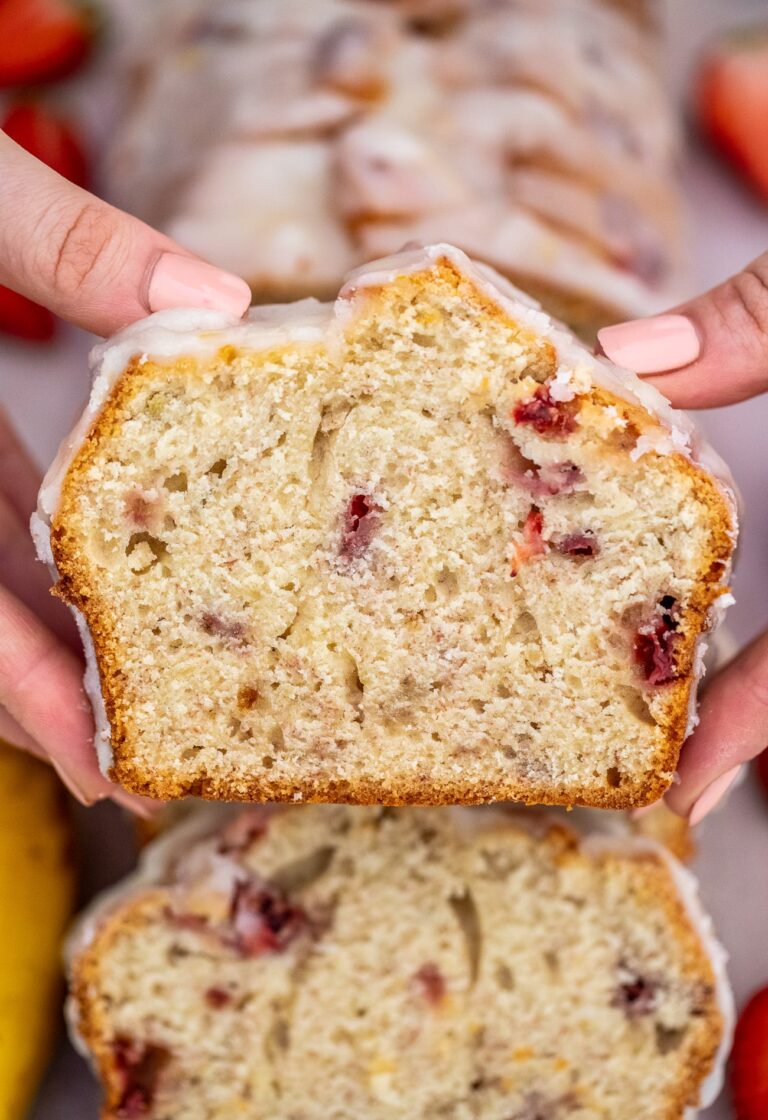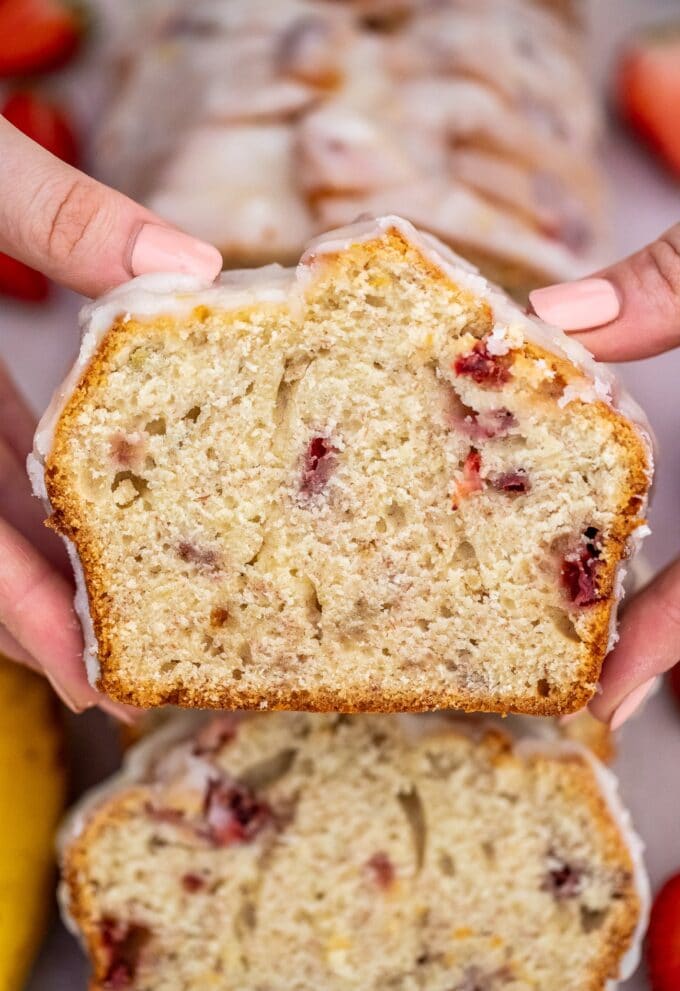 More delicious bread recipes:
Recipe Tips:
You can make this advance by making the loaf first, then, storing the lemon glaze separately.
In order to cook the sides thoroughly then, you can add a sheet of foil on top loosely and continue baking for the last 10 minutes. This is to avoid getting the top overly brown while cooking the sides.
If you will use frozen strawberries, add more flour to make the batter thicker. This is to anticipate extra moisture that frozen ones contribute to the loaf.
Save Recipe
Strawberry Banana Bread
Strawberry Banana Bread is like a smoothie in solid form! It is refreshingly sweet, moist, perfect for summer, and just a great way to enjoy these fruits!
Author: Catalina Castravet
Serves: 10 slices
Prep time:

15

minutes
Cook time:

45

minutes
Total time:

1

hr
Instructions
Lemon Glaze:
Nutrition information
Calories: 368 Carbohydrates: 62 Protein: 4 Fat: 12 Saturated Fat: 7 Cholesterol: 61 Sodium: 221 Potassium: 344 Fiber: 2 Sugar: 37 Vitamin A: 445 Vitamin C: 17.1 Calcium: 99 Iron: 2.3
Save Recipe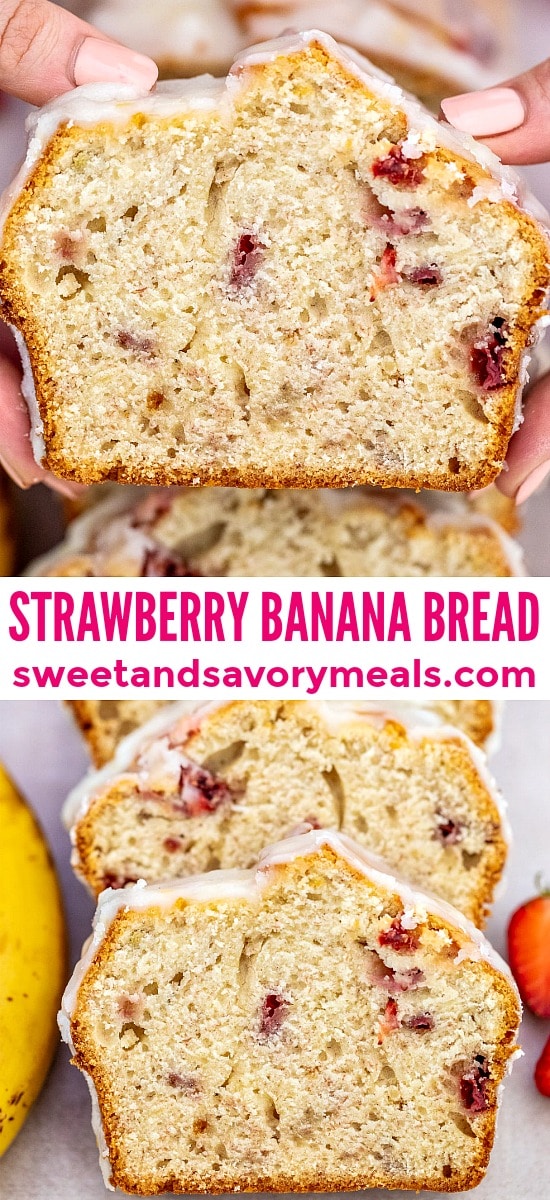 More recipes you might love
Categories: