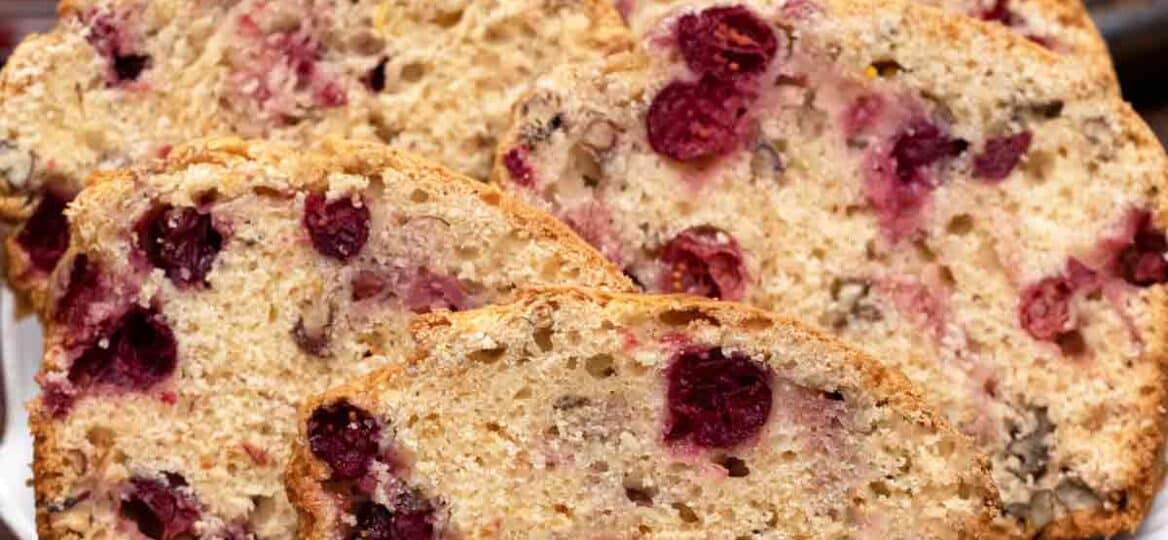 Cranberry Bread Recipe [Video]
Cranberry Bread is moist and bursting with tart cranberries! This loaf takes no time at all to prepare and is so good as an afternoon snack, breakfast, or a thoughtful gift.
For more ways to enjoy berries, try my Mini Pavlovas with Lemon Curd, Ombre Meringue Cake. For a twist, I use roasted berries for this delicious Lemon Poppy Seed Cake. A must-try!
Moist Cranberry Bread
Cranberry Bread is a recipe you'll soon know by heart, but not just because it's so effortless to make. I'm saying it because this is such a terrific homemade loaf, and the perfect treat to make during the autumn season.
A wonderful crust (if you can even call it a crust because it's so light) that protects the moist, chewy, and soft insides. Pockets of juicy cranberries. So many ways to customize it for your taste. This can convert anyone into being a bread person!
This classic dessert is packed with the zesty taste of cranberries and orange peel.
How to make the best cranberry bread?
Heat your oven to 350F. Coat a loaf pan with non-stick spray.
Next, prep your cranberries. Sprinkle the cranberries lightly with flour (a teaspoon will do) so they don't end up at the bottom of the loaf.
Combine your dry ingredients (sugars, flour, baking powder, salt).
Then, combine your wet ingredients (eggs, honey, orange zest, orange juice, melted butter).
Mix wet into dry ingredients, making sure to stir lightly.
Fold in the berries and pecans, then pour in the pan.
Bake 50 minutes to an hour.
Cool completely, slice, and serve warm.
Cranberry Bread variations:
Now we get to the even more fun part— adding more yummy stuff to our loaf! I highly recommend trying these variations:
Reduce the sugar intake: Cut sugar by half if you like it less sweet. Also, you can use honey or even brown sugar as a substitute.
Add chocolate: Add dark chocolate, milk chocolate, even caramel chips.
Use other berries: This recipe can be made with other berries as well. So, feel free to make it with other berries or raisins.
Add some nuts: Like it crunchier? Then, add half a cup of nuts, such as walnuts, pecans, or macadamia nuts.
Use pumpkin pie spice: This is the perfect Thanksgiving dessert. To make it even more festive, you can use pumpkin pie spice.
Glaze it: Orange zest glaze is the perfect combination. Also, you can make the lemon or vanilla-based glaze.
Add zucchini: You can add some grated zucchini into the batter, or make a zucchini loaf, or zucchini banana bread.
Make it vegan: Want to make it vegan? Try swapping out the butter and egg with applesauce.
Can I use dried cranberries instead of fresh?
Sure! If you can't find fresh, dried is fine. Plump them up by soaking in your preferred juice, but orange juice goes really well with the berry flavor.
Also, you can add buttermilk to the juice as well. Alternatively, you can also use the frozen kind! With this one, skip the flouring step. Follow the recipe as is.
Why is my cranberry bread crumbly?
You may have added too much flour. This is supposed to be a sticky batter, so don't be tempted to add more flour.
In addition, I strongly suggest you weight out your ingredients. If you don't have a kitchen scale, use this method for your flour: spoon it lightly into your measuring cup, then level out with a knife. Don't use the cup to scoop from the jar and don't pack it.
How long does cranberry bread last?
Cool the loaf completely. Wrap in plastic wrap or foil. At room temp, it stays fresh for 3 days. Keep for around 6 days in the fridge. You can also freeze it using an airtight container for a couple of months.
More delicious breads:
Recipe tips:
Turn it into muffins! Fill the tins two-thirds of the way and reduce bake time accordingly.
You can also double this recipe if you'd like to make a Bundt version.
Use the spoon and level method to measure your flour.
DON'T overmix your ingredients. Do it just until combined, and it's okay to have a few lumps. Overmixing will give you a dense loaf.
Also, use an oven thermometer to achieve precise temperature.
For the moistest results, let the loaf rest after you take it out of the oven.
If you don't have non-stick spray, use parchment paper. This makes it easy to take your loaf out of the pan.
You can use coconut oil, olive oil, or vegan oil if you don't want to use butter.
Don't let the batter sit after mixing. Bake it right after.