Pumpkin Bread with Cream Cheese Filling [Video]
Pumpkin Bread with Cream Cheese Filling is one delicious take on the classic fall dessert. Staple fall flavors in a sweet, tender and indulgent dessert.
Delicious pumpkin recipes are very popular on the blog, and I also make them with a lot of pleasure, especially when the Thanksgiving season is around! Also, my other favorite dessert for the holiday season is Instant Pot Pumpkin Cheesecake. Or, my absolutely divine Pumpkin Cheesecake Pancakes, and if you are looking for something quick and easy, Pumpkin Fudge comes to the rescue.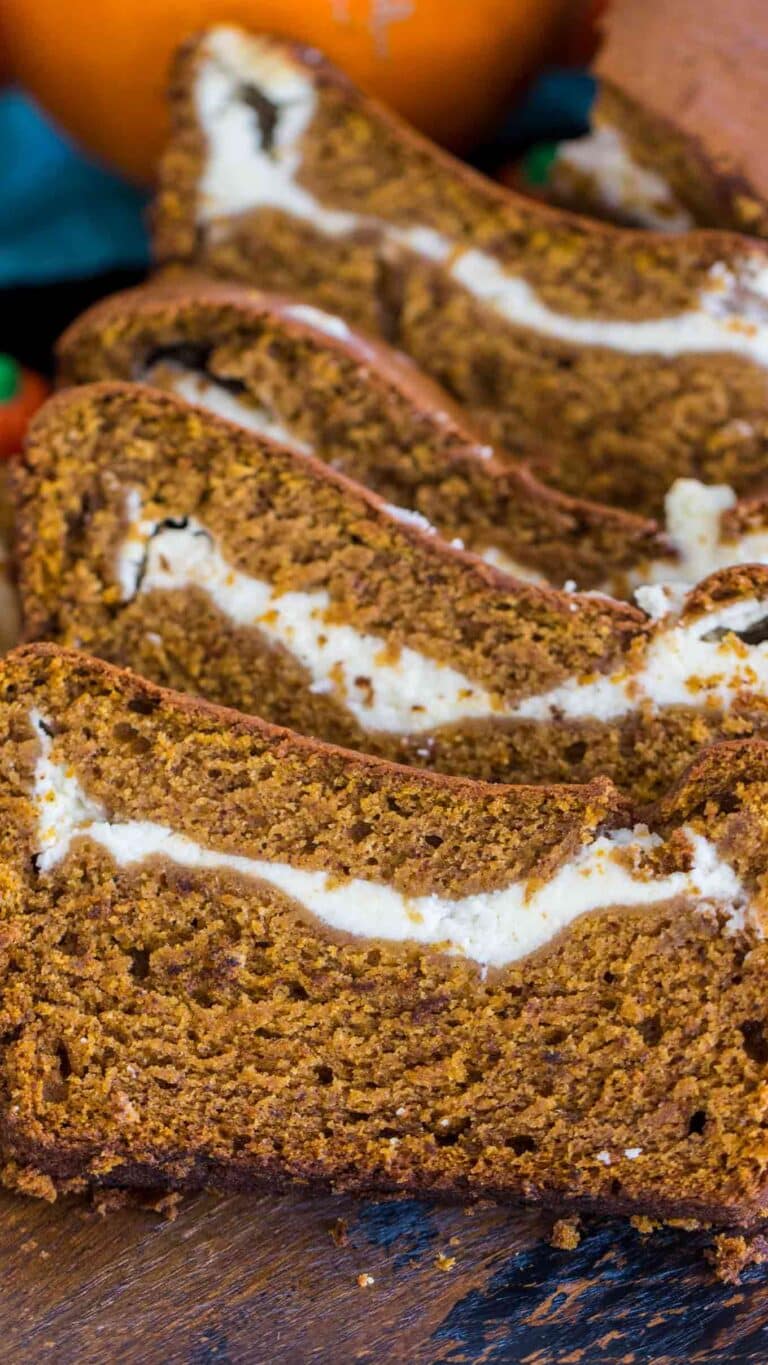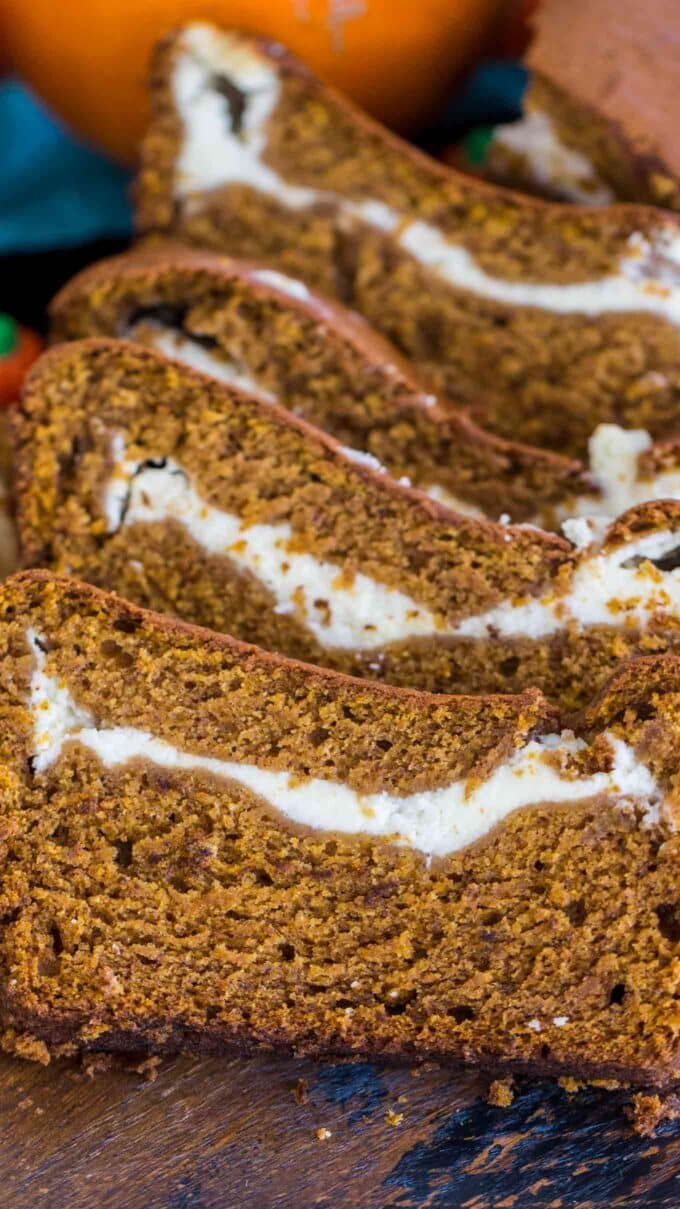 Homemade Pumpkin Bread with Cream Cheese
Pumpkin Bread is one of the easiest pumpkin recipes you can make, it is packed with beautiful spices and has the most amazing texture. I have been making this bread for years but without the cream cheese filling. It has always been my go-to recipe, and I can tell you that it's by far the most amazing Pumpkin Bread you can have.
It has such a tender and soft texture, that it basically melts in your mouth. Also, the bread is fluffy, yet rich, moist and with delicious notes of pumpkin, cinnamon, and nutmeg.
This year I decided to spice things up and added a cheesecake layer to it, and it was the best decision ever. In addition, the cheesecake pairs so well with the overall lighter bread. It takes it from a breakfast or brunch treat to a desert level. The smoothness and richness of the cheesecake make this fall dessert a must-try.
What do you need to make Pumpkin Bread with Cream Cheese Filling?
For exact directions and measures, please see the recipe card below. Also, please watch the recipe video attached.
To make the Pumpkin Bread you will need:
All-purpose flour

Baking soda, baking powder, and salt
Cloves grounded

Ginger grounded

Cinnamon grounded

Ground nutmeg

Pumpkin spice

Unsalted butter

Granulated

sugar

Light brown sugar

Eggs

Pumpkin puree
To make the Cheesecake layer you will need:
Cream cheese
Sour cream
Granulated sugar
Egg
Flour
Vanilla extract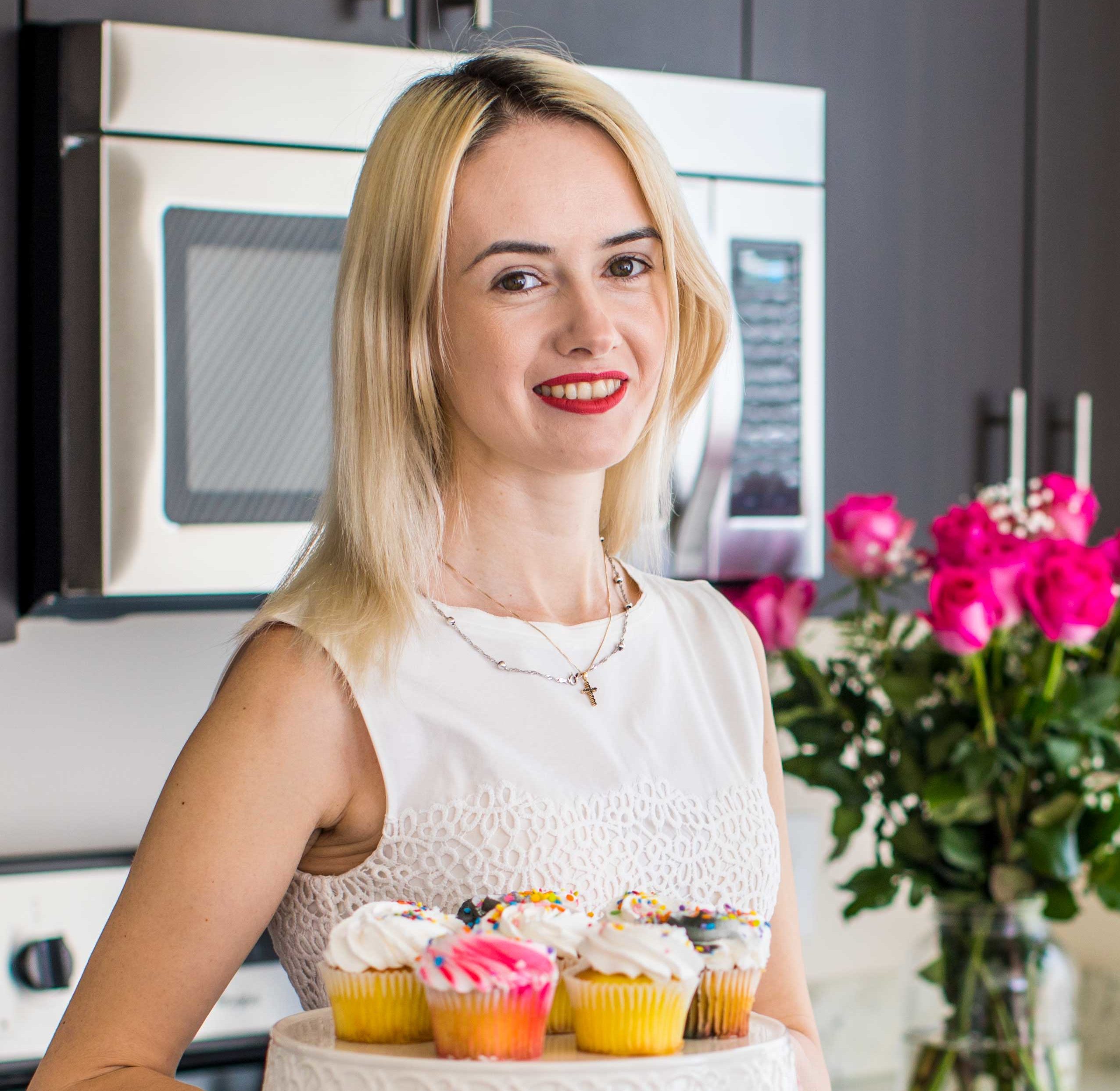 Follow us on Pinterest for more delicious recipes!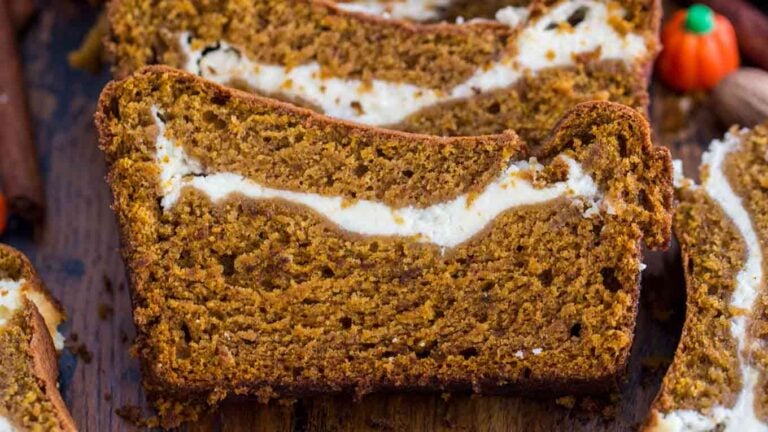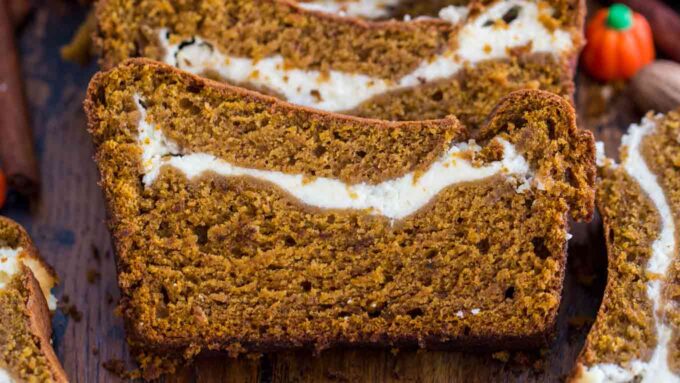 Can you make Pumpkin Bread without the Cream Cheese Filling?
Yes, you can, in that case, it will be a CLASSIC PUMPKIN BREAD. You can also add about one cup of either chocolate chips, raisins or nuts to it. Both versions are absolutely delicious. Also, this recipe is very versatile, so feel free to use any other additions you might like.
What is pumpkin puree vs canned pumpkin?
Canned pumpkin is just cooked pureed pumpkin. On the other hand, canned pumpkin or pumpkin pie filling is flavored with spices like cinnamon, clove, allspice, and ginger, and is also sweetened.
Can I use fresh pumpkin instead of canned?
Yes! Making pumpkin puree from fresh pumpkin is easy, and you can definitely substitute the canned pumpkin for fresh pureed pumpkin. To Make Pumpkin Puree from scratch follow the bellow method:
First, preheat oven to 325 degrees F (165 degrees C).
Then, cut the pumpkin in half and remove seeds and pulp. Cover each half with foil.
Bake in the preheated oven, foil side up, 1 hour, or until tender.
With a fork, scrape pumpkin meat from shell halves and puree in a blender. Then, strain to remove any remaining stringy pieces. Store in the freezer in freezer-safe bags.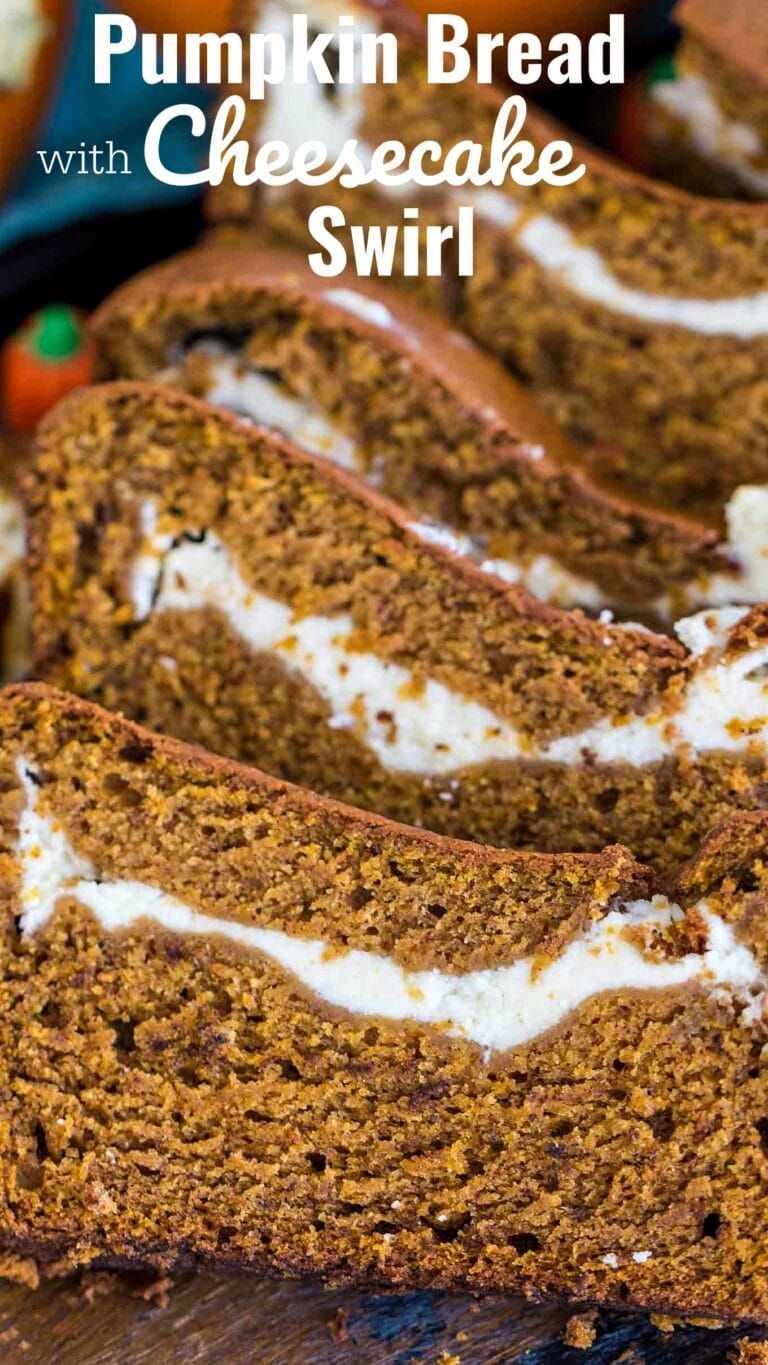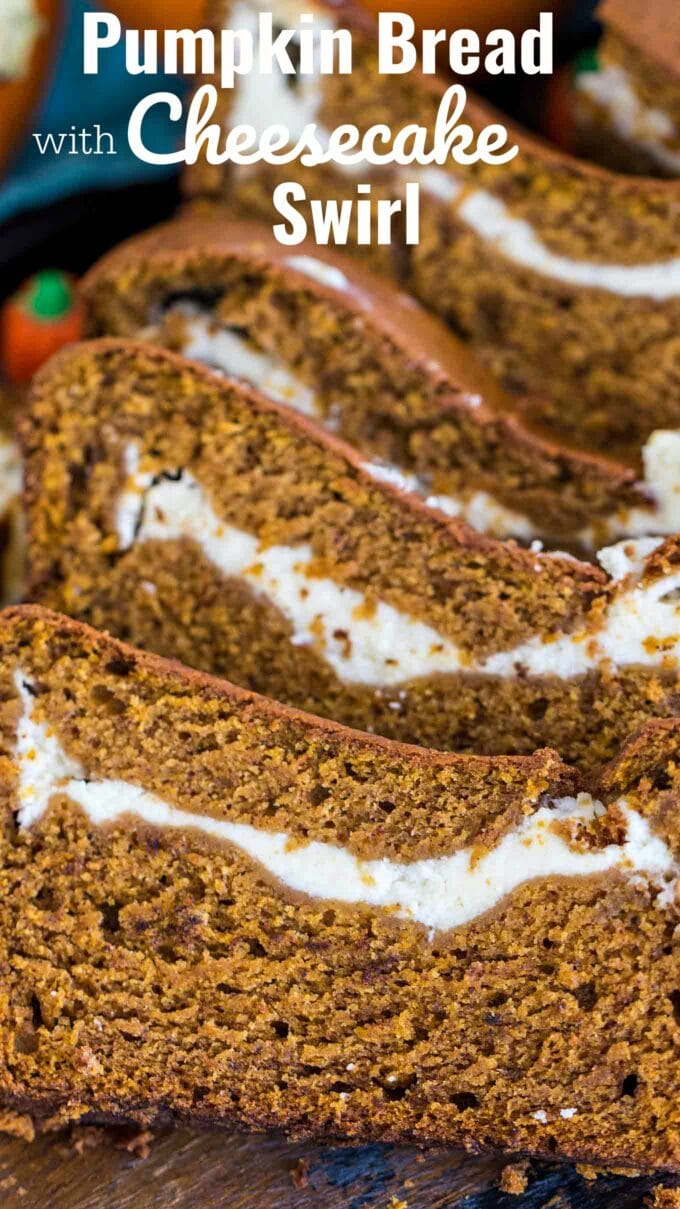 How do you make a homemade Pumpkin Spice mix?
You can make pumpkin spice blend at home pretty easily, here is what you will need:
3 tablespoons ground cinnamon
2 teaspoons ground ginger
2 teaspoons ground nutmeg
1 teaspoon ground allspice
1 teaspoon ground cloves
Directions: In a small bowl, mix all the spices together. Transfer to a small jar or spice container.
How to freeze Pumpkin Bread:
Pumpkin Bread can be easily frozen. Cool the bread completely. Fully wrap it in plastic food wrap tightly. Next, wrap in aluminum foil or place it in freezer bags. Freeze for up to 3 months. Defrost before slicing.
Watch Recipe Video:
Save Recipe
Best Pumpkin Bread with Cream Cheese Filling
Author: Catalina Castravet
Serves: 10 slices
Prep time:

20

minutes
Cook time:

1

hour
Total time:

1

hr

20

mins
Ingredients
Pumpkin Bread:
2 cups all-purpose flour
1 teaspoon baking soda
1 teaspoon baking powder
1/2 teaspoon salt
1 teaspoon ground cinnamon
1 teaspoon ground nutmeg
1/2 teaspoon ground cloves
1/2 teaspoon ground ginger
1 teaspoon pumpkin spice
1 1/2 sticks (3/4 cup) unsalted butter (softened to room temperature)
1 cup sugar
1/2 cup brown sugar
2 large eggs
1 15- oz can pumpkin puree
Cheesecake Filling:
1 package (8oz) cream cheese (softened to room temperature)
1/3 cup granulated sugar
1/4 cup sour cream
3 tablespoons all-purpose flour
1 large egg
1 teaspoon vanilla extract
Instructions
Preheat oven to 350 degrees F.
Spray a 10×5-inch loaf pan with baking spray, or grease with butter and sprinkle some flour. Set aside.
Note: you can also use a 9x5 inch loaf pan, but you will have about 1 cup of batter that you will have to discard or you can bake a few mini muffins.
Pumpkin Bread:
In a medium bowl, combine dry ingredients: flour, baking soda, baking powder, salt, cinnamon, ground nutmeg, ground cloves, ground ginger and pumpkin spice. Whisk to combine and set aside.
Add softened butter and both sugars to a large bowl or to the bowl of an electric stand mixer. Beat until combined, light and fluffy. Stop and scrape the sides and bottom of the bowl with a spatula once.
Beat in the eggs, one at a time until fully combined.
Add half of the four mixture, whisk on low until fully combined. Do not over mix.
Add half of the pumpkin puree, whisk on low until fully combined. Do not over mix.
Add half of the remaining flour mixture and whisk to combine, add the remaining pumpkin and whisk to combine and finish with the remaining flour mixture. Do not over mix. Stop and scrape the sides and bottom of the bowl and whisk on low until the batter is smooth and creamy.
Set aside.
Cheesecake Layer:
Add cream cheese, sugar, sour cream and flour to a medium bowl, and using an electric mixer beat on medium-high speed until fully combined.
Add the egg and vanilla, whisk until fully combined. Stop and scrape the sides and bottom of the bowl and whisk on low until the mixture is smooth and creamy.
Assemble:
Add half of the Pumpkin Bread batter to the prepared pan. Smooth the top and distribute it evenly using a spatula.
Pour the cheesecake batter on top of the Pumpkin Bread batter and using a spatula smooth the top and distribute it evenly.
Spoon the remaining pumpkin batter evenly over the surface of the cheesecake layer and smooth it in an even layer using a spatula.
When adding the Pumpkin Batter on top of the cheesecake layer, make sure you don't overfill the loaf pan, you should have about 1 inch left from the edges. If you have a small amount of batter left, don't be tempted to add it, just discard it or bake a muffin.
Bake:
Bake for about 50-60 minutes or until the top is a beautiful golden color and the center of the bread is not giggly, but it looks settled.
A toothpick inserted in the center should come out clean, or with just a few moist cooked crumbs, not raw batter.
The edges of the bread will be golden brown and the top and the center set when the bread is ready. Start checking on it after 40 minutes, in case the top and sides become too brown during baking, cover the bread with aluminum foil.

Cool bread in pan on rack for about 30 minutes.

Remove bread from pan, and completely cool before storing or freezing.
Calories: 487 Carbohydrates: 62 Protein: 6 Fat: 25 Saturated Fat: 14 Cholesterol: 113 Sodium: 331 Potassium: 277 Fiber: 3 Sugar: 39 Vitamin A: 7950 Vitamin C: 1.9 Calcium: 117 Iron: 3
Save Recipe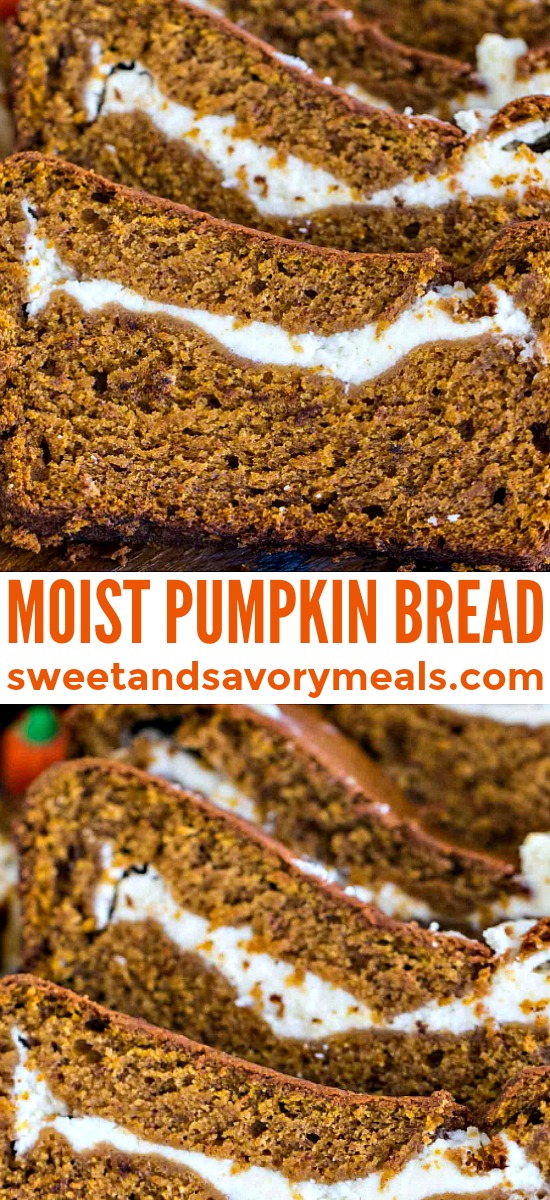 More recipes you might love