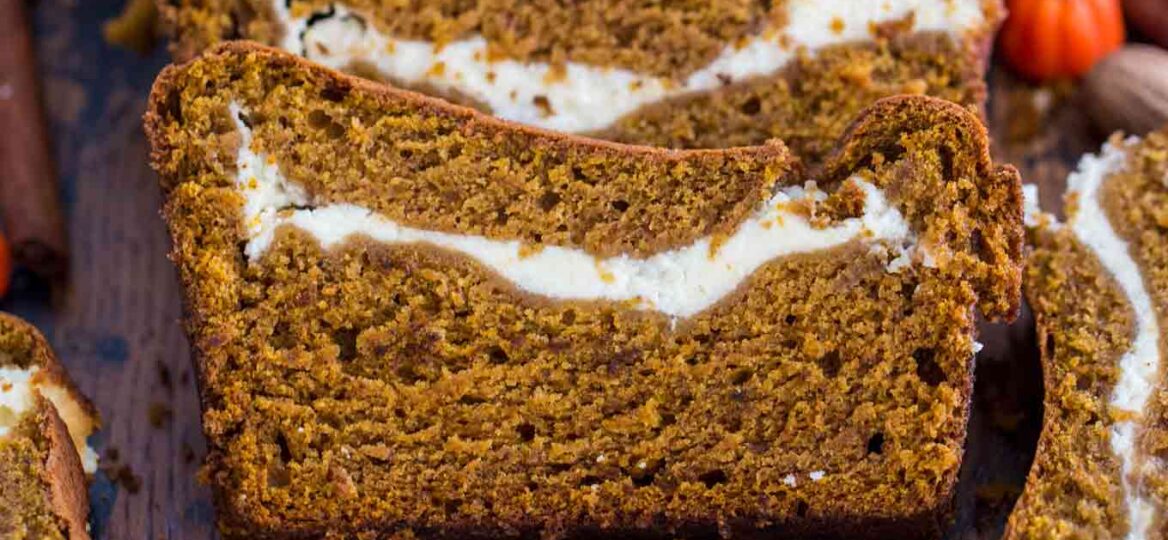 Pumpkin Bread with Cream Cheese Filling [Video]
Pumpkin Bread with Cream Cheese Filling is one delicious dessert that is moist, sweet, and ideal for Fall. It tastes like bread but with a rich cheesecake filling inside.
Delicious pumpkin recipes are very popular on the blog, especially when the Thanksgiving season is around! Also, my other favorite dessert for the holiday season is Instant Pot Pumpkin Cheesecake. Or, my absolutely divine Pumpkin Cheesecake Pancakes and Pumpkin Fudge.
Cream Cheese Filled Pumpkin Bread Recipe
The pumpkin season is officially upon us! During this time of the year, I always make this Easy Pumpkin Bread with Cream Cheese Filling. It is one of our favorite desserts to serve on the Thanksgiving table because it is moist pumpkin bread, with a delicious layer of cream cheese.
Also, it has the perfect amount of spice, with an amazing texture, and the whole family just loves it. I have been making this classic pumpkin bread for well over 10 years now. However, this time I decided to add the cream cheese filling.
When you bite into it, you have the feeling that you are combining the best of both worlds – a soft bread with a slice of cheesecake inside. The cheesecake layer runs through the middle of the loft.
It has always been my go-to recipe, and I can tell you that this is by far the BEST Cream Cheese Pumpkin Bread you can have.
Also, it has such a tender and soft texture, that it basically melts in your mouth. Also, the bread is fluffy, yet rich, moist, and with delicious notes of pumpkin, cinnamon, and nutmeg.
This year I decided to spice things up and added a cheesecake layer to it, and it was the best decision ever. In addition, the cheesecake pairs so well with the overall lighter bread. It takes it from a breakfast or brunch treat to a desert level. The smoothness and richness of the pumpkin loft make this fall dessert a must-try.
Ingredients needed:
For exact directions and measures, please see the recipe card below. Also, please watch the recipe video attached.
To make the Bread you will need:
All-purpose flour

Baking soda, baking powder, and salt
Cloves grounded

Ginger grounded

Cinnamon grounded

Ground nutmeg

Pumpkin spice and puree

Unsalted butter

Granulated

sugar

Light brown sugar

Eggs
To make the Cheesecake layer you will need:
Cream cheese
Sour cream
Granulated sugar
Egg
Flour
Vanilla extract
How to make Pumpkin Bread with Cream Cheese Filling?
Make the flour mixture: In a medium bowl, combine flour, baking soda, baking powder, salt, cinnamon, ground ginger, ground cloves, pumpkin spices, and nutmeg. Then, whisk together the dry ingredients until combined.
Pumpkin batter: Next, in a separate large bowl, add butter, sugar, brown sugar, eggs, vanilla, pumpkin puree, and beat together using an electric mixer.
Cream cheese mixture: In a separate bowl, combine the cream cheese filling ingredients. Using an electric mixer beat on medium-high speed until fully combined. Set aside.
Combine: Then, add the flour mixture to the batter mixture and whisk together to make the pumpkin mixture.
Layer: Grease a 5-inch loaf pan with some cooking spray. Next, add half of the mixture to the bottom of the pan. Then, add the cream cheese layer over it. Lastly, top with the remaining pumpkin batter.
Bake: Transfer to a pre-heated oven, and bake for about 50 minutes, until golden brown.
Serve: Remove the whole loaf from the pan, then slice it, and serve!
Possible mix-ins:
Chocolate chips: Feel free to add some chocolate chips or white chocolate chips to the butter.
Nuts: Similarly, you can mix in some nuts with it, such as chopped walnuts, pecans, etc.
Raisins: Add some dry raising to the batter mixture.
Apple sauce: Turn this into apple bread, by substituting the puree with apple sauce.
Classic bread: You can omit the cream cheese layer, and turn it into homemade pumpkin bread instead.
What is pumpkin puree vs canned pumpkin?
Canned pumpkin is just cooked pureed pumpkin and they are pretty much the same thing.
On the other hand, pumpkin pie filling is sweetened, flavored with spices like cinnamon, clove, allspice, and ginger.
Can I use fresh pumpkin instead of canned?
Yes! Learn how to make homemade pumpkin puree from fresh pumpkin. It is super easy and tastes so much better. Here are the steps:
First, preheat the oven to 325 degrees F (165 degrees C).
Then, cut the pumpkin in half and remove seeds and pulp. Cover each half with foil.
Bake in the preheated oven, foil side up, 1 hour, or until tender.
With a fork, scrape the meat from shell halves and puree in a blender. Then, strain to remove any remaining stringy pieces. Store in the freezer in freezer-safe bags.
How do you make a homemade pumpkin spice mix?
You can make a spice blend at home pretty easily, here is what you will need:
3 tablespoons ground cinnamon
2 teaspoons ground ginger
2 teaspoons ground nutmeg
1 teaspoon ground allspice
1 teaspoon ground cloves
Directions: In a small bowl, mix all the spices together. Transfer to a small jar or spice container.
More delicious Pumpkin desserts:
Make ahead:
To make ahead, simply follow the steps of the recipe below. Once baked, remove the bread from the loaf and let it cool at room temperature. Then, use plastic wrap and tightly wrap the whole loaf. Refrigerate for up to 3 days.
How to freeze this pumpkin dessert?
First, cool the loaf completely.
Then, fully wrap it in plastic food wrap tightly.
Next, wrap in aluminum foil or place it in freezer bags.
Freeze for up to 3 months. Defrost before slicing.
Recipe tips:
Make sure to use pumpkin puree and NOT pumpkin pie filling because they are two different things. The filling is sweeter and full of spices, and this will change up the flavor and texture of this bread.
For the best results, use brick-style cream cheese and not the type that comes in a tube because the tube version has too much moisture.
Also, let the bread cool on a wire rack prior to slicing it.
Feel free to drizzle some maple syrup, honey, or powdered sugar on top.
Make sure not to over-bake the loaf. Since every oven is different, the cooking time might vary from oven to oven. Therefore, keep a close eye on it after the 45-minute mark.
To check for doneness, use a toothpick and insert it in the center of the bread. If it comes out clean, then it is done.