Pumpkin Sheet Cake with Cream Cheese Frosting
Pumpkin Sheet Cake is the must-try fall dessert! Soft, dense, loaded with pumpkin spice flavor and topped with a maple cream cheese frosting!
When the fall season arrives, most people want to stay home and whip something creamy and delicious in the kitchen. Choose from these autumn favorites to help you enjoy the weather: Slow Cooker Roasted Butternut Squash Soup, Homemade Apple Cider, and Sweet Potato Bread.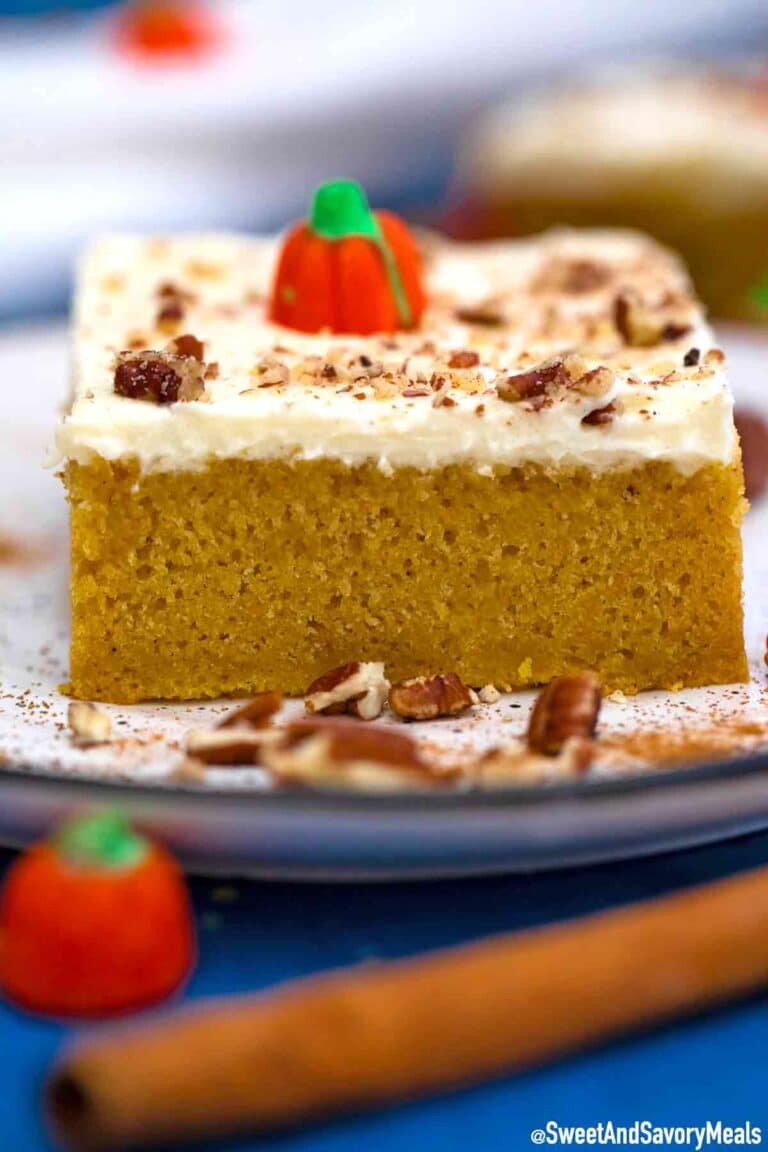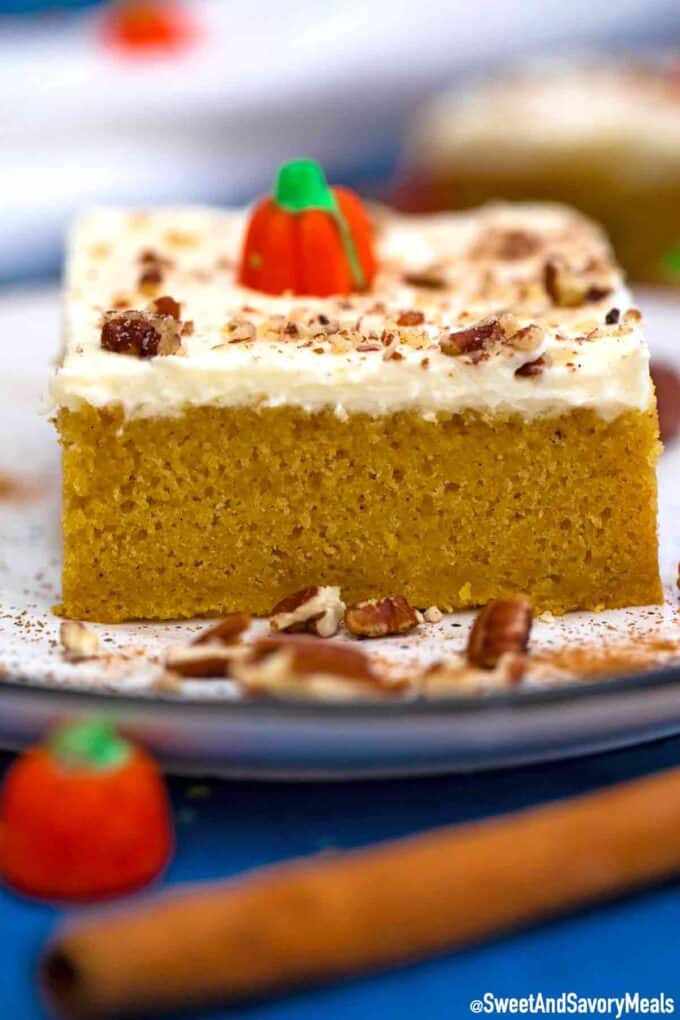 Pumpkin Cake Recipe
Pumpkin Sheet Cake may be baked using leftover pumpkin puree which is why it is so convenient and economical. This heavenly dessert is so easy to follow that it leaves anyone wondering why they haven't known of it for a long time.
Like the original chocolate sheet version, this dessert is also topped off with a glorious and fluffy frosting. It perfectly blends well with the base and has the right kind of sweetness and creaminess that it melts in your mouth.
While this is an excellent recipe for the autumn season, it really does work well for any occasion. You can trust this combo to satisfy your sweet tooth.
Having fall treats ready can really help liven things up especially when the lazy fall weather hits on. Enjoy a bite of this delight with your friends and family!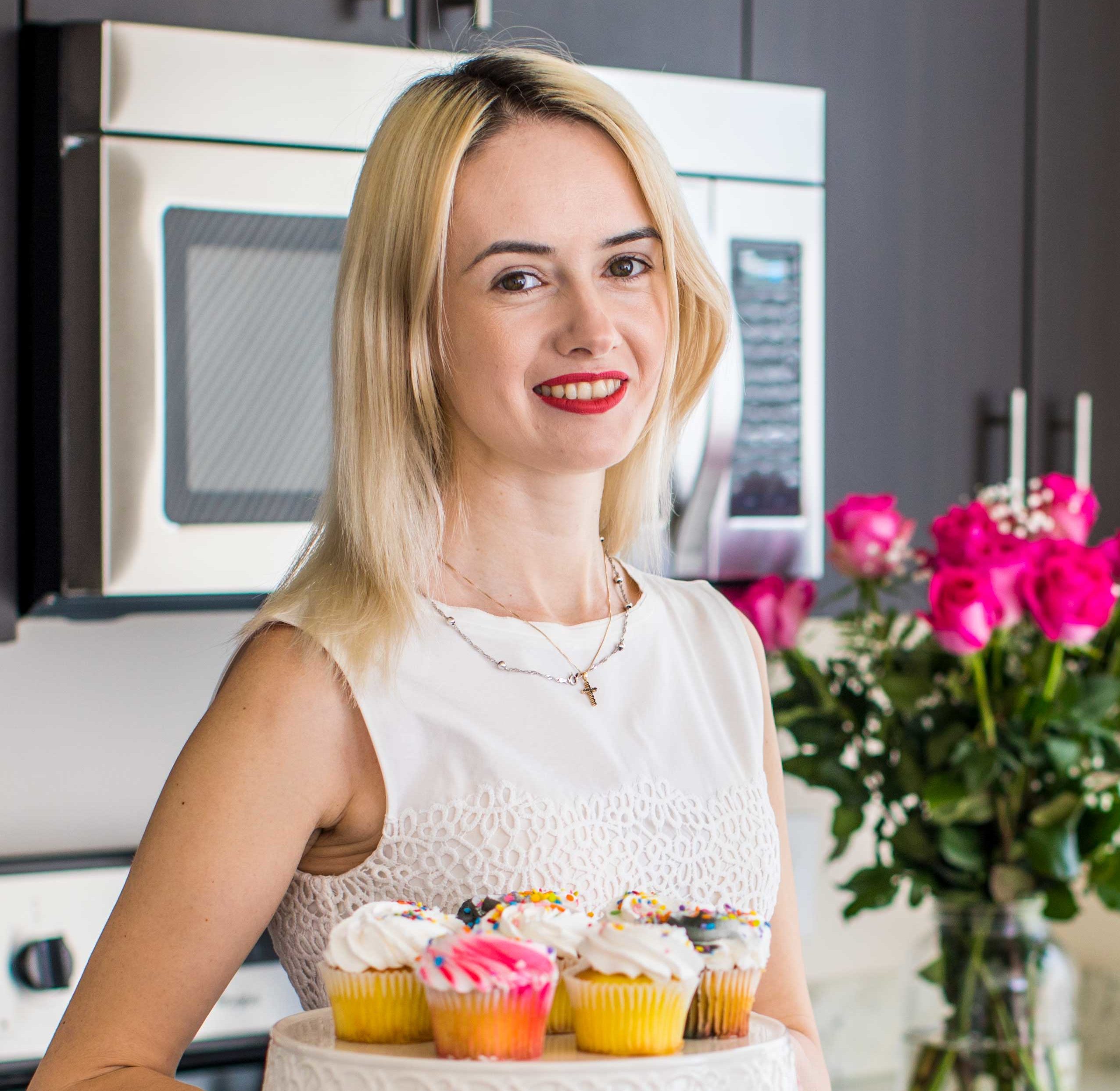 Follow us on Pinterest for more delicious recipes!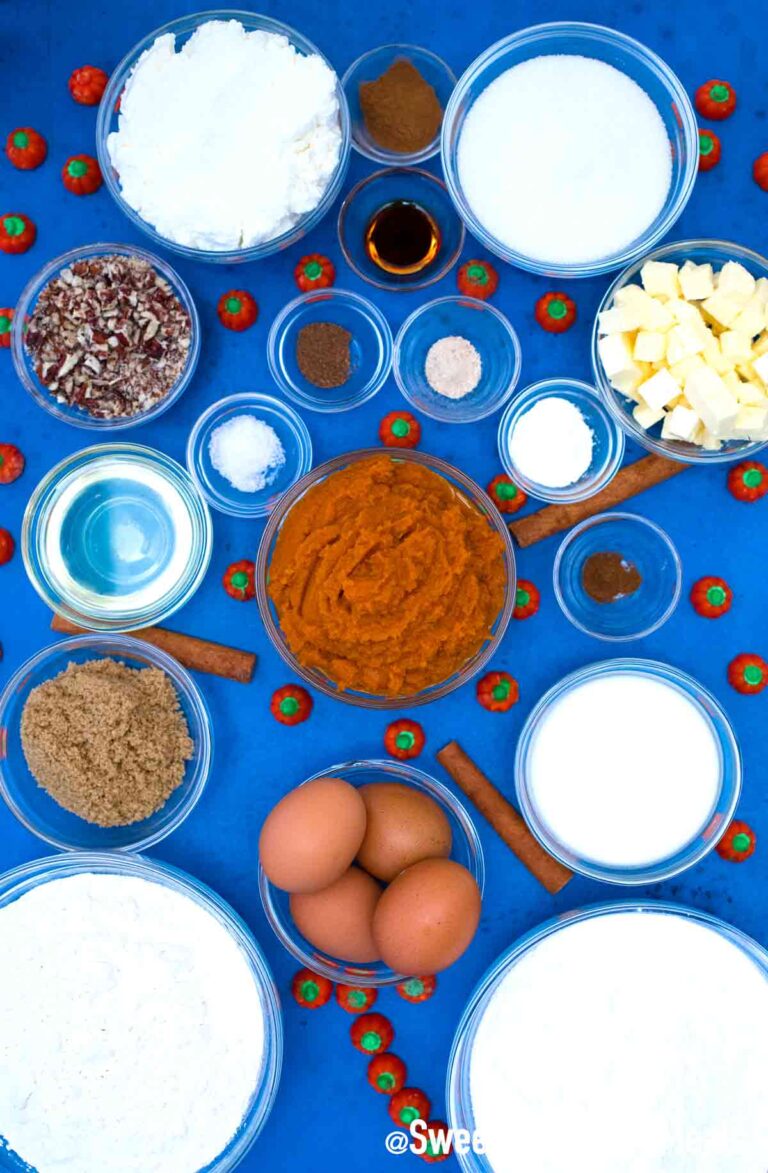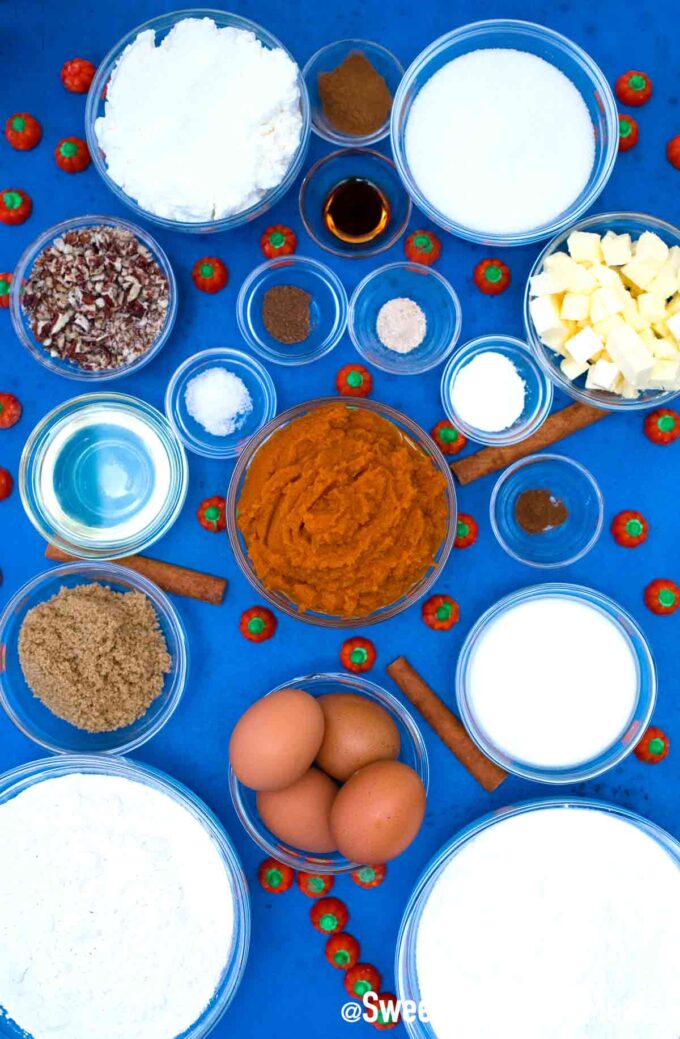 How to make Pumpkin Sheet Cake?
Prepare for baking. Prepare your baking sheet and heat the oven to 350F.
Make the cake batter. Whisk the flour, baking powder and baking soda, and a dash of salt. Afterward, add in a dash of cinnamon, nutmeg, ginger, and cloves for flavoring. In another container, mix sugars making sure that to get rid of any clumps. Add in the rest of the ingredients. Combine the two bowls and mix.
Bake. Pour the mixture into the baking sheet. Bake for 30 minutes.

Make frosting. Whip butter and cream cheese, preferably using an electric mixer. Stop when it becomes light and fluffy. Add the sugar and maple syrup.
Serve. When it is finished baking, let it cool completely before topping it off with the frosting. Afterward, serve.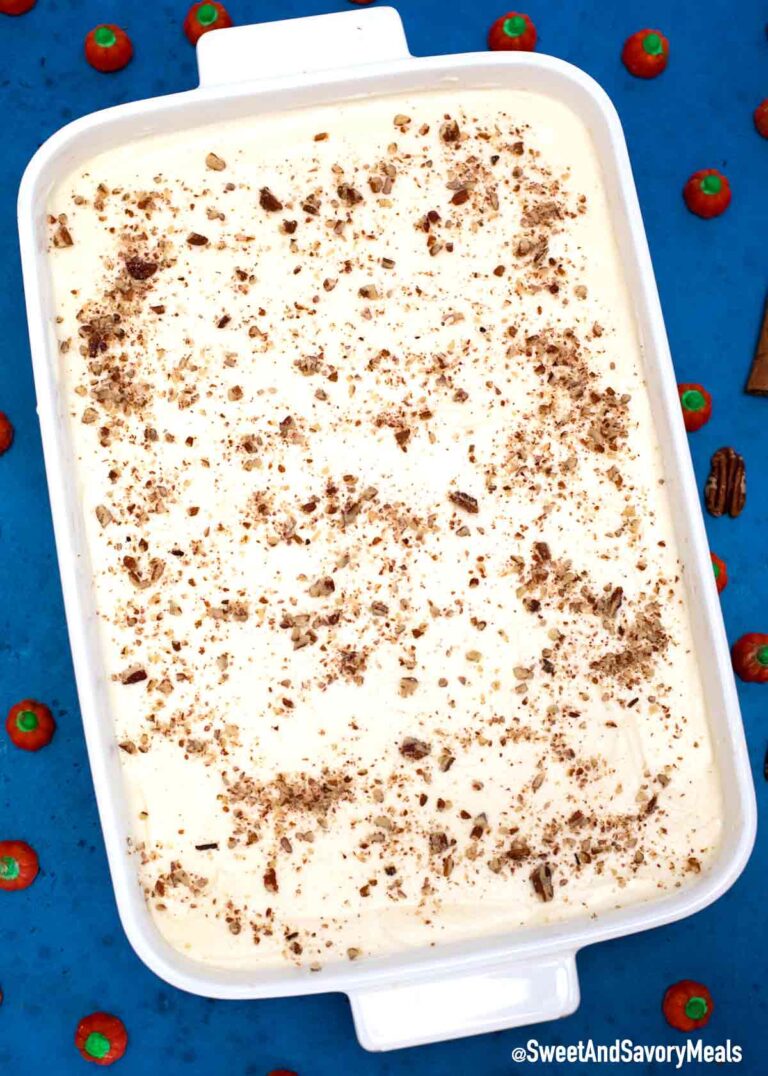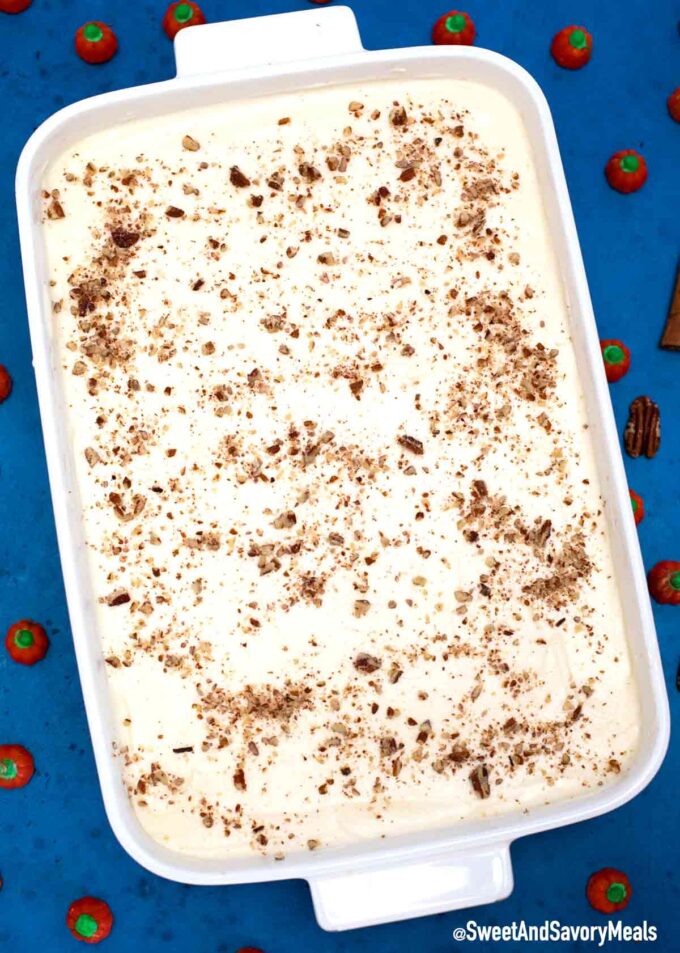 How big is a quarter sheet cake?
A quarter sheet is a 9 inch by 13-inch pan. They are mostly rectangular in shape and is very convenient.
How many people does a quarter sheet cake feed?
It can feed 12 people. It is very convenient as it makes it easy to transport the desserts and also cut it into bars.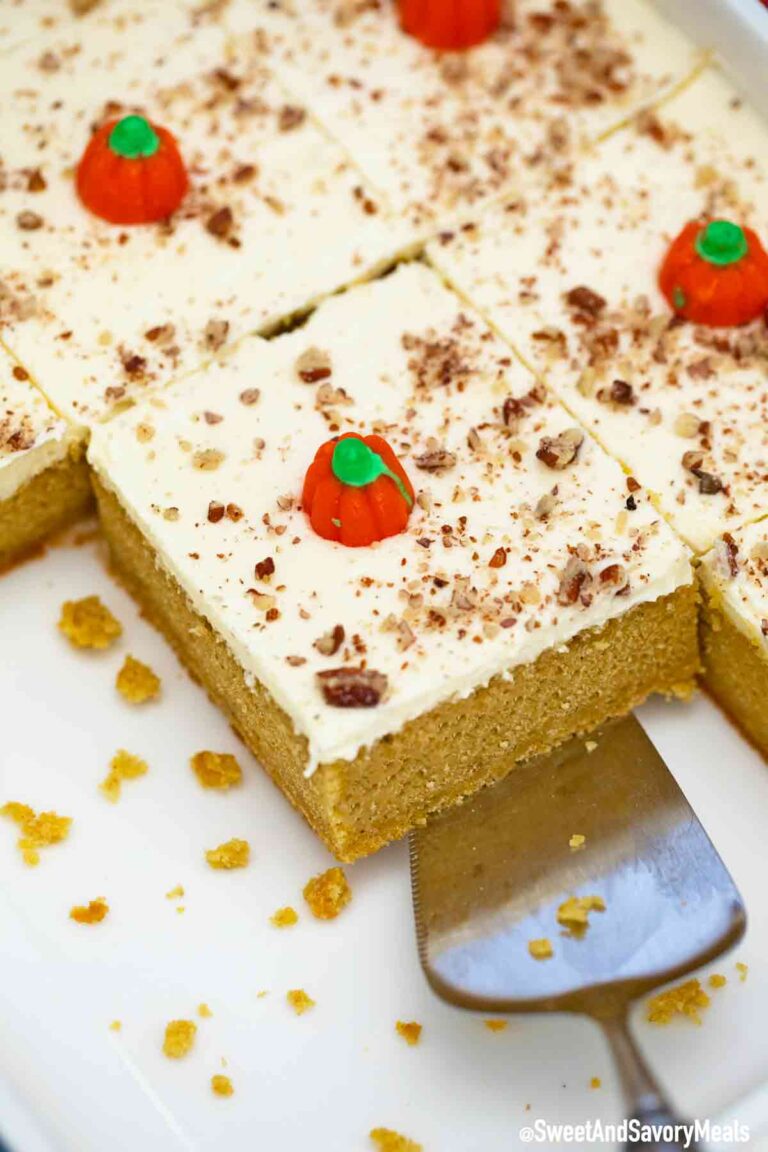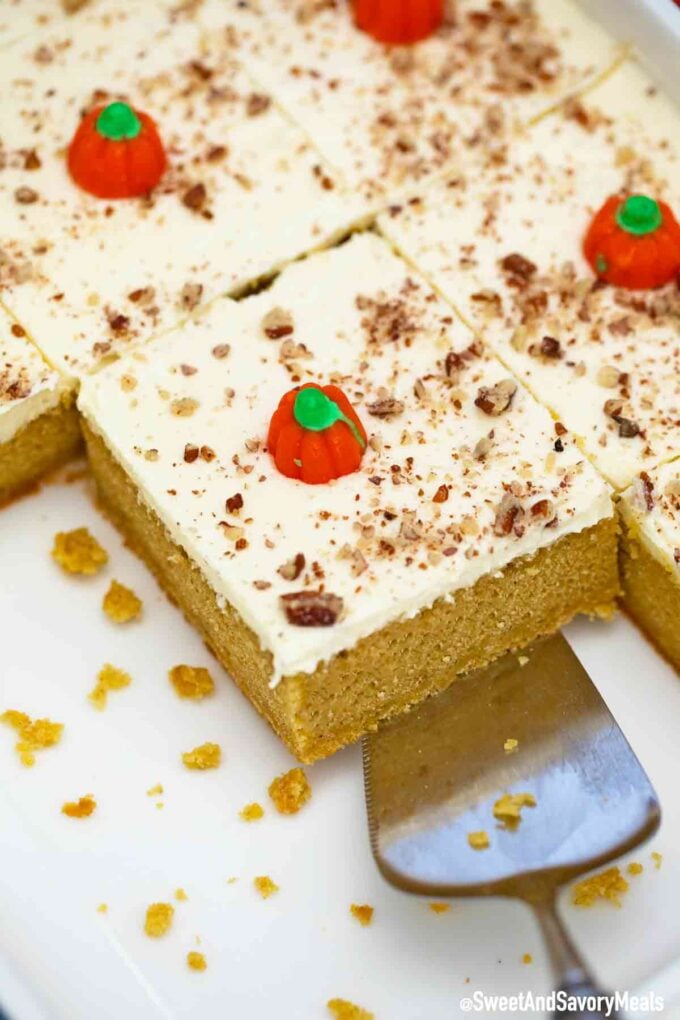 Can I make Pumpkin Sheet Cake ahead?
Yes! Cakes generally do not need to be refrigerated. However, for those infused with pumpkin, refrigeration is a must.
Store it with the frosting right after baking and you can enjoy it within two-three days. For a longer period, put it in the freezer to make it last for at least a month.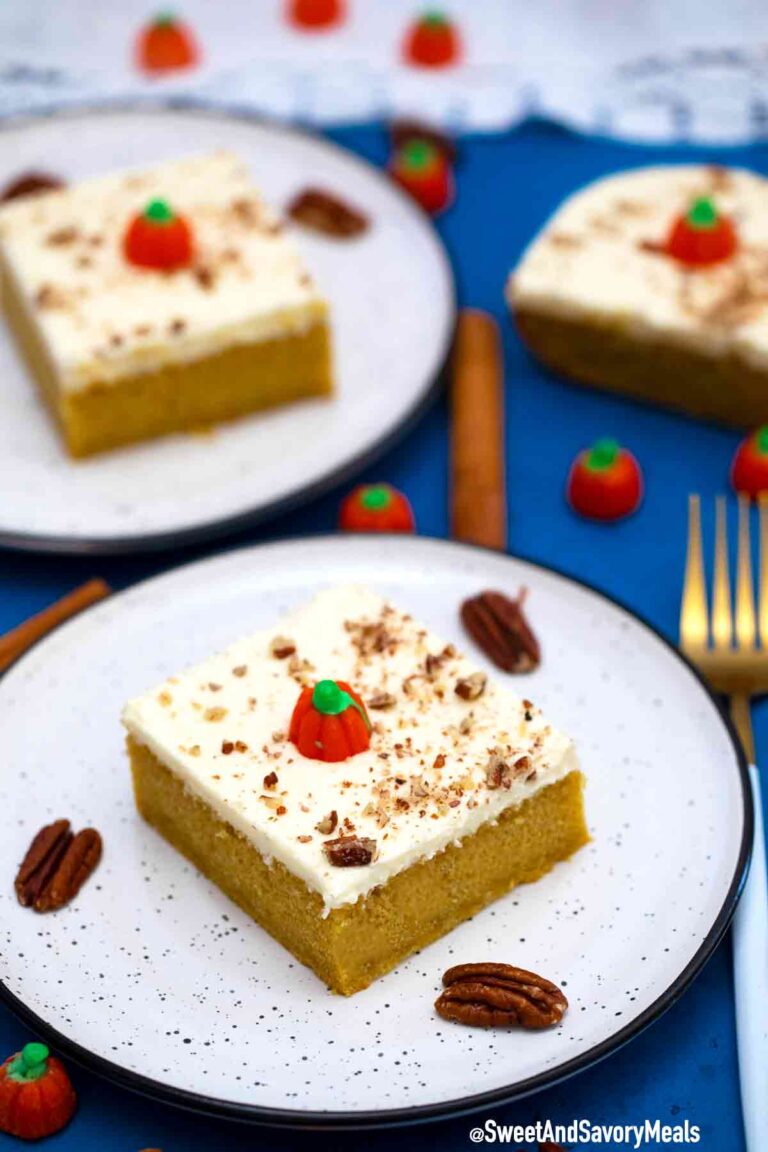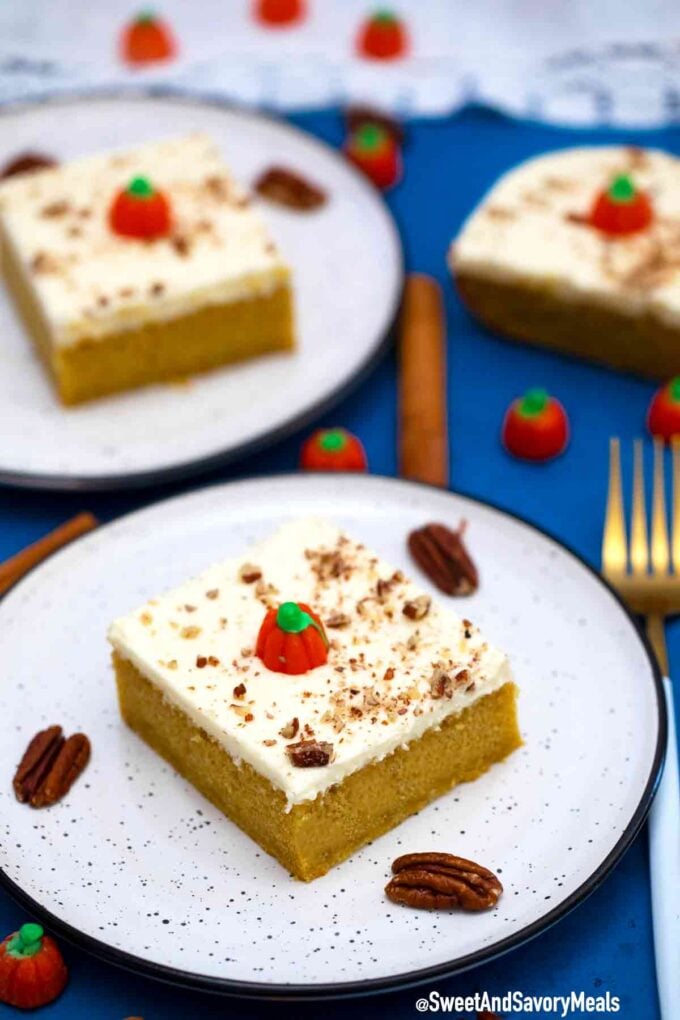 More delicious pumpkin desserts:
The start of the fall season signals the abundance of pumpkin harvests. When leaves turn brown and crisp, and the weather temperature starts to slowly drop, spending some time in the kitchen can be exciting.
Make use of the overload of supply, by making these varieties of delicious recipes: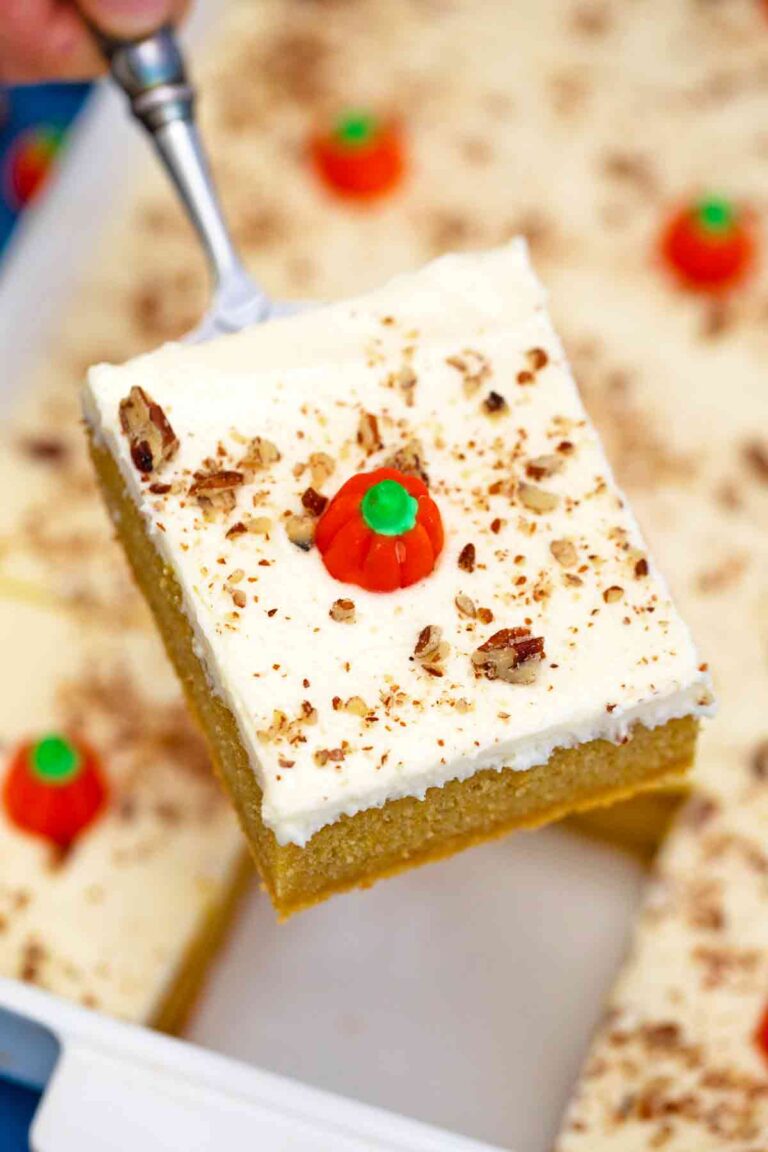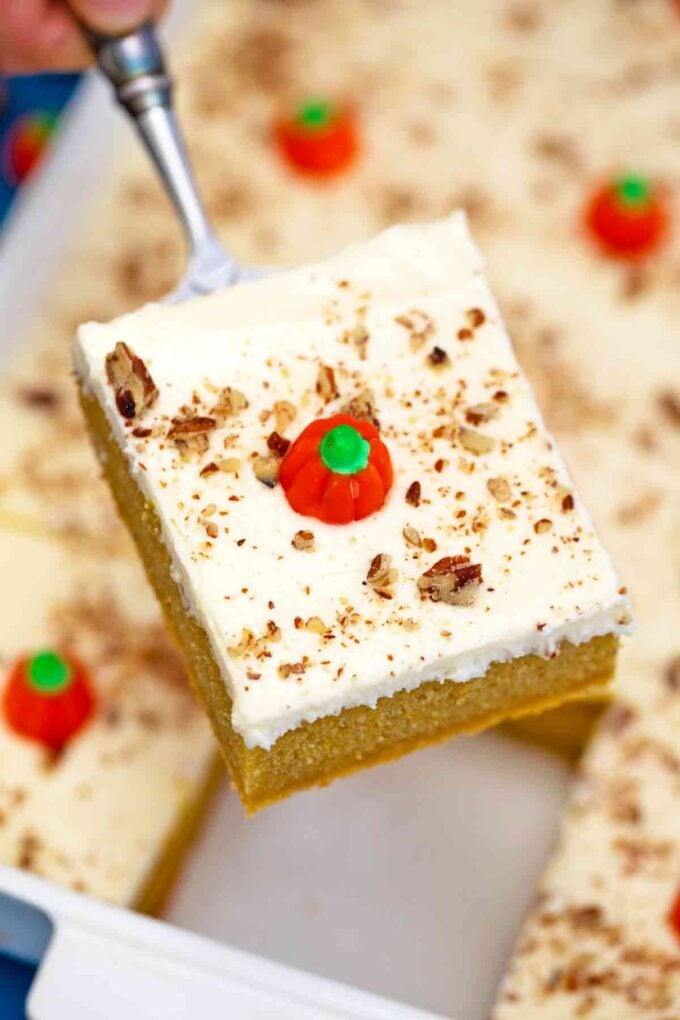 Recipe Tips:
Make your cream cheese frosting look more appealing and flavorful by topping it with crushed nuts.

Sometimes, the frosting may get runny and watery. Put it in the freezer immediately for a few minutes. Mix and repeat the process until you get a thicker consistency.

Aside from cream cheese, you can also use cinnamon buttercream for the frosting.

When mixing, don't forget to scrape on the sides to make sure that it is well combined.

You can also turn this delight into tiny treats by making it in cupcakes.
Save Recipe
Author: Catalina Castravet
Serves: 12 slices
Prep time:

30

minutes
Cook time:

30

minutes
Total time:

2

hrs
Ingredients
Pumpkin Sheet Cake:
Cream Cheese Frosting
Instructions
Make the Pumpkin Cake:
Cream Cheese Frosting:
Calories: 743 Carbohydrates: 89 Protein: 7 Fat: 42 Saturated Fat: 26 Cholesterol: 132 Sodium: 511 Potassium: 318 Fiber: 3 Sugar: 68 Vitamin A: 6568 Vitamin C: 2 Calcium: 142 Iron: 3
Save Recipe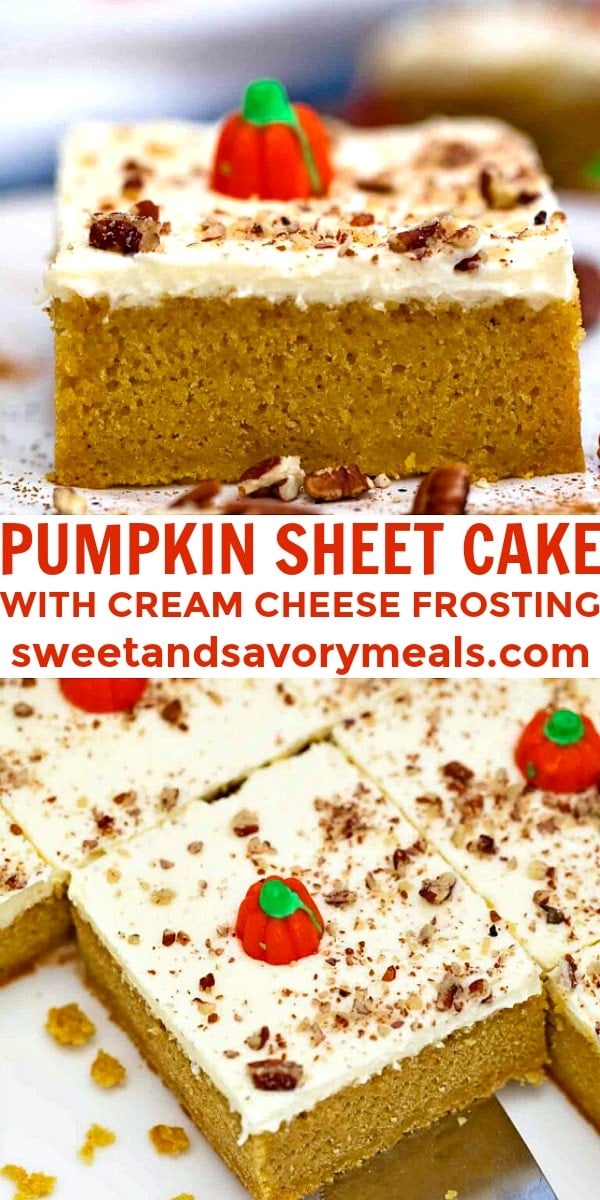 More recipes you might love