How to Make Pumpkin Puree
How to Make Pumpkin Puree is your holiday secret weapon— easy to make, smells fantastic, and usable in all of your autumn, Thanksgiving, and Christmas recipes. Stash a batch away for use all year! Try this once, and you'll never look twice at the canned stuff again.
Save yourself a trip to the store by making homemade versions of basic staples. Learn How to Make Pesto for gourmet pasta and spreads. With this Buttermilk Substitute and Homemade Chicken Stock recipe, you'll never run out of cooking essentials again.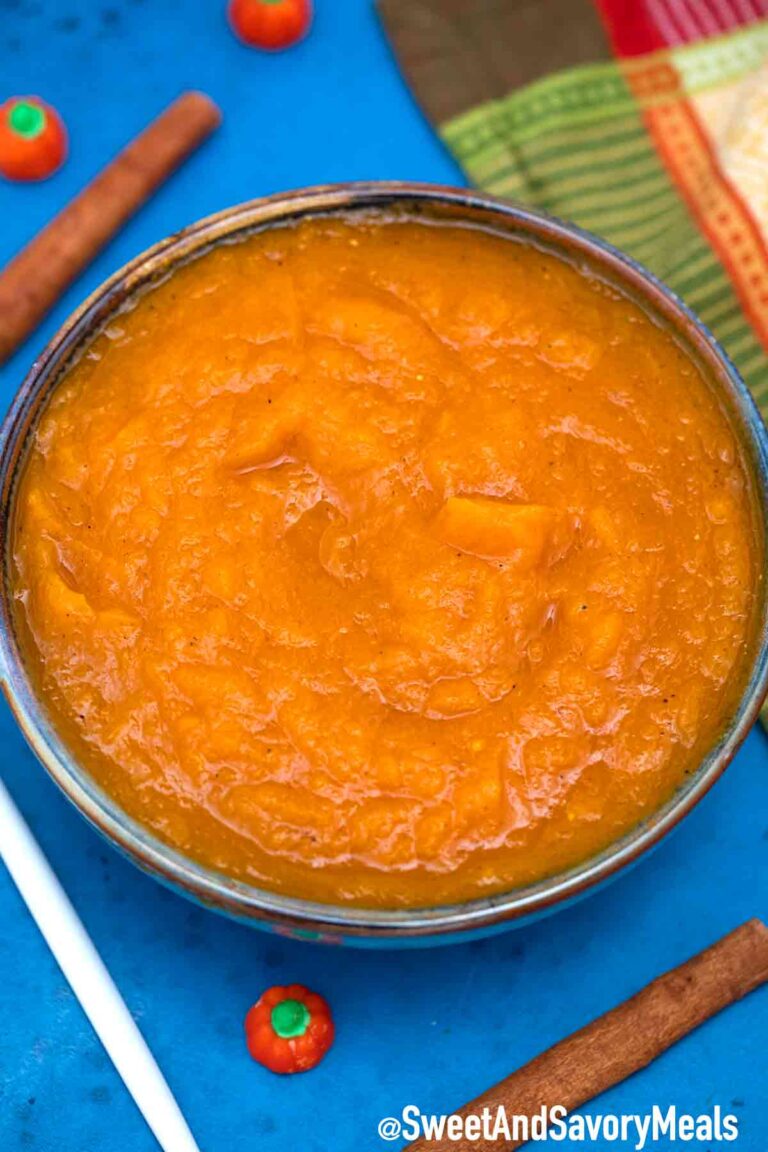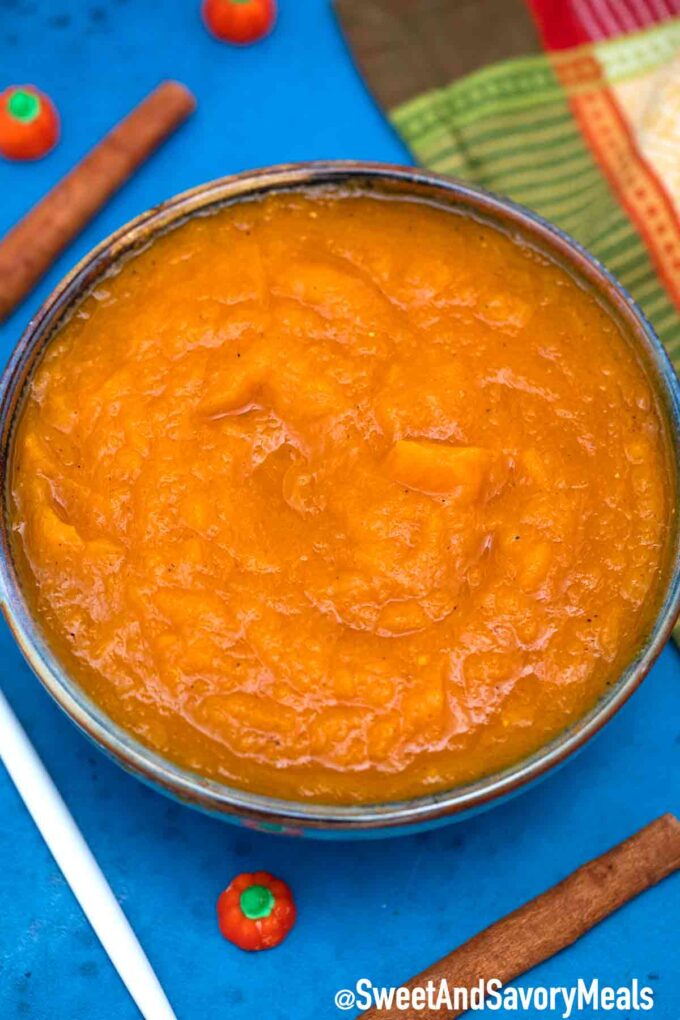 How to Make Pumpkin Pie Filling
How to Make Pumpkin Puree is barely a recipe given how easy it is to make. Seriously, you only need one ingredient! It's so simple – roast and blend – but produces an intense flavor, that the canned variety will never match. As a bonus, your house will smell phenomenal during the process.
Every time I make a batch, I have to stop myself from adding it to everything from beverages to desserts and savory dishes! In the recipe below, you'll also find the perfect spice mix to turn this puree into the ultimate pie filling ingredient.
What is pumpkin puree?
It's literally cooked pumpkin mashed until it's smooth. I like roasting mine because it reduces the moisture content and creates more flavorful, thick puree.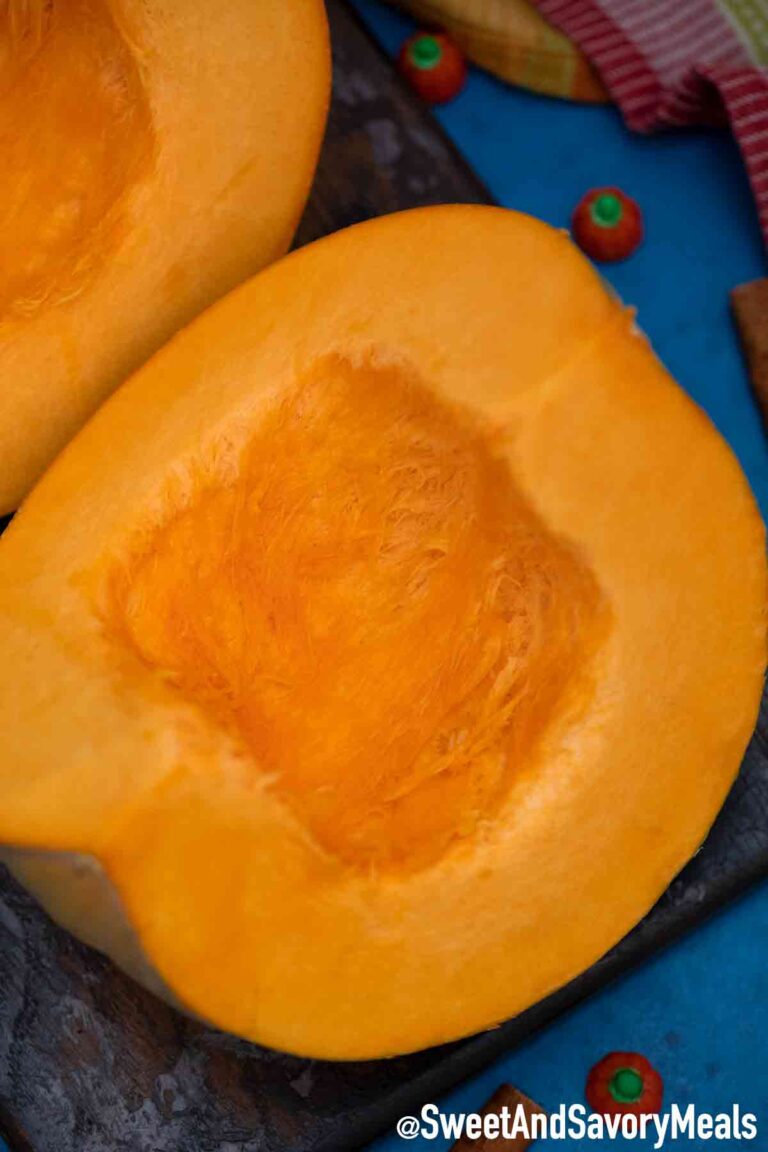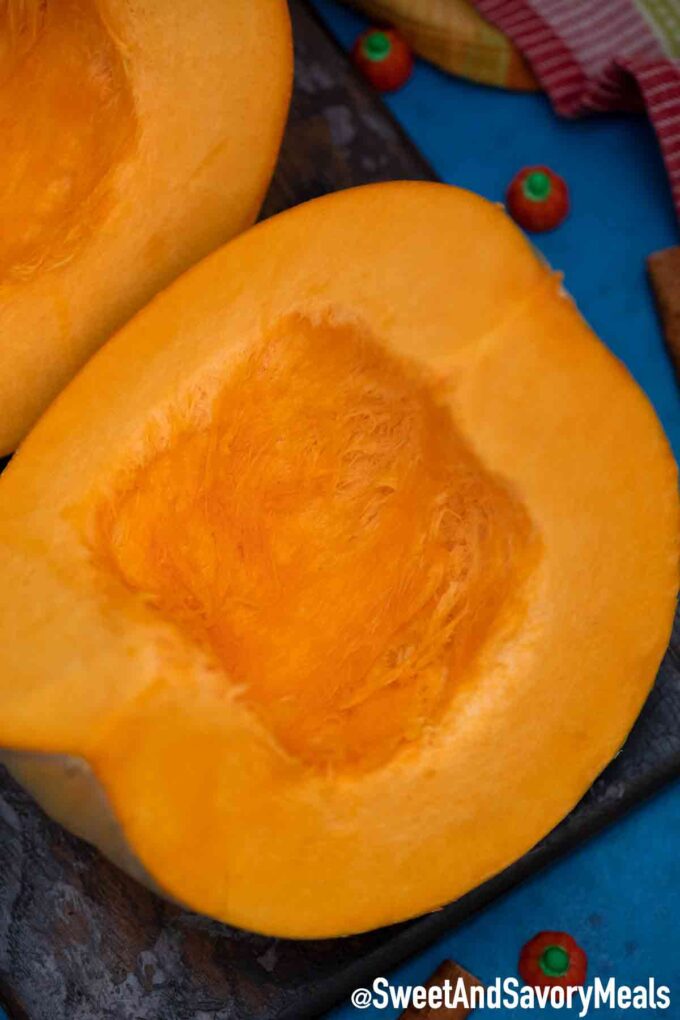 Is the canned version and puree the same thing?
I certainly used to think so! Apparently, the FDA has broad definitions for what's inside those orange and white cans. Most commercial canned purees are actually made of a Dickinson squash strain, which is closer to butternut squash, a type of winter squash.
So, if you want a truly authentic spread this year, ditch the cans and make it from scratch.
That way, you know it's 100% the real thing! With its velvety texture, rich orange color, and concentrated taste, puree from scratch is better than canned in every way.
Recipe Ingredients:
You only need one thing for this recipe: pumpkin! Really, that's it. Just add ground ginger, nutmeg, and cinnamon to the mixture to create the pie filling version, then add brown sugar and salt to taste.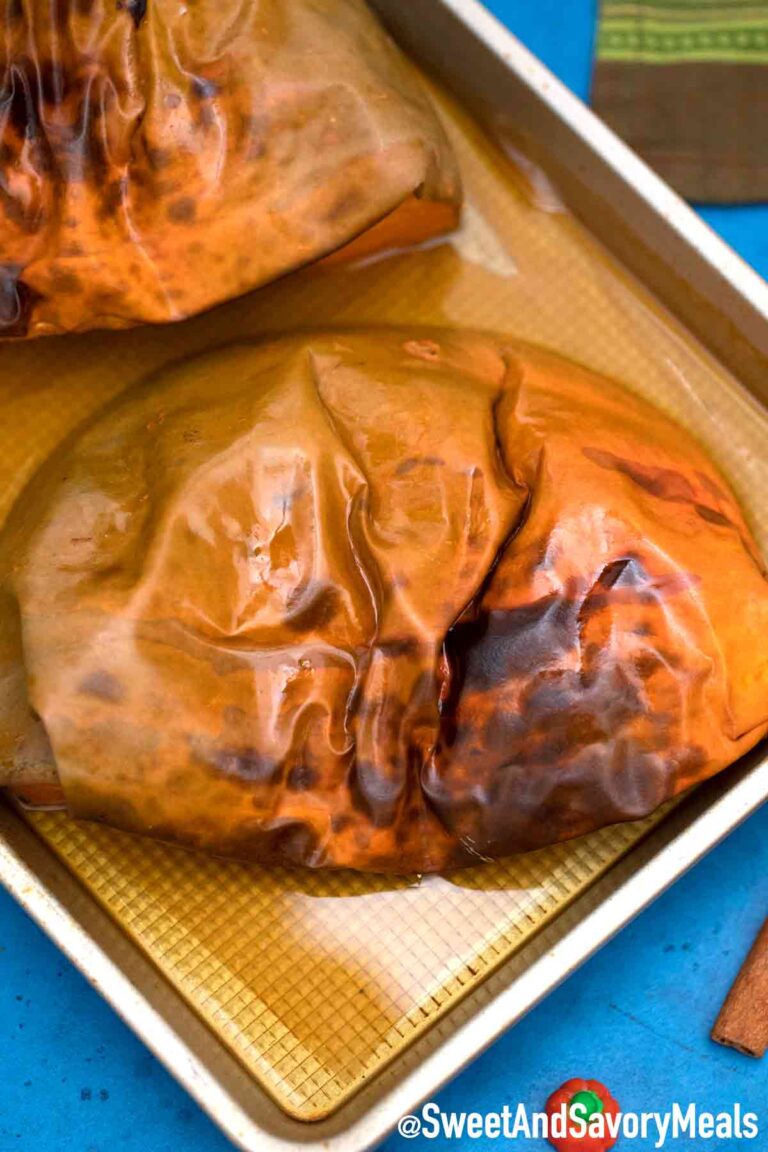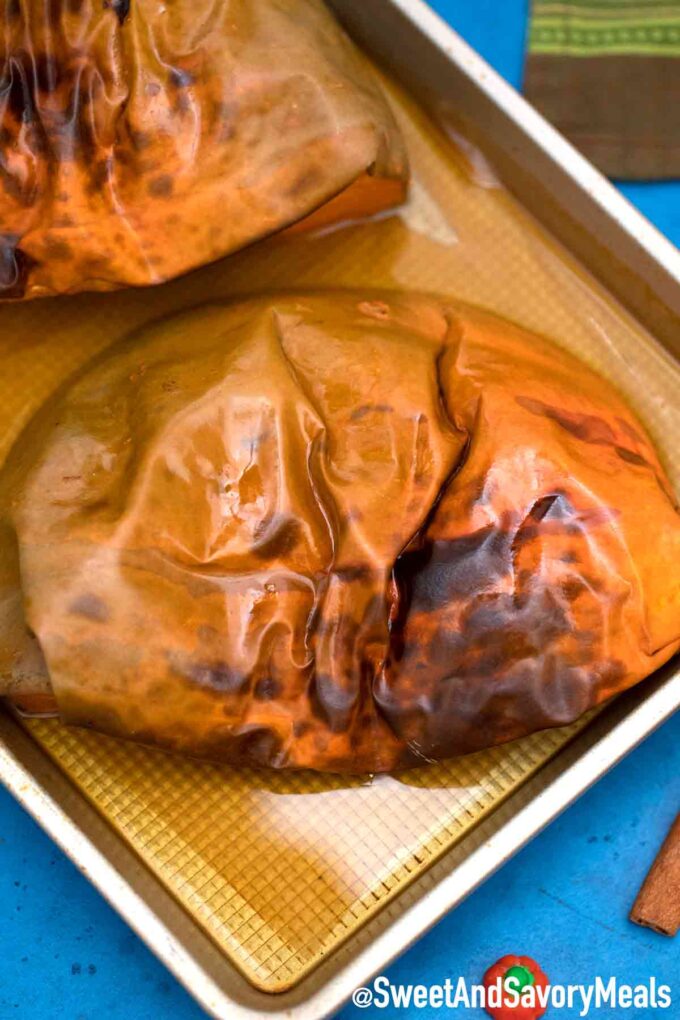 How to make Pumpkin puree?
Ever carved out a jack o' lantern? It's basically the same procedure! Let's walk through the steps:
Heat up your oven to 400F.

Halve the pumpkin lengthwise.
Clean out the insides.
Roast the chunks until they collapse and become tender.
Discard the skin.
Chop the flesh into pieces and process/blend until completely smooth.
If the consistency is not thick enough for you, strain it well through a cheesecloth-lined sieve.
Best pumpkins to use?
No matter what you do, don't use giant standard ones! The larger they are, the stringier, less flavorful, and drier the flesh becomes. Keep those to make spooky Halloween décor.
Instead, look for the ones labeled "pie" or "sugar." These are smaller (I generally use 2-lb sizes), creamier, and sweeter.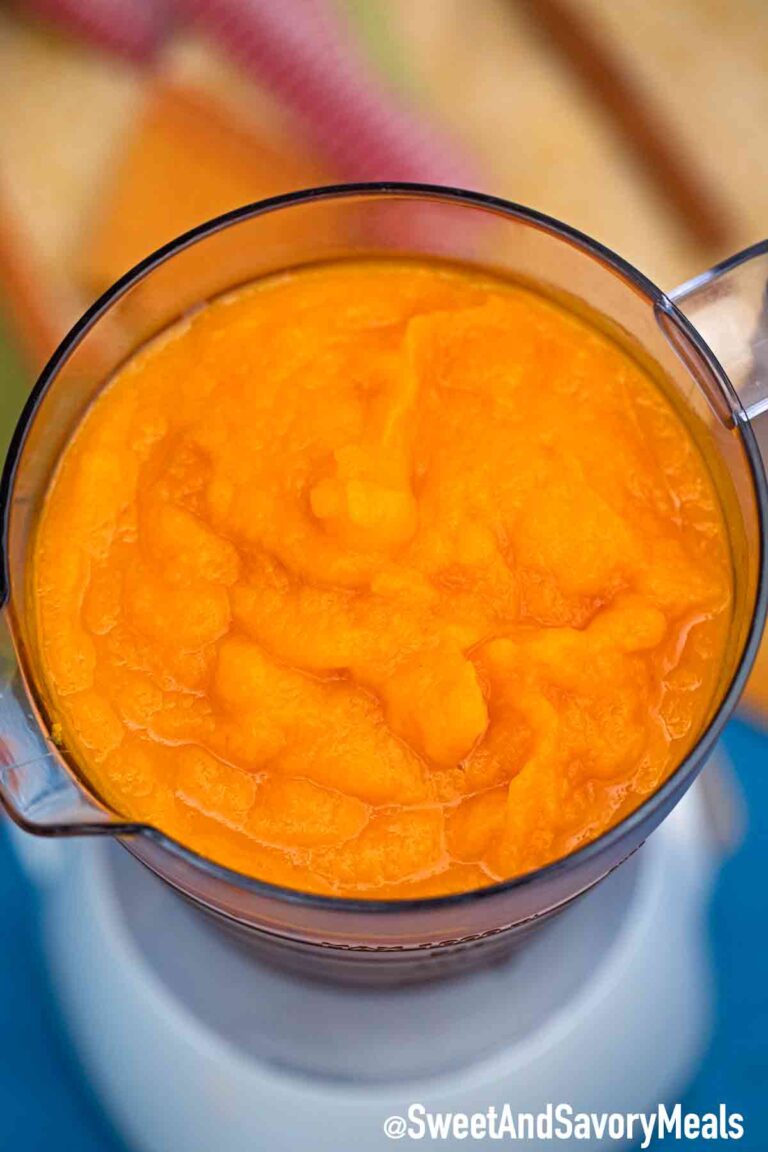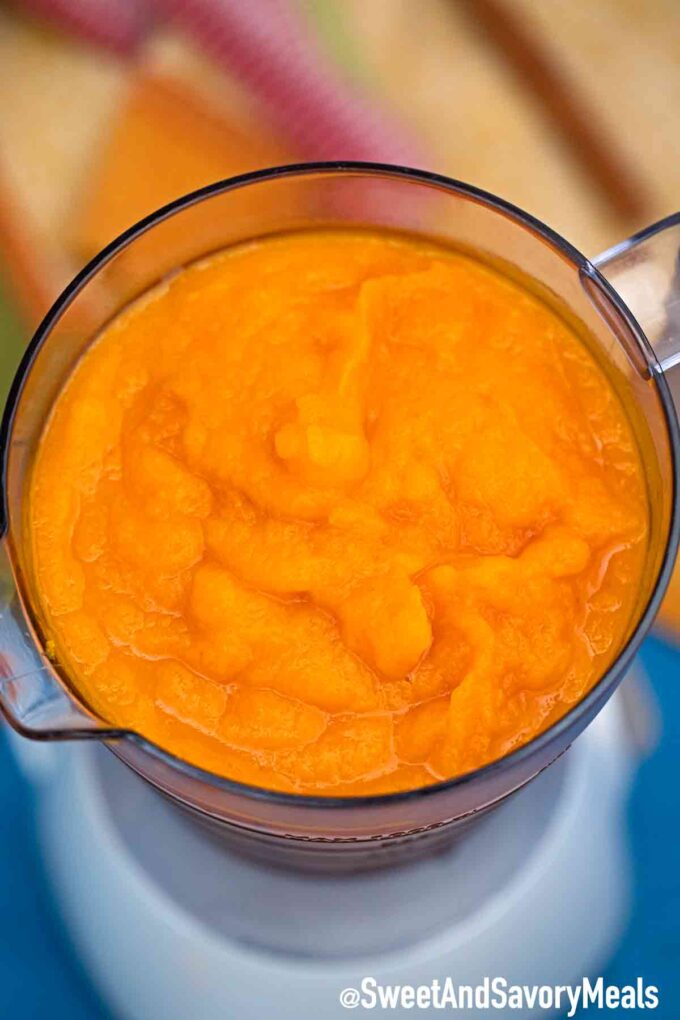 Ways to use the puree:
This will work with most sweet and savory dishes. Of course, there's the staple pie, and you can also use it as filling for cakes and pastries. Add a fall twist to cheesecakes, crepes, muffins and cupcakes, trifles, frosting, cookies, and pancakes.
Aside from sweet treats, the puree also tastes fantastic in a soup perked up with sage. I love using it for gnocchi, ravioli filling, enchiladas, and soup as well.
Ever had it with pizza or chili? You'll be surprised at how good it is! And yes, this also healthy and yummy baby food.
Can you make this in advance?
Sure, can! Cool it down and store it in sterilized containers. Stays great in the fridge for 7 days, or freeze up to three months.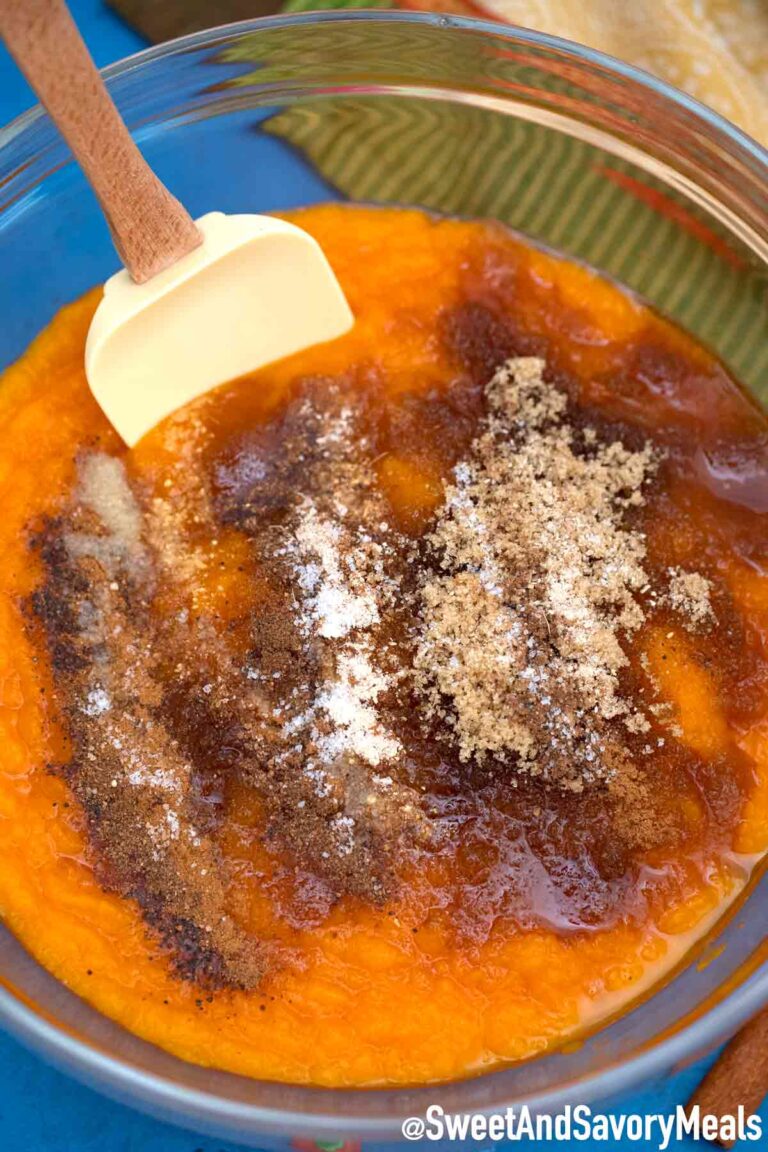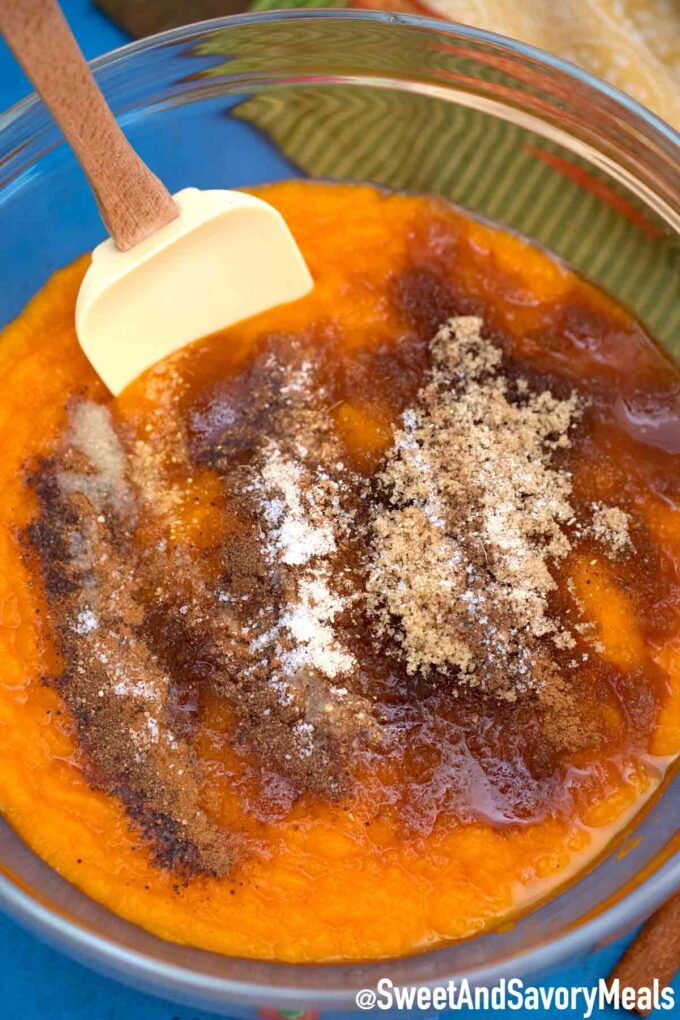 More delicious recipes: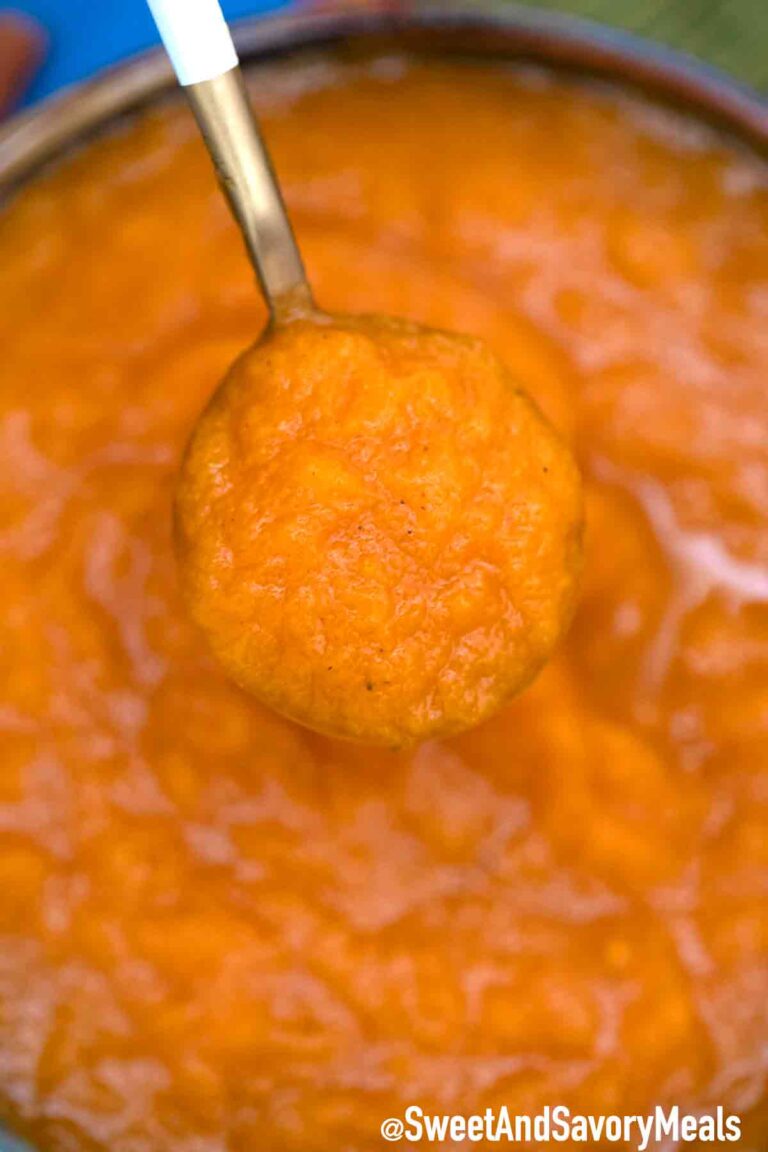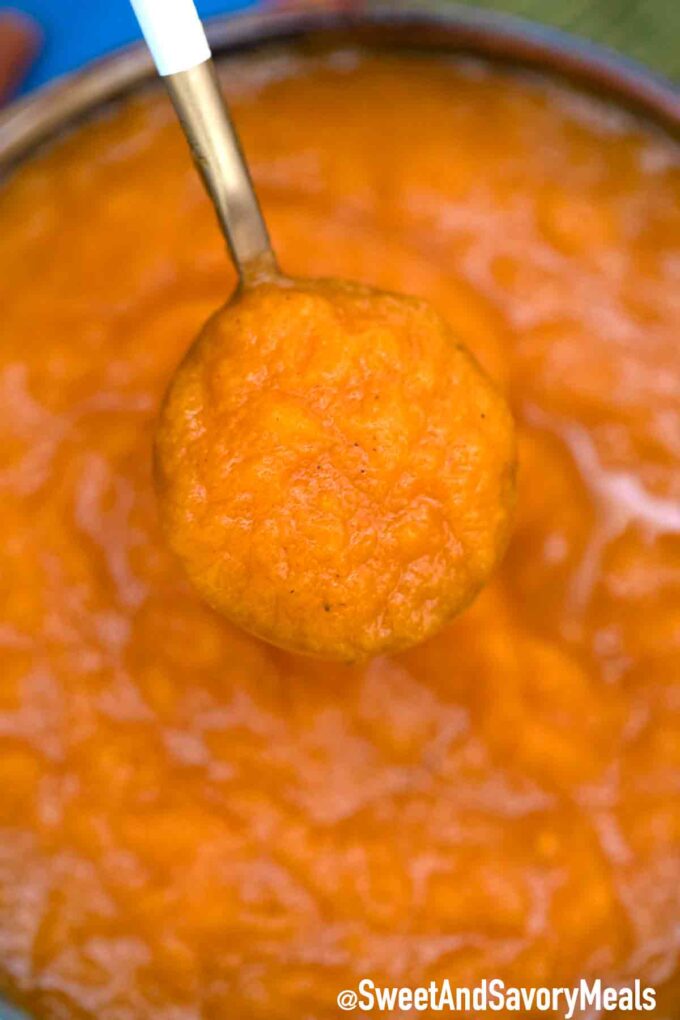 Recipe Tips:
The homemade puree is looser in consistency than canned, so squeeze out the moisture before adding to recipes.
Create a stable base by cutting one side flat before slicing into halves.
Don't throw out those seeds! Roast them for a crunchy snack and topping for salads.
Use a processor to achieve a super-smooth texture.
Try visiting a farmer's market and asking for recommendations for the right variety for this puree.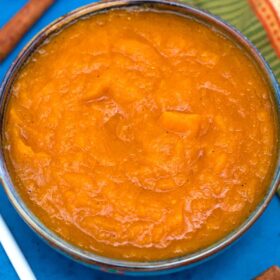 How to Make Pumpkin Puree
How to Make Pumpkin Puree is your holiday secret weapon— easy to make, smells fantastic, and usable in all of your autumn, Thanksgiving, and Christmas recipes.
Save
Share
Print
Pin
Rate
Ingredients
PUMPKIN PUREE:
2

lb

sugar pumpkin

(or pie pumpkin)
PUMPKIN PIE FILLING:
1/2

cup

packed brown sugar

1/2

teaspoon

ground cinnamon

1/2

teaspoon

ground ginger

1/2

teaspoon

ground nutmeg

1/2

teaspoon

salt
Instructions
Preheat oven to 400 degrees Fahrenheit.

Line a baking sheet pan with parchment paper or aluminum foil and set aside.

Slice the pumpkin in half lengthwise and using a large spoon, scoop out all of the pumpkin seeds. You can discard them or roast them.

Place the pumpkin halves cut side down on the prepared sheet pan and roast in the preheated oven for 35 to 45 minutes, or until the pumpkins look like they have partially collapsed and the flesh is very soft and tender.

Remove from the oven and let cool at room temperature.

Peel the skin away and discard. Chop the pumpkin flesh into chunks and place them in the bowl of a food processor, fitted with a blade attachment.

Puree until very smooth.
PUMPKIN PIE FILLING:
The pumpkin puree is naturally more watery, to thicken it, strain the pumpkin puree in a sieve lined with cheesecloth over a bowl. Discard any excess.

Mix in the Pumpkin Pie Filling ingredients into the strained puree.

Store in an airtight container, it can be refrigerated for up to 7 days or freeze for up to 3 months.
Nutrition
Calories:
332
kcal
|
Carbohydrates:
84
g
|
Protein:
5
g
|
Fat:
1
g
|
Saturated Fat:
1
g
|
Sodium:
602
mg
|
Potassium:
1615
mg
|
Fiber:
3
g
|
Sugar:
66
g
|
Vitamin A:
38614
IU
|
Vitamin C:
41
mg
|
Calcium:
141
mg
|
Iron:
4
mg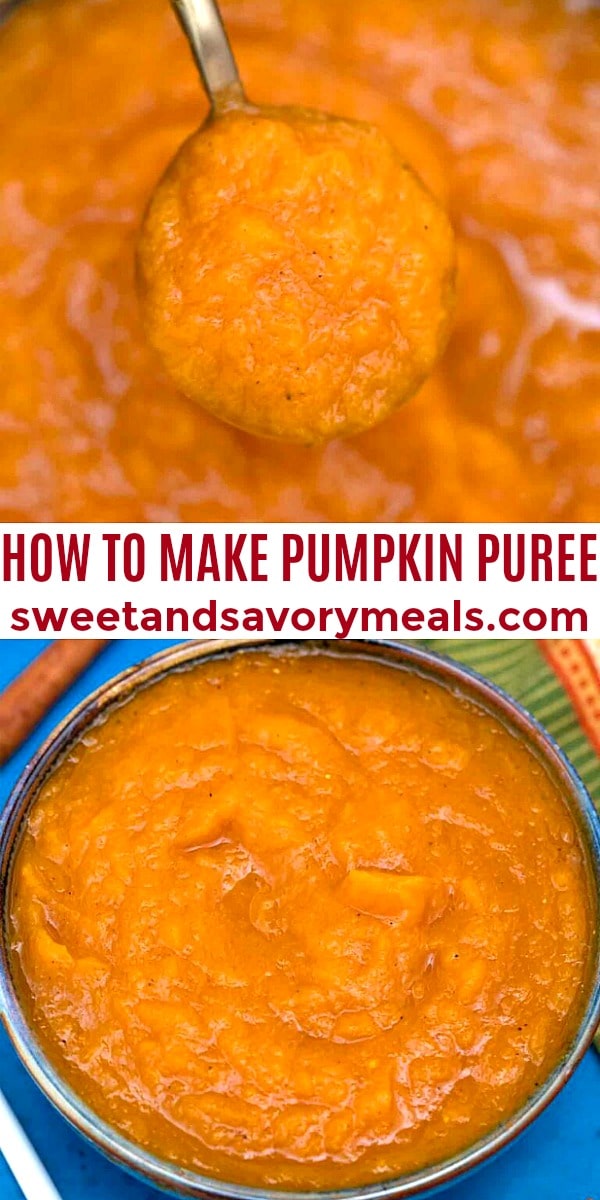 More recipes you might love