Creamy Mashed Sweet Potatoes [Video]
Mashed Sweet Potatoes are a creamy, buttery, and yummy side dish! They go well with anything savory, like chicken, fish, or turkey. Plus, this recipe is very easy to make!
If you are looking for holiday side dishes, then, this recipe might just be what you are looking for! You can also check out Instant Pot Cinnamon Apples, Crack Corn Salad, and Brown Sugar Roasted Carrots!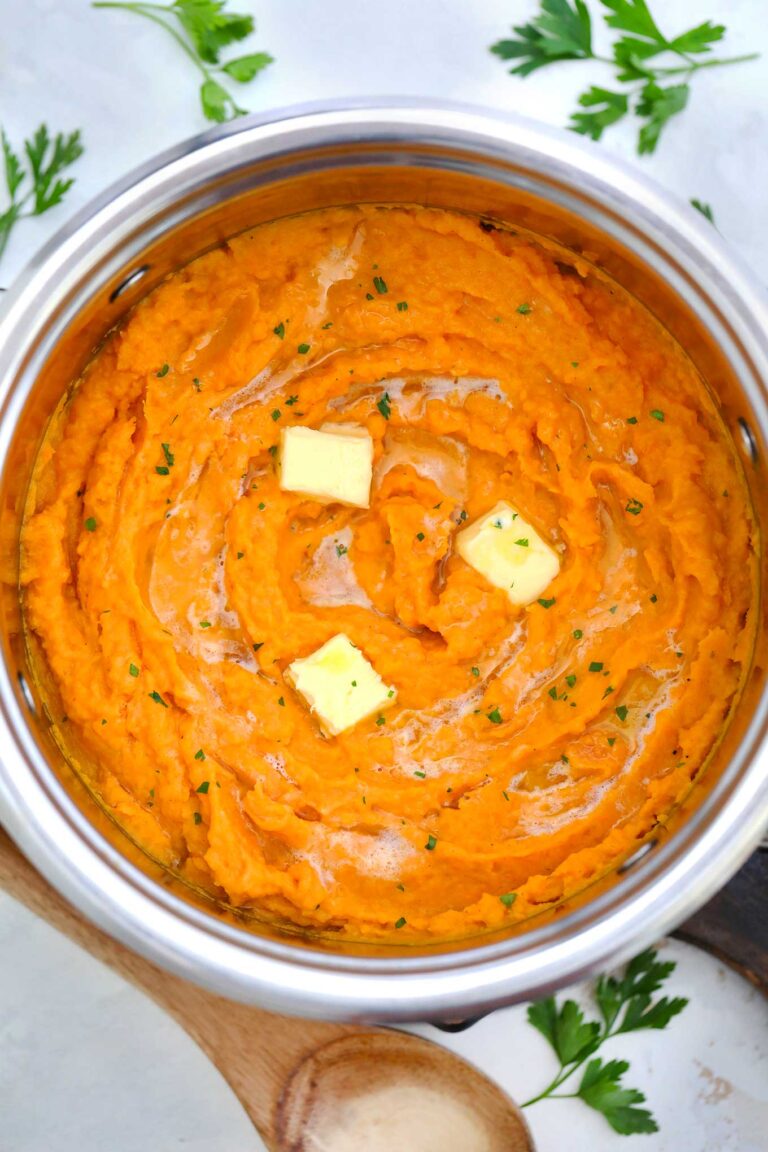 Creamy Mashed Sweet Potatoes Recipe
Mashed Sweet Potatoes could just be your replacement for the more common kind made from the white spuds. While both vegetables are associated with each other, they belong to different plant varieties. It is not unusual for both root vegetables to have a similar recipe, just like this one.
But why would you prefer one over the other? One key difference is the color. This recipe can yield a rich yellow-colored dish perfect for a festive holiday table.
Also, this type of spud is sweeter. You can make more savory recipes out of the white one, but this one has a natural sweetness to it that can be enhanced further by adding nutmeg and cinnamon.
So, if you want variation in your favorite comfort food, then, try this recipe now!
What are mashed sweet potatoes?
It is a delicious side dish made of a creamy mixture of spuds reduced to tiny bits until smooth. To mash, you can use a fork, a food processor, or a potato masher. Any will do as long as you achieve your desired consistency.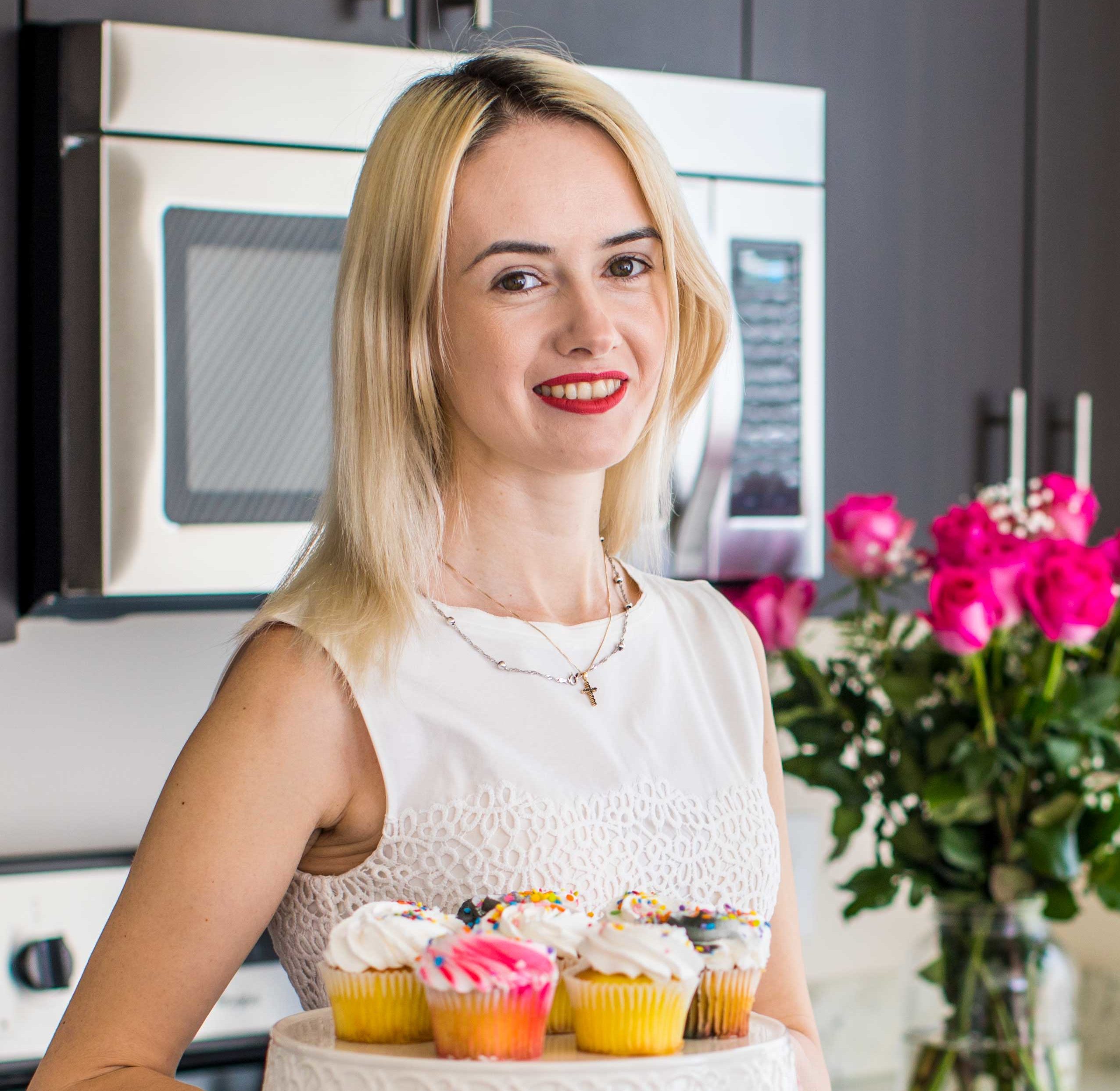 Follow us on Pinterest for more delicious recipes!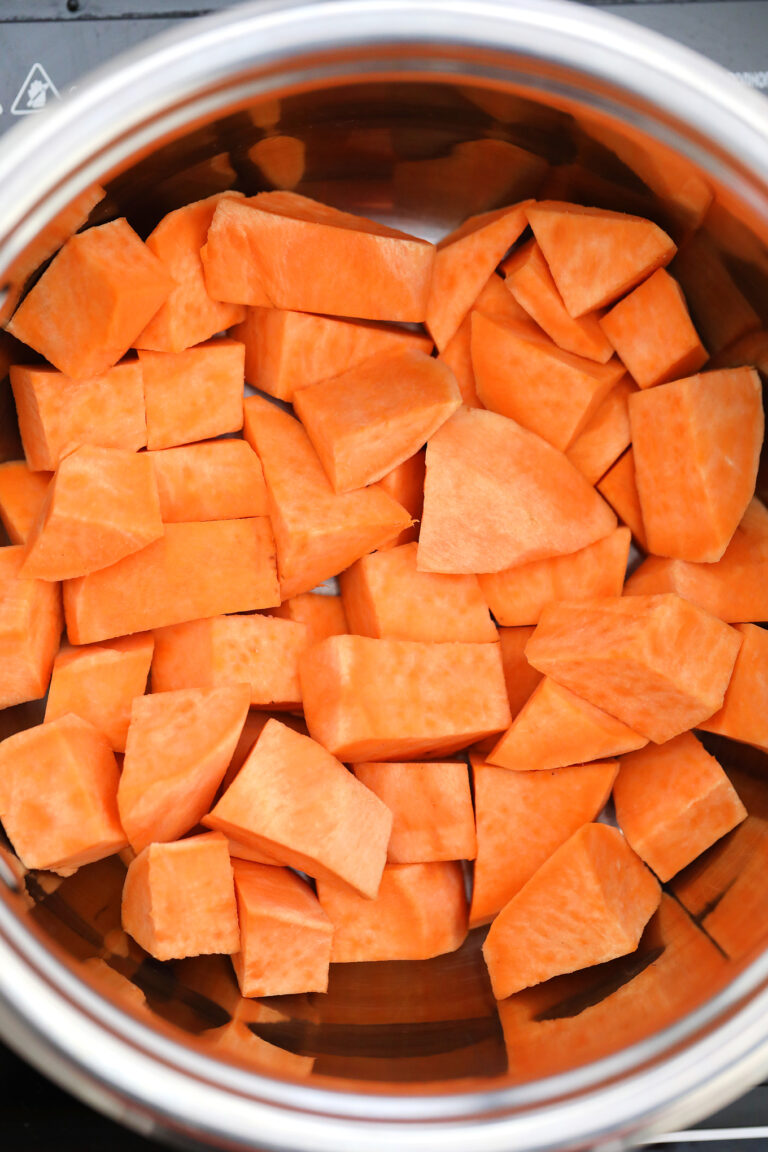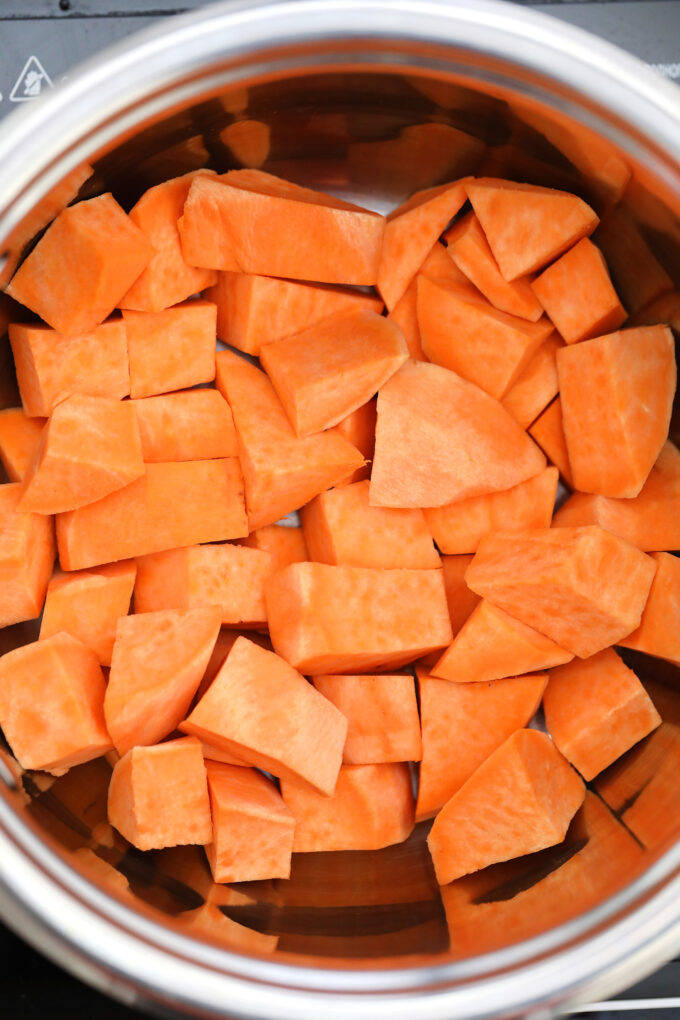 Are sweet potatoes healthy?
This type of spud has high levels of beta carotene that can get converted to vitamin A, something that is good for the eyes.
It is also fiber-rich making it hearty and you will feel satiated when you eat it. This is an advantage for those who want to lose weight.
While the vegetable is generally healthful, what you put in it can significantly add up on the total calories. So, consider that when adding toppings to this dish. Good thing is that a raw spud will set you back by only about 112 calories.
What do you need to make this recipe?
Aside from the spuds, you will only need a handful of easy-to-find ingredients such as the following:
salt
cream
Greek yogurt
butter
maple syrup
cinnamon
nutmeg
parsley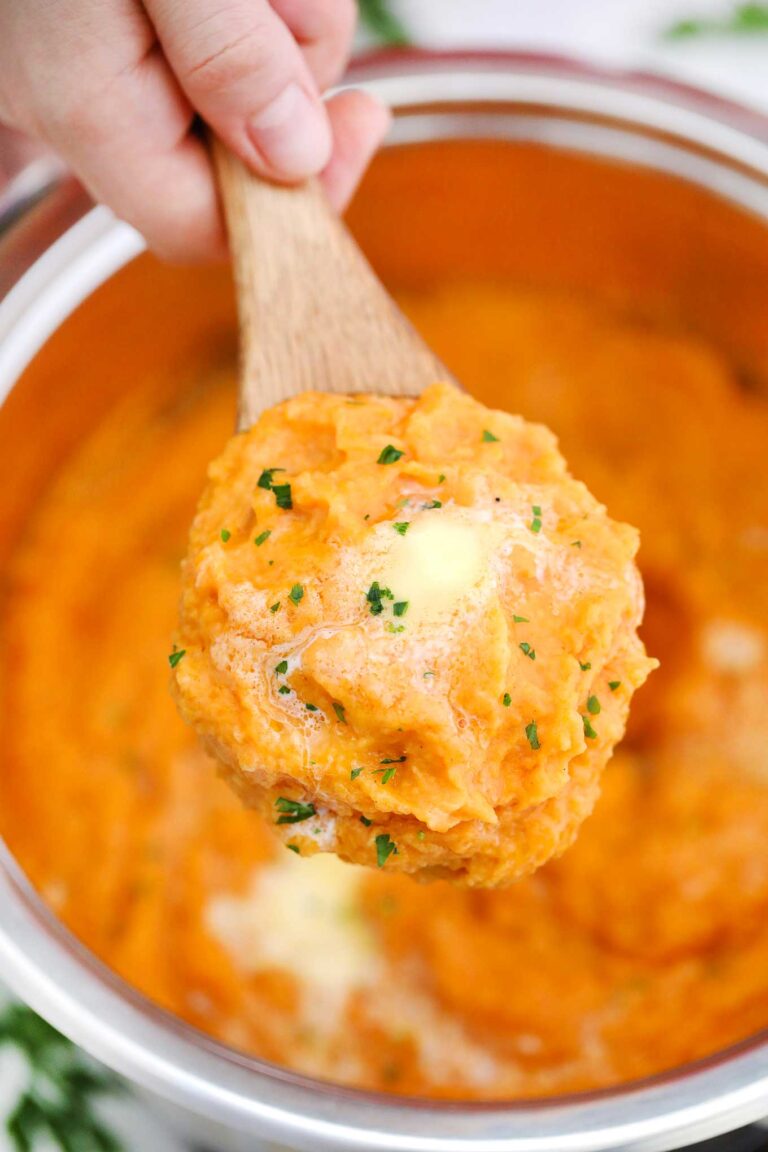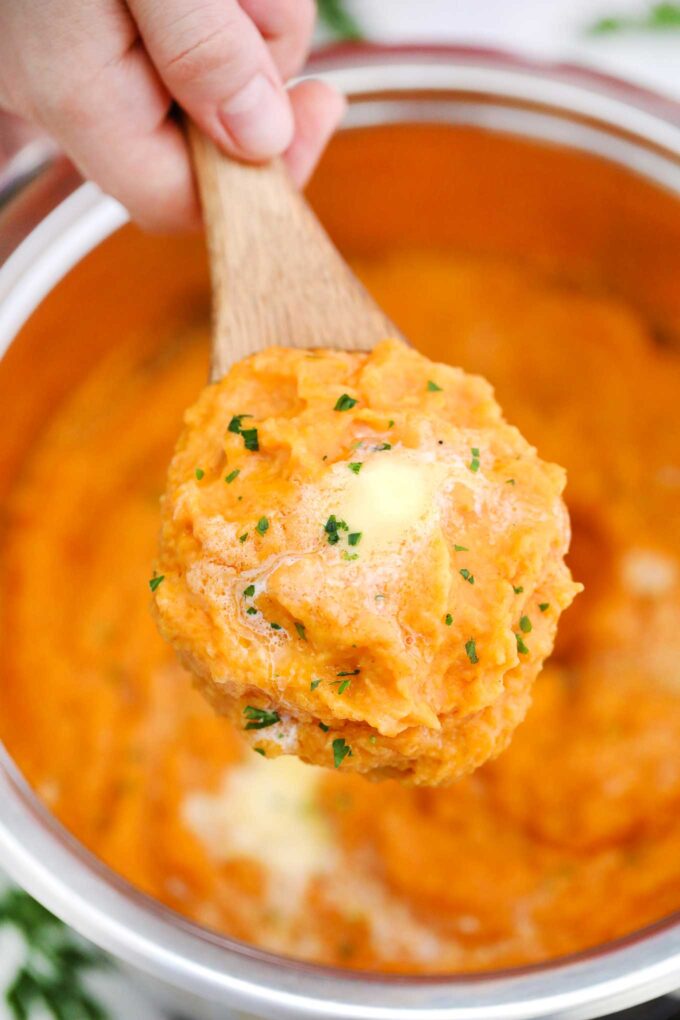 How do you make mashed sweet potatoes:
This easy recipe requires a few simple steps. Also, watch the recipe video tutorial attached and see easy it is. The steps are as follows:
Simmer in water: Add the cubes to a large pan or Dutch oven, and add enough water to cover everything by an inch. Add salt and let the water simmer at medium-high heat. This will take about 9 to 12 minutes until the spuds are fork-tender.
Mash and season: Drain the water and mash. Add the rest of the ingredients except for the parsley. Mix well. Mash again until your desired consistency.
Serve: Top with butter and parsley (optional), then, serve.
How can you easily peel a raw sweet potato?
The skin will almost automatically fall off if you would boil the spuds first. Then, use a paring knife to peel off. This will work well with this recipe as you will eventually boil them, too, to soften them.
If you are to use it in other recipes, then, you can simply use a serrated peeler.
What to serve with mashed sweet potatoes?
This would be a perfect side dish to serve with:
Can you eat the skin of a sweet potato?
Yes! It provides great texture and it is the skin that is nutrient-dense in this vegetable. Just remember to scrub away dirt and wash thoroughly before using in any recipe.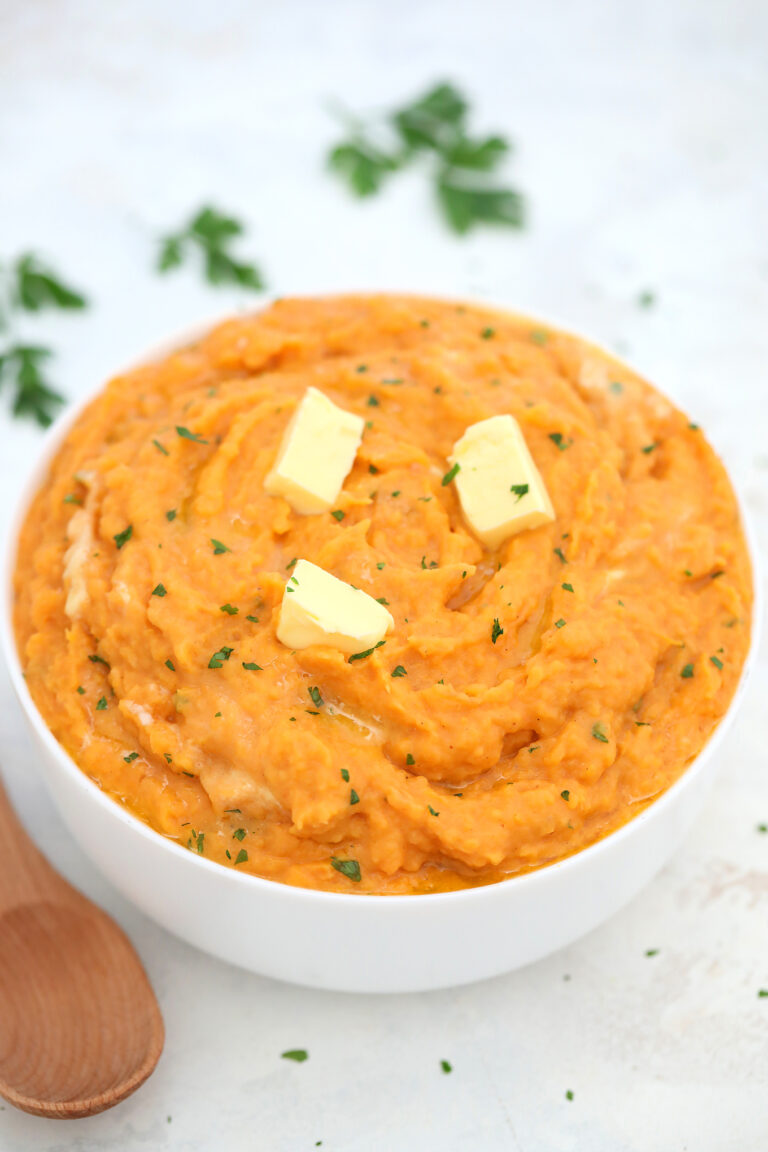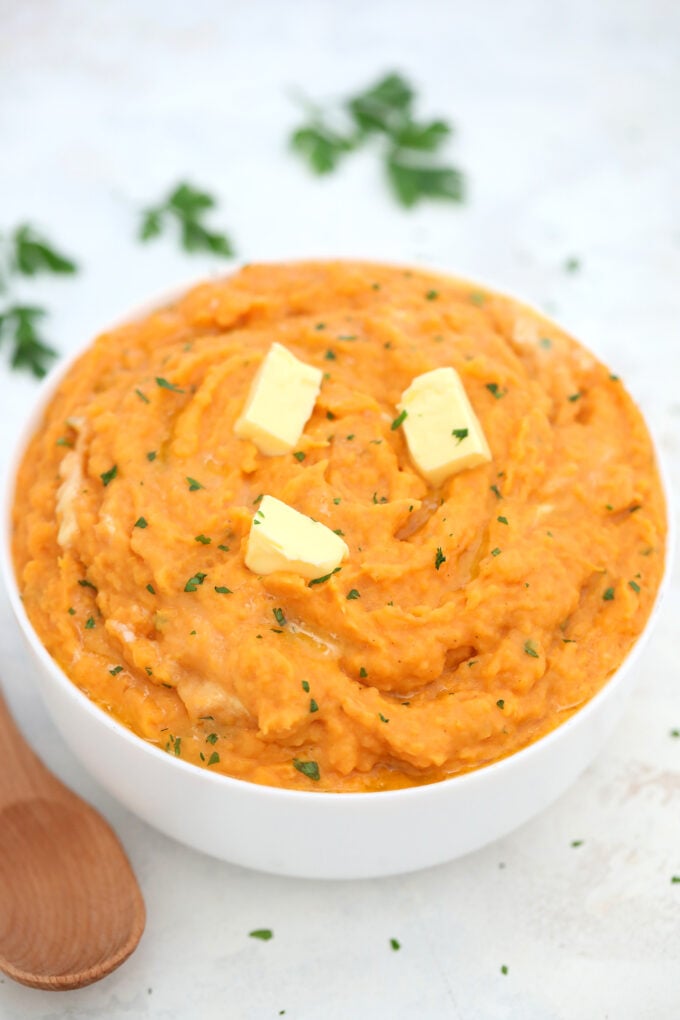 How to store:
Refrigerate: You can put this in an airtight container once completely cooled, then, refrigerate for 3 to 5 days.
Freeze: Put a little bit of lemon juice to avoid discoloration while freezing. Put in airtight freezer bags and squeeze out the air before sealing. You can freeze this for 10 to 12 months.
Reheat: Thaw overnight in the fridge, and then, reheat in the microwave or stovetop. You may need to add more cream or butter to moisten it.
Recipe Tips:
Using a potato ricer to mash can make this dish fluffy.
You can top it with bacon bits, brown sugar with cinnamon and some walnuts, or cinnamon apples.
If you have leftovers, you can make a dessert out of them by following this recipe for ube muffins.
Save Recipe
Creamy Mashed Sweet Potatoes
Mashed Sweet Potatoes are a creamy, buttery, and yummy side dish! They go well with anything savory, like chicken, fish, pork or turkey.
Author: Catalina Castravet
Serves: 8 servings
Prep time:

15

minutes
Cook time:

25

minutes
Total time:

40

mins
Nutrition information
Calories: 260 Carbohydrates: 39 Protein: 5 Fat: 10 Saturated Fat: 6 Cholesterol: 30 Sodium: 302 Potassium: 627 Fiber: 5 Sugar: 11 Vitamin A: 24452 Vitamin C: 4 Calcium: 92 Iron: 1
Save Recipe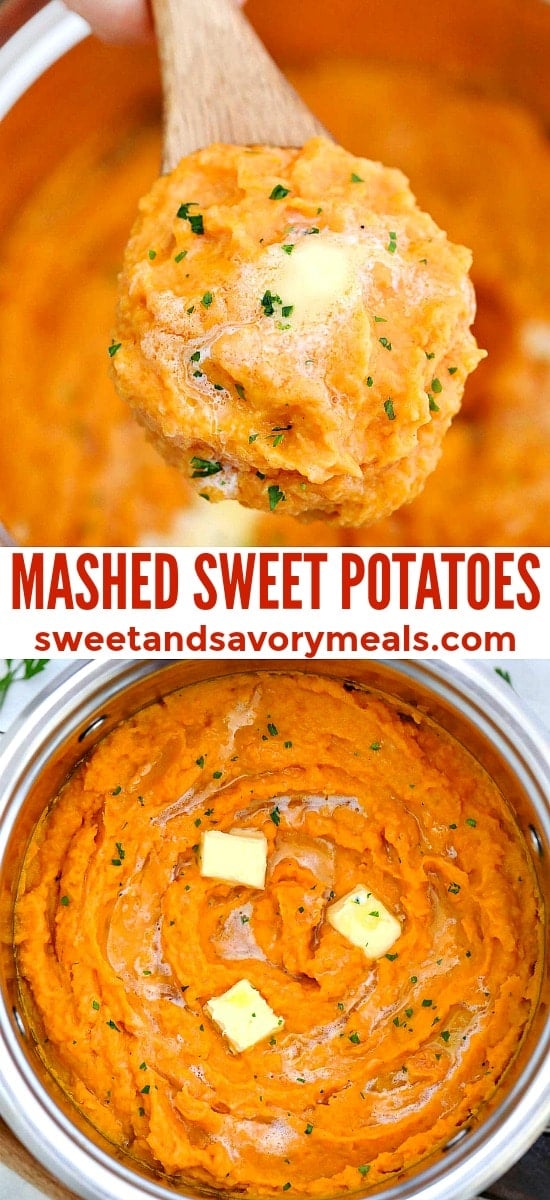 More recipes you might love