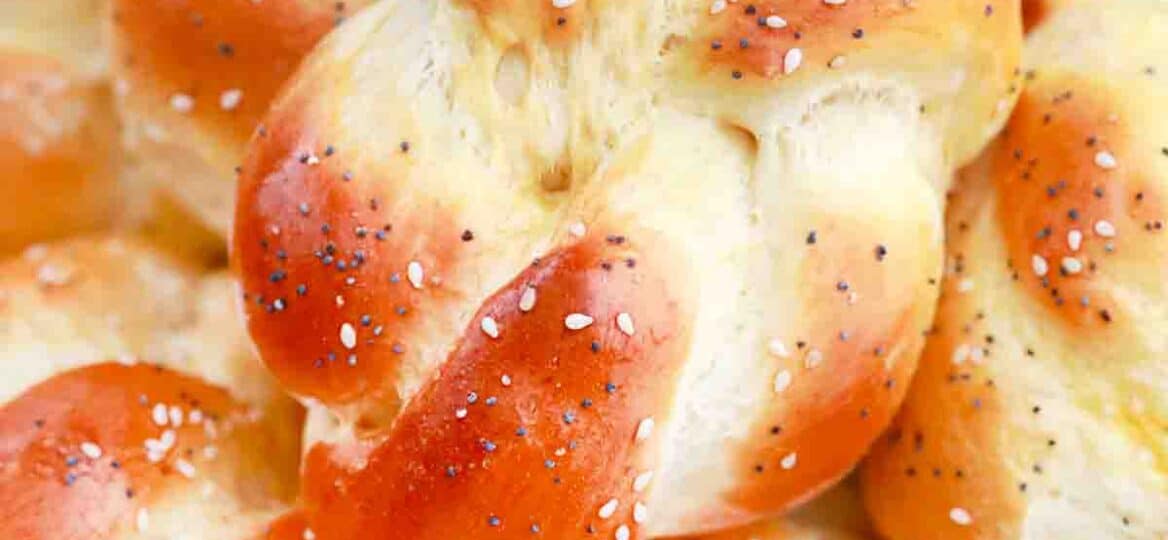 Sweet Bread Rolls Recipe [Video]
Sweet Bread Rolls are easy to make with a handful of ingredients, they are light and flaky with a subtle sweetness that makes them perfect for a snack, side dish, or even a dessert. And you do not even need a bread machine to make these sweet dinner rolls. This sweet roll recipe is easy and fast so you can have them for dinner tonight.
Are you looking for more bread recipes? These 30-Minute Dinner Rolls are fluffy, soft, and fast to make with active yeast, all-purpose flour, and warm milk. If you are in the mood for bread and do not feel like going to the store, this Amish Bread recipe only needs the basic ingredients that you probably have in the kitchen already.
According to some, bread rolls originated in 1581 in England. Others believe that they were invented by Fannie Farmer in the 1870s while working at the Parker House Hotel in Boston. She even put them in her Boston Cooking School Cook Book in 1896. But the oldest bread rolls were found inside Egyptian tombs from around 2400 BC.
Whether you want something sweet or savory, these homemade sweet rolls are perfect. Also known as Portuguese rolls, they are baked to a golden brown and flavored with rich buttery goodness and sweetened condensed milk. The hint of lemony zest adds a unique and unforgettable taste so everyone in the family will be asking for the recipe!
In fact, this is my go-to recipe for homemade sweet rolls anytime. These are versatile too so you can gently brush them with melted butter and cinnamon for cinnamon rolls or with garlic and herbs for a more savory flavor.
Want more baking recipes? We have lots of them! Try our great recipe for sweet potato souffle made from sweet potatoes, brown sugar, and cinnamon. These fluffy cinnamon rolls are also delicious with a gooey cinnamon filling and thick cream cheese icing.
Ingredients needed:
To make these sweet dinner rolls, all you will need is the ingredients listed below. Then, scroll down to our recipe card for complete instructions and exact measurements.
Sweetened condensed milk
Large eggs: Lightly beaten and at room temperature.
Softened butter: At room temperature.
Lemon zest
All-purpose flour
Brown sugar: Dark or light brown sugar, packed firmly.
Active dry yeast
Warm milk: Approximately 100 degrees F.
Kosher salt
Egg: For egg wash.
Sesame seeds: For garnish.
How to make sweet dinner rolls from scratch?
Test the yeast: First, use a fork to mix the yeast, brown sugar, and warm milk in a small bowl and let it sit for 10 minutes without disturbing it. The mixture should bubble or foam up. If it does not, your yeast is dead. Get some different yeast and start over.
Mix the dry ingredients: Now, in the mixing bowl of your stand mixer, add the flour with the lemon zest and salt, mixing it all together on low speed.
Combine the wet ingredients: In another bowl, mix the yeast mixture, sweetened condensed milk, eggs, and melted butter until it is combined well.
Make sweet roll dough: Next, pour the wet ingredients into the dry ingredients and use a dough hook attachment to knead the dough for three minutes at medium speed. The dough mixture will still be sticky but elastic.
Let it rise: After, transfer the rounded dough to a greased bowl. Cover the bowl with a clean dish towel or plastic wrap and set it in a warm place. Let the dough rise until it has doubled in size. This typically takes about an hour depending on the heat and humidity in your home.
Roll the dough: Then, punch down the dough to get the excess air out and turn the dough onto a lightly floured surface. It is easier to work with when it is elastic and sticky, so it is best not to add flour to it. Roll dough into a long log and cut it into 12 equal pieces.
Form your knots: Now, take each of the small pieces and roll them into a long 12-inch rope using the side of your hand. Make a loose knot in the dough and then take the end that comes from underneath and roll it over, pressing it into the middle. Take the other end of the dough and fold it under, pinching it in the middle.
Preheat the oven: Afterward, preheat the oven to 350 degrees F and prepare a baking pan with parchment paper or olive oil.
Wash and sprinkle: Let the rolls sit for 15 minutes until they are soft before brushing them with the egg wash and sprinkling on the sesame seeds.
Bake your rolls: Finally, bake the rolls for 25 to 30 minutes until they are golden brown.
Serve warm: Finally, remove the rolls from the oven and serve warm with honey butter, cream cheese, or whatever you like.
Recipe variations:
Any milk: We used whole milk, but any kind of milk will work including soy or almond milk.
Bread flour: You could also use bread flour for a chewier dinner roll.
Monkey bread: This dough would be perfect for monkey bread. Simply tear up the pieces instead of tying them in a knot, coat them in cinnamon sugar, and cover them with caramel sauce. Try our recipe for homemade caramel sauce.
Other flavors: Be creative! Feel free to try other flavors like orange or lime zest.
Extracts: Another way to add different flavors is with extracts. Some of the ones we think would be delicious are cake batter, coconut, maple, or almond.
Make them spicy: If you love spicy food, add a pinch or two of red pepper flakes.
Fresh herbs: Or try adding your favorite fresh herbs like rosemary, basil, oregano, thyme, or allspice.
Dry fruit: Another way to add some extra flavor and sweetness is with some dried cranberries or raisins.
How to serve:
These tasty dinner rolls are delicious with or without butter and served alone or with a meal. They are not difficult to make but look beautiful on your dinner table. Try one of these serving ideas or share one of your own in the follow-up comments below.
You can serve these with some kind of pasta dish like spaghetti or lasagna.
Sprinkle some shredded cheese on top for cheesy bread.
These rolls are the perfect accompaniment to everything from a bowl of soup to barbecue ribs.
They are also deliciously rich and topped with parmesan or romano cheese.
Why not use leftovers to make mini-sandwiches?
Any kind of butter would work on these rolls from regular salted butter to sweet honey butter.
Sweet rolls always go great with jelly or jam. Slather on some sweet and tangy strawberry jam or gooey plum jam with no pectin.
Frequently asked questions
What is the difference between instant and active yeast?
The most important and obvious difference is that active yeast needs to be rehydrated to become activated and the instant kind does not. You can use instant yeast directly from the package but to use active yeast, you will need to dissolve it in warm water or other warm liquid. They call this proofing, and it is an important step to making sure your yeast is alive.
Why do we turn the dough onto a floured surface?
One thing to note: This recipe only suggests using a little flour since it is best to use it while it is still sticky and pliable. But many other doughs need extra flour on your hands and a floured surface. To turn your dough, you will scoop it up and hold it so that it droops down, folding over onto itself. This will gently deflate the dough without destroying air pockets that are essential in some types of bread.
Is Hawaiian bread the same as Portuguese bread?
Yes, actually, they are considered to be the same. In fact, in Hawaii, you will not see this bread called Portuguese bread as some do. There, it is just known as sweet rolls or bread, or Hawaiian bread. This is because Hawaiian plantation workers came from all over, with many from Portugal. They integrated their recipes with others so that on the islands, you will always see it called Hawaiian bread.
What are the nutrition facts in this recipe?
One of these sweet dinner rolls has 261 calories, 77 mg of cholesterol, 40 carbs, 9 grams of fat, 4 grams of saturated fat, 13 grams of sugar, and 155 mg of sodium. But you also get 9 mg of protein, 2 grams of fiber, 169 mg of potassium, 260 units of vitamin A, 2 mg of iron, 69 mg of calcium, and 2 mg of iron.
How to store leftovers:
Store: Storing leftover rolls is easy. Just wrap them in plastic wrap and put them in an airtight container or a large zipper baggie. They will stay fresh at room temperature for three days or in the fridge for about a week.
Freeze: If you plan to keep your leftover sweet dinner rolls longer than a week, wrap them in plastic wrap and put them in a freezer bag. They can be frozen for up to 120 days.
Thaw: For the best flavor and texture, thaw frozen dinner rolls in the refrigerator overnight before you plan to serve them.
Reheat: These delicious sweet dinner rolls can be served at room temperature or heated. To heat, place them in the microwave for about 30 seconds. Or you can wrap them in aluminum foil and heat them in the oven for five minutes at 400 degrees F.
More bread recipes to try:
Baking tips:
Your hot milk should be between 95 degrees F and 105 degrees F. Cold milk slows the rising process.
It is best to use unsalted butter so you can control the amount of salt in your bread.
Make sure the eggs are at room temperature to make the dough more pliable and softer.
The egg wash should also be at room temperature for crusty bread.
Use sweetened condensed milk instead of regular or evaporated milk for that extra bit of sweetness.
The brown sugar helps activate the yeast while giving it a rich molasses taste.
Always check the expiration date on your yeast.
If you do not have a stand mixer, use a large mixing bowl and an electric hand mixer.
To make sure you use the right amount of flour, only add half of it at first before adding the wet ingredients. Then add the remaining flour a little at a time until it is sticky and pliable.
In addition, do not crowd the rolls. If you cannot fit all the rolls in one, go ahead and use two baking pans.
The baking time may differ depending on your oven. Check after 20 minutes to make sure they do not get overdone.
Sweet Bread Rolls
Ingredients
1/3

cup

warm milk

about 105°F

2 1/4

teaspoons

active dry yeast

1 packet

2

tablespoons

brown sugar

packed

3 1/2

cups

all-purpose flour

1

teaspoon

lemon zest

optional or use orange zest

1/2

teaspoon

salt

4

tablespoons

unsalted butter

3

large eggs

slightly beaten

1

cup

sweetened condensed milk

1

egg

beaten for the egg wash

sesame seeds

optional
Instructions
In a small combine the warm milk with the yeast and brown sugar, and mix with a fork. After that, let the mixture sit for 10 minutes until the yeast foams up. If it doesn't foam up repeat this step.

Add the flour, lemon zest, and salt to the bowl of a stand mixer fitted with the whisk attachment, and mix everything together.

In another large bowl, combine the melted butter, eggs, condensed milk, and foamed yeast mixture and stir together until combined.

Change the whisk attachment with the hook attachment.

Add the wet ingredients to the dry ingredients and mix using the dough hook for about 3-5 minutes on medium speed. The dough will be sticky and elastic.

Place the bowl with the dough in a warm place and let it rise until doubled in size, about 1-2 hours.

After that, punch down the dough to let some of the air out.

Transfer the dough onto a clean, lightly floured surface and knead it a couple of times.

Now roll it into a long log and cut it into 12 equal portions of dough. Roll each portion into a long 12-inch rope.

Then make a knot with the rope of dough. Next, take one end that comes from underneath, roll it over, and then press it in the middle. After that, take the other end, and fold it under, and pinch it in the middle.

Brush the rolls with the egg wash and sprinkle with sesame seeds.

Bake in the preheated oven for about 25 to 30 minutes or until golden brown in color.

Serve warm or at room temperature.
Deliciousness to your inbox
Enjoy weekly hand picked recipes and recommendations