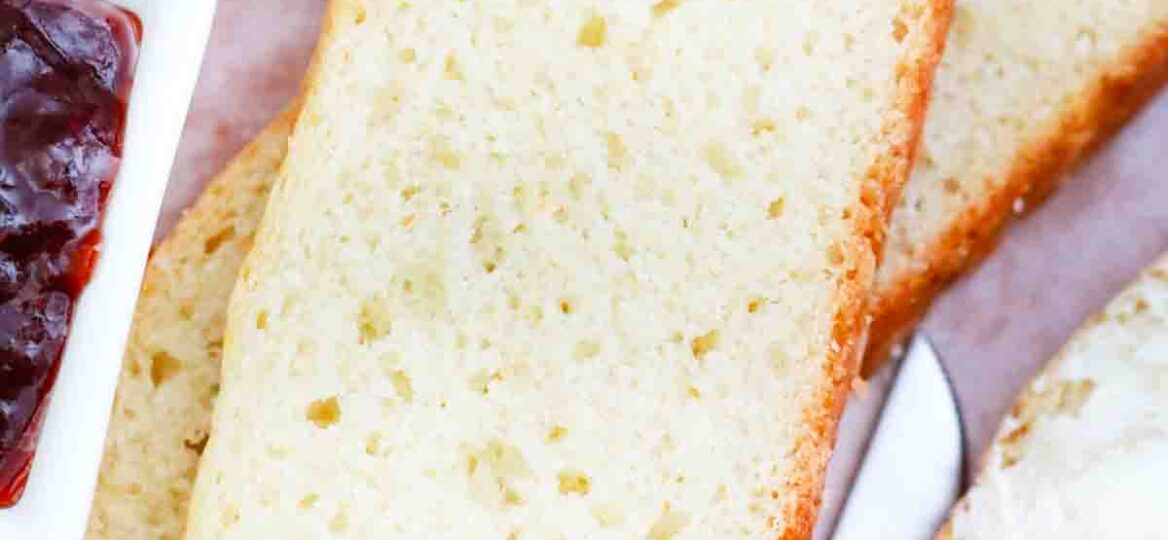 Slow Cooker Bread Recipe [Video]
Slow Cooker Bread is deliciously moist on the inside with a chewy and crispy crust and you only need five common ingredients. Just flour, sugar, salt, and yeast are needed for this easy bread recipe, and you can add parmesan cheese if you want to.
Are you looking for more slow cooker recipes? You can make just about any food in a slow cooker. Try our Corned Beef and Cabbage with baby potatoes and carrots or this Best Crockpot Meatloaf topped with brown sugar, sweet chili sauce, and barbecue sauce.
Historians and foodies believe that the first bread recipe was made in the Middle East in 8000 BC. This was Egypt where the first loaf was formed by combining flour and water and cooking it over a fire.
This soon evolved into the first sourdough bread made by adding wild yeast to the recipe. And the beer was not far after it as the Egyptians were the very first beer brewers in the world.
To make delicious bread, all you need is a slow cooker or crock pot as well as the few ingredients mentioned below. If you have a stand mixer, let it knead the dough so all you really have to do is watch and wait.
If you are looking for more bread recipes, we have plenty! Our easy yeast bread recipe is simple and only needs five ingredients. If you want to make some quick bread to go with tonight's dinner, this beer bread is done in under an hour and does not need any yeast.
Follow us on Pinterest for more delicious recipes!
Ingredients needed:
Here are the ingredients you need for slow-cooking bread. After you gather these, scroll down to our recipe card for measurements and instructions.
All-purpose flour
Active dry yeast
Sugar
Salt
Lukewarm water
Grated parmesan cheese: Optional.
It is the crock pot that does the rest of the work for you so this is a hands-off recipe for slow cooker bread that anyone can make. Although many people balk at making bread because they think it is too difficult, this slow cooker version of baking bread is simple.
How to make slow cooker bread from scratch?
Turn slow cooker to high: First, line your slow cooker with parchment paper and set it on high before placing the lid back on.
Proof the yeast: In the meantime, add sugar, yeast, and water to your stand mixer bowl, stir with a wooden spoon, and let it rest for 10 minutes to activate.
Mix the dough: Then, add flour, salt, and parmesan cheese and mix it with a dough hook until it is well incorporated. It is ready when the sides of the bowl are free of any flour or dough.
Knead bread dough: Next, transfer it to a lightly floured surface, kneading just a little bit until it is smooth before you make the dough into a ball.
Bake bread: Now, put the bread dough into the parchment-lined slow cooker, close the lid, and cook on high for two hours, checking occasionally. In the last 20 minutes, preheat your oven to 450 degrees F.
Brown the crust: After, put the bread and parchment paper on a baking sheet and into the oven to let it brown for 10 to 15 minutes.
Cool and serve: Finally, let the loaf cool completely on a wire rack before you slice it with a serrated knife to serve.
Recipe variations:
Extra browning: For an extra brown crust, brush the top of the finished loaf with olive oil or butter before putting it in the oven.
Seeds: Sprinkle sesame seeds or sunflower kernels on top before cooking for a crunchier crust.
Herbed bread: For more flavor in your bread add your favorite fresh herbs like paprika, oregano, basil, and thyme.
Other spices: You can also add your favorite spices like onion, garlic, cumin, turmeric, and cloves.
Different flavors: Other flavors for this bread include powdered ranch, Italian seasoning, or chili powder.
Cinnamon bread: If you want sweet cinnamon bread, add 1/4 cup of cinnamon mixed with 1/3 cup of sugar to your bread dough.
Buttermilk bread: Use buttermilk instead of water for creamy buttermilk bread.
Make rolls: Instead of one loaf, try shaping the dough into 12 smaller balls to make dinner rolls.
How to serve:
This easy bread recipe is simple to do and has very little prep time with just a few ingredients you probably already have in your kitchen. Try one of our serving ideas or share some of your own in the comments section below.
This yummy bread is perfect for any kind of sandwich. Try our recipe for roast beef sandwiches or homemade corned beef.
You can also use this bread for toast. It crisps up nicely.
Any kind of fruit topping would be great for this slow cooker bread like this tangy strawberry jam or our sweet homemade blueberry sauce.
In fact, you could just spread some butter or margarine on a slice for a quick snack.
Ready for breakfast? Our slow cooker bread is perfect for this homemade french toast recipe.
If your bread has gotten hard or stale, use it for stuffing or to make croutons.
You can also use old bread for making a scrumptious bread pudding.
Or slather on some butter and garlic and put it in the oven to make garlic bread.
Frequently asked questions
What is the difference between bread flour and regular flour?
The most important difference is that bread flour has more protein than all-purpose flour. They both come in white and whole-wheat types, but bread flour typically has about 13% protein while regular flour has about 10% protein. This gives your bread more gluten, which is what helps your dough have more chewiness. You can use either of these in this slow cooker bread recipe but not for pastries or baked goods you want to be light and flaky.
Can I put a baking dish in the slow cooker?
If you want your bread to have a certain shape, say a loaf shape, you can absolutely use a baking dish or pan in the slow cooker. You should still line it with parchment paper for easier removal. A regular loaf pan will work as will a six to seven-inch springform pan in a five or six-quart slow cooker.
What is the difference between active and instant yeast?
Most breads use active dry yeast, but you can sometimes use instant. The instant kind is ready to use as soon as you take it out of the package while the active kind has to be activated or proofed. You have to rehydrate the active type in warm water before using it in your recipe. Instant also takes less time to make the dough rise.
What are the nutrition facts in this recipe?
Each slice of this delicious bread has 165 calories, 315 mg of sodium, and 2 grams of fat with 1 gram of saturated fat. It also contains 30 grams of carbs, 4 grams of cholesterol, and 1 gram of sugar. On the other hand, your bread also has 7 grams of protein, and 50 mg of potassium. Also, 1 gram of fiber, 40 units of vitamin A, 66 mg of calcium, and 2 mg of iron.
How to store leftovers:
Store: You can store your leftover slow cooker bread in an airtight plastic bag at room temperature for two to three days.
Freeze: To freeze, wrap your slow cooker bread in plastic wrap and put it in a freezer bag. You can freeze it for up to one month.
Thaw: To thaw, place it in the refrigerator overnight for best results.
Reheat: You can eat your bread chilled, at room temperature, or warm. To reheat, place in the microwave for 30 seconds, the air fryer for one minute at 400 degrees F, or use a toaster.
More bread recipes to try:
Cooking tips:
If you do not have a stand mixer, you can use a large bowl and an electric or hand mixer. But proof the yeast in a small bowl before adding it to the rest of the ingredients.
You do not need to let your dough rise before cooking. Just let the bread rise in the slow cooker.
To prevent moisture from dripping onto your bread as it cooks, place a clean kitchen towel under the lid.
Slow cooker temperatures differ quite a bit so the cooking time can vary depending on your particular cooker. Check every half hour because the time can range from one hour to two hours for it to be fully cooked.
Do not wait for your bread to turn brown in the crock pot because that will never happen. Slow-cooker breads do not brown like oven-baked loaves. Let the bread hang out in the cooker until it is done on the inside. Check the internal temperature with an instant-read thermometer, it should be 200 degrees F when it is done. Then, you brown it in the oven.
Additionally, tap the bread on the bottom, it is no longer spongy if it sounds hollow.
Homemade bread does not last as long as store-bought bread because it does not have all the preservatives that companies use. It will last up to three days if you keep it in an airtight container at room temperature. Or you can freeze it for up to 30 days.
Putting your bread in the fridge will not keep it fresh longer. In fact, the moisture in the fridge may cause it to mold sooner.
Do not worry too much about your first loaf of yeast bread. Many people consider the first and second loaves to be their practice bread.
Slow Cooker Bread
Ingredients
1 1/3

cup

water

lukewarm

2

teaspoons

sugar

1

tablespoon

active dry yeast

2/3

teaspoon

salt

3

cups

all-purpose flour
Instructions
Turn the slow cooker on high, line it with parchment paper, close the lid, and let it preheat while you work on the bread.

In a large bowl or the bowl of a stand mixer fitted with the dough hook, add the water, yeast, and sugar, and let the mixture rest for about 10 minutes. This activates the yeast, the mixture should start to rise and appear foamy. If it's not, discard and repeat this step.

Next, add the salt, and flour, and mix until well incorporated, the dough should pull from the sides of the bowl, and they should look clean.

Transfer the dough ball to a lightly floured surface and knead for one minute, just until smooth. After that, form the dough into a ball and place it into the preheated slow cooker, and close the lid.

Bake on high for 2 hours, checking on it occasionally. The top should be crispy, and when you tap on the bottom, the bread should sound hollow.

Once the bread is done, preheat the oven to 450 degrees F.

Place the bread on a baking sheet lined with parchment paper and place it in the oven for about 10 to 15 minutes to brown the top, careful to not burn it.