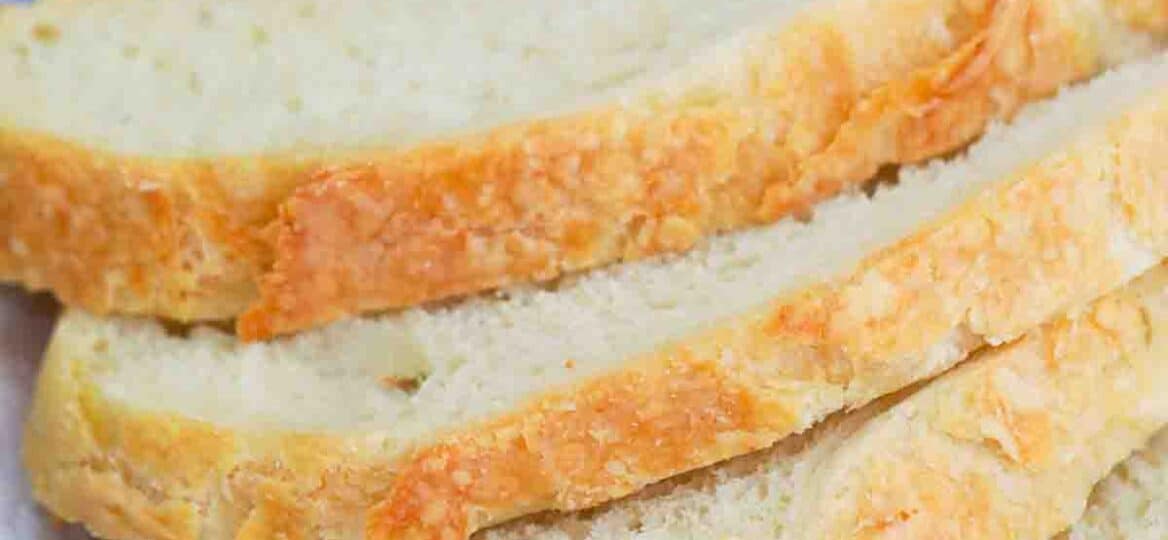 Easy Yeast Bread Recipe [Video]
Easy Yeast Bread is simple to do, with just 5 ingredients, so even beginning bakers can have a loaf of delicious homemade bread on the table in minutes. This bread dough recipe only has a few ingredients including flour, instant yeast, sugar, and salt. That is all you need to have delicious artisan bread warm out of the oven in less than an hour. Our recipe makes it easy to have freshly baked homemade bread at any time.
Looking for other bread recipes? This Amish White Bread is also easy to make with instant yeast, all-purpose flour, and butter. For delicious bread in a hurry, try our Air Frye Bread recipe with five ingredients, done in just over an hour.
The very first loaf of bread is thought to have been made over 22 thousand years ago. Scientists found evidence of grains of barley in a grinding stone when they explored an Israeli excavation site in 2004.
Other experts believe that the first bread was made in 8000 BC in Egypt and others say it was around 450 BC when the Romans invented the water mill. Whoever invented it, we are happy to be able to bake it in our own kitchens.
This is a great recipe for beginners to use as a base recipe for other types of homemade bread from savory to sweet. Everyone who has tried this bread gives it 5 stars for its flavor and for how easy it is to make.
And we have tried many bread recipes, but this is one of my family's favorites. Be sure to read our recipe notes at the bottom of the page for even more ideas.
Need something to go with your homemade bread? This chipotle beef stew is easily made in the slow cooker with beef stew meat, carrots, potatoes, and Bella mushrooms. It is also great with our crockpot chicken and dumplings.
Follow us on Pinterest for more delicious recipes!
Ingredients needed:
Here are the basic ingredients for this homemade bread recipe. When you are ready to begin, scroll down to our recipe card for complete instructions and exact measurements.
Flour: All-purpose flour, bread flour, or whole wheat flour will all work for this recipe.
Instant yeast: Or rapid-rise yeast.
Cooking or kosher salt: Do not use regular table salt.
Sugar: White granulated sugar.
Very warm tap water: Not boiling water. Should be between 125 and 130 degrees F.
Flour: For dusting.
How to make easy yeast bread from scratch?
Mix Dough: First, mix salt, sugar, yeast, and flour in a large bowl. Add warm water and then use the handle of a wooden spoon until all the flour is mixed in. It will be wet and a bit runny but not like cake batter. Add a bit more water or flour as needed.
Let dough rest: Next, cover the bowl with a plate or plastic wrap and leave it on the counter until it doubles in size. It should take two to three hours. It will still be wobbly, and the top will be bubbly.
Preheat oven and pan: If you will be baking bread right away, go ahead and preheat the oven to 450 degrees F after one and a half hours. Put a cast iron pot or dutch oven in the oven to warm for 30 minutes.
Prep the dough: While the oven preheats, sprinkle the work surface with about a tablespoon of flour and push the dough out of the bowl onto the floured work surface with a spatula. Sprinkle the top of the dough with a half teaspoon of flour.
Shape the dough: When you are ready, use a dough scraper or metal spatula to fold the sides of your dough ball inward. You want to make six folds to form a large round loaf. Do not try to be perfect. You are going to be reshaping it as you go. You are doing this to deflate the bubbles in the dough.
Transfer dough: After, flip your bread dough upside down onto a large piece of parchment paper and reshape it into a smooth round loaf.
Bake bread: Lastly, use the paper to move the dough inside the oven and put the lid on quickly to trap heat and steam. Bake for 30 minutes while it is covered and then uncover it and bake for another 12 minutes. You want it to be golden brown and crispy.
Cool, slice, and serve: Finally, remove fresh bread from the oven and use the parchment paper to lift it onto a cooling rack. Let it cool for 10 to 15 minutes before slicing and serving.
Recipe variations:
Other flour: Feel free to use regular wheat flour or another type of flour you like for this bread.
Gluten-free: Try gluten-free flour like almond or oat flour for this recipe if you have celiac disease.
Fresh herbs and spices: Add your own fresh herbs and spices such as garlic powder, onion powder, thyme, basil, or paprika.

Other flavors: For a unique flavor, add seasonings like Italian seasoning, chili powder, or powdered ranch dressing.

Sweeter: If you want sweeter bread, add cinnamon and more sugar.

Pan instructions: Furthermore, this bread will work great as pizza dough too. Just flatten it out thin before baking it on a prepared baking tray.

Bread loaf: Alternatively, a bread pan would be fine too, but place it inside the cast iron pot.

Dinner rolls: Separate dough into 12 smaller balls to make rolls.
How to serve:
This amazing recipe is so fast and tastes delicious with so much flavor, you will want to make it every day. Start early and you can serve this bread for dinner tonight. Try one of our homemade bread serving suggestions or share one of your own in the comments below.
Sprinkle some romano, parmesan, or another kind of dry cheese. The added cheese will give your bread an even more delicious flavor.

This bread is perfect for making a nice big sandwich. Try our recipe for roast beef sandwiches.

Instead of dry cheese, you could use any kind of shredded cheese like cheddar, mozzarella, or Monterey jack.

You always need some good bread to dip in your chili. Our recipe for classic chili with beef and beans would be perfect.

Toast a slice of bread and spread peanut butter on top for a delicious after-school snack for the kids.

Top your bread with your favorite fruit like our tangy strawberry jam.
Just before serving, spread the top of the loaf with a generous layer of creamy butter.

Make some extra special french toast with your homemade bread and top it with syrup.
Frequently asked questions
Why is my bread so dry?
It could be that you used too much flour in the recipe. When you add flour to your dough, you have to spoon the flour into your measuring cup instead of scooping. You could also weigh your flour instead of using measuring cups.
Or you may not have added enough liquid. Another reason you may have dry bread is that you added too much flour to your work surface. The more flour you use when working with your bread dough, the dryer it will be.
Which yeast is best?
Using instant yeast is what makes this homemade bread such an easy recipe. It will make the dough rise a lot faster than active dry yeast, so you do not have to wait as long. You will not have to worry about proofing or dissolving it.
And with instant yeast, your dough rises to an optimal height more quicker. In fact, the name says it all. Instant yeast is ready the instant you open it while active yeast needs to be activated with water.
What is the best flour for this recipe?
We like to use bread flour for ours, but other flour will work too. Bread flour has more protein than regular flour and gives more gluten, making it more elastic. This is perfect for a fluffy and chewy texture. It also creates large holes in the bread like sourdough bread.
What are the nutrition facts in this recipe?
Each slice has 156 calories, 33 grams of carbs, 2 grams of fat with one gram of saturated fat, 465 milligrams of sodium, and 1 gram of sugar. You also get 6 grams of protein, 63 milligrams of potassium, 8 milligrams of calcium, and 2 grams of fiber. Hence, these are just estimates and will vary depending on the type of flour and how much sugar you use.
How to store leftovers:
Store: You can store your leftover yeast bread in an airtight container or large zipper baggie. Refrigerate for up to three days.
Freeze: It is also safe to freeze your homemade bread for up to three months.
Thaw: Be sure to put your frozen leftovers in the fridge to thaw overnight before serving for the best results.
Reheat: To reheat, put bread in a microwave-safe dish and heat in the microwave for 60 to 90 seconds.
More easy bread recipes to try:
Baking tips:
For faster prep time, use a stand mixer with a dough hook to mix your dough.
Keep in mind to check your bread dough after one hour, if it has not risen, move it to someplace warmer.
In addition, sticky and loose dough rises faster and better than firm dough.
You do not have to knead bread. It will smooth out on its own.
It is best to use a covered pot like a dutch oven that has been in the preheated oven for 30 minutes. Your bread needs steaminess to give it that extra rising boost.
Alternatively, bake your bread on a prepared baking sheet to make it crispier than French bread.

If you want big holes in the crumb, use looser dough and bread flour.
Also, for a more flavorful bread, let your risen dough chill in the fridge for at least eight hours before baking. The cold air slows the fermentation and lets the enzymes transform the starch into sugar for a better taste.
If you chill your bread, let it warm for 45 to 60 minutes before using it. The cold dough does not perform as well.
To make sure your dough does not stick to your bowl, rub it with a little olive oil or vegetable oil.

Keep the oven door shut the whole time to keep the heat in.
If you have a bread machine, you could use that instead.
Lastly, use a sharp knife to make slashes in the top to make it rise evenly.
Easy Yeast Bread
Ingredients
3

cups

all-purpose flour

or bread, plus more for dusting

2

teaspoons

instant yeast

2

teaspoons

kosher salt

NOT table salt

1

teaspoon

granulated sugar

1 1/2

cups

very warm tap water

about 130°F
Instructions
Make the dough:
In a large bowl mix flour, yeast, sugar, and salt. Add the warm water, then using a wooden spoon mix until well incorporated. The dough will be wet, not kneadable, but also not pourable. Adjust with more water or flour if needed to get the right consistency.
Rise:
Cover the bowl with cling wrap, and leave to rise in a warm (not hot) place for 2 – 3 hours, until it doubles in size, and the top is bubbly.

After the dough doubles in size, you can either bake the bread immediately or refrigerate it for up to 3 days.

If you refrigerated the dough, leave the bowl on the counter for one hour before baking it. The cold dough does not rise as well.
Preheat:
Before baking the bread, preheat the oven to 450 degrees F. Also, while you preheat it, place it inside a dutch oven with the lid on for about 30 minutes.
Shape the dough:
Sprinkle a work surface with 1-2 tablespoons of flour, and scrape the dough out of the bowl and onto the working surface. Sprinkle the top with 1/2 tablespoon of flour.

Using a dough scraper, fold the sides inwards to roughly form a round shape, it will take 6-8 folds.

Place a large piece of parchment paper next to the dough, and flip it upside down onto the paper, the smooth side will be facing up. Push it to the center of the paper and work it so it's round.
Bake:
Carefully remove the hot dutch oven from the oven. And using the sides of the parchment paper, move the dough into the dutch oven. Cover with the lid.

Bake it covered for 30 minutes, then 12-15 minutes uncovered or until golden and crispy.

Cool on a wire rack for 10-15 minutes before slicing.