Sweet Potato Bread Recipe
Last updated on October 3rd, 2022 at 04:33 pm
Sweet Potato Bread is a fluffy and light sweet bread with the flavor of fresh sweet potatoes and warm spices including cinnamon, nutmeg, cloves, and ginger. Then it is topped with a sticky cinnamon glaze and crunchy pumpkin seeds for the perfect snack or dessert whenever you like. This delicious bread recipe is easy to make with just a handful of ingredients without yeast or having to let it rise.
Want something sweeter? This recipe for Sweet Potato Cheesecake Bars made with cream cheese and a graham cracker crust is scrumptious. Or you could try our Sweet Potato Pie Cupcakes with whipped cream and sweet potato puree.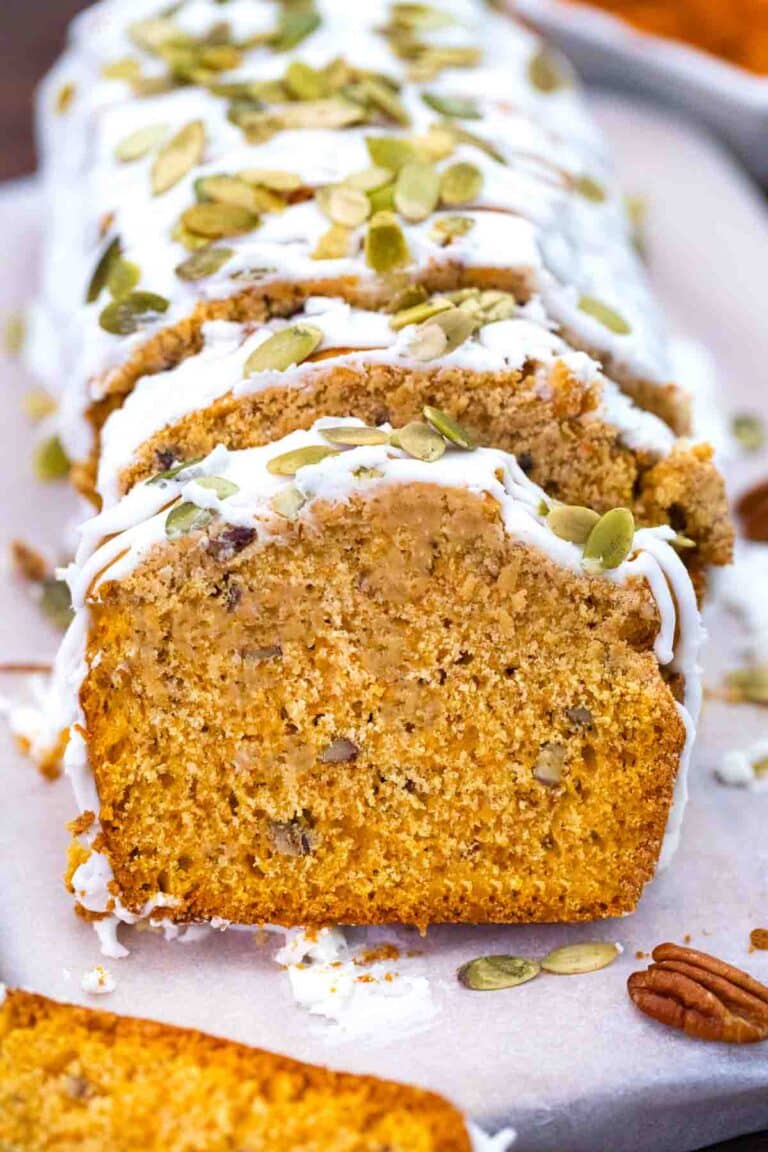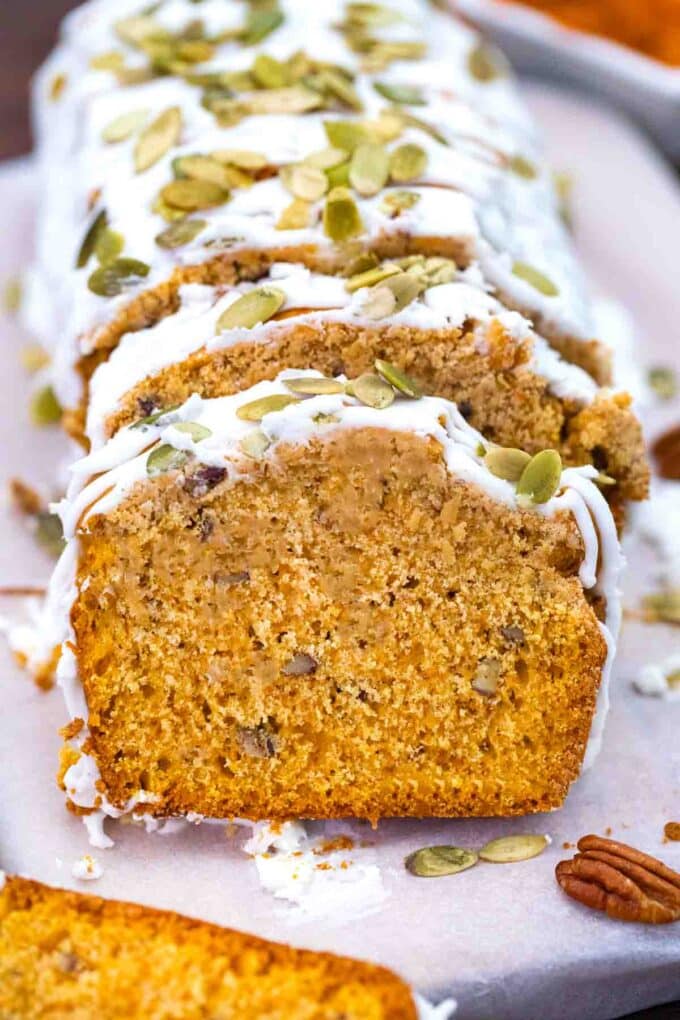 Did you know that potato bread started in Northern Island? At the time, it was known as boxty, or fadge, and the bread was first made with potatoes because flour was too expensive or hard to find.
Around the same time, in the 1700s, Germany began making potato bread they called kartoffelbrot, which contained rye or spelt flour. And since we have been eating sweet potatoes for more than 5,000 years, it makes sense that sweet potato bread found its way to the dinner table as well.
Our potato bread recipe is absolutely delicious without being overly sweet so you can have it for dessert or even use it to make a sandwich. It is so soft and moist, almost like a cake but with natural sweetness and warm fall spices.
So much easier and faster than yeast breads, anyone can make this sweet potato bread. Whether you use fresh sweet potatoes or canned sweet potato puree, making sweet potato bread is fun and easy so you can have it on the table in about an hour.
Are you looking for other quick bread recipes? Quick breads are so much easier than baking bread with yeast. If you want a different kind of quick bread, this Pineapple Bread is simple to make with crushed pineapple, brown sugar, and a tangy pineapple lime glaze.
Try our savory beer bread made with your favorite brew or this moist and delicious chocolate banana bread filled with chocolate chips. For something different, our instant pot cornbread made with real corn is buttery and slightly sweet.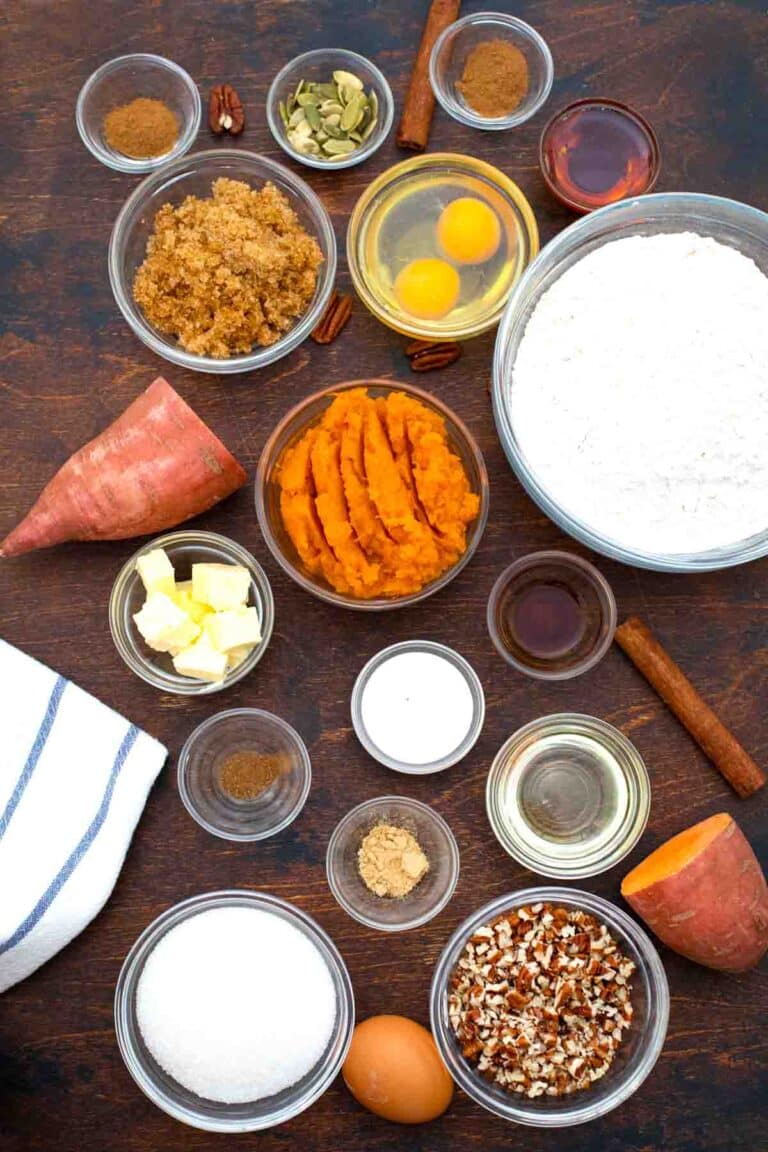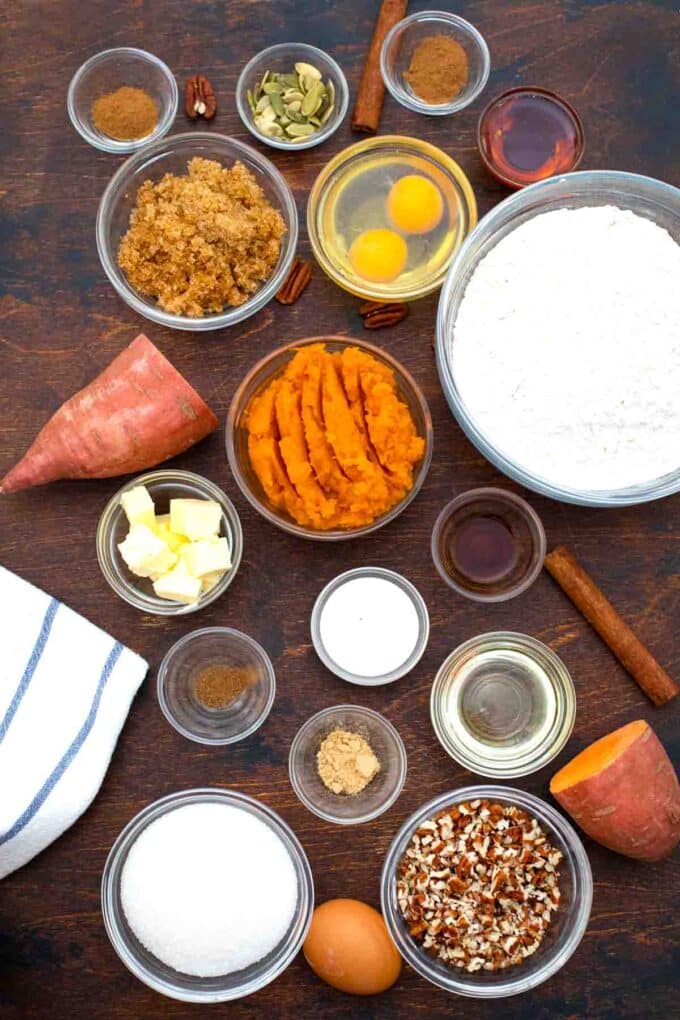 Ingredients needed:
To make this easy recipe, you will need to gather these sweet potato bread ingredients. When you are ready to begin making sweet potato bread, scroll down to our recipe card for complete instructions and exact measurements.
All-purpose flour
Baking powder: Not baking soda.

Chopped pecans or walnuts
Melted butter
Vegetable oil: Or whichever oil you like to bake with.

Eggs: At room temperature.
Granulated sugar
Vanilla extract
Sweet potato puree: Or mashed sweet potatoes.

Cinnamon
Ground cloves
Ground nutmeg
Ground ginger
Brown sugar: Light or dark brown sugar are both fine for this sweet potato bread recipe.

Kosher salt
Cinnamon glaze:
Confectioners' sugar: Or powdered sugar.

Maple syrup
Pumpkin seeds
Cinnamon
Milk: We used whole milk.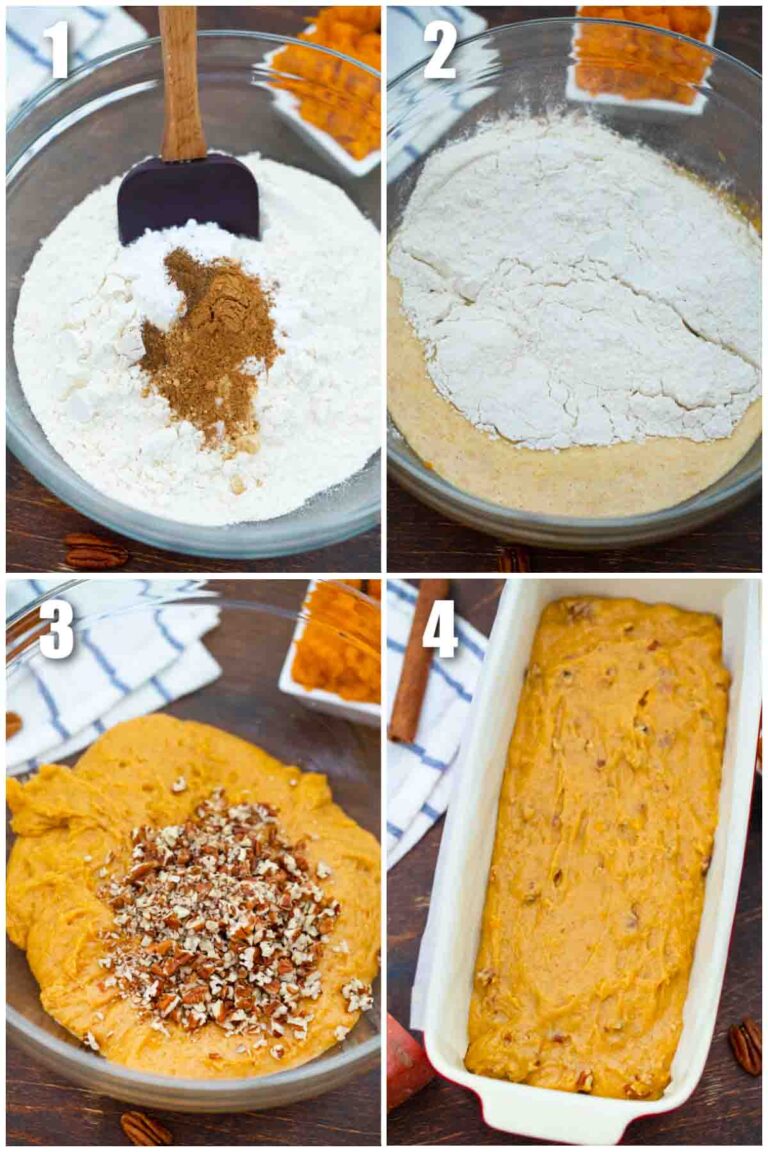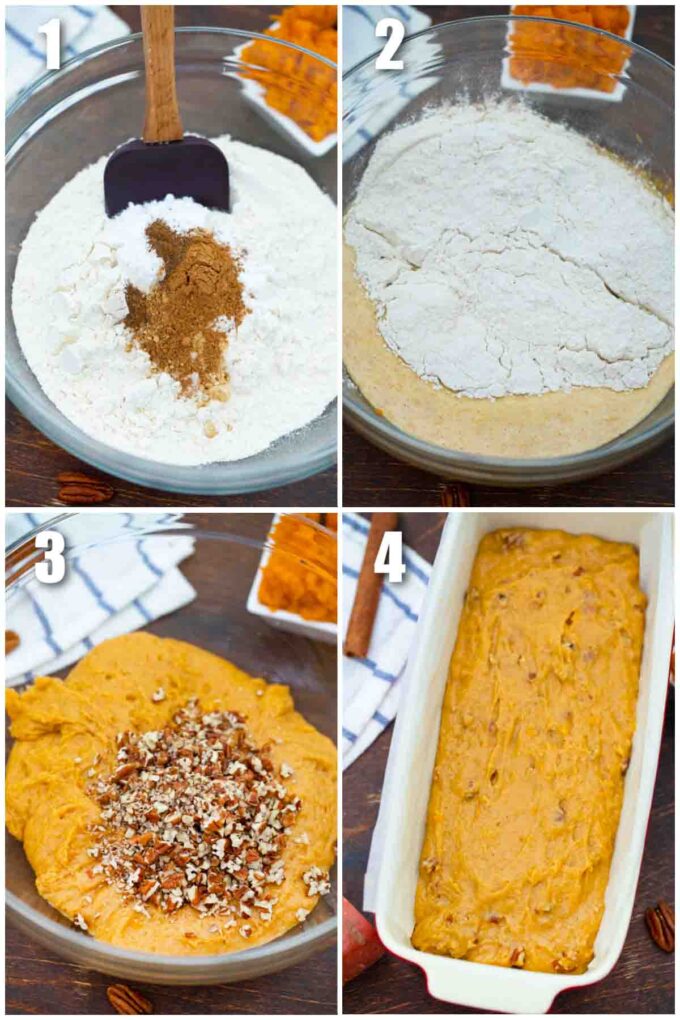 How to make potato bread from scratch?
Preheat your oven: First, preheat your oven to 350 degrees F and prep a 9×5-inch bread pan with butter or nonstick cooking spray. Then, place parchment paper to cover the bottom and the two long sides for easier removal.

Whisk the wet ingredients: While you wait for the oven to heat up, whisk the vanilla, eggs, sweet potato puree, both sugars, butter, and oil using a large mixing bowl.

Whisk the dry ingredients: After, whisk the salt, baking powder, cinnamon, cloves, ginger, nutmeg, and flour using another large bowl.
Combine: Then, combine flour mixture with the wet ingredients, mixing until it is just combined. Fold in the chopped nuts. Do not overmix.
Pour into the bread pan: Next, pour the sweet potato bread batter into the prepared pan and shake gently to level out. Do not stir.

Bake: Lastly, bake the bread for 50 to 60 minutes or until it passes the toothpick test. A toothpick stuck into the middle of the bread should come out clean or with just a few moist crumbs.

Cool completely: After removing it from the oven, let the bread cool for 10 to 15 minutes before removing it from the pan and letting it cool completely on a wire rack.

Make the glaze: While you wait for the bread to cool, whisk the cinnamon and confectioners' sugar in a medium bowl before adding the maple syrup and milk. Stir until it is smooth. It should be thick enough to coat the back of a wooden spoon but still be able to drizzle easily. Add more milk or sugar as needed.

Glaze and serve: Finally, drizzle the glaze over your cooled bread and top with pumpkin seeds immediately. Let it settle for a few minutes before serving.
How to make instant pot potato bread from scratch?
Mix the dry ingredients: To begin, mix the dry ingredients (besides the nuts) in a large bowl.

Whisk the wet ingredients: Then, whisk the wet ingredients in another large bowl.
Mix together: After, combine the dry and wet ingredients before folding in the chopped nuts. Do not overmix.

Prep the pans: Next, prep two small loaf pans with nonstick cooking spray and parchment paper before pouring the batter evenly into each prepared loaf pan. Cover with foil and place it on a trivet in the instant pot with two cups of water on the bottom.

Cook the bread: Then, cook your sweet potato bread for 30 minutes and then let it naturally release until all the pressure is gone.

Cool and serve: Last, remove pans and let them cool to room temperature before placing them on a cooling rack until they cool completely.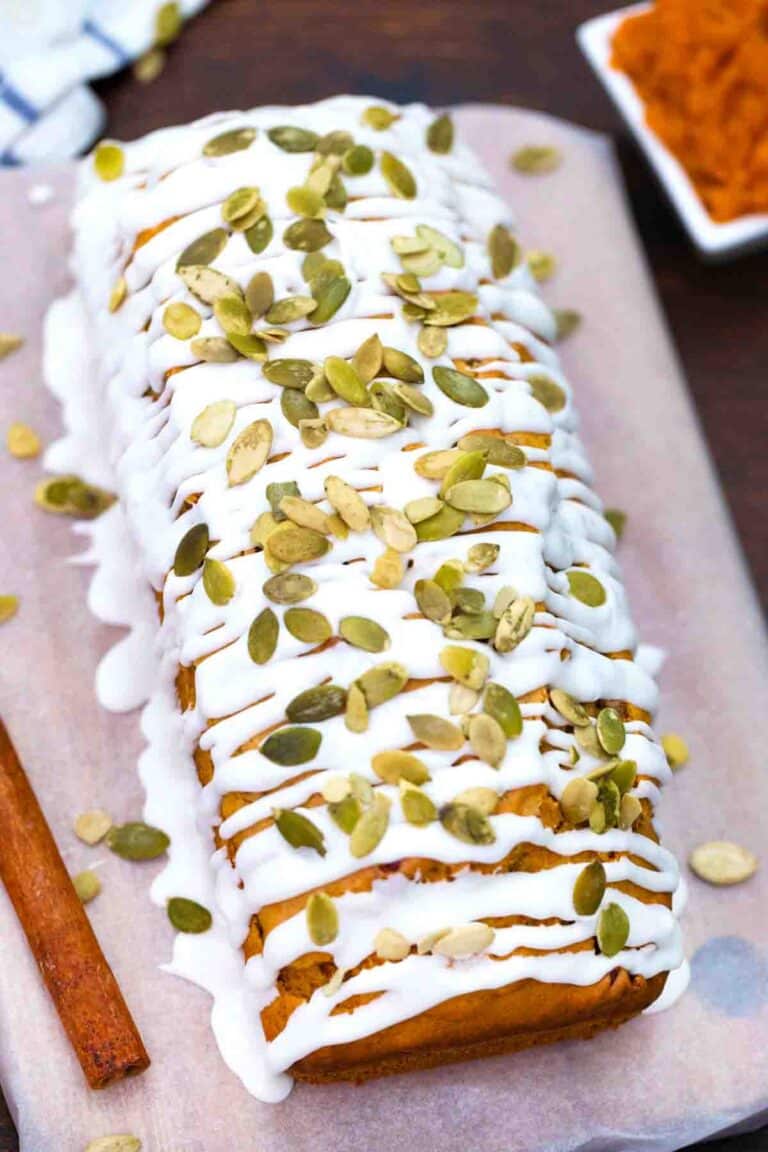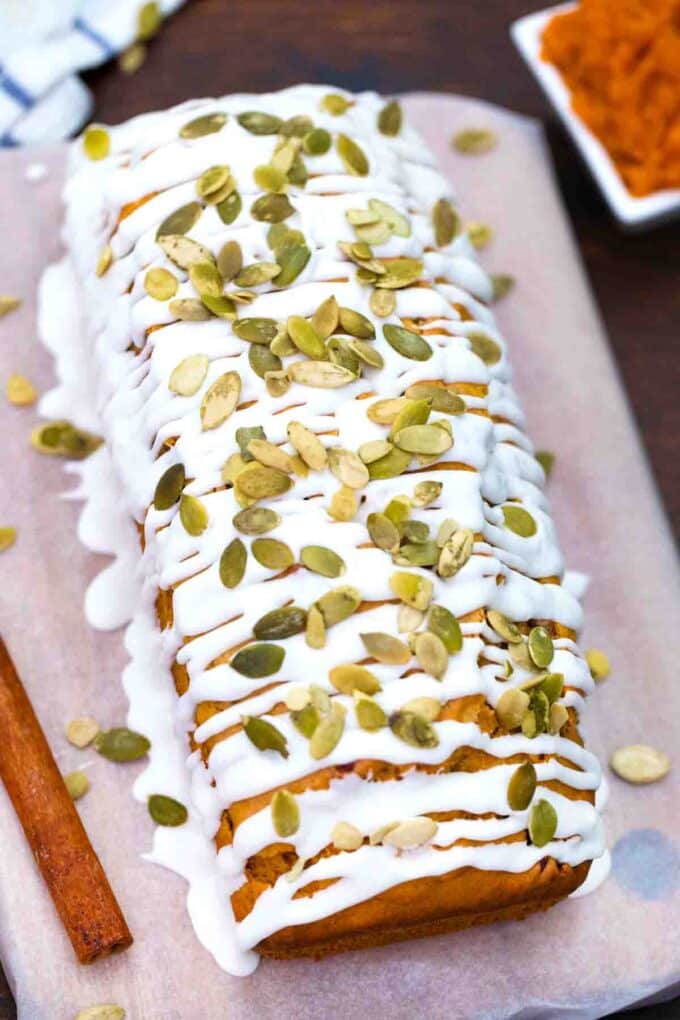 Recipe variations:
Canned sweet potatoes: You can use canned sweet potatoes. Just mash sweet potatoes after draining until you have at least one cup of pureed sweet potatoes.

Fresh sweet potatoes: It is also fine to use one large fresh mashed sweet potato or leftover sweet potato.

Whole wheat: Instead of all-purpose flour, you can use whole wheat flour for fewer calories and carbs.
No gluten: Use gluten-free flour like almond flour, or coconut flour for those who cannot eat gluten. Gf flour can sometimes be finicky so make sure you add one teaspoon of baking powder per half cup of flour.

Make mini loaves: For mini loaves, use a muffin pan and shorten the cooking time to 20 minutes.
Other milk: Regular milk can be substituted with almond milk, soy milk, or whatever type of milk you like.

Pumpkin bread: You can turn this into pumpkin bread easily. Just use pumpkin puree or canned pumpkin instead of sweet potatoes.

Different sugar: Instead of white sugar, you can use all brown sugar for less sweetness.
Other fall flavors: Feel free to add your own favorite fall spices like cumin, cardamom, and allspice.
Add fruit: Similarly, add some dried cranberries, cherries, or raisins for more flavor and fiber.

Sweet potato bread cake: Use a Bundt pan and cook it at 350 degrees F for 45 to 50 minutes for sweet potato bread Bundt cake.
How to serve:
You can make sweet potato bread and serve it as an appetizer with apple butter or as a dessert with some unsweetened applesauce on top. For some other ways to serve this delicious bread recipe, keep reading. And feel free to leave your own ideas in the comments section at the bottom of the page.
Top with a scoop of whatever flavor of ice cream you like. Try our easy-to-make pineapple ice cream for a tangy flavor.

Feel free to add some nuts or chocolate chips to the top before serving.

Use leftover sweet potatoes to make another sweet potato recipe like sweet potato recipes. You might like our recipe for classic sweet potato pie made with heavy cream and brown sugar.

Treat your taste buds with extra flavor from other warming spices such as star anise, turmeric, and cardamom.
In addition, this bread would make delicious french toast. Therefore, try our easy recipe for homemade french toast.

Similarly, you can also use your leftover sweet potato casserole to make this delicious bread.

Lastly, add a scoop of chicken, turkey, or tuna salad on top for a nice lunch. Our turkey salad with grapes would be the perfect topping.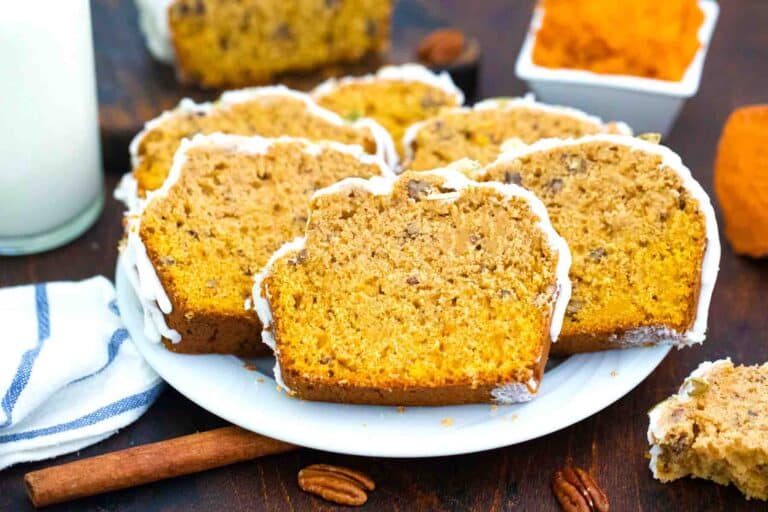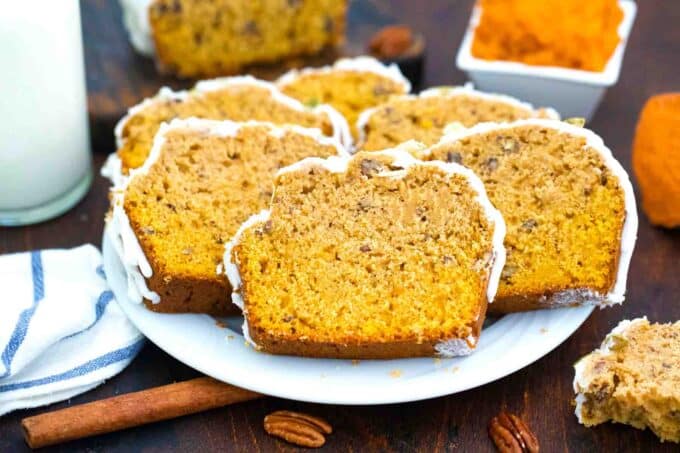 Frequently asked questions
How should I cook my fresh sweet potatoes for this recipe?
There are several good ways to cook sweet potatoes. First, you can peel them and cut them into one-inch cubes before boiling them for about 15 minutes until they are fork tender.
Or bake your sweet potatoes in an oven at 375 degrees F for 50 to 55 minutes, depending on the size of the sweet potato. To microwave, wrap in a paper towel and cook for 5 to 6 minutes.
Do I have to let this rise like other homemade bread?
No, because there is no yeast in this easy recipe so you can just mix the ingredients and pop it in the oven for about an hour. Quick bread uses the leavening agents of baking soda or baking powder instead of yeast. You will not have to let it rise or knead it because the baking soda or powder uses bubbles to make the bread rise as it cooks.
Why is my sweet potato bread so dry?
Simply put, overmixing, using too much flour, or not enough liquid can all cause dry bread. Likewise, make sure you follow the instructions exactly and measure your flour right. You should sift the flour and then add it to the measuring cup by spoonfuls before gently leveling it with the back of a knife.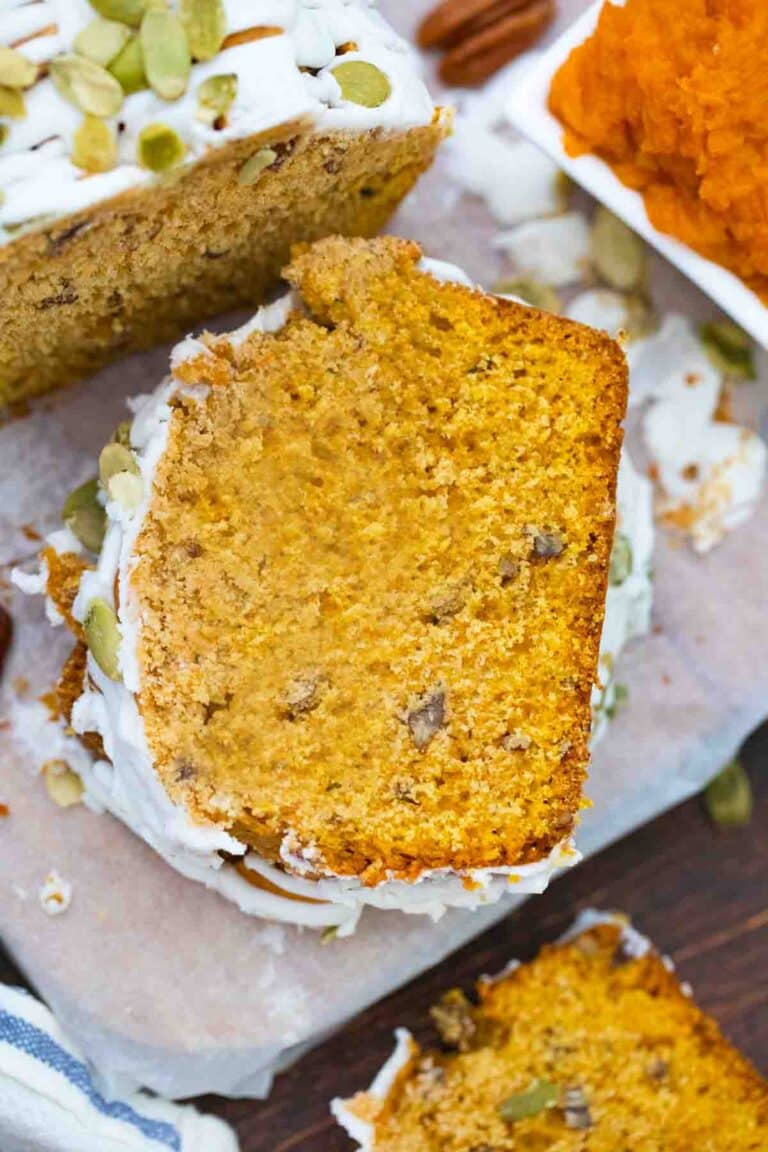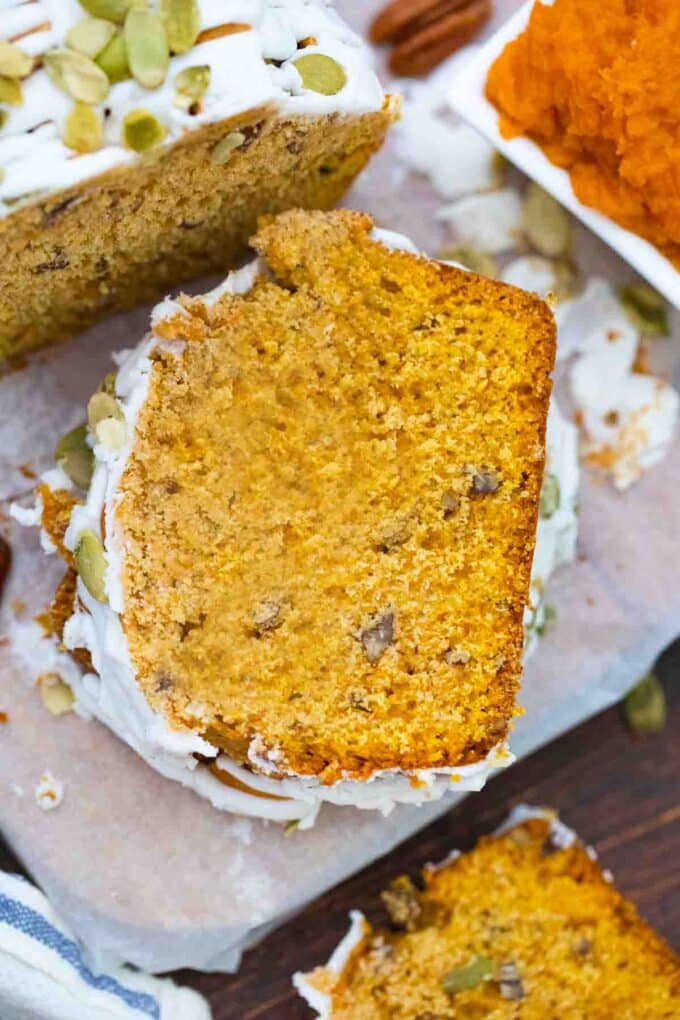 What are the nutrition facts in this recipe?
Sweet potatoes have a huge amount of vitamin A as well as other vitamins. For example, you will get 5,496 units of vitamin A, 6 grams of protein, and 136 milligrams of calcium as well as 5 milligrams of vitamin C, 3 milligrams of iron, and 471 milligrams of potassium.
Each slice also has 449 calories, 68 carbs, and 18 grams of fat with 5 grams of saturated fat. One serving of sweet potato bread also has 35 milligrams of cholesterol, 151 milligrams of sodium, and 41 grams of sugar. Of course, these are just estimates and vary depending on the ingredients you use and the size of your serving.
How to store leftovers:
Store: Leftover sweet potato bread can be kept in an airtight container on the counter for up to three days or in the refrigerator for about five days.

Freeze: First, before freezing, wrap your leftover sweet potato bread in plastic wrap and place it in a freezer bag or another airtight container.

Thaw: Remember to thaw your quick bread overnight in the fridge before serving it for the best flavor and texture.
Reheat: Serve chilled, at room temperature, or heated. Just pop a slice in the microwave for about 30 seconds, but do not overheat or it will be dry.
More sweet-breads recipes:
Baking tips:
Additionally, make sure you do not over-stir this bread. It will be overly dense and tough.

Also, do not overcook this bread. Check after 50 minutes and remove when a toothpick inserted into the middle comes out clean or with a few wet crumbs on it.

If you are using fresh potatoes, they should be fork tender after baking, so they are easier to mash.

Don't worry if all you have is baking soda. you can substitute it for baking powder using one teaspoon of baking soda for every one tablespoon of baking powder.

In addition, to keep your bread from being dry, be sure to follow the measurements exactly.

Keep in mind, to measure your all-purpose flour by spooning it into a measuring cup and gently leveling it out with a knife.

For less fat and fewer calories, use unsweetened applesauce instead of vegetable oil.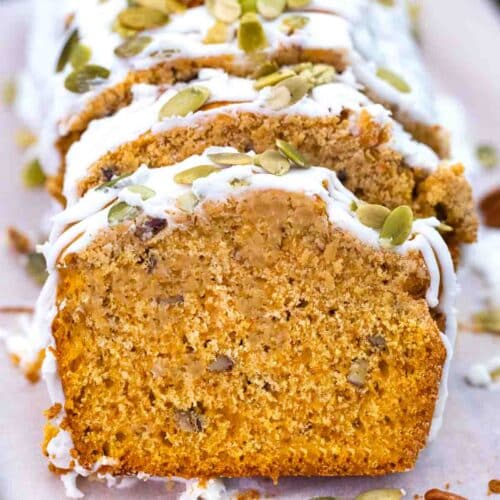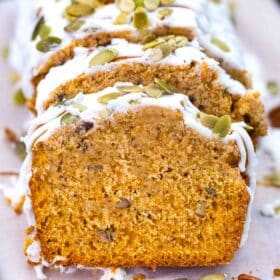 Sweet Potato Bread
Sweet Potato Bread is fluffy and light with the flavor of fresh sweet potatoes and warm spices, topped with a scrumptious cinnamon glaze.
Save
Share
Print
Pin
Rate
Ingredients
1/4

cup

melted butter

1/3

cup

vegetable oil

2

eggs

(room temperature)

1/2

cup

granulated sugar

1/2

cup

brown sugar

(packed)

1

cup

sweet potato puree

1/4

teaspoon

ground ginger

1/4

teaspoon

ground nutmeg

1/8

teaspoon

ground cloves

1

teaspoon

cinnamon

2

teaspoon

vanilla extract

1/2

teaspoon

salt

2

teaspoons

baking powder

2

cups

all-purpose flour

1/2

cup

chopped pecans
Cinnamon Glaze:
1 1/4

cup

confectioners' sugar

2

tablespoons

milk

(or more)

1/4

teaspoon

cinnamon

1

tablespoon

maple syrup

2

tablespoons

pumpkin seeds
Instructions
Preheat the oven to 350 degrees F.

Butter a 9x5 loaf pan and cover the bottom and the two long sides with parchment paper for easy bread removal.

In a large bowl whisk together oil, butter, sugars, sweet potato puree, eggs, and vanilla until well blended.

In another bowl whisk together the dry ingredients: flour, baking powder, salt, ginger, nutmeg, cloves, and cinnamon.

Stir in the dry ingredients into the wet, just until combined.

Stir in the chopped pecans.

Transfer the batter into the prepared loaf pan and shake to distribute evenly.

Bake for 50-60 minutes or until a toothpick inserted into the center comes out clean.

Remove from the oven and let it cool for 10-15 minutes in the pan before removing the bread and placing it on a cooling rack.

Cool the bread completely before adding the glaze.
Glaze:
In a medium bowl, whisk together confectioners' sugar and cinnamon.

Add milk, and maple syrup and stir until no lumps remain and the mixture is smooth. The mixture should be thick enough to coat the back of a spoon but maintain a drizzle consistency.

If needed, add another teaspoon of milk, or more sugar.

Drizzle glaze over the cooled bread, and immediately top with pumpkin seeds. Let it settle before slicing and serving.

Store covered at room temperature for up to 3-4 days.
Nutrition
Calories:
361
kcal
|
Carbohydrates:
62
g
|
Protein:
5
g
|
Fat:
11
g
|
Saturated Fat:
4
g
|
Polyunsaturated Fat:
2
g
|
Monounsaturated Fat:
4
g
|
Trans Fat:
0.2
g
|
Cholesterol:
45
mg
|
Sodium:
182
mg
|
Potassium:
353
mg
|
Fiber:
3
g
|
Sugar:
39
g
|
Vitamin A:
5628
IU
|
Vitamin C:
6
mg
|
Calcium:
106
mg
|
Iron:
3
mg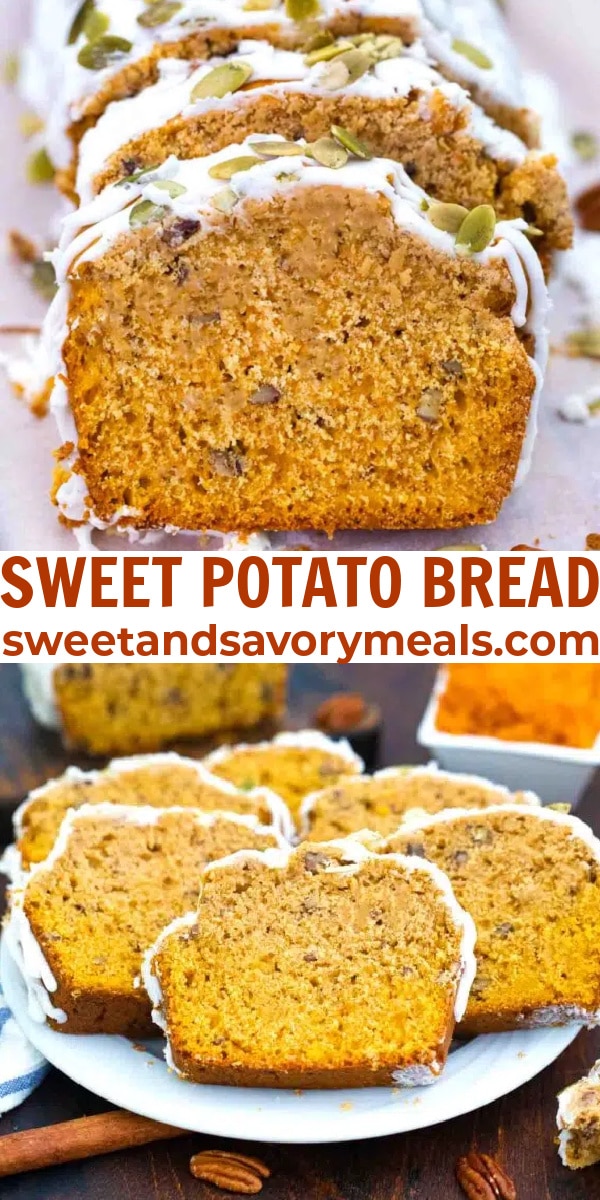 More recipes you might love