Sweet Potato Cheesecake Bars [Video]
Sweet Potato Cheesecake Bars have layers full of creamy goodness! Topped with a cinnamon whipped cream, this dessert will never fail to please a crowd!
The flavors in this dish alone are enough to make me want time to go fast forward to Thanksgiving! And in a matter of weeks, we will soon be celebrating Christmas. Check out our recipes like the Crack Turkey Pinwheels, Instant Pot Cinnamon Apples, and Cranberry Orange Bread for your upcoming family gatherings!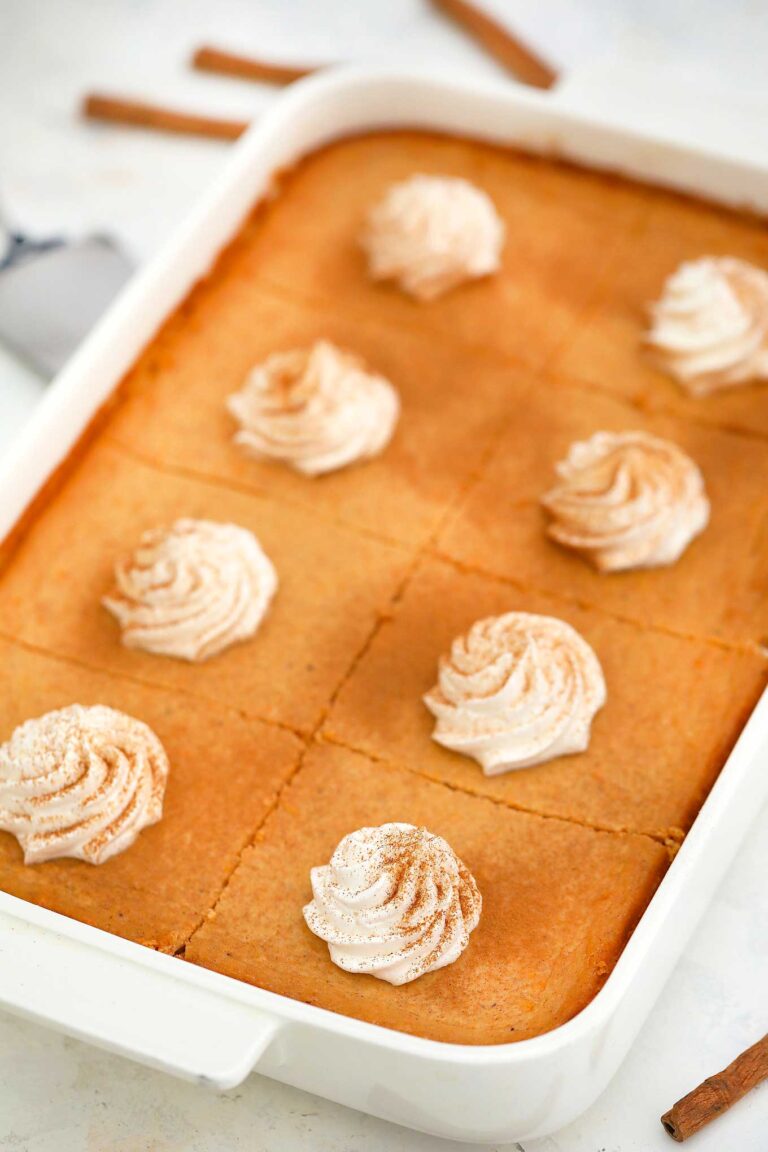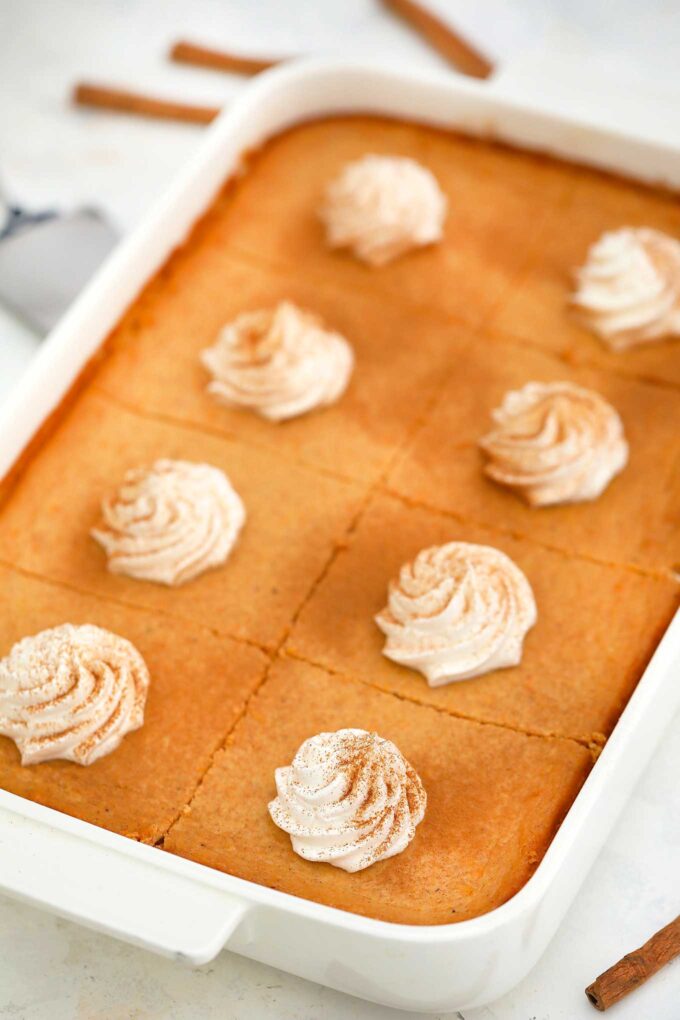 Homemade Sweet Potato Cheesecake Bars
Sweet Potato Cheesecake Bars are a combination of my favorites in one heavenly dessert – the sweet spuds, cream cheese, and whipped cream!
Put them all together in one dish and you get this! I like how velvety the texture of this dessert is. And the layering gives superb flavors that are in harmony with each other.
I like how each square has its own whipped cream topping to add richness and visual appeal, too.
It is a season for parties and this dessert is perfect!
What does Sweet Potato Cheesecake taste like?
It has a rich earthy flavor from the spuds, complemented with the combination of cinnamon and nutmeg. These flavors give a hint of autumn and almost tastes like a pumpkin dessert. These flavors are also balanced well by the cream cheese!
It is silken in texture which makes it so addicting, so even if it is rich, it has some lightness to it. And it not too sweet, with all those spices and cream cheese balancing the natural sweetness of the spuds.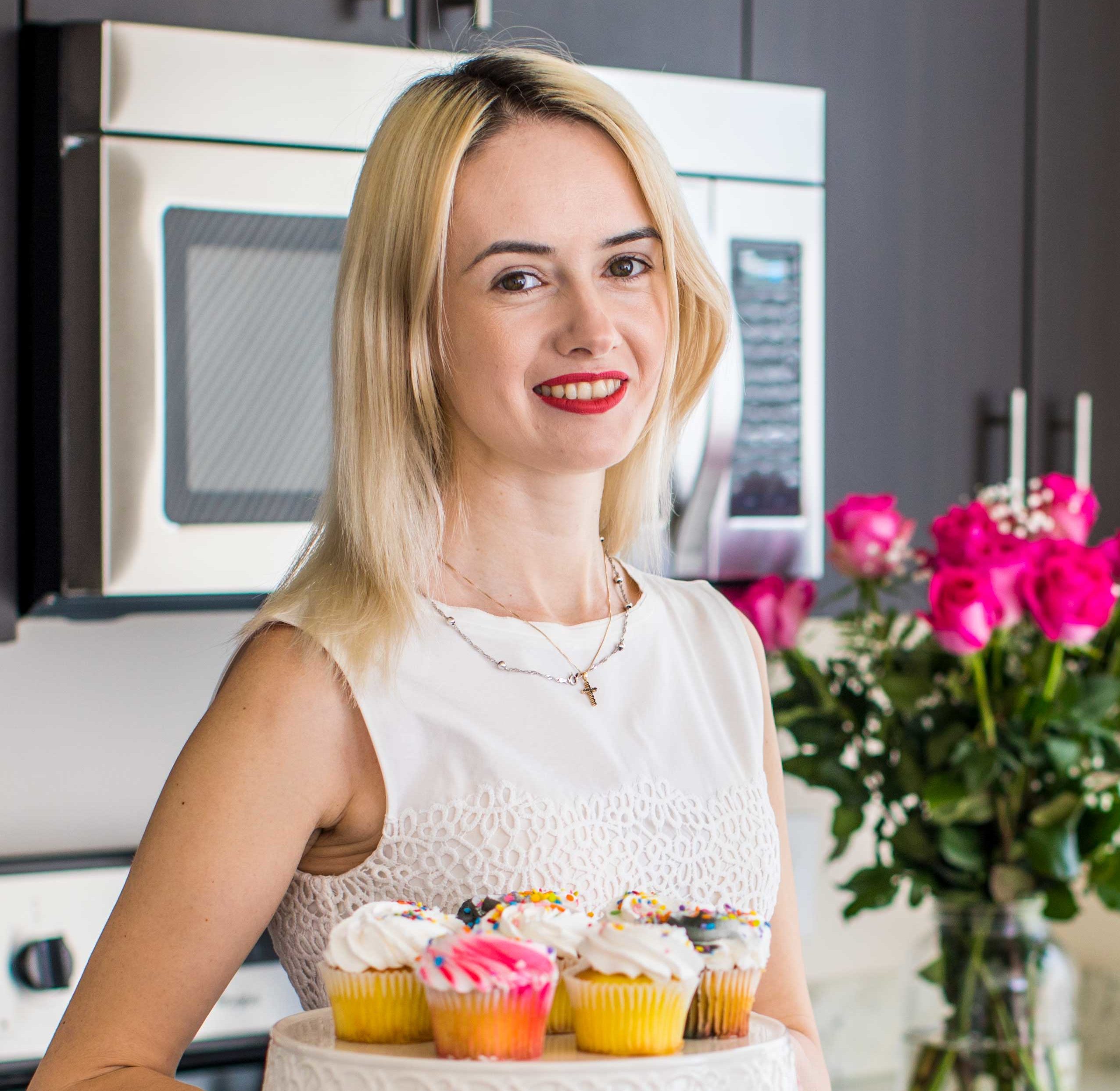 Follow us on Pinterest for more delicious recipes!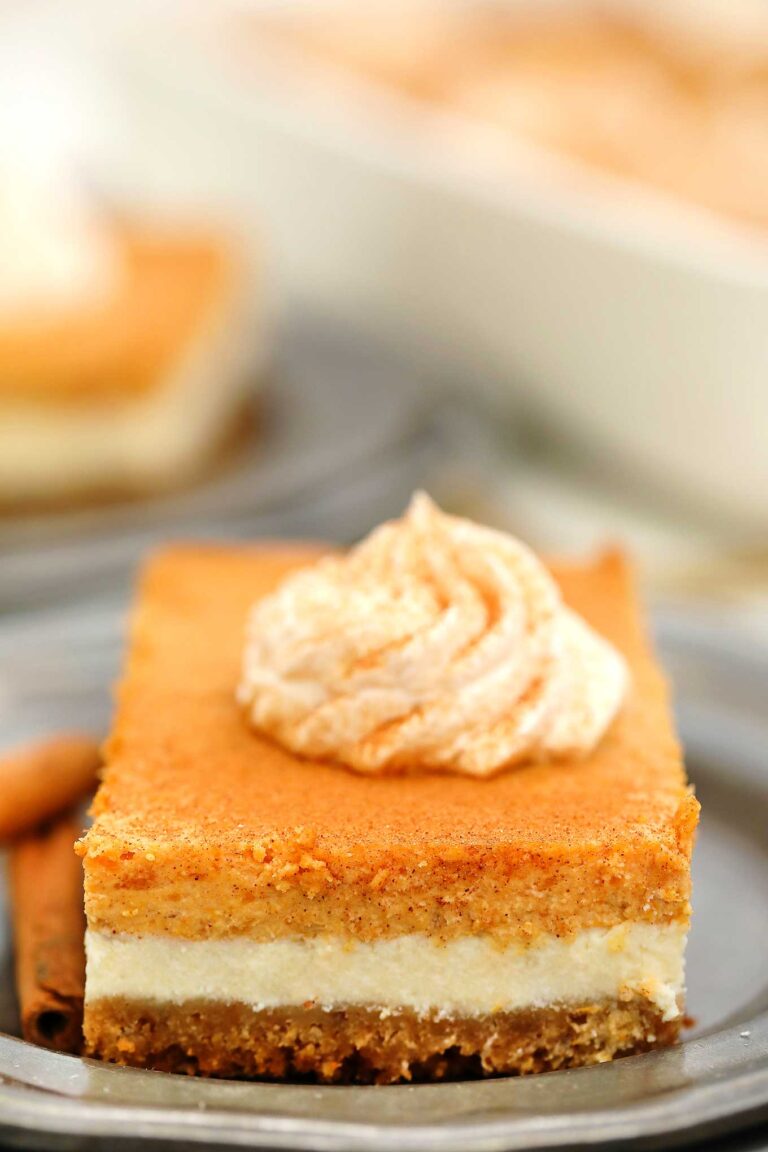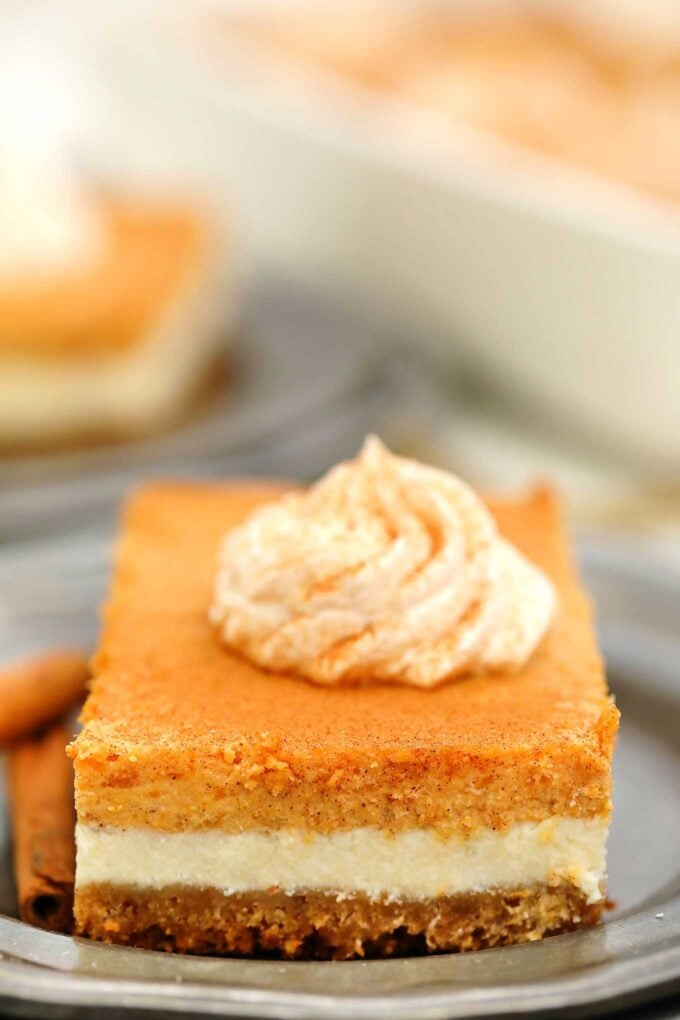 How to make Sweet Potato Cheesecake?
For exact directions and measures, please see the recipe card below. Also, feel free to watch the short video tutorial attached. The general steps are as follows:
Prepare the oven: Preheat it to 325 degrees F. Put the top rack right in the middle of the oven.
Make the crust: Spray a 9×13-inch pan with cooking spray and set aside. In a bowl, mix the crust ingredients. Put the mixture in the pan, and using the bottom of a measuring cup, press on it until it molds the shape of the pan. Freeze the crust for at least 20 minutes.
Prepare the cheesecake batter: Using a mixer, whisk the cream cheese and sugar together until fluffy. Then, add in the rest of the ingredients. Pour half of the batter onto the crust and freeze the whole thing for an hour.
Prepare the spuds layer: Add the ingredients of this layer to the remaining batter. Then, pour this layer on top of the frozen layer prepared earlier. Using a spatula, make sure that the surface is flat.
Bake: Put it in the oven and cook for an hour. You can cook it in the water bath by putting the pan in a deep roasting pan filled with hot water halfway. After 45 minutes, check for doneness. The center must still be jiggly while the edges must be golden. Leave it in the oven for some time with the oven door slightly open.
Cool: Let it cool in the rack for about 2 hours or until it cools completely. Then, refrigerate it for at least 6 hours to up to 24 hours.
Garnish and serve: Whisk the topping ingredients together until soft peaks form. Transfer it into a pastry bag with a piping tip and then, decorate the top of the cake. Slice and serve.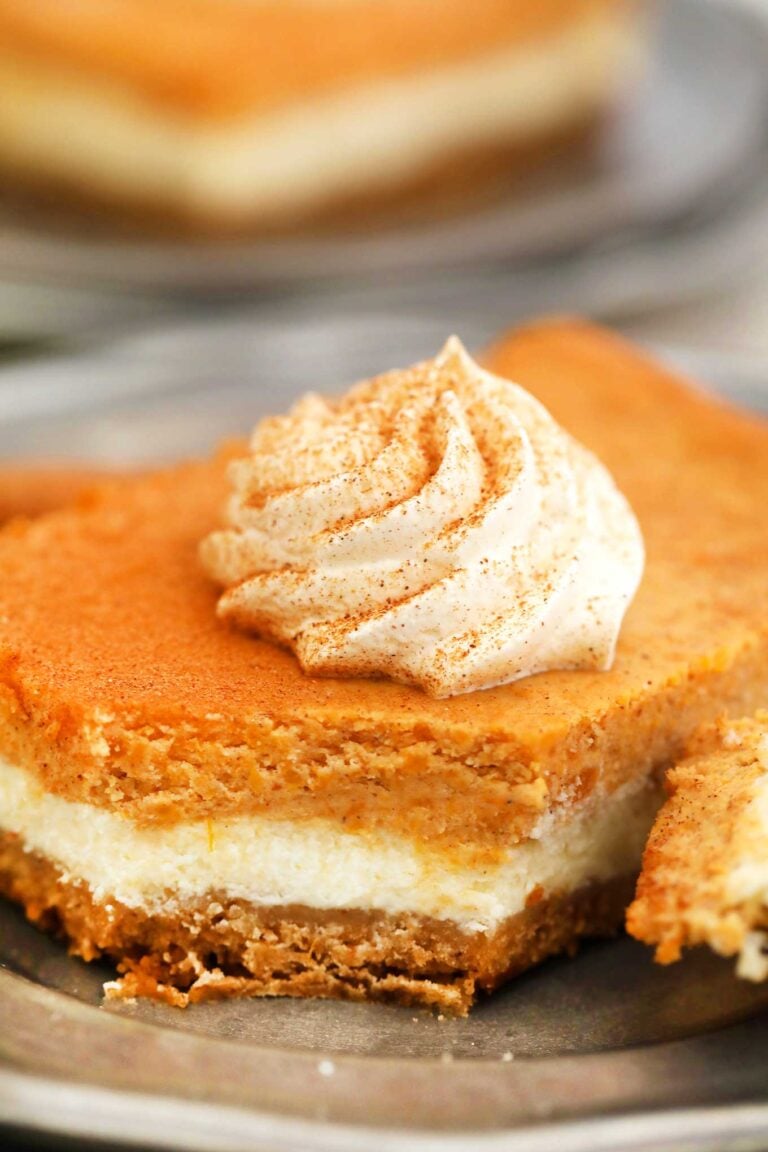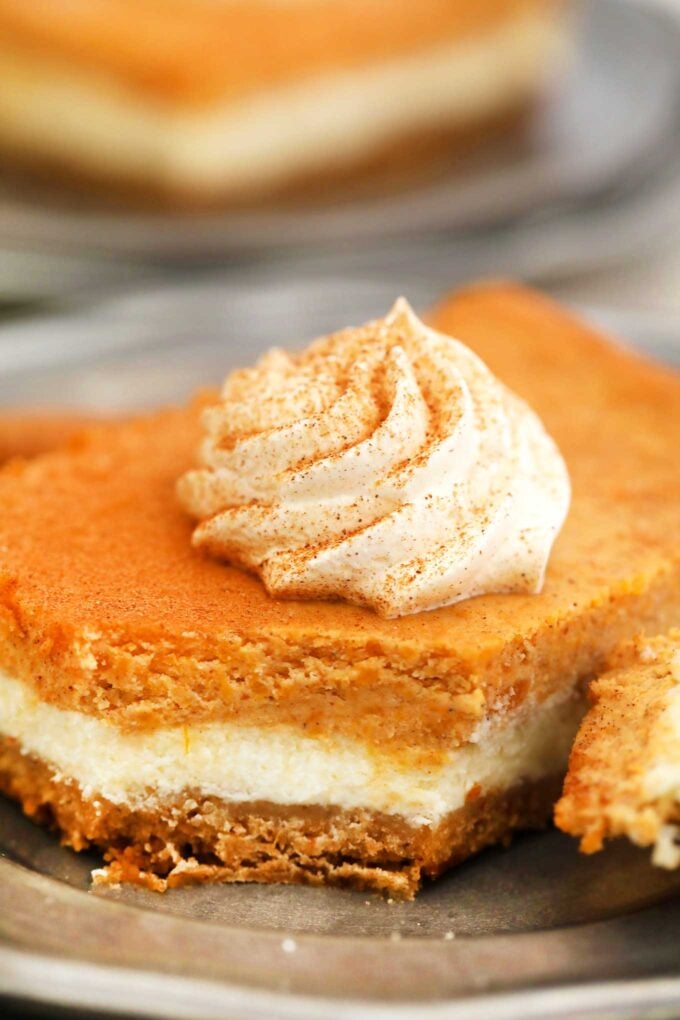 Why do cheesecakes fall?
The main reason is overbaking. This happens when the center rises while cooking and then sinks. To prevent this, here is a guide:
Bake it in a water bath to ensure even cooking
Lower the temperature of the oven as your oven might be too hot and just cook it for a longer time
Do not overbeat the eggs to avoid air pockets that may collapse
Why do Sweet Potato Cheesecake Bars crack?
The reasons that it falls are the same reasons that it cracks plus another culprit which is rapid cooling.
So, to prevent this, follow the guidelines described above to prevent it from falling, and here some more tips:
While baking, do not open the oven to prevent any sudden change in temperature that may cause it to crack.
Remember to turn off the oven when the center still jiggles and before taking it out of the oven, let it stay for about an hour with the door slightly open. The residual heat will cause it to still cook slowly as it cools.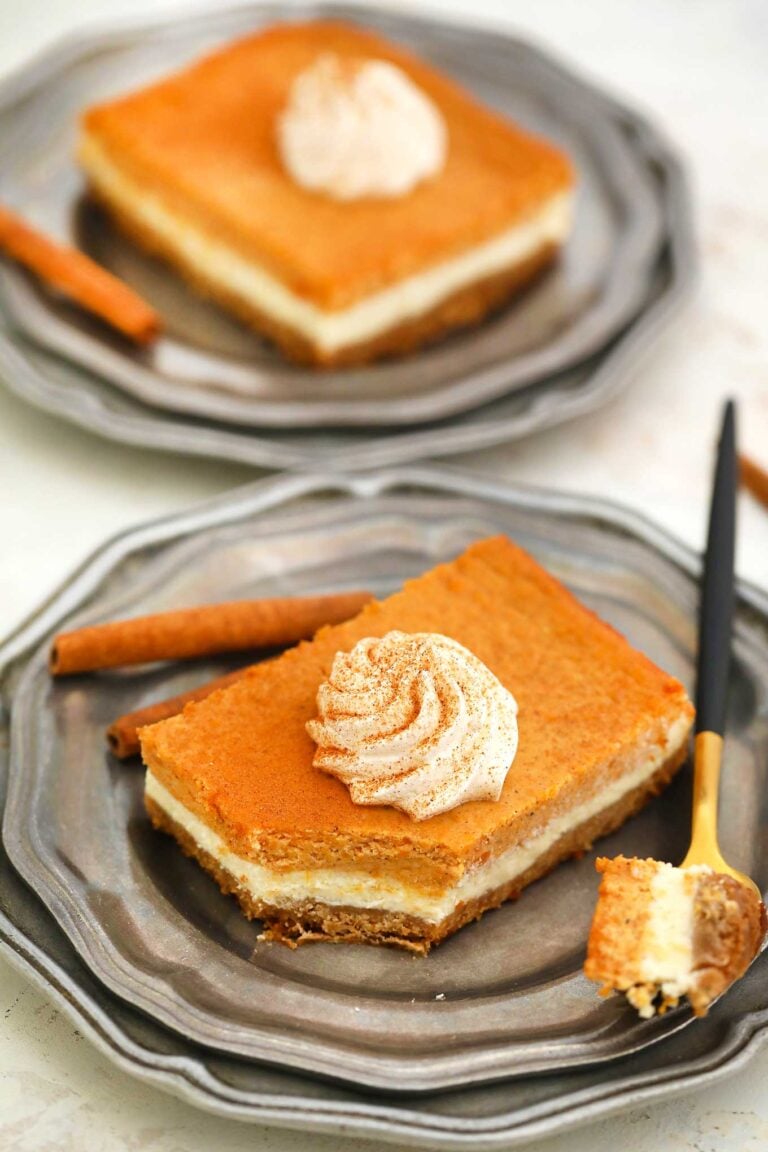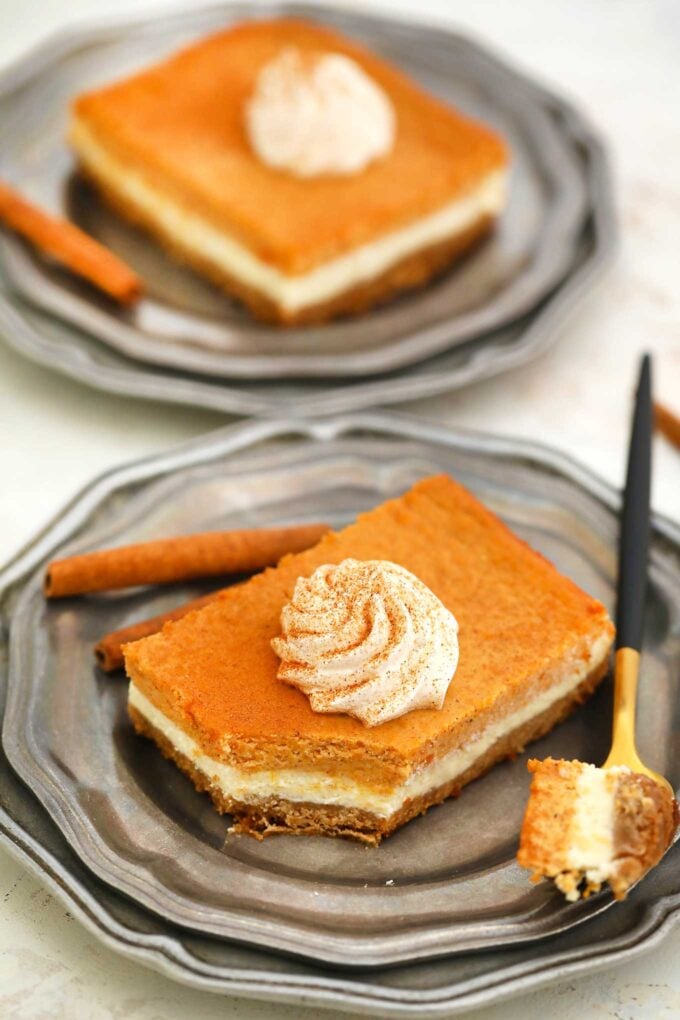 How to Store:
Refrigerate: Put it in an airtight container and refrigerate for up to a week.
Freeze: Refrigerate it for at least 6 hours. Wrap it in foil or transfer it into freezer bags, and then, freeze. It will stay good for 2 to 3 months.
Other Thanksgiving recipes:
Sweet Potato Cheesecake Bars Recipe Tips:
Save Recipe
Sweet Potato Cheesecake Bars
Sweet Potato Cheesecake Bars have layers full of creamy goodness! Topped with a cinnamon whipped cream, this dessert will never fail to please a crowd!
Author: Catalina Castravet
Serves: 10 bars
Prep time:

1

hour
Cook time:

50

minutes
Total time:

1

hr

50

mins
Ingredients
Crust:
Cheesecake Batter:
Sweet Potato Layer:
Whipped Cream:
Instructions
Cheesecake Crust:
Cheesecake Batter:
Sweet Potato Layer:
Bake:
Chill:
Whipped Cream:
Nutrition information
Calories: 507 Carbohydrates: 85 Protein: 8 Fat: 16 Saturated Fat: 8 Cholesterol: 99 Sodium: 336 Potassium: 470 Fiber: 3 Sugar: 60 Vitamin A: 11313 Vitamin C: 11 Calcium: 165 Iron: 2
Save Recipe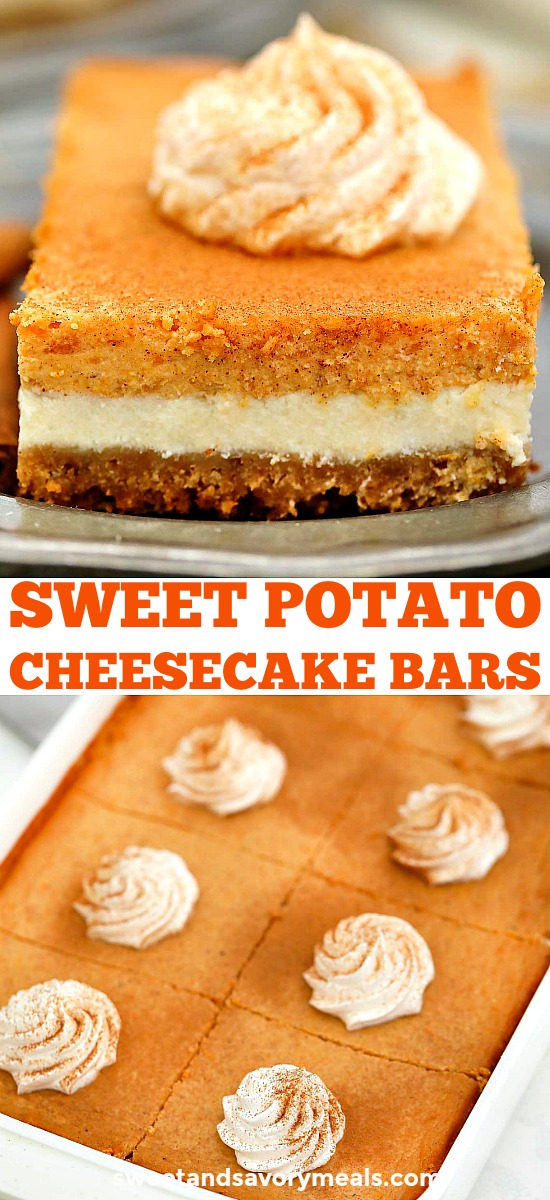 More recipes you might love
Categories: