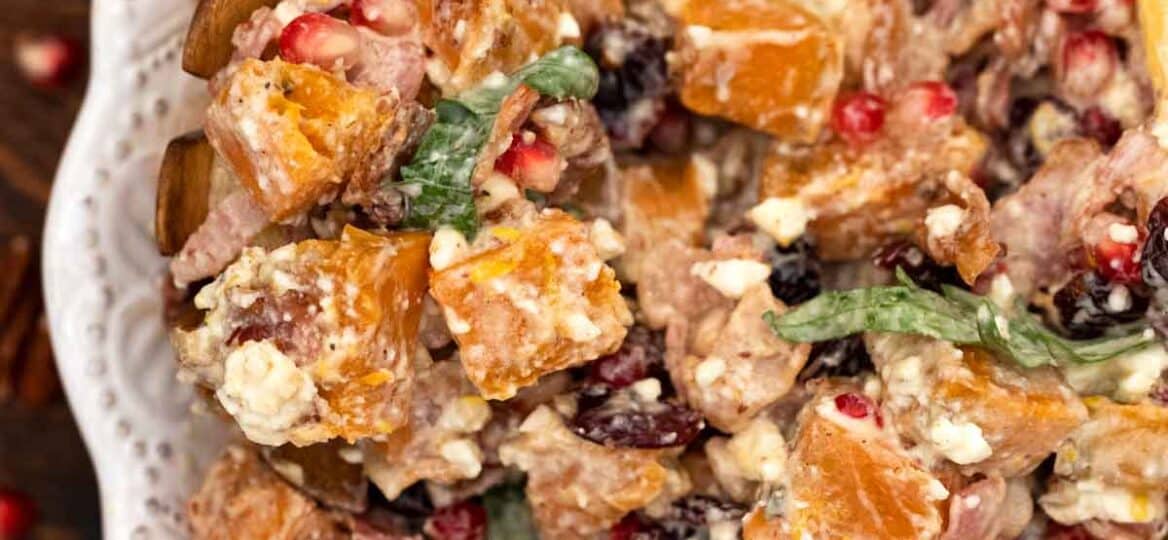 Sweet Potato Salad Recipe [Video]
Sweet Potato Salad is a delicious feast of different textures and flavors! The roasted sweet potatoes, fruits, nuts, bacon, and feta are tossed in a creamy orange dressing that's to die for. Say hello to your new potluck favorite!
If you eat a lot of salads at home, add these yummy dressings to your rotation. Go light with my Homemade Italian Dressing. For something creamy and tangy, this Ranch Dressing is great drizzled on your favorite vegetables. My Blue Cheese Dressing makes for a great dip too!
Roasted Sweet Potato Salad with Bacon
Roasted Sweet Potato Salad puts this classic potluck dish in a whole new light. You have those caramelized potatoes complemented by pineapples, cranberries, and pomegranate seeds. The smoky bacon and salty feta perfectly balance out the flavors.
Also, the pecans add a nice crunchy texture to it. Finally, the creamy and tangy dressing makes everything come together smooth and delicious!
Trust me, it's impossible not to rave about this beautiful salad. You can serve it with many dishes, but it's also good on its own. This is our favorite side dish during the Thanksgiving and Christmas holidays.
You can also easily modify it by adding or swapping other ingredients. Make a big batch if you're serving it to a crowd because it's always the first thing to run out!
What goes into Sweet Potato Salad?
This recipe may look like it has a lot of components. But don't worry, they complement each other like a dream! For this dish, you will need the following ingredients:
For the Sweet Potato Salad:
Sweet potatoes
Olive oil
Cooked bacon
Pineapple tidbits
Pecans
Cranberries
Pomegranate arils
Crumbled feta
Arugula
For the dressing:
Orange juice
Orange zest
Apple cider vinegar
Mayo
Curry powder
How to make Sweet Potato Salad?
The steps couldn't be easier! Let's walk through it:
Prepare the ingredients:
Toss your diced sweet potatoes in olive oil. Season with salt and pepper. Then, roast at 375F until tender.
Next, bake your bacon. Ensure to drain the fat, and return to the oven until crisp. When cooked, chop it.
Toast your pecans in a large metal pie plate.
Make the dressing:
Whisk all dressing ingredients in a bowl. Set aside.
Assemble the salad:
Arrange arugula in your serving dish or bowl.
Then, add your sweet potatoes, bacon, pecans, pineapple, cranberries, half of the feta, and half of the pomegranate arils.
Drizzle with the dressing.
To serve:
Top it with the rest of the feta and pomegranate.
Serve immediately.
Sweet Potato Salad Variations:
You can easily adjust the flavors and ingredients. Try from some of the below suggestions:
Make it spicy: use chipotle, a dash of cayenne, or chopped jalapenos for heat.
Make it hearty: load it up with protein using soft boiled eggs or adding shredded chicken breast.
For a healthier version: I love adding more veggies to this side like steamed broccoli, spinach, kale, bell peppers, and celery.
Swap your dressing: switch it up with some mustard dressing, lemon vinaigrette, Italian dressing, or honey Dijon.
Make it fruitier: peaches and grapes add a nice burst of sweetness to the dish. Also, you can add other dried fruits like raisins.
Change up the cheese: not a fan of feta? Leave it out, or use your favorite cheeses.
Play with ingredients: brighten it up with herbs like cilantro and parsley. Add bites of red onions and chives, or toss in avocado chunks.
Make it nuttier: instead of pecans, you can use any nut you like such as almonds, cashews, and macadamias.
What to serve with Sweet Potato Salad?
This is an exceptionally flavorful and healthy side dish that goes really well with grilled mains like these Grilled Chicken Skewers, or oven baked chicken breasts. I also love pairing it with my Garlic Lime Pork Tenderloin. For the ultimate cookout pairing, try it with this Perfect BBQ Pork Chops or some Slow Cooker Pulled Pork sandwiches!
During the holiday season, try serving it with oven roasted turkey, slow cooker pineapple ham, or Instant Pot short ribs.
More delicious side dishes:
How to store roasted sweet potato salad?
Store in an airtight container. This will keep in the fridge for up to five days. In addition, the leftovers taste even better because the flavors meld over time! I don't recommend freezing and thawing this salad because it can affect the texture.
Roasted Sweet Potato Salad Recipe Tips:
Need to make it ahead? You can prep the ingredients up to a day ahead.
Also, try not to overcook your sweet potatoes so they don't turn mushy.
You can serve it warm, room temp, or even chilled.
Try to chop your ingredients in roughly the same sizes.
Bake your bacon instead of frying it. Less oil, no splatters, or curled bacon, and you get uniformly crispy pieces every time.