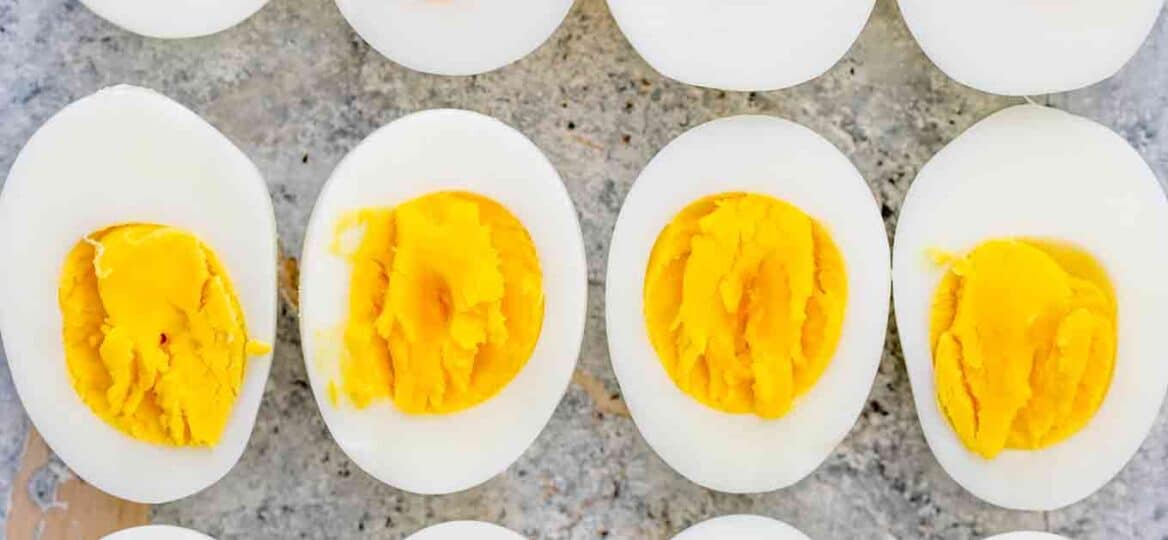 Instant Pot Hard Boiled Eggs [Video]
Instant Pot Hard Boiled Eggs is the best and most convenient way to make PERFECT eggs. Using the pressure cooker it will ensure you will have them cooked to perfection every time, hassle-free. All you need is 3-8 min! That's it!
Also, you can make them soft, medium, or hard, based on your preference. Below we will explain the best ways to do so. Also, watch the recipe video tutorial attached below.
Delicious eggs can go on many things and will keep in the refrigerator for up to 1 week. You can use them in avocado sandwiches, deviled eggs dip, or on top of broccoli salad.
The Best Instant Pot Hard Boiled Eggs
Instant Pot Hard Boiled Eggs is really the quickest and coolest way to have them boiled. Before we got our pressure cooker, we would boil them on electric stover. While this is perfectly fine to do it, it takes quite some time for water to boil. Also, it is harder to control the heat and the outcome is always uncertain.
However, using the pressure cooker will solve all these problems. In addition, you will have eggs that are super easy to peel, and there is no need to watch the water boil or guessing on timing. Based on cooking time, you will know exactly the outcome, so there will be no surprises.
It's is the only way we boil them now and are truly pleased with how well the IP is doing its job. You simply add some water to the pressure cooker, then place them on the rack, and press a button. It's that simple! Once you try it, you will never boil them any other way. In addition, they store well, so you can have them on a later day.
Why cook eggs in the Instant Pot?
No longer guessing. You will have consisted of texture and outcome, and no longer have to worry about under-cooked or over-cooked eggs.
Fool-proof results. With this method, you will have golden centers without green rings. Similarly, they will peel super easily.
Equipment you need to make this recipe
How many eggs you can make?
You can make as many as fit in the trivet. You can even stack them in two layers, so really you can make about as many as 18 at once.
How to cook Instant Pot Hard Boiled Eggs?
First, pour one cup of water into the Pressure Cooker.
Then, place the egg trivet inside the pot and place the eggs on top of the trivet.
Set cook time to 5 minutes. Or select the time based on the texture of the eggs you prefer.
They will be streamed at high pressure.
Once done, do a 5 min NPR after which QR.
Next, move the eggs into an ice bath for a couple of minutes to cool.
Peel and enjoy it.
This method is called the 5-5-5 methods and it yields very consistent results and easy peeling. In the end, the eggs are more on the Harder side.
We prefer more the 3-3-5 method, which means cook on HP for 3 mins, do a 3 min NPR and a 5 min ice bath.
Cooking time
The cooking time will vary based on the desired egg's outcome. Please also keep in mind, the below methods assume cooking large egg size. So if you are cooking medium size eggs, reduce the cooking time by 1 minute. The opposite will be if you are cooking extra-large once, the time has to increase by 1 minute.
Runny Eggs: 4 minutes at high pressure, with a Quick Release. We liked the consistency, but they were hard to peel even after the ice bath.
Soft-boiled: 3 to 4 minutes at high pressure, with 5 minutes natural release. This is our preferred method by far.
Medium-boiled: 4 to 5 minutes at high pressure, with 5 minutes natural release.
Hard-boiled: 6 to 7 minutes at high pressure, with 5 minutes natural release.
Why use an ice bath?
This technique is always used by many chefs, as it cools them immediately, and stop the cooking process inside. If this step is omitted, your eggs might still be cooking inside even after you release them from the IP.
So, it is important to do an ice bath right away, as it stops the cooking process right away, and also makes them very easy to peel. If you are running out of ice, simply put them in cold water for a few minutes, this will work as well.
How to peel hard boiled eggs?
Peeling them after cooking under pressure is quite simple. Here are the steps:
After cooking the eggs and them placing in an ice bath, crack them open by rolling on a kitchen counter.
The peel will come right off and will NOT take any egg white with it!
How long are Instant Pot Hard Boiled Eggs good for?
Best to store them in the fridge for up to 7 days. Peeled or unpeeled, they are still safe to eat up to one week after they were cooked.
More delicious Instant Pot recipes: