Instant Pot Mongolian Chicken [VIDEO]
Instant Pot Mongolian Chicken takes just five minutes to throw into the pressure cooker. It only takes 30 minutes to cook a flavorful, tender, and juicy chicken recipe! This homemade version of the popular dish is so much better than Chinese takeout.
We love making easy and delicious Instant Pot Chicken recipes with an Asian twist. This dish has been made famous by PF Chang, but now you can quickly make it in the pressure cooker. Also, try our version of Mongolian Chicken with Drumsticks or the famous Instant Pot Orange Chicken, which is always a success with the whole family.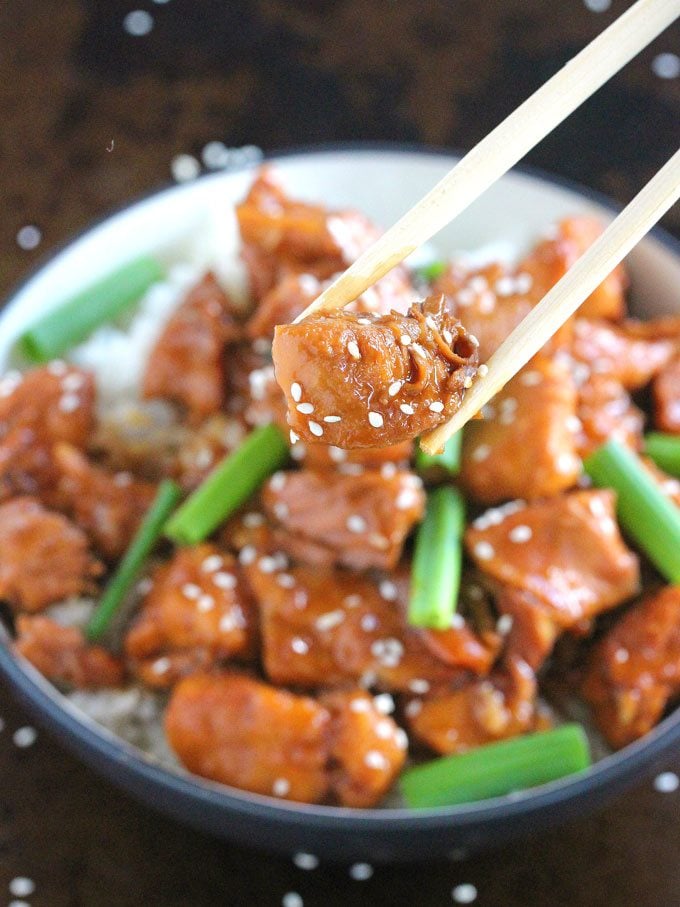 Best Instant Pot Mongolian Chicken
This quick and easy take of the famous Chinese Mongolian Chicken is such a perfect, delicious, and quick Asian meal made in just 30 minutes! It's faster to make this meal at home than to drive to a restaurant or to order takeout. Also, by making it at home you will save some good dollars and will have amazing leftovers.
This dish is super flavorful and juicy, made with tender slices of chicken breast soaked in a delicious sweet and savory sauce. It is one of those dishes that tastes even better when cooked at home! This recipe will quickly become a favorite and part of your dinner rotation! The leftovers taste even better the next day.
Ingredients Needed:
Chicken: Use boneless skinless chicken breasts or boneless skinless chicken thighs
Sesame oil: Another option is to use extra virgin olive oil
Brown sugar: The amount of sugar can be reduced based on your preference. Use dark brown sugar or light brown sugar.
Fresh garlic cloves: Using fresh garlic will add amazing flavor to the sauce.
Fresh ginger: Fresh minced ginger adds a punch of flavor.
Lite soy sauce
Rice vinegar
Chicken broth
Carrots
Red pepper flakes
Garlic powder: We use a combination of fresh garlic and garlic powder, you can use one or another.
Green onions: As garnish.
Sesame seeds: Sprinkle them before serving.
Cornstarch: Used as a binder to create the cornstarch slurry to thicken the Mongolian sauce. Do not try to replace it with flour, the results will not be the same.
For the Rice:
Basmati rice
Water
Butter: We like to use herbed butter for extra flavor.
Salt
How to make Instant Pot Mongolian Chicken recipe?
This delicious Asian dish is super fast and easy to make in the Pressure Cooker. For a quick, step-by-step tutorial please watch the recipe video attached. But the general steps are as follows:
Saute the meat: Using the Saute function of your Instant Pot, add the olive oil and quickly saute the poultry for about 2-3 minutes. Remember to properly stir while browning the chicken.
Deglaze: After sauteing it, ensure that there are no bits stuck to the bottom of the pot, otherwise, you will get a "burn notice". To avoid it, deglaze the pot with 1/4 cup water and scrape them with a wooden spoon. If you leave the bits stuck to the bottom, they may burn or cause the pot not to come to pressure.
Add the rest of the ingredients and cook: Next, add the rest of the ingredients and stir well to combine. Then, close the lid and cook on High Pressure.
Release pressure: After that, let the pressure release naturally for 10 minutes, release manually any remaining pressure and carefully open the lid.
Add the cornstarch and serve: Lastly, in a small bowl, add the cornstarch with 1/4 cup water and stir to combine, add the mixture to the pot. Gently let it cook on Sauté function on LOW for a few more minutes stirring without the lid, until the texture thickens.
Serve: Enjoy warm over some white rice with chopped green onions and sesame seeds on top.
How to cook the rice with the chicken in the pressure cooker:
For that, you will need a long-legged trivet and an oven-safe dish, I personally like to use these stackable pans to cook the rice with the chicken. The pressure cook time stays the same, regardless if you add the rice or no.
First, follow the steps to make the juicy Mongolian chicken, and right before pressure cooking it, add the trivet to the pot and the dish with the rice.
After that, pressure cook everything per recipe directions. After you release the pressure, remove the dish with the rice and let it rest for a few minutes.
In the meantime, continue to follow the recipe and thicken the sauce. Finally, fluff up the rice with two forks and serve.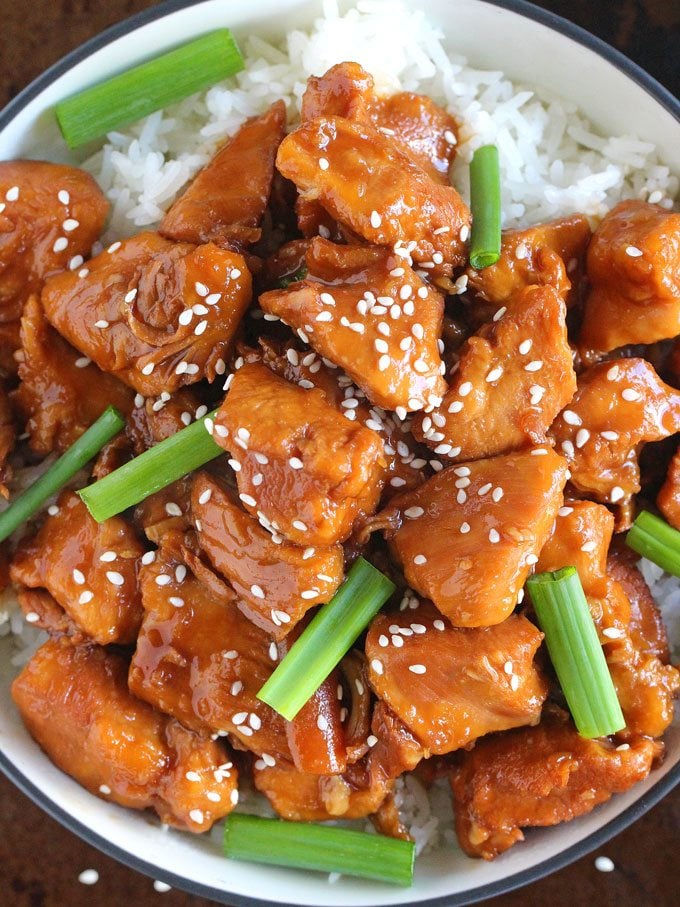 Dump and Cook option:
This easy recipe is also a great dump-and-cook meal. In case you are in a hurry and don't have time to brown the meat, just dump all the ingredients in the pot and cook. The cooking time does not change.
This way, you can plan in advance, and prepare the ingredients ahead of time and just add everything to the IP when ready to cook.
Recipe Variations:
Meat: Try the recipe with beef, and make our famous Instant Pot Mongolian Beef recipe. Also, you can make it with flank steak, top round beef, or even stew meat.
Veggies: I try to keep this recipe as close as possible to the restaurant version. However, you can absolutely any type of vegetables that you like. Some great alternatives would be using: zucchini, broccoli, mushrooms, red peppers, etc.
Sauce: Make the sauce more flavorful by adding a tablespoon of hoisin sauce.
Spicier: As an alternative, add some heat by mixing in more red pepper flakes, chili powder, or hot sauce.
Gluten-Free: Try making it gluten-free by using coconut aminos or tamari sauce.
Stovetop directions:
If you want to try this recipe on the stove top, it is equally easy to prepare. You can check the Stovetop Mongolian Chicken recipe on our blog as well. The general steps are as follows:
Cut or Cube the chicken: Start by cutting the boneless chicken breast into thin pieces. Prior to cutting, I recommend partially freezing the meat for about 15 minutes. This will make it easier to slice.
Coat the meat: Next, add the meat to a medium bowl and coat it in cornstarch. Another option, it to use about 1/4 cup cornstarch in a resealable plastic bag, and then shake to coat evenly the meat pieces.
Stir-fry: Once coated, stir-fry for about 3-4 minutes per side until crispy. Then, remove it from the pan and place it on a plate lined with paper towels.
Prepare the sauce: In the same pan, add the garlic and ginger, and cook for 30 seconds. Next, add the soy sauce, sesame oil, water, and brown sugar to it, and bring it to a simmer.
Add cornstarch slurry: After, add 1.5-2 teaspoons of cornstarch combined with 1 tablespoon of cold water. Gently stir and bring to boil just until it has the proper thickness.
Combine the sauce with chicken: Lastly, add back the meat to the sauce, and toss to properly and evenly coat it. Serve over rice or noodles.
Make in the Crockpot:
This dish can also be made in your Crockpot or in the Instant Pot using the Slow Cooker function.
First, add the browned meat to the Slow Cooker, add the rest of the ingredients except for the cornstarch slurry.
Next, cover and cook on High for 3 hours or on low for 6 hours.
Then, make the cornstarch slurry, gently stir it in and cook on high for 20 more minutes. Serve and enjoy!
What to serve with Mongolian chicken?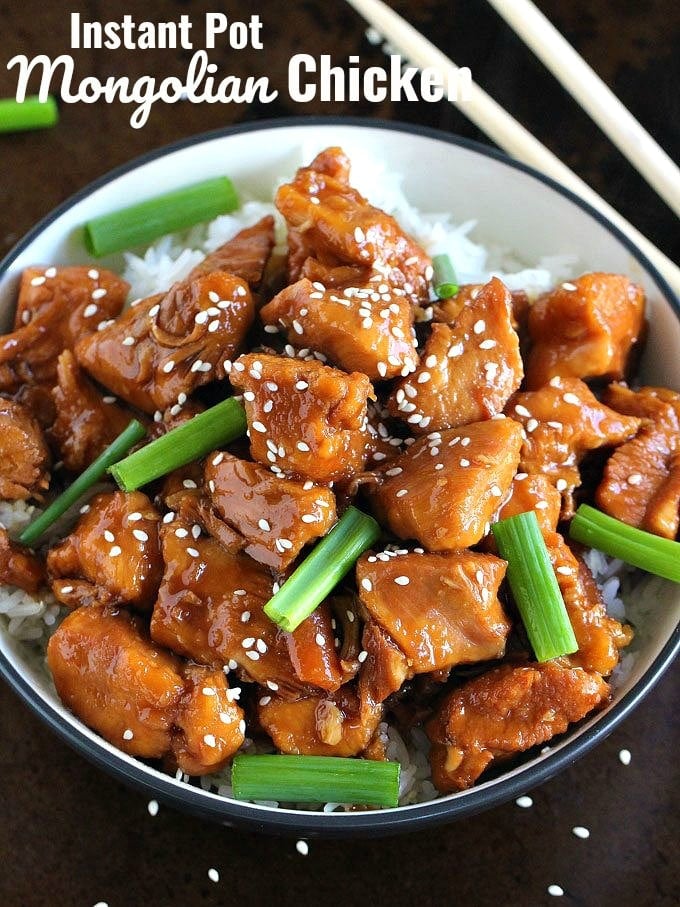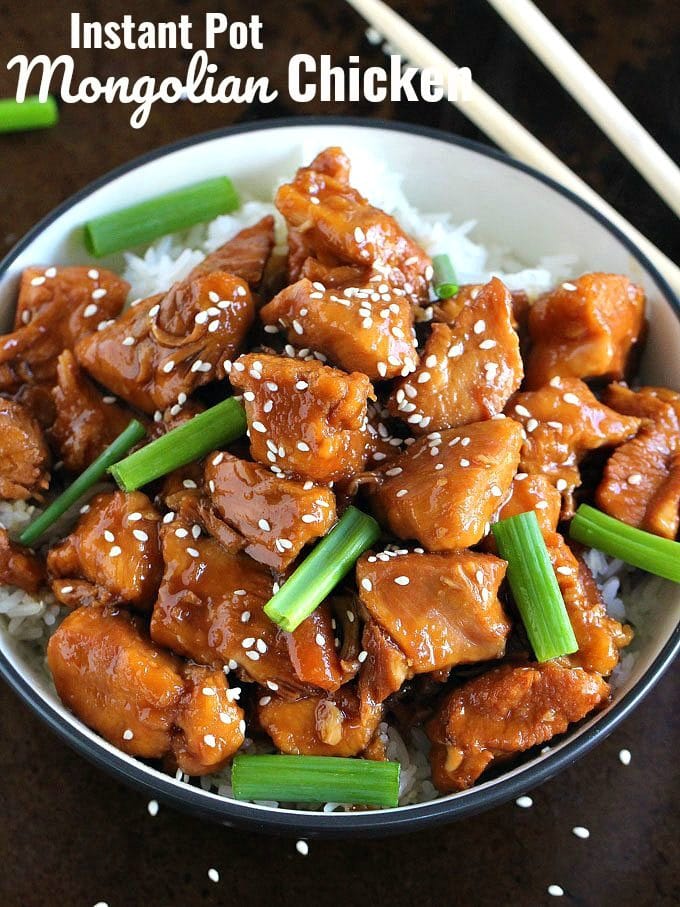 Frequently Asked Questions
What is Mongolian Sauce made of?
The secret ingredient to this dish is definitely the Mongolian sauce which is a combination of soy sauce, sesame oil, and brown sugar. In addition, we add some garlic, ginger cooking process. To garnish, we used some green onions and sesame seeds, but these are optional.
What is a 10 Minutes Natural Pressure Release?
A Natural Pressure Release (NPR) means that the pressure is released gradually. For a Natural Pressure Release, you click on Keep Warm, and wait 10 minutes, after which you open the valve and let any leftover pressure release. Another option is to Turn Off/Unplug the pressure cooker, wait 10 minutes, and after that open the valve.
A natural release is usually used when cooking soups, meat, pasta, or steel-cut oats. This method prevents any foam from the dish to shoot out through the valve, which can happen during a Quick Pressure Release.
How to avoid the "burn notice" on the Instant Pot?
Sometimes, you might get the "burn notice" when cooking in the IP or any other pressure cooker. To avoid this, we highly recommend ensuring that there are no browned bits of meat stuck to the bottom of the pan after sautéing the food.
Also, as stated above, try to deglaze it with some liquid and gently scrape up the browned bits with a wooden spoon.
How to store:
Fridge: First, let the leftovers cool and after that add them to an airtight container and store them in the fridge for 3-4 days.
Freeze: Also, as an option add the cooled leftovers to a freezer-safe container or freezer bag and freeze for up to 3 months.
Thaw: When ready to serve, that the meal in the fridge overnight.
Reheat: After thawing the meal, reheat it on the stove or in the microwave.
More Instant Pot Recipes:
Recipe Cooking Tips:
Use high-quality meat. A good meat-centered meal starts with quality meat, so use organic chicken breasts when possible.
Restaurant-style Mongolian meat requires lots of sugar, so feel free to adjust. However, keep in mind, if you reduce the sugar, you will have to reduce the soy sauce as well. Otherwise, the dish may taste saltier.
To cut on sodium and sugar, reduce the sugar to 1/2 cup and soy sauce to 1/2 cup if desired.
In addition, using carrots in the recipe is totally optional. I added them for a veggie boost and I also like their sweetness, but the dish can be prepared without them.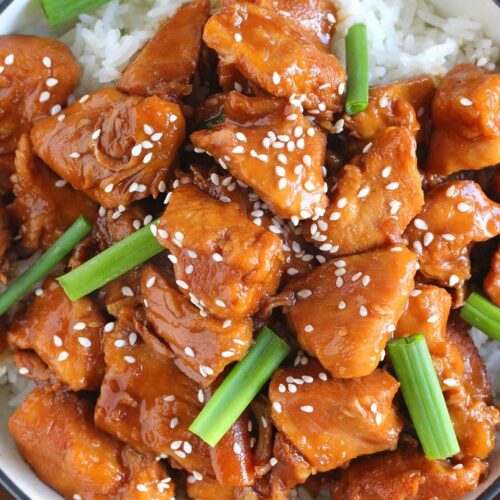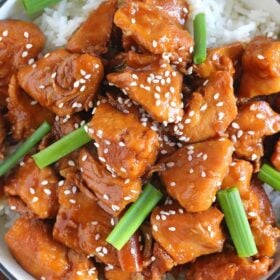 Instant Pot Mongolian Chicken
Instant Pot Mongolian Chicken takes just 5 minutes to throw into the pressure cooker. It only takes 30 mins to cook tender, and juicy chicken!
Save
Share
Print
Pin
Rate
Ingredients
4

boneless skinless chicken breasts

(cut into one-two inch cubes)

2

tablespoons

sesame oil

(or extra virgin olive oil)

3/4

cup

brown sugar

(use 1/2 cup if you want less sugar)

4

garlic cloves

(minced)

1

tablespoon

fresh ginger

(minced)

3/4

cup

lite soy sauce

(use 1/2 cup if you are sensitive to sodium)

3/4

cup

water

(or chicken broth)

1

tablespoon

rice vinegar

1

cup

carrots

(chopped*)

1

teaspoon

red pepper flakes*

1

teaspoon

garlic powder
Garnish:
1/4

cup

green onions

(chopped)

1

teaspoon

sesame seeds
Rice (optional):
2

cups

basmati rice

2

cups

water

2

tablespoons

herbed

(or unsalted butter)

1/4

teaspoon

salt
Instructions
Sear the chicken:
Heat up your pressure cooker: press Sauté -> click on the Adjust button -> select More to get the Sauté More function, which means that the food will be sautéed over medium-high heat. Wait for the Instant Pot indicator to read HOT.

Add the oil to the hot Instant Pot, add the chicken and sauté for 2-3 minutes, stirring a few times. Cook until it just starts to get golden. When sautéing it, stir constantly so it doesn't stick to the bottom of the pot.

Also, after you sauté it, check if bits stuck to the bottom, in that case, deglaze the pot with 1/4 cup water and scrape them with a wooden spoon.

Add the rest of the ingredients to the pot: minced garlic, minced ginger, lite soy sauce, rice vinegar, brown sugar, water, carrots, garlic powder and red pepper flakes.

Stir well until all the ingredients are combined and coated in sauce.
Rice (optional):
Add the rice, salt, and two cups of water to an Instant Pot safe dish/pot. Stir to combine.

Add a long-legged trivet to the Instant Pot on top of the chicken. Add the pot with the rice onto the trivet. Cover with aluminum foil and pinch a few times with a fork.
Cook:
Close lid and pressure cook at High Pressure for 5 minutes + 10 minutes Natural Release. Turn off the heat. Release the remaining pressure. Open the lid.

Open the lid, remove the pot with the rice, let it rest covered for 5-10 minutes. Before serving, fluff the rice with a fork.
Thicken the sauce:
Select again the Sauté function, on LOW.

In a medium bowl combine 2 tablespoons of cornstarch with 1/4 cup water, whisk until all combined with no lumps. Add the mixture to the Instant Pot and gently stir to combine. Cook on Sauté function on LOW for a few more minutes without the lid, stirring gently, until the sauce thickens.

Turn off your Instant Pot.
Serve:
Serve over rice and garnish with fresh chopped green onions and sesame seeds.
Notes
Carrots are optional in this recipe.
Add more or less Red pepper flakes, based on the level of heat you like in a dish.
Also, they can be omitted from the recipe.
Garlic powder was added for extra garlic flavor on top of the fresh garlic.
Use gluten-free tamari or amino acids if you want to avoid gluten.
Nutrition
Calories:
503
kcal
|
Carbohydrates:
84
g
|
Protein:
24
g
|
Fat:
7
g
|
Saturated Fat:
1
g
|
Polyunsaturated Fat:
3
g
|
Monounsaturated Fat:
3
g
|
Trans Fat:
1
g
|
Cholesterol:
48
mg
|
Sodium:
1842
mg
|
Potassium:
555
mg
|
Fiber:
2
g
|
Sugar:
28
g
|
Vitamin A:
3727
IU
|
Vitamin C:
4
mg
|
Calcium:
72
mg
|
Iron:
2
mg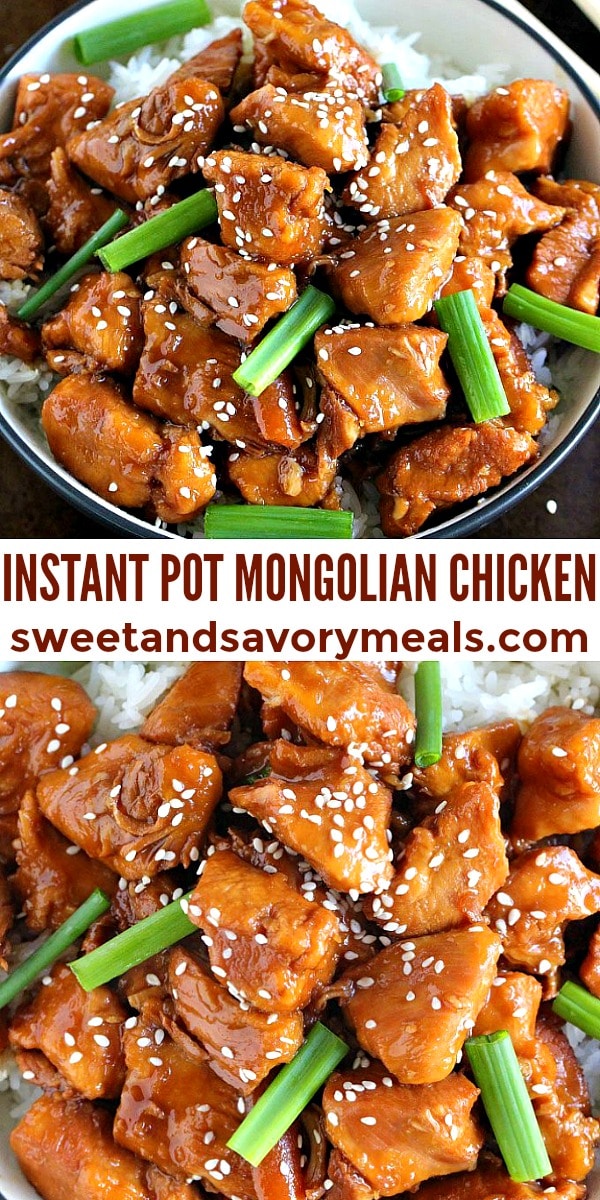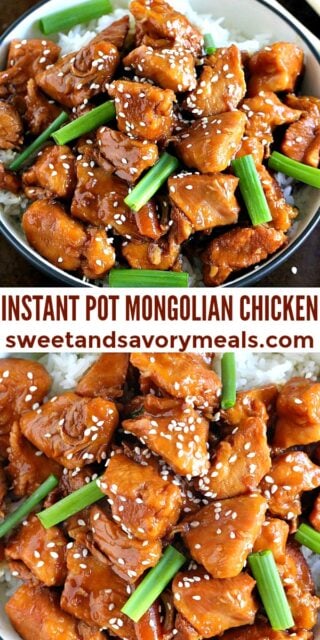 More recipes you might love