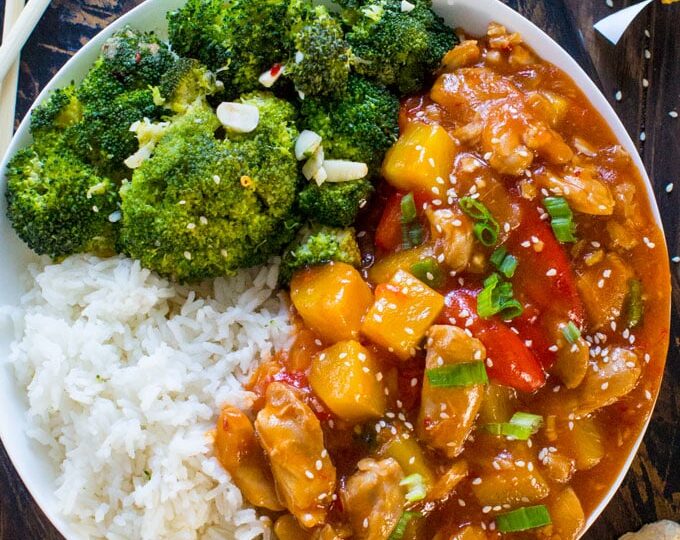 Instant Pot Sweet and Sour Chicken [VIDEO]
Instant Pot Sweet and Sour Chicken is a flavorful, restaurant-quality meal made simple and easy in your pressure cooker in just 30 minutes! Made with sweet pineapple and bell pepper is the perfect weeknight dish to have.
Instant Pot recipes are a staple around here. We love making easy chicken meals in the Instant Pot like our most popular Orange Chicken Instant Pot, Instant Pot Chicken Wings, and Instant Pot Chicken Cacciatore.
Instant Pot Sweet and Sour Chicken
This Sweet and Sour Chicken is an amazing, restaurant-quality dinner that you can easily make at home using your Instant Pot in just 30 minutes. The chicken is tender and juicy cooked with sweet pineapple and bell peppers.
This a classic Chinese takeout option that is quickly and easily made at home. Many think this is a complex dish to make, but in reality, it is so much easier to make than you would think.
It is coated in the most luxurious sweet and sour sauce. This Classic Chinese dinner recipe is the perfect weeknight go-to meal. I also like the sweet and savory flavors that are combined here. With an Instant Pot in your kitchen and this recipe under your belt, forget about ordering takeout anymore. The homemade version tastes so much better!
WHY YOU WILL ENJOY THIS INSTANT POT SWEET AND SOUR CHICKEN:
It is easy to make and it takes only around 30 minutes!
Only one pot to clean and that is the Instant Pot.
The dish is packed with amazing flavors and lean protein.
It is perfect for busy weeknights and also for entertaining guests.
You will have delicious leftovers that can be stored in the fridge, in an airtight container for 3-4 days.
Instant Pot Sweet and Sour Chicken Recipe Tips:
Use quality meat. I recommend organic chicken breasts or for more flavor, use boneless, skinless chicken thighs.
Cornstarch is a key ingredient in here, do not try to replace it with flour. The results will not be the same.
When it comes to adding the cornstarch, I recommend mixing the cornstarch with pineapple juice until dissolved and add the slurry to the Instant Pot.
You can also taste and adjust the sugar in this recipe. However, I like it on the sweeter side, but you can use less.
If the sauce is too runny, mix another 1-2 tablespoons of cornstarch with water and add it to the Instant Pot. Please note, that the sauce will get thicker with time, so definitely wait a bit before adding more cornstarch.
This recipe works well with canned pineapple chunks or fresh pineapple. Do not use frozen, as it will add extra water to the sauce.
Can Sweet and Sour Chicken be made in the Crock-Pot?
This dish can also be made in the Crock Pot or in the Instant Pot using the Slow Cooker function. Add browned chicken to the Slow Cooker, add the rest of the ingredients except the cornstarch slurry.
Then, cover and cook on low for 4 hours. Make the slurry, gently stir it in and cook on high for 20 more minutes. Serve and enjoy!
How do you make baked sweet and sour chicken?
For the Instant Pot version, please refer to the recipe card below. Also, see the video above on how to exactly cook it. However, if you also want to try making this Chinese dish in the oven, follow the steps below:
First, preheat the oven to 350 degrees F.
Next, cut the breasts into smaller cubes size, and season with salt and pepper.
In a bowl, mix the cornstarch with beaten eggs. Then, dip the meat in the cornstarch and then coat it in the egg mixture.
In a skillet, over medium-high heat, brown the meat for about 2-3 minutes on each side. Then, place the browned meat in a baking dish.
Lastly, in a separate bowl, combine sugar, ketchup, apple cider vinegar, white vinegar, soy sauce, and minced garlic. Pour the mixture over the chicken and bake for about one hour. Stir every 10-15 minutes to evenly coat it.
What is best to serve with Sweet and Sour Chicken?
What is a 10 Minutes Natural Pressure Release?
A Natural Pressure Release means that the pressure is released gradually. For a Natural Pressure Release, you click on Keep Warm, and wait 10 minutes, after which you open the valve and let any leftover pressure to release. Another option is to Turn Off/Unplug the pressure cooker, wait 10 minutes, and after that open the valve.
A natural release is usually used when cooking soups, meat in a large amount of sauce, pasta or steel-cut oats. This method prevents any foam from the dish to shoot out through the valve, which can happen during a Quick Pressure Release.
Tools/Ingredients I used to make the Instant Pot Sweet and Sour Chicken Recipe:
Instant Pot – I use it all the time, either the Pressure Cooker function or the Slow Cooker function, I also like that I can just sauté / brown the meat and veggies directly in the pot using the Sauté function
Cornstarch – I prefer using cornstarch instead of flour to thicken sauces, and this organic brand is my favorite.
Watch Recipe Video:
Instant Pot Sweet and Sour Chicken
Ingredients
1 1/2

pounds

boneless/skinless chicken thighs

cut into 1" chunks

2

tablespoons

canola oil

1

tablespoon

ginger

minced

6

garlic cloves

minced

1/2

teaspoon

red chili flakes

1/4

cup

ketchup

1/4

cup

apple cider vinegar

4

teaspoons

reduced sodium soy sauce

1/3

cup

white granulated sugar

1/2

cup

pineapple juice

from the canned pineapple

1

10 ounces

can pineapple chunks

reserve juice

1

red bell pepper

cut into 1.5" chunks
Cornstarch Slurry:
2

tablespoons

cornstarch

4

tablespoons

pineapple juice
Garnish:
Red pepper flakes

Sesame Seeds

Green onions chopped
Instructions
Cut the chicken into 2-3 inch chunks. I prefer to leave them a bit larger as the pressure cooker tends to make the chicken very moist and this helps to avoid breaking the chicken pieces.

Heat up your pressure cooker: press Sauté -> click on the Adjust button -> select More to get the Sauté More function, which means that the food will be sautéed over medium-high heat. Wait for the Instant Pot indicator to read HOT.

Add the oil to the hot Instant Pot, wait one minute for the oil to heat up and add the chicken. Sauté for 2-3 minutes, stirring a few times. Cook until it just starts to get golden. This step can also be done on the stove if you want a more browned chicken, as the instant pot doesn't really brown the chicken too well.

Add the rest of the ingredients to the pot: ginger, garlic, red pepper flakes, ketchup, vinegar, soy sauce, sugar, and pineapple juice. Stir to combine.

Add pineapple chucks and chopped bell pepper.

Close lid, select the Poultry function and adjust the time to 5 minutes. If your IP is missing the poultry function, cook on Manual, select High Pressure and cook for 5 minutes.

Use a 10 minute Natural Release. Turn off the heat. Release the remaining pressure. Open the lid. Gently stir not to crush the chicken.
Cornstarch Slurry:
Select again the Sauté function. In a small bowl combine the cornstarch with the juice, whisk until all combined with no lumps. Add the mixture to the Instant Pot and gently stir to combine. Cook on Sauté function for 5 more minutes, stirring occasionally, until the sauce thickens. This way you can make the sauce thicker. You can add more if you want to make the sauce even thicker, please note that it thickens as it cools too.

Turn off the Instant Pot and let the Sweet and Sour Chicken stand for 5-7 minutes, the sauce will thicken more.

Serve over rice with broccoli and garnish with fresh chopped green onions, red pepper flakes and sesame seeds.

Enjoy!
Deliciousness to your inbox
Enjoy weekly hand picked recipes and recommendations