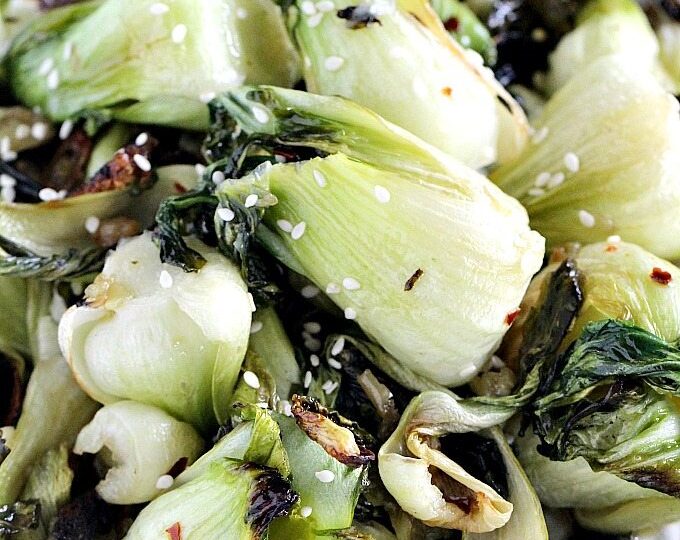 Oven Roasted Bok Choy with Garlic
Oven Roasted Bok Choy is a very easy and delicious side dish, ready in 20 minutes and loaded with garlic flavor. Vegan and Gluten-Free, but with lots of flavors!
The Bok Choy with Garlic can be perfectly served with Instant Pot Cashew Chicken, Instant Pot Mongolian Chicken, or Instant Pot Garlic Sesame Chicken.
Easy Oven Roasted Bok Choy
Oven Roasted Bok Choy is one of the easiest and tastiest side dishes you will make. They are a favorite in our house and pair well with so many main courses. Just recently we have served Oven Roasted Bok Choy with this succulent Pressure Cooker Pulled Pork. The Oven Roasted Bok Choy is loaded with lots of minced garlic, red pepper flakes, and sea salt.
Roasted to perfection it becomes crispy, garlicky, and incredibly tasty. Also, the preparation is very easy, you just toss all the ingredients on a baking sheet and roast. After 20 minutes you get to enjoy garlicky baby bok choy.
Is Bok Choy Healthy?
Yes! This vegetable is super healthy and has an excellent source of fiber, vitamin C, K, A. In addition, it has a great source of antioxidants which can protect you from cancer and plenty of nutrients. Feel free to incorporate this green vegetable in your daily diet as it is super easy to prepare and tastes amazing well.
How Do You Clean or Prepare Bok Choy?
Cleaning the vegetables is pretty simple.
First, soak them in cold water for a few minutes. This will remove the dirt from leaves and stems.
Then, trim the stem (the end part of it) and discard it.
Scrub off any remaining dirt and rinse again under cold water.
Using a sharp knife, cut each vegetable in half lengthwise, making two piles.
Oven Roasted Bok Choy Recipe Tips
First, you can use regular or baby bok choy for this recipe. It will work great either way. However, baby bok choy will be done sooner.
In addition, seasoning is key, using fresh minced garlic is great. So I recommend it over the pre-minced packaged garlic, which doesn't have enough flavor.
For a little heat, sprinkle red pepper flakes over the bok choy or drizzle a bit of Sriracha sauce right before roasting.
Also, use a good quality oil for roasting at high temperatures. For example, I use avocado oil or extra virgin olive oil. However, you can also use infused extra virgin olive oil to add even more flavor.
Roast a big batch as the bok choy tends to reduce in volume and make sure you don't over roast.
Be careful with the salt, so you don't end up with super salty baby bok choy
What to serve with Oven Roasted Bok Choy?
They are perfect as a side dish or appetizer. Some of our favorite way to serve them is with:
Tools/Ingredients I used to make the Oven Roasted Bok Choy Recipe:
Sheet Pan – I love these pans, they are 17×12 inches and also have a lifetime warranty, great for so many recipes, I have a few in my kitchen and I use them for sweet and savory recipes
Organic Olive Oil – olive oil can make or break a dish, I always opt for organic, high-quality oil to add to my marinades and salads
Red Pepper Flakes – we sprinkle these on everything, they are great for cooking but also on top of salads and pizza