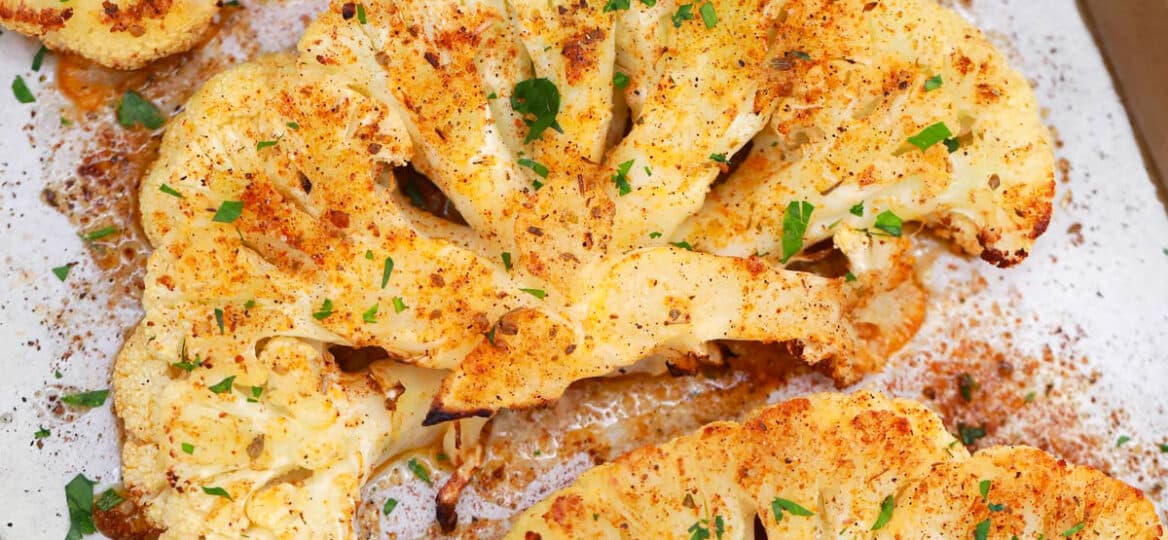 Cauliflower Steaks Recipe
Cauliflower Steaks are lightly seasoned with spices then roasted until tender with a beautiful golden, caramelized exterior. A delicious low-carb meal that even meat lovers will enjoy!
Get your picky eaters to enjoy their veggies with these Pizza Stuffed Zucchini Boats, crispy Cabbage Hash Browns, and Cheesy Baked Green Beans!
Baked Cauliflower Steaks Recipe
Cauliflower Steaks will become your new all-time favorite way to enjoy this vegetable! It's golden and caramelized outside, so tender inside, and covered with simple but delicious seasonings like garlic powder, dried oregano, and a dash of smoked paprika.
Each one is big and hearty enough to be eaten as a full, plant-based meal by itself, but you can certainly pair them with your favorite meat and seafood entrees. Flavorful sauces like chimichurri make this even more irresistible. No matter how you serve and enjoy it, this is one showstopping dish!
What is a cauliflower steak?
When I first served them dish, my friends and family were puzzled— what on earth is a cauliflower steak?
I get how it can be confusing. Steaks are seared, juicy slabs of meat heaven. How do you even replicate that amazing experience with a vegetable?
Well, it can be helpful to think of this dish as being cooked steak-style.
First, the vegetable is sliced into thick, flat, and big pieces (like a round ribeye) instead of the usual florets. Then, they're roasted until they're really tender inside. Finally, we continue roasting the "steaks" until they form a golden, slightly crispy crust outside.
The result is a big, delicious, and flavorful slice of cauliflower with a beautiful brown, caramelized exterior. It's honestly amazing!
Are cauliflower steaks healthy?
They're one of the healthiest ways to eat this vegetable! There's very little fat, it's low-carb, and low in calories, too. This veggie is chock-full of nutrients, minerals, vitamins, and fiber. This can be an excellent part of a weight loss diet or just a healthy, delicious addition to your regular meals.
How to cut cauliflower steaks?
Trim the stem and pull off all the exterior leaves.
Slice the heads in half, going through the center, lengthwise.
Slice a 1.5-inch-thick steak from one half, and do the same for the other.

If the heads are big enough, slice another piece off.
Cut off any florets that are not directly related to the stem.

They're now ready for the recipe!
Cauliflower steaks ingredients:
Cauliflower: You'll need at least two heads to get several big slices.
Seasonings: Fresh ground pepper, smoked paprika, kosher salt, garlic and onion powder, and some dried oregano.

Olive oil: You can also use whatever oil you have on hand, such as avocado or vegetable.
How to make homemade Cauliflower Steaks?
Season. Drizzle or brush both sides in oil, then carefully lay on your baking sheet. Sprinkle the front and back with the seasoning blend.

Roast. Use foil to completely cover the sheet, then bake at 500F for 5 mins. Uncover, and continue roasting for another 10 minutes. During this time, a golden crust will form. Flip the slices, and continue roasting the other side for another 6 to 8 mins.

Serve. Garnish with a sprinkle of parsley. Enjoy right away with a squeeze of lemon and your preferred sauce.
What can you serve with homemade cauliflower steaks?
Because this vegetable naturally tastes mild, bold sauces will really take the dish to a whole new level. It's AMAZING with some homemade Chimichurri Sauce, blue cheese sauce, horseradish sauce if you want a little kick and this lovely sauce for salmon.
While it's very filling on its own, you can enjoy this dish as part of a heartier meal. In fact, we also love it with grilled steak! It's really nice with maple soy grilled salmon and lemon pepper shrimp, too.
How to store leftovers?
Cool them down first, then transfer them to a storage container. Try to finish them within a day or two for the best flavor and taste. To reheat, bake at 450F for a few minutes until hot.
More cauliflower recipes:
Recipe tips:
Rub the seasoning into the steaks to get more flavor in them.

Use the trimmed florets for a small batch of cauliflower rice.
Handle the slices very carefully when flipping! They're very tender by the time they're ready to flip, and you wouldn't want to break apart those gorgeous slices.
Deliciousness to your inbox
Enjoy weekly hand picked recipes and recommendations