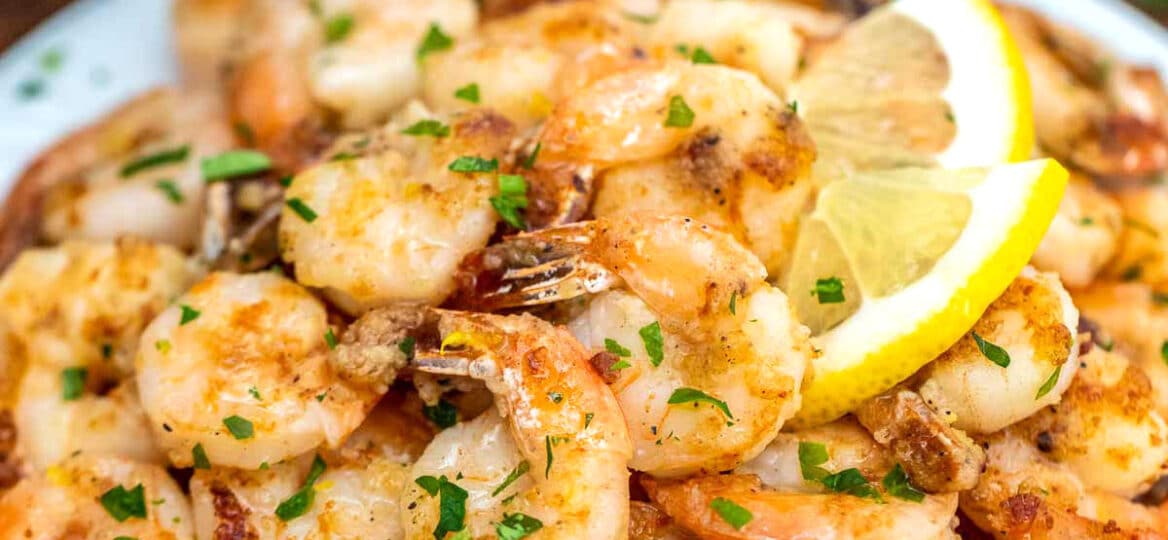 Lemon Pepper Shrimp [Video]
Lemon Pepper Shrimp is a versatile appetizer or meal that is bursting with freshness! The combination of citrus and the savory seasonings make this dish irresistible!
I love how versatile it can be! Serve it as an appetizer or as an entree and it will be perfect! Want more seafood recipes? Head on to my posts on Instant Pot Lobster Chowder, Oven Baked Fish Sticks, and Shrimp Fried Rice!
The Best Lemon Shrimp Recipe
Lemon Pepper Shrimp screams freshness in every bite! You can make this with frozen seafood though and still produce something that will remind you of the open ocean and sea breeze!
I like the tangy citrus that keeps it summery fresh. And the crisp of the coating adds a nice texture. The ingredients are not even hard to find, and this cooks for just a few minutes.
Last time I did this recipe, it took me 15 minutes tops. Not much considering how delicious this dish is. My family loved it and I am sure yours will, too!
Try it and serve it this summer, or just any time of the year. I scored some seafood on sale the other day and was excited to cook this again for you!
What goes into Lemon Pepper Shrimp?
Prepare the following ingredients:
seafood: deveined shrimp, thawed if bought frozen
seasonings: white and black pepper, garlic powder, onion powder, salt
citrus: juice and zest of lemon
coating: flour
fats: olive oil and butter for frying
garnish: lemon slices and parsley
How to peel and clean shrimp?
To completely peel and clean the shrimp, follow these simple steps:
Twist the head to remove it.
Peel off the shell with your fingers by going under the legs.
Pull the tail where the last segment is.
Lay it on a flat surface and with a knife, cut a slit along its back.
Remove the gray vein.
Depending on the recipe, you may be asked to not remove the tail and sometimes, even the head. Simply follow the above steps skipping these parts.
How to make Lemon Pepper Shrimp?
Prep: Defrost and clean all the pieces and dry them with a paper towel.
Coat: Combine the seasonings and flour in a bowl. Toss the seafood in it to coat.
Brown: In a pan, combine the fats. When hot enough, put each piece and brown all sides. You may have to do this in batches.
Stir: Add the citrus elements and stir for a minute.
Serve: Garnish and serve!
How long does it take to cook shrimp?
To brown each one, you will only need about 2 minutes per side. And when you stir it with the citrus, do not take longer than a minute for it not to overcook.
You wouldn't like them overcooked and rubbery! After all, the residual heat will continue cooking it as it rests when you set it aside after.
What to serve with Lemon Pepper Shrimp?
I like it over rice, or on top of pasta like Chicken Alfredo. It tastes good with any veggie salad, too! Top it on a Classic Caesar Salad or use it in tacos!
Serve along with your favorite salsa or any dip that you like. The possibilities are endless with this on your menu.
How to store leftovers?
Although this is best served freshly cooked, you can store the leftovers in an airtight container. Refrigerate them and consume within 3 days.
Recipe Tips:
You can skip putting flour on the shrimp to keep the carbs at bay.
Grilling it and baking it on a sheet pan with some lemon slices are great variations of this recipe.
Clean and deveined shrimp is easily available in stores. But it costs way cheaper cleaning them on your own. And if you do, keep the shells, tails, and heads as they make a tasty seafood stock!