Classic Caesar Salad Recipe [Video]
Last updated on May 25th, 2022 at 03:53 pm
Caesar Salad is a light and refreshing side dish that has croutons, a creamy homemade dressing. Served on a bed of crispy romaine lettuce and topped with parmesan cheese.
It is a great addition to any meal. If you want more salad ideas, check out my recipes for Deviled Egg Potato Salad, Grilled Chicken Fajita Salad, and Overnight Salad.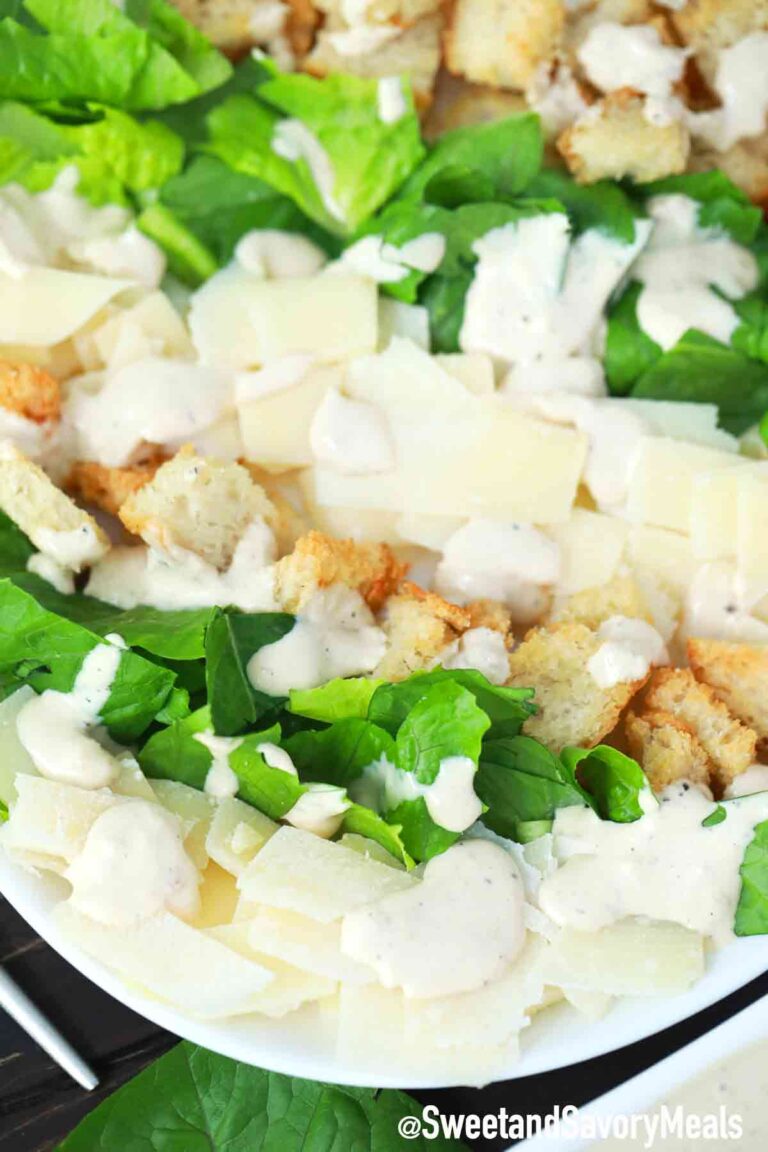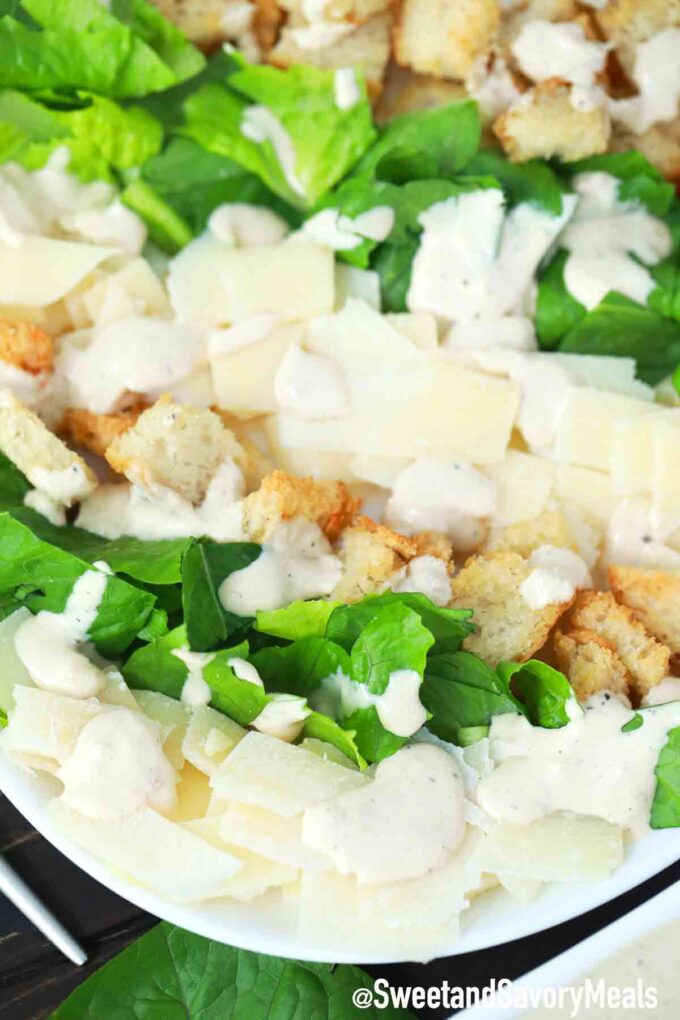 Classic Caesar Salad Recipe
This classic Caesar Salad recipe is so easy to make from scratch. Yes, even the croutons! And my favorite part of this recipe is being able to offer my family something fresh and healthy!
Making salads, especially this one, is a simple process but the results are outstanding. It pairs well with almost any meaty main dish.
Did you know that the dressing was originally made with raw egg? You whisk it so that it creates an emulsion with olive oil.
But to make things easier, we will use my homemade version! It eliminates the risk of having to consume raw egg, but still, it is delicious!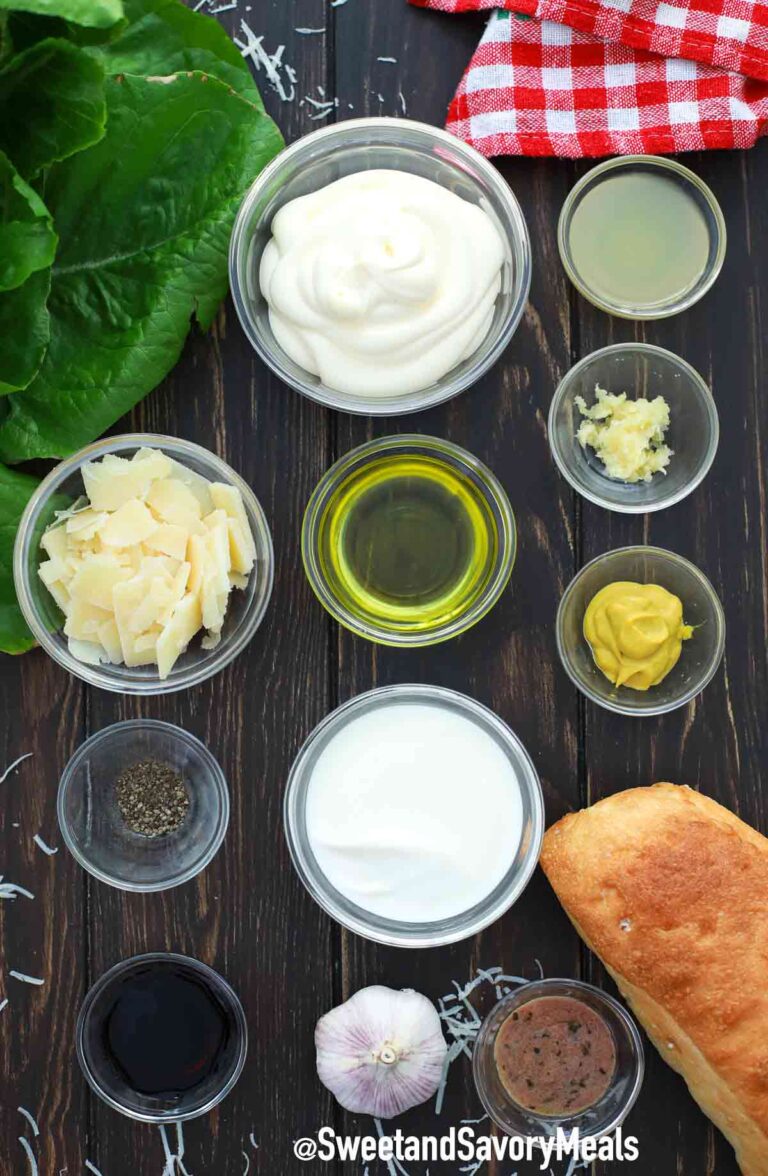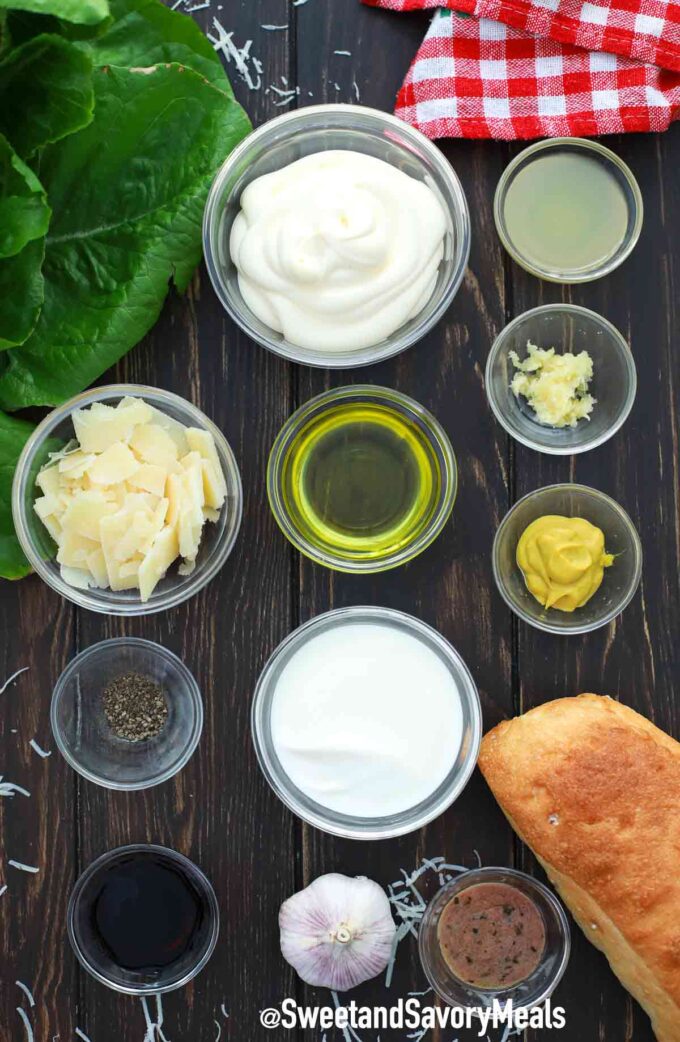 What goes into a Classic Caesar Salad
Croutons: you will need French baguettes, garlic, and extra virgin olive oil.
Dressing: more garlic, anchovy paste, lemon juice, Dijon mustard, Worcestershire sauce, mayonnaise, sour cream, grated Parmigiano-Reggiano, salt, and ground black pepper.
Greens: Romaine lettuce or for a healthier version add some kale and spinach.
Cheese: Shredded parmesan cheese.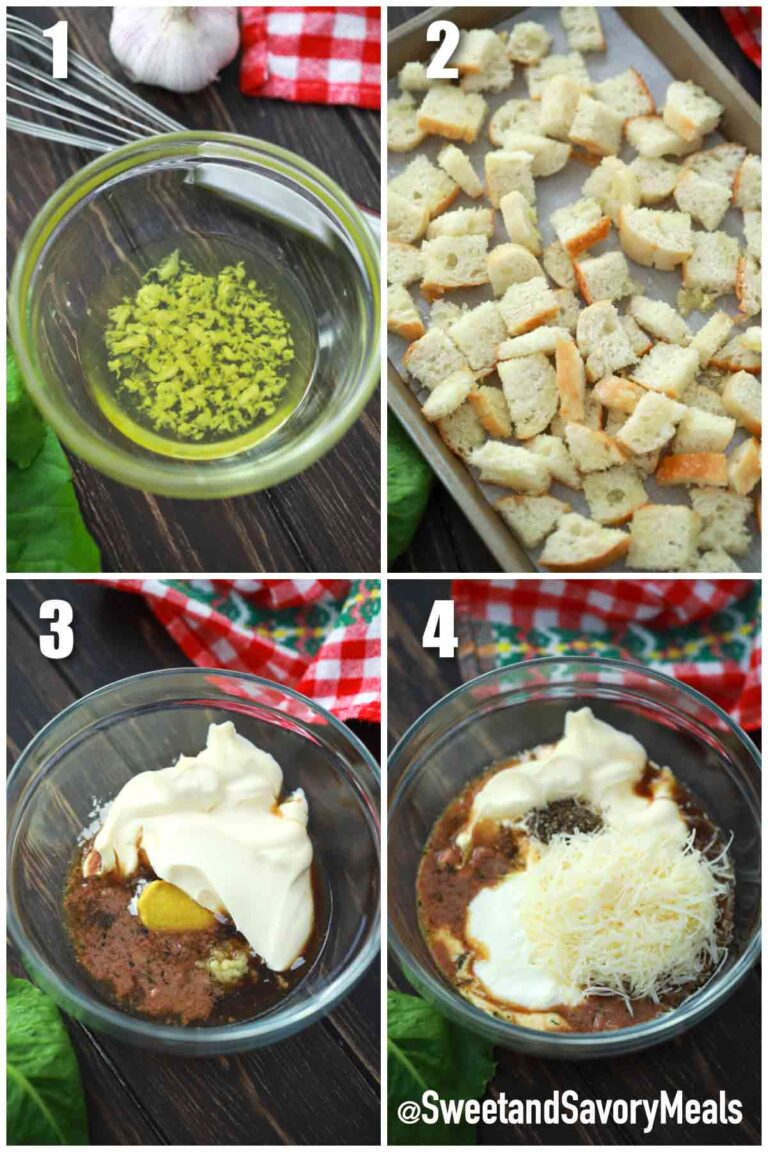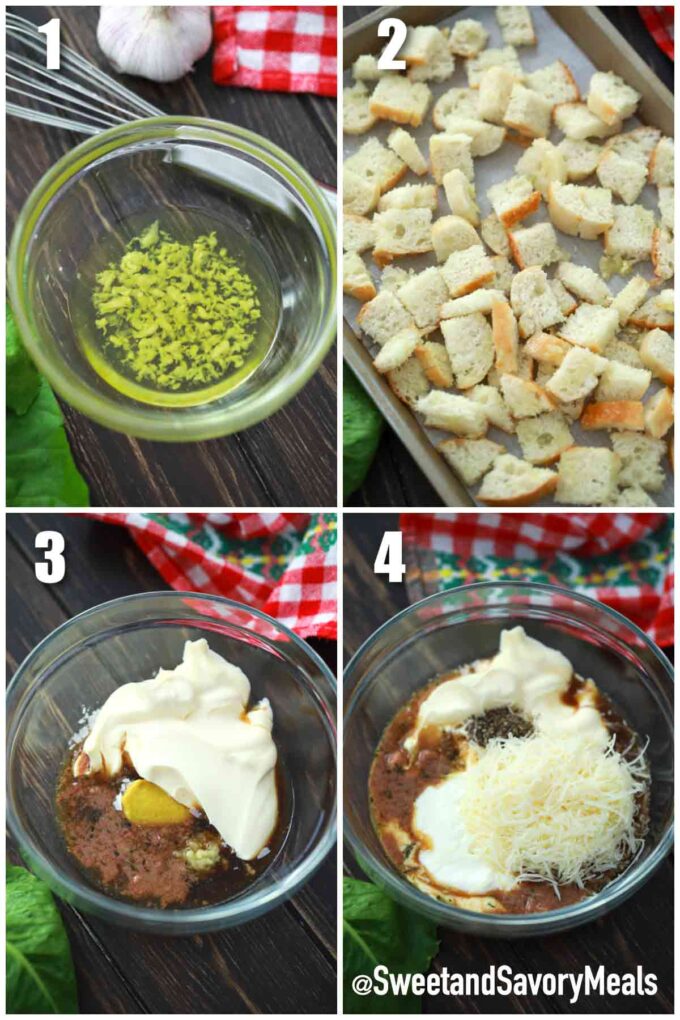 How to make homemade Caesar Salad
Prepare the croutons: Divide the French baguette in half lengthwise, then, slice 1/4-inch thick pieces. In a bowl, combine the oil and minced garlic. Then, drizzle the mixture over the baguette pieces placed on a baking sheet. Toss until everything is coated. Line them up and toast in a preheated oven until crispy.
Make the dressing: In a bowl, combine the ingredients as described in the above section.
Prepare the lettuce: Rinse and dry the leaves, then chop or tear in smaller pieces. Place them in a bowl.
Assemble: Sprinkle parmesan cheese on the lettuce and drizzle the dressing on top. Toss everything, then serve.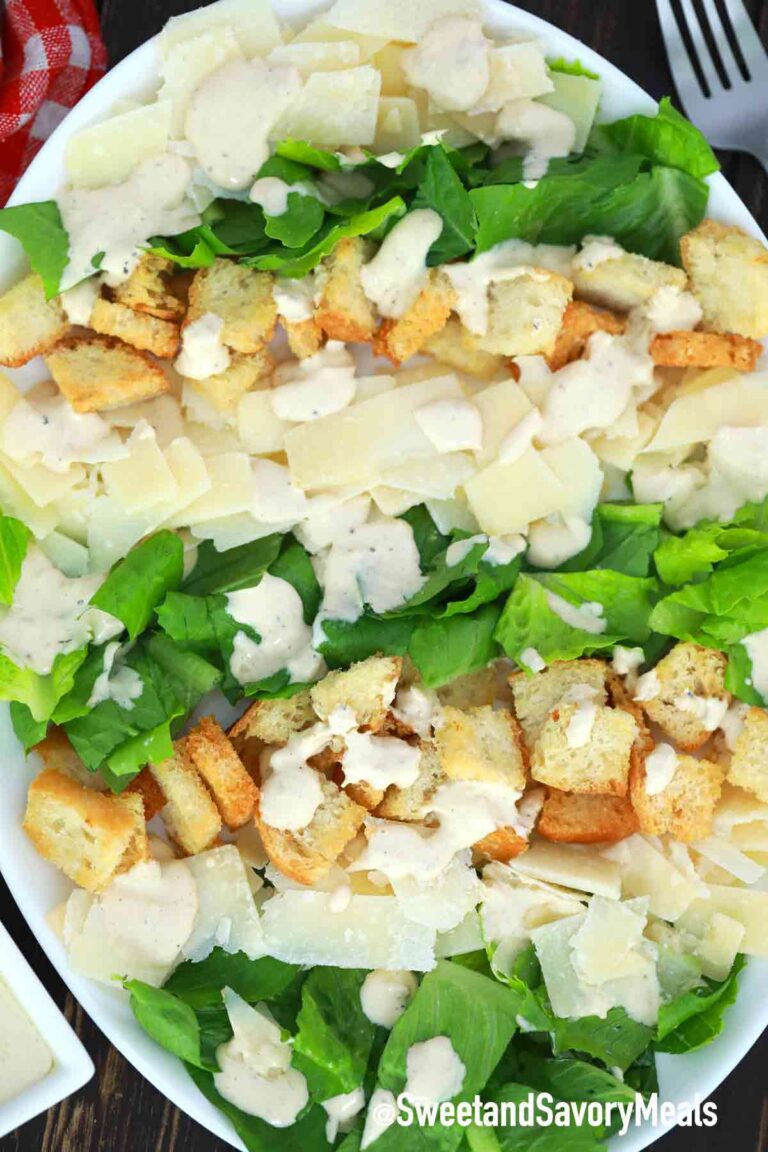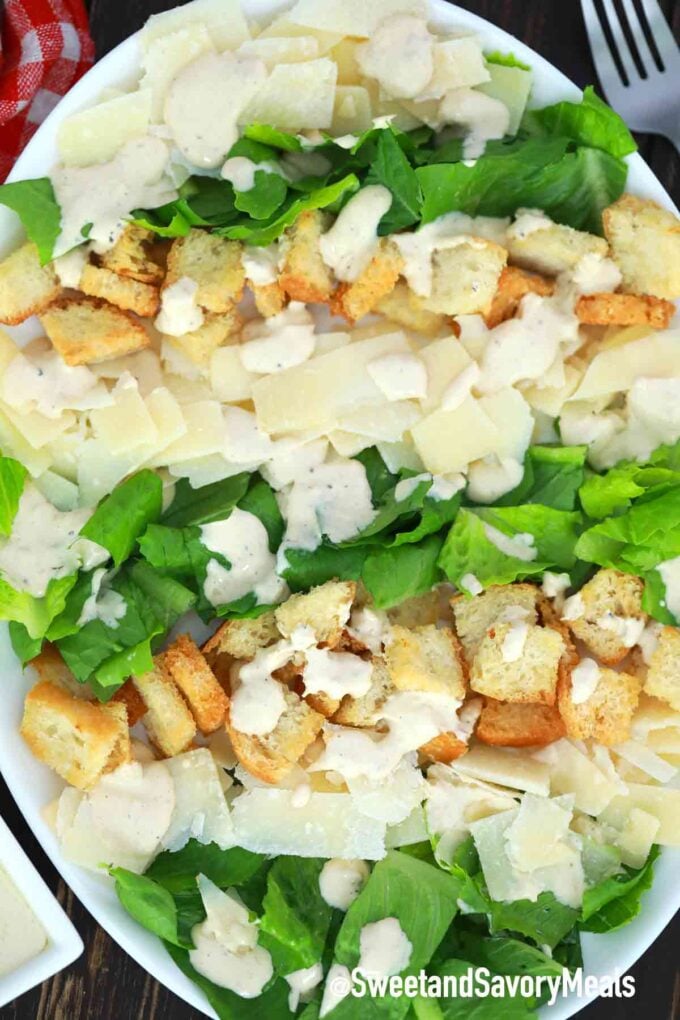 How to make Caesar Dressing
Make a paste: Combine the first 5 ingredients as listed above.
Combine: Whisk together the rest of the dressing ingredients.
Store: You can put this in an airtight container to use later. Or, drizzle over your lettuce.
You can refer to this Caesar dressing recipe for the exact proportions. Feel free to omit the anchovies if you like. Even the traditional version does not have them.
Frequently Asked Questions
Best lettuce for Caesar Salad?
The best lettuce to use is romaine. Keep it cold and crispy by cutting it. Remember to get only the freshest ones!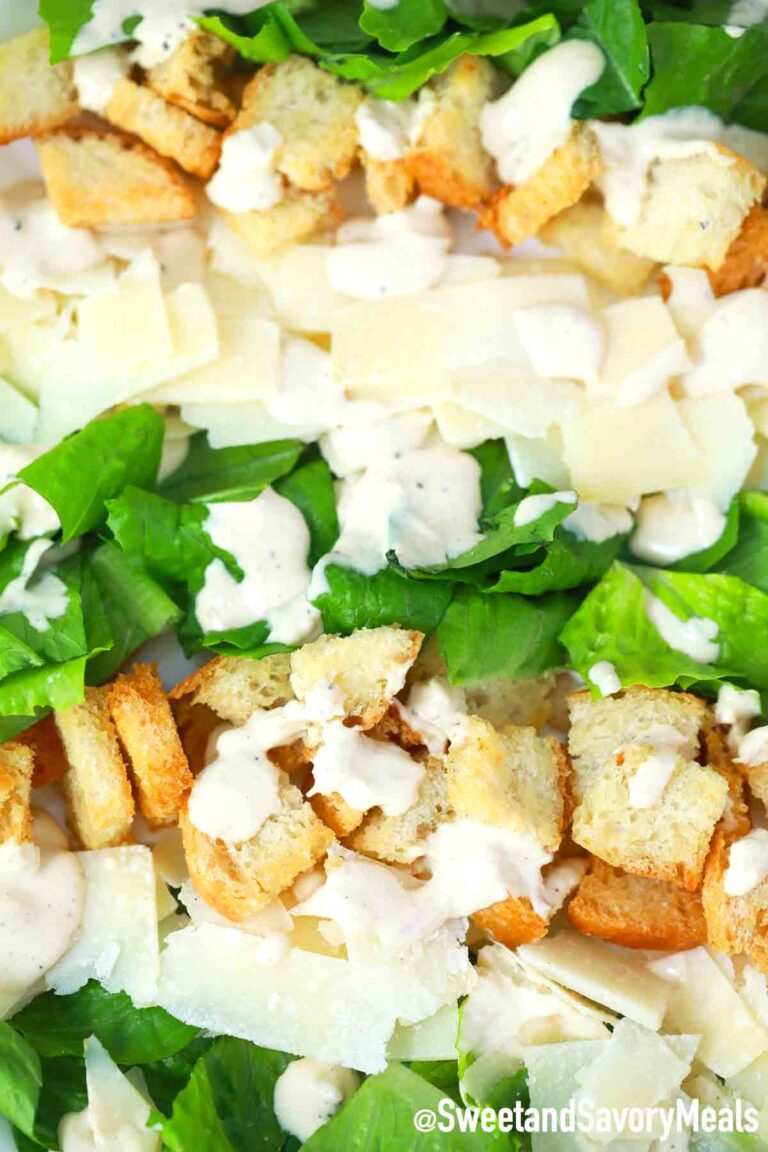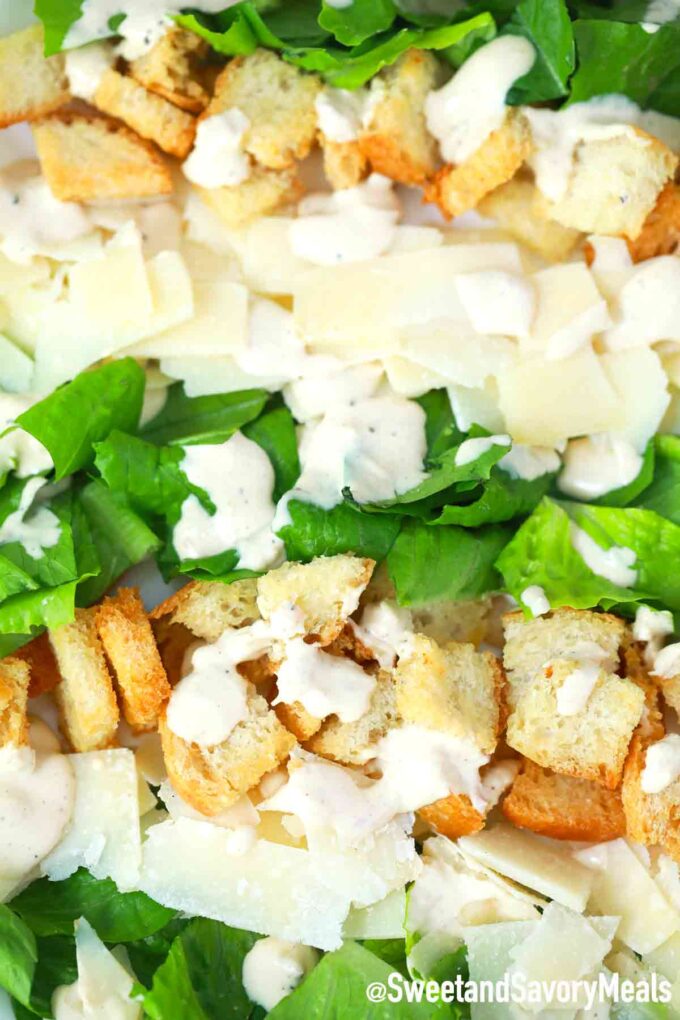 What to serve with Caesar Salad?
Recipe variations:
Protein: You may add protein by putting chunks of grilled chicken, pork, bacon, or boiled eggs.
Veggies: Make it healthier by adding tomatoes, cucumbers, bell peppers or mushrooms.
Greens: Make is with a mix of greens like spinach and kale.
Pasta: Make it heartier by adding pasta, you can use whole wheat if you prefer.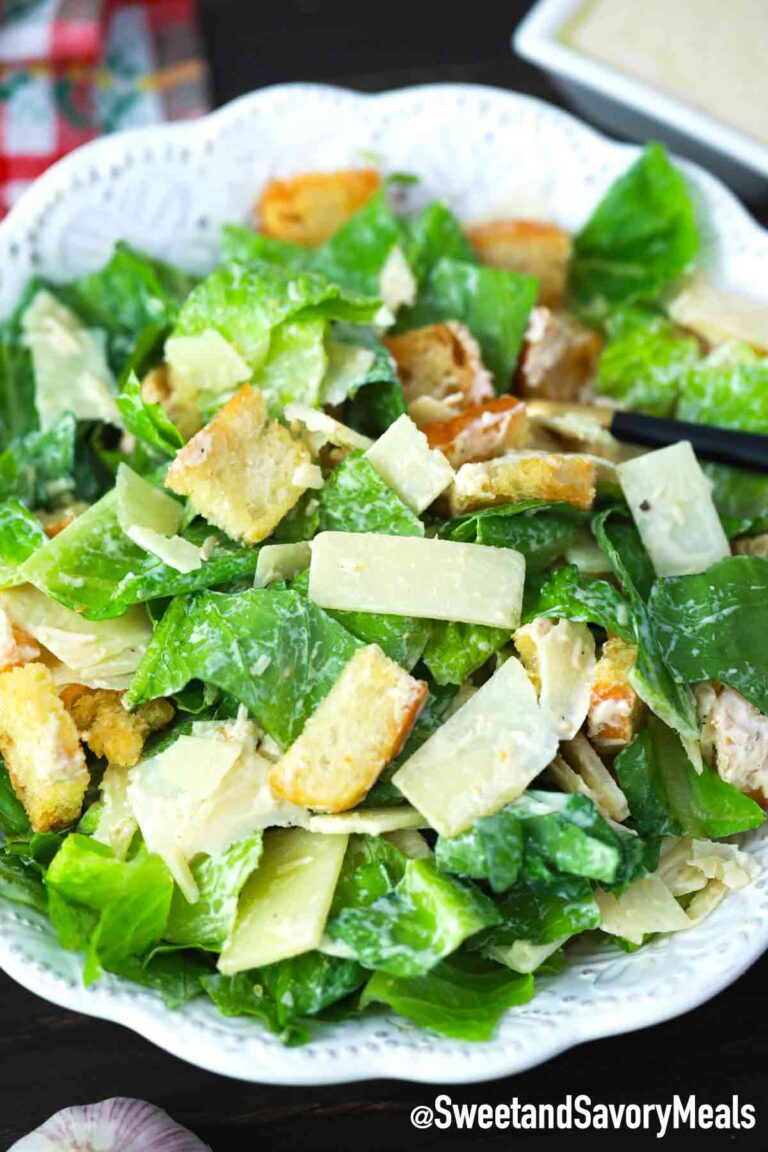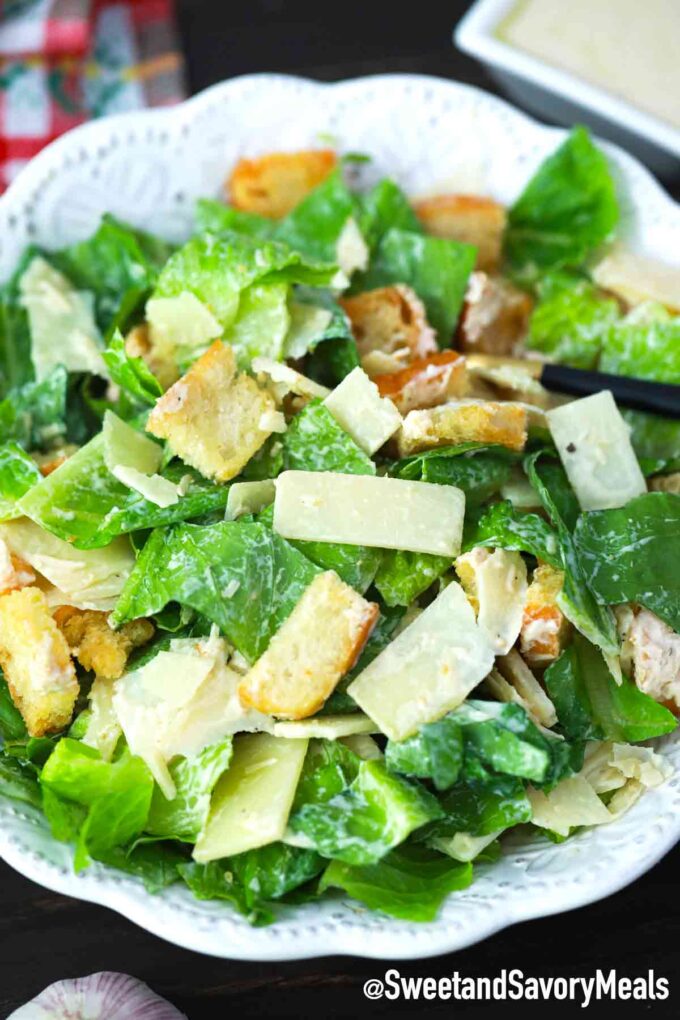 How to store Caesar Salad?
It is always best to keep the romaine fresh. As for the rest of the elements, you can store them for up to a week.
Refrigerate the dressing and store the croutons at room temperature, sealed in an airtight container.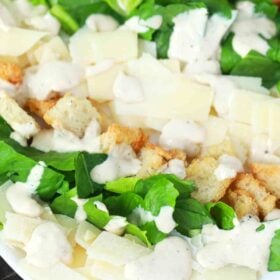 Classic Caesar Salad
Caesar Salad is a light and refreshing side dish that has croutons, a creamy homemade dressing, on a bed of crispy romaine lettuce and topped with parmesan cheese.
Save
Share
Print
Pin
Rate
Ingredients
Garlic Croutons:
1/2

French Baguette

(cut in half sliced into 1/4" thick slices)

3

tablespoons

extra virgin olive oil

2

cloves

garlic

(minced)
Caesar Dressing:
3

cloves

garlic

(minced)

1 1/2

teaspoon

anchovy paste

2

tablespoons

lemon juice

1

teaspoon

Dijon mustard

1

tablespoon

Worcestershire sauce

1

cup

mayonnaise

1/4

cup

sour cream

1/2

cup

freshly grated Parmesan cheese

1/4

teaspoon

salt

1/4

teaspoon

freshly ground black pepper
For the Caesar Salad:
1

large romaine lettuce

1/2

cup

parmesan cheese

(shredded or shaved)
Instructions
How to Make Croutons:
Preheat oven to 350 degrees F.

Place the bread slices in a large bowl.

In a small bowl, combine olive oil with minced garlic and drizzle the mixture over the croutons.

Toss until evenly coated.

Arrange the bread in a single layer onto a baking sheet and bake until lightly golden and crisp, about 10-12 minutes.
Caesar Salad Dressing:
Combine all the dressing ingredients in a medium bowl, stir well and set aside.
Assemble the Salad:
Rinse and dry the romaine lettuce,

Chop it and layer it in a large serving bowl, sprinkle with shredded parmesan cheese, add the cooled croutons and drizzle 1/2 of the dressing on top. Toss gently and if needed add more dressing until the ingredients are evenly coated.

Serve immediately.
Notes
You can also make the croutons on the stovetop by heating some oil on a skillet and tossing the bread cubes until everything is crispy and light brown. Other bread alternatives are sourdough and plain sandwich bread.
Make sure that the lettuce is dry. This is to ensure that the dressing will coat the leaves.
It is a nice lunch-box meal, too. What you need to do is to assemble it such that the lettuce remains crispy. In your container, layer the following in order: dressing, parmesan cheese (and other ingredients if you choose to add some meat), lettuce. Then, put the croutons in a separate container. Simply toss everything when ready to eat!
Nutrition
Calories:
599
kcal
|
Carbohydrates:
19
g
|
Protein:
14
g
|
Fat:
63
g
|
Saturated Fat:
14
g
|
Cholesterol:
47
mg
|
Sodium:
1242
mg
|
Potassium:
163
mg
|
Fiber:
1
g
|
Sugar:
2
g
|
Vitamin A:
889
IU
|
Vitamin C:
4
mg
|
Calcium:
355
mg
|
Iron:
2
mg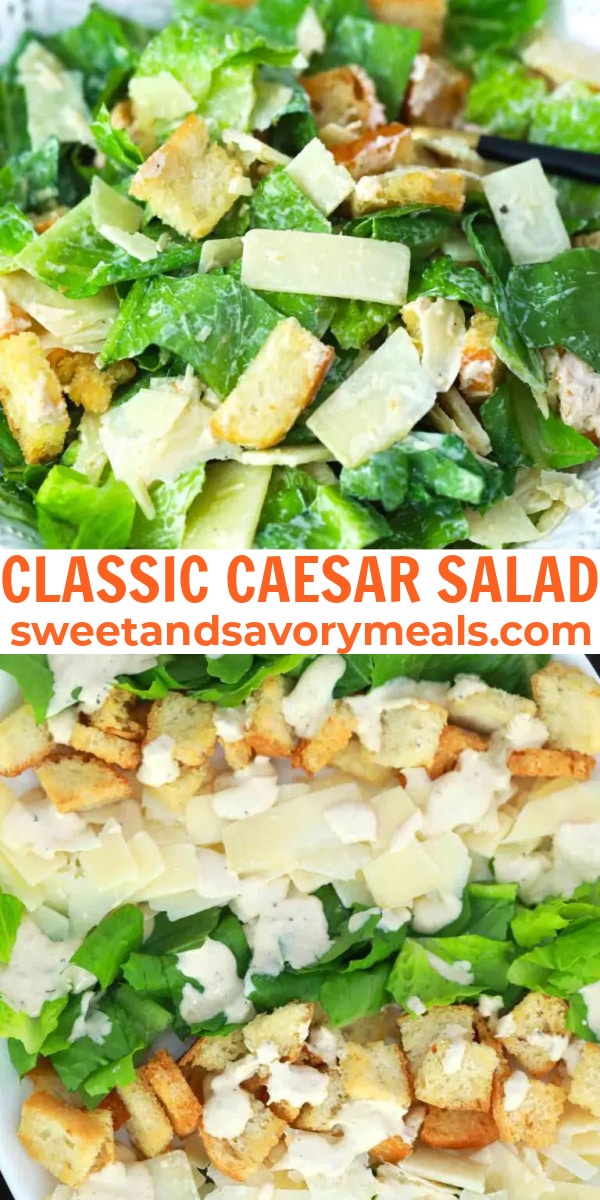 More recipes you might love