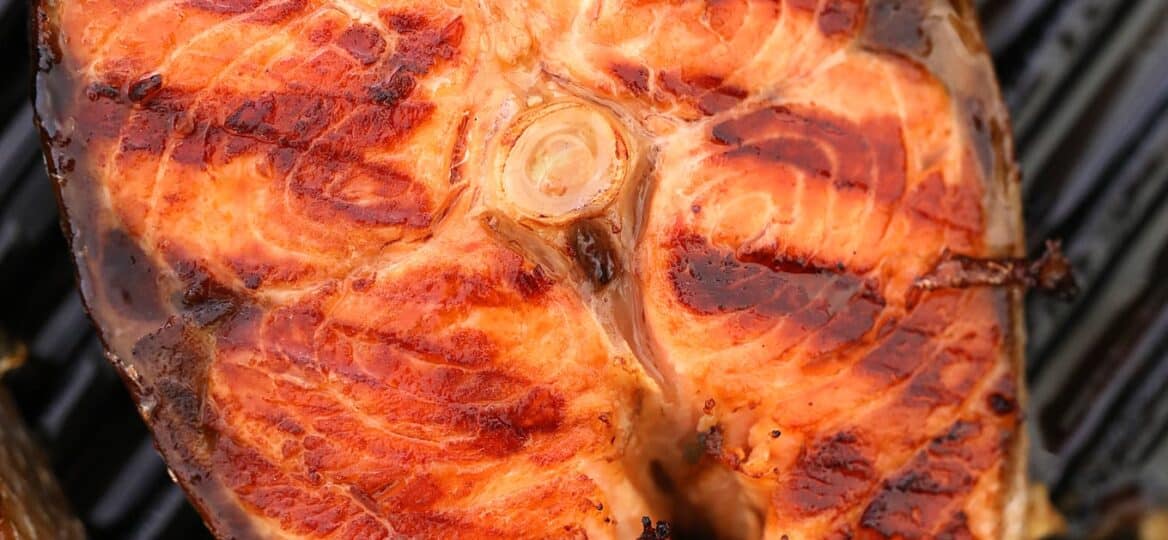 Maple Soy Grilled Salmon [video]
Maple Soy Grilled Salmon is sweet, salty, smoky, and easy to prepare! With only 10 minutes of cooking time, this is perfect for a quick dinner!
This salmon recipe is so easy and delicious at the same time. Pair it with some Roasted Asparagus, Couscous, and Roasted Brussel Sprouts for a healthy and delicious meal!
Grilled Salmon Recipe
Maple Soy Grilled Salmon is an easy recipe for this popular fish. The saltiness comes from soy sauce, and the sweetness comes from maple syrup and brown sugar. Aside from these, we add in sourness from rice vinegar and spiciness from chilis. With all those flavors, this is an amazing dish overall!
It is barbecue season and that makes this dish ideal for any of your parties this summer. The fish is rich in omega 3 fatty acids, vitamin B, and protein. It can also be paleo-friendly, too!
Knowing the basics of grilling will also add many options to your recipe book. Just cook it and make a sauce or glaze! And so, in this post, we will share the basics that truly work!
How to make the marinade for salmon
For this recipe, all we need to do is mix the following ingredients in one shallow dish:
soy sauce
maple syrup
rice vinegar
brown sugar
water
sesame oil
chili sauce
garlic
ginger
red chili pepper flakes
All marinades have acid in them that helps tenderize the meat but for a fish marinade, keep citrus or vinegar to a minimum. The acid may actually cook it up! So, fish is not to be soaked for too long as well.
Also, marinate in the fridge to slow down the growth of any harmful microorganisms that might be present.
How long to grill salmon
For this recipe, we can expect the fish-steak to cook for about 4 minutes per side. But this greatly depends on the thickness of the cut.
How to grill salmon in foil
Preheat to about 400 degrees. Put the fillets in a foil large enough to cover everything. Drizzle some oil and seasonings before wrapping it. Then, cook it for about 10 minutes (or until done, check if already opaque). That's it! This method is easy and will require little to no cleanup.
How to grill salmon with skin
For your skin-on fillets, put down the side with the skin first. This will make it crispier for the simple ones, meaning those that are not marinated. Make sure to oil those grates so that the skin will not stick.
Do you have to flip salmon on the grill?
In fact, the answer is no. The heat when the lid is closed is enough to cook the fillet through. Put the meat skin down so it will not stick. But if you want those grill marks on the fillet, then, you can flip them but make sure that those grates are well-oiled.
What temperature should grilled salmon be?
Make sure that the internal temperature reaches 145 degrees for safety. Some would argue that this temperature will overcook the meat, and so, here is the solution. When cooking, let the internal temperature reach about 135 to 140 degrees and then, remove it from heat. Let it sit for about 5 minutes more and this resting period should be enough to cook it further.
What to serve with Grilled Salmon?
There are a lot of options! For a hearty meal, we recommend the following:
Recipe Tips
For more flavor, combine it with this delicious homemade salmon sauce.
To prevent the skin from sticking, you can put some kosher salt.
Soy sauce can be substituted with coconut aminos to make it paleo.
You can also use this recipe for cod or bass.