Farro Salad Recipe [video]
Farro Salad is a symphony of textures and pleasing to the eye – chewy and crunchy to the bite and bursting with colors, balanced by the tanginess of the dressing!
If you liked our other delicious and colorful salads like Chickpea Salad, Mexican Black Bean Salad, and Taco Salad, then you will surely love this one as well.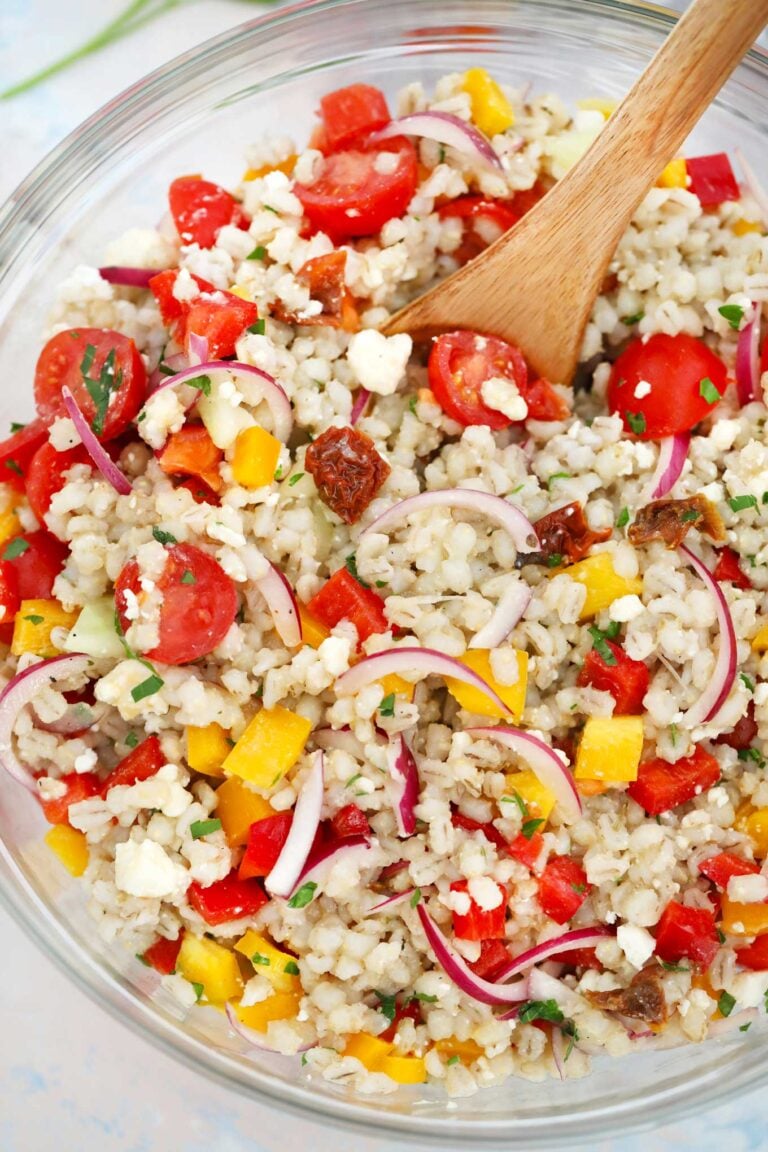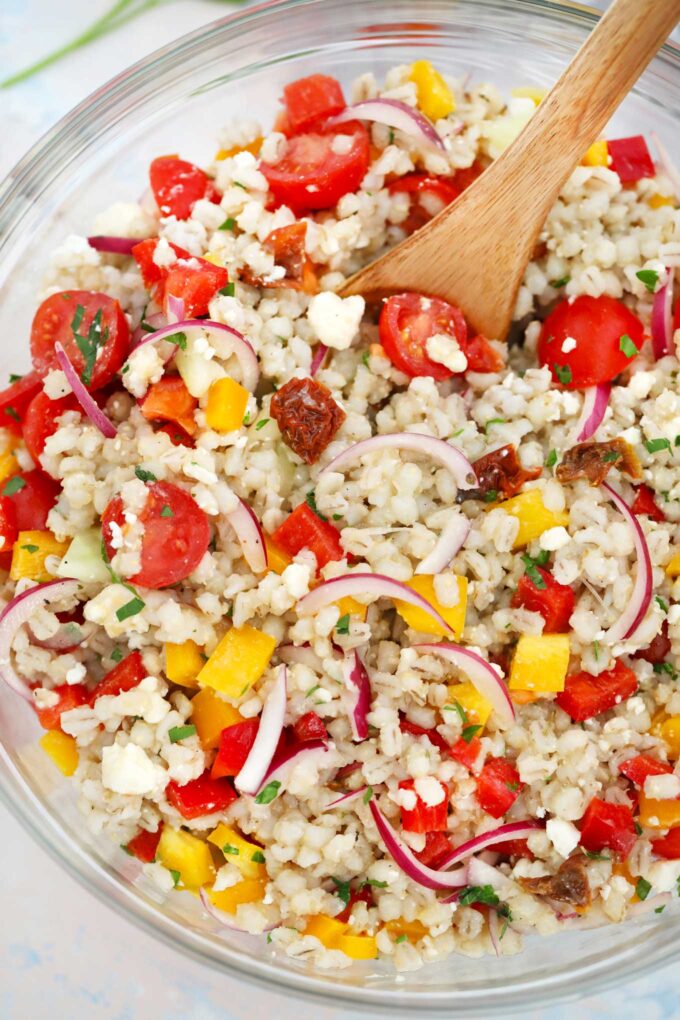 Easy Farro Salad Recipe
We love making this Farro Salad because of the chewiness of the farro when cooked. It rivals others in texture because of this, especially with the combination of our favorite crunchy vegetables like red onion, cherry tomatoes, cucumber, and different kinds of bell pepper.
Added to it are the sweet and tangy taste of sun-dried tomatoes and the creaminess and saltiness of feta cheese.
All these ingredients are blended with a versatile dressing that makes this salad a truly delicious side dish or even the perfect vegetarian main meal.
WHAT IS FARRO?
It is a grain that has been around for ages. It is an ancient whole grain, and what is interesting, it actually is being used when referring to three different grains: Einkorn, Emmer, and Spelt. The most common and wider used is the Emmer Wheat.
Dry farro looks like wheat berries, however, once you cook it, the texture changes and it looks more like barley. It has a nutty flavor and a chewy texture.
But Farro Salad has just been served in restaurants for a few years. It can be used as a substitute for rice or barley.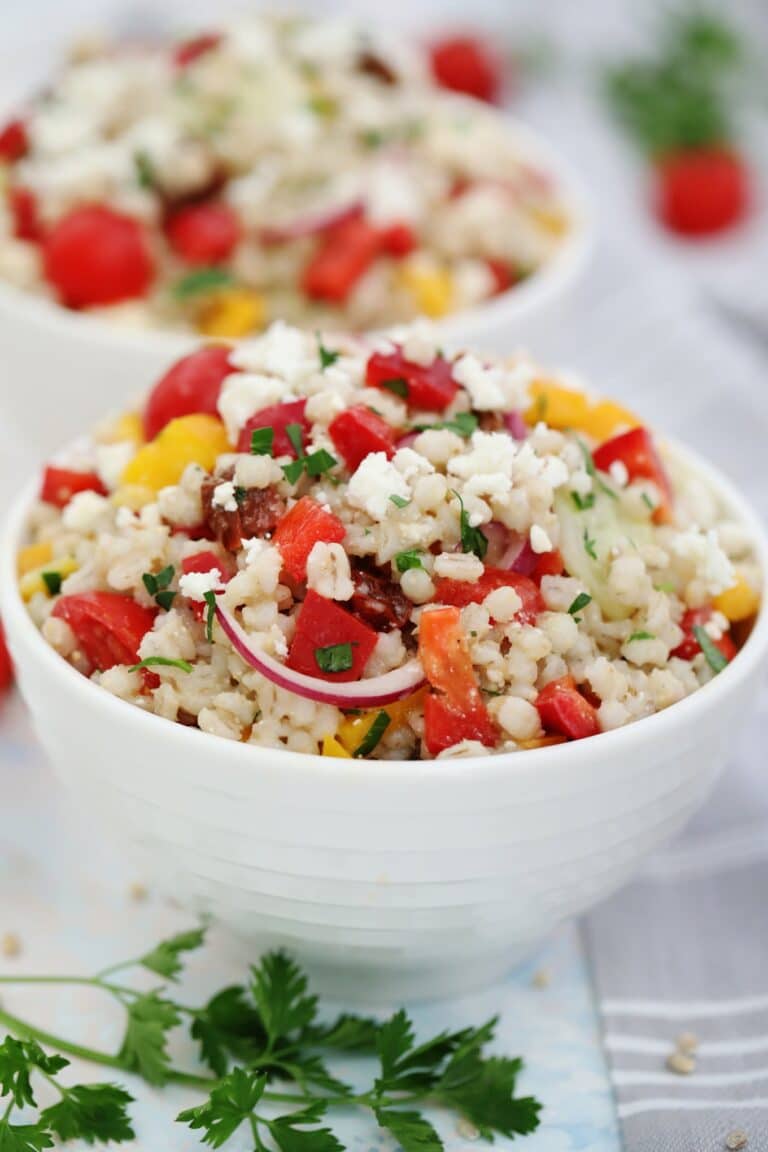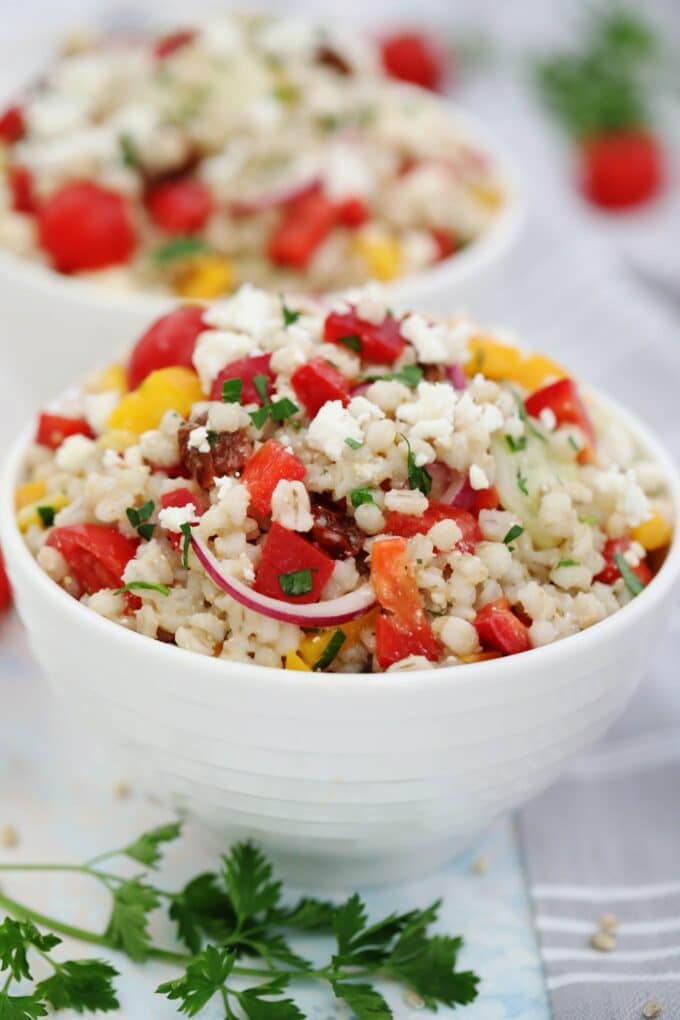 IS FARRO A CARB OR A PROTEIN?
Farro is a grain, therefore, a carbohydrate, but it is also a good source of protein. Eating Farro Salad can fill you up so easily that you wouldn't be craving more food. This is a plus for those who are looking to lose weight or for a filling vegetarian salad.
WHAT ARE THE HEALTH BENEFITS OF FARRO?
It is rich in fiber, magnesium, and lots of vitamins like vitamin A, B, C, and E! Farro Salad, combined with all the vegetables, packs a lot of nutrients!
HOW DO YOU COOK FARRO?
Farro is similar to beans when cooked. Some variety might need soaking overnight. But others can be cooked directly on the stovetop for 30 minutes. You just have to check out the back of the package before you cook it!
DOES FARRO DOUBLE IN SIZE WHEN COOKED?
Certainly! Some brands can even triple in size. A lot of packages will ask you to cook 1 cup of farro with 2 ½ cups of water. How fantastic is the yield of this amazing grain! With all the vitamins included in this grain, you can be sure that this will be one of your favorite salads to serve!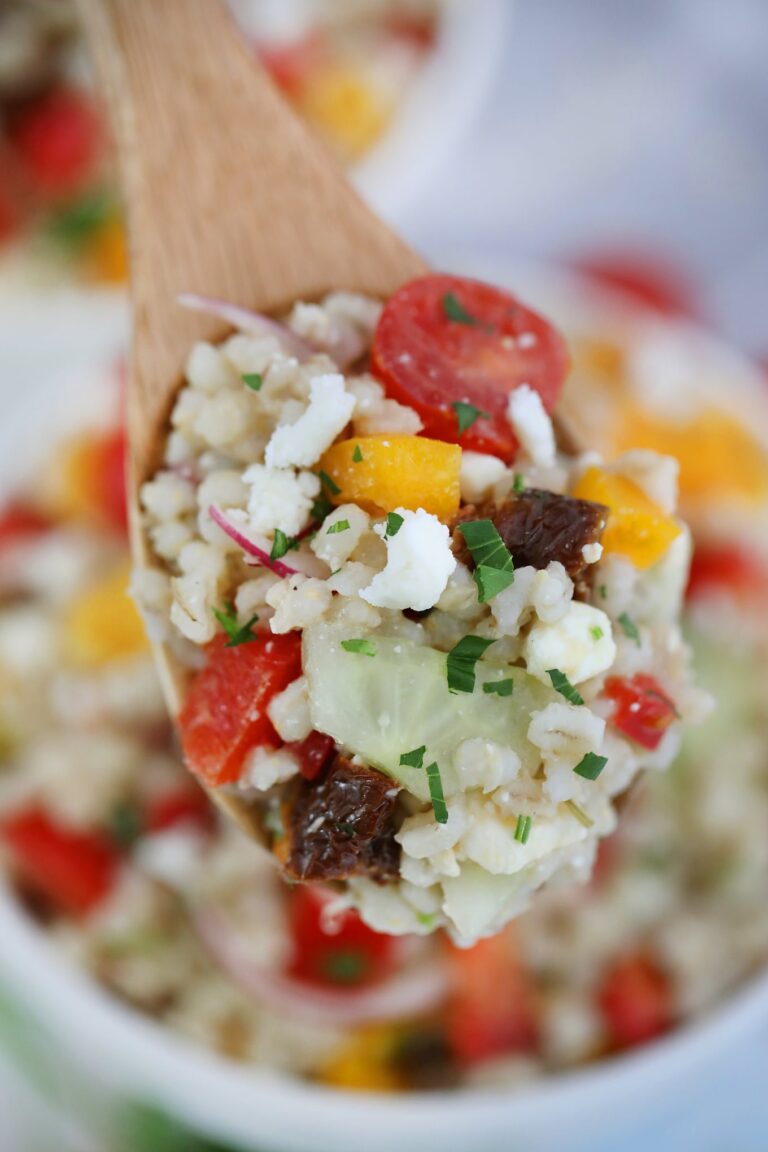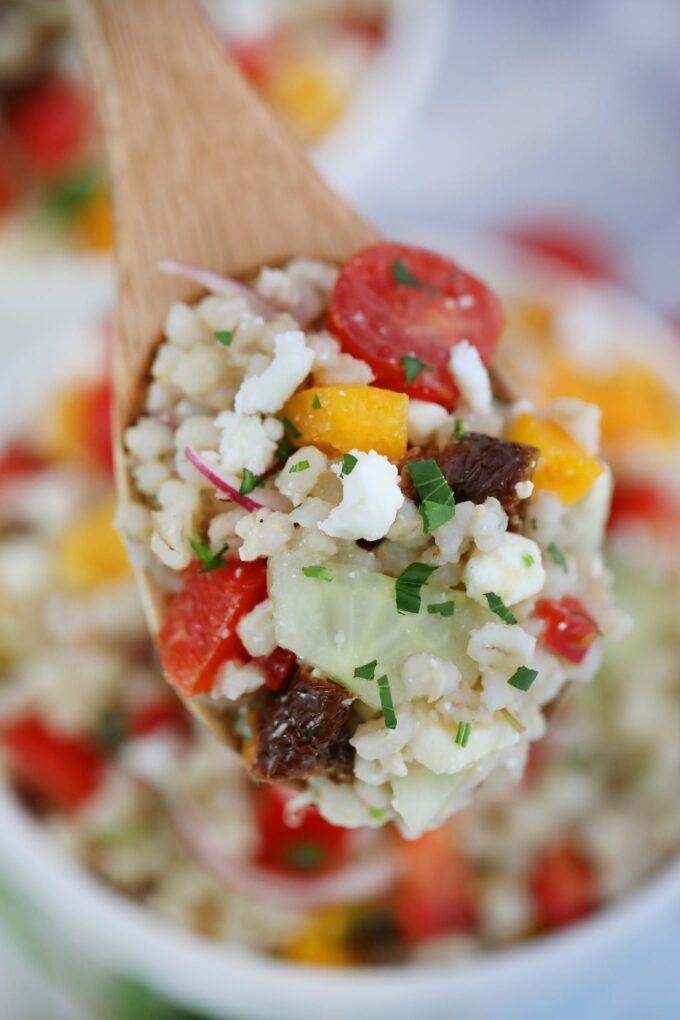 WHAT DOES FARRO TASTE LIKE?
It is similar in taste to brown rice, but lighter. It retains its al dente texture no matter how long you cook it and has the creaminess of Arborio rice so you can use it instead when doing a risotto!
HOW DO YOU MAKE A FARRO SALAD?
First, cook the farro. Put the grain in a saucepan and cover it with cold water. As mentioned above you can cook 1 cup of farro for every 2 ½ cups of water. It doesn't matter if you overcook it, because it retains its al dente state even overcooked. But just on the safe side cook it for 30 – 40 minutes.
Next, prepare the vegetables and place them it in a large salad bowl.
Last, combine all the ingredients for the dressing and whisk to blend.
Toss in the cooked grain with all the vegetables and drizzle with the dressing.
Top with feta cheese and garnish with chopped parsley!
HOW DO YOU SERVE FARRO SALAD?
This dish can easily be done ahead of time. Serve it chilled. So just bring it out of the refrigerator when needed.
HOW DO YOU STORE IT?
Leftovers are so good to snack on! Just transfer your leftovers in an airtight container and store it in the refrigerator for up to 4 – 5 days.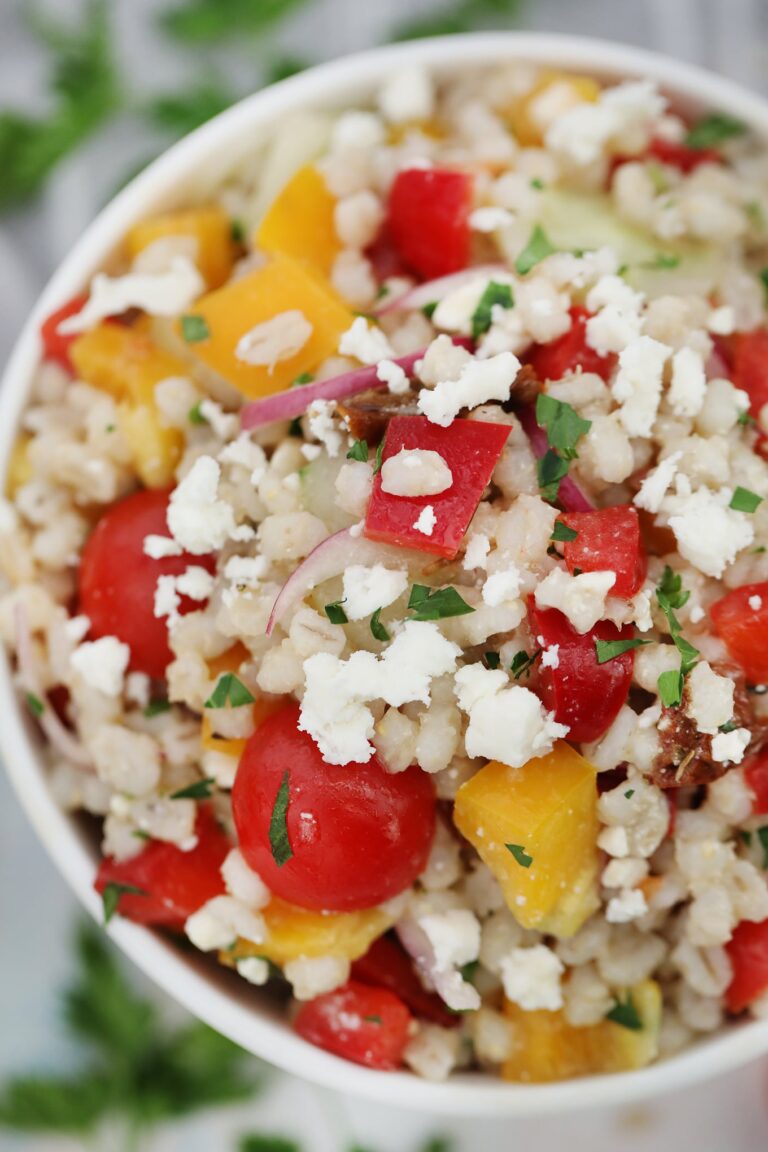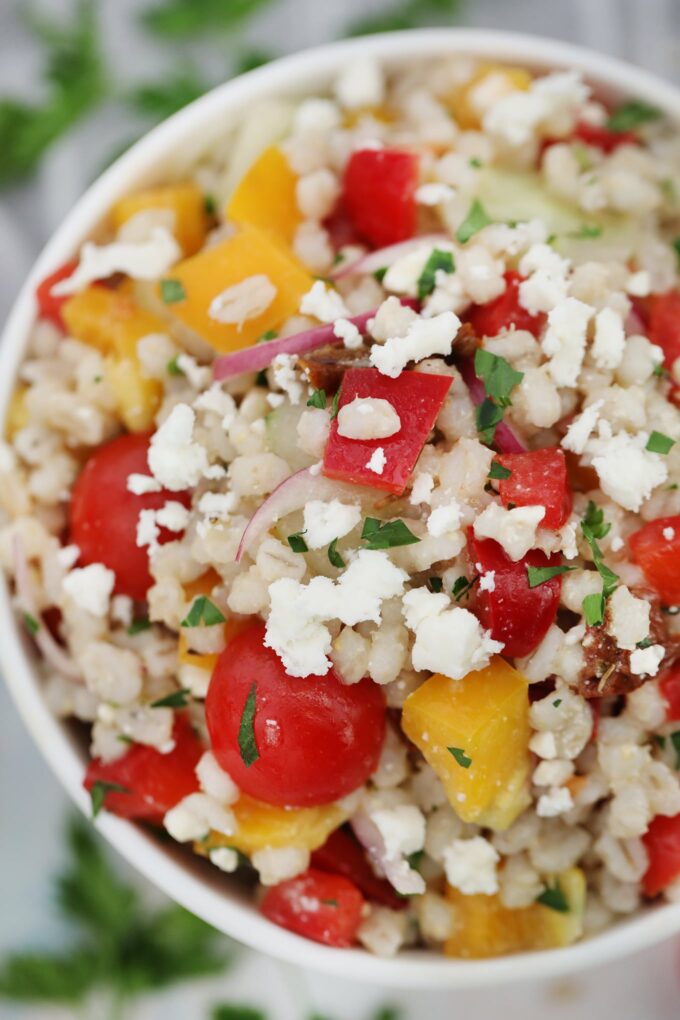 WHAT DRESSING GOES WELL WITH FARRO SALAD?
A light dressing goes well with this recipe. Try out our Italian Vinaigrette listed below or just serve with lemon juice and olive oil!
More healthy salad recipes:
RECIPE TIPS:
Cook pearled farro if you are pressed for time. This can cook in under 30 minutes
You can do batch cooking and freeze it. Just thaw it out for 2-3 hours before using it.
You can also make the dressing ahead of time and just store it in clean bottles.
You can use farro for your soups, stews, and rice preparations.
When cooking with whole-grain farro, make sure and soak it in cold water overnight to soften it if needed.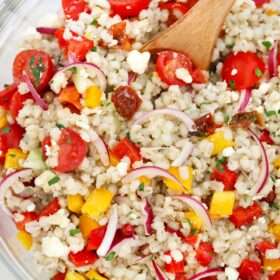 Easy Farro Salad
Farro Salad is a symphony of textures and pleasing to the eye - chewy and crunchy to the bite and bursting with colors, balanced by the tanginess of the dressing!
Save
Share
Print
Pin
Rate
Ingredients
For the Salad:
1 1/2

cups

uncooked Farro

(I used Bob's Red Mill)

1/2

cup

sun-dried tomatoes

(chopped)

1

red onion

(diced)

2

cups

cherry tomatoes

(halved)

1

English cucumber

(seeded diced)

1

red bell pepper

(chopped)

1

orange or yellow bell pepper

(chopped)

1/4

cup

finely chopped fresh parsley

1

cup

crumbled feta cheese
Italian Vinaigrette:
1/4

cup

extra-virgin olive oil

1/4

cup

red wine vinegar

2

teaspoons

Dijon mustard

1

tablespoon

honey

1

tablespoon

lemon juice

1

teaspoon

dried Italian seasoning

1/2

teaspoon

kosher salt

1/4

teaspoon

ground black pepper
Instructions
Rinse and drain farro, then cook according to package directions. Transfer to a large mixing or serving bowl to cool.

Combine the dressing ingredients in a small bowl. Set aside until ready to use.

Add all of the remaining ingredients to the bowl with cooled farro, except for the feta cheese. Toss to combine.

Add the dressing and feta cheese and toss to combine.

Garnish with parsley and serve or cover and store in the fridge.
Nutrition
Calories:
395
kcal
|
Carbohydrates:
56
g
|
Protein:
11
g
|
Fat:
15
g
|
Saturated Fat:
5
g
|
Cholesterol:
22
mg
|
Sodium:
528
mg
|
Potassium:
762
mg
|
Fiber:
10
g
|
Sugar:
11
g
|
Vitamin A:
1155
IU
|
Vitamin C:
80.4
mg
|
Calcium:
173
mg
|
Iron:
3.2
mg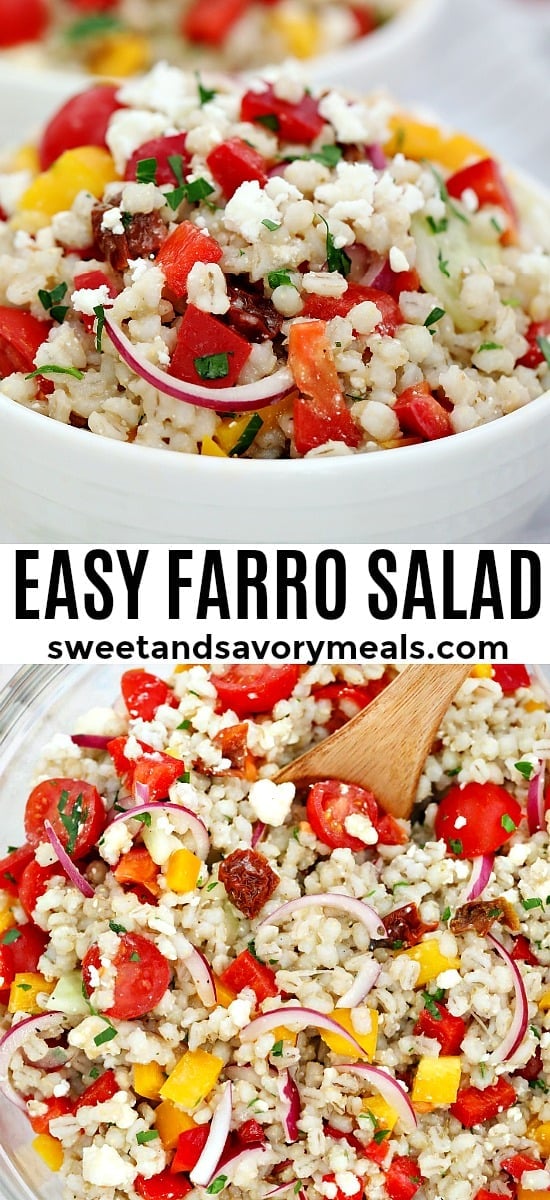 More recipes you might love