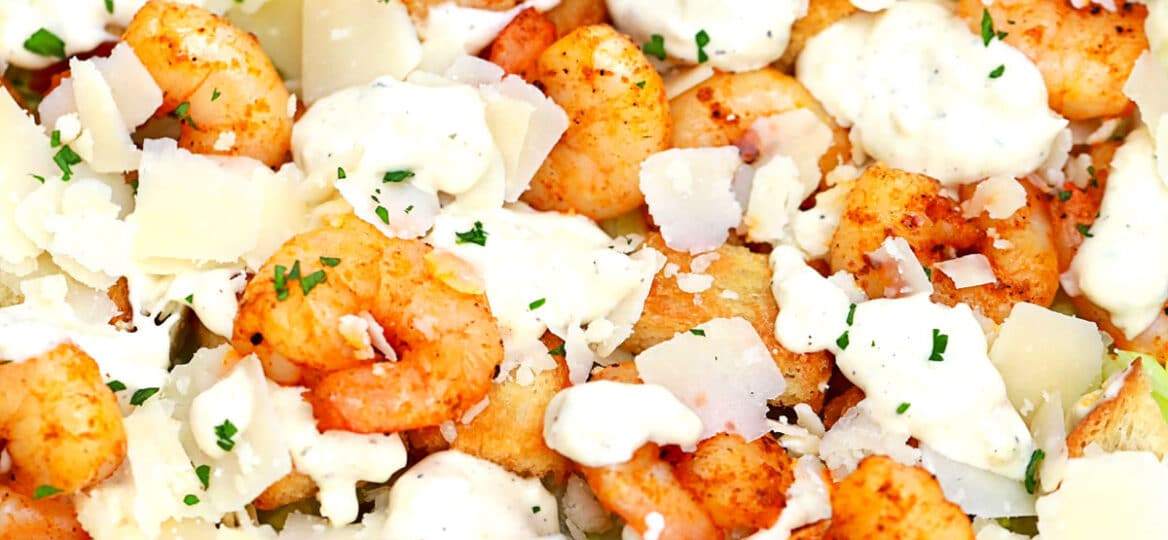 Shrimp Caesar Salad Recipe [Video]
Shrimp Caesar Salad is a fancy seafood delight. This delicious recipe is one of the best options for a dish that is both elegant and healthy!
Shrimps are always one of the best ingredients for a nutritious and hearty meal. If you want to look for other dish varieties, check out my other recipes for Lemon Pepper Shrimp, Thai Fried Rice with Shrimp, and Sweet and Sour Shrimp.
Shrimp Caesar Salad Recipe
Shrimp Caesar Salad is something I particularly like to serve during summer occasions such as pool parties or backyard BBQ events. The vegetables and fish make for a refreshing and juicy meal from the heat of the sun.
There are a hundred simple ways to make a salad. But sometimes, I want to take it up a notch and make something creative, and this has been one of my go-to recipes.
Also, this homemade recipe can easily satisfy the hungry tummy. So, you can always turn to this dish when you have a lot of guests over.
Incorporating seafood into your weekly meal is also great as it is rich in protein. This meal is tasty even for kids who usually aren't fans of fish and vegetables.
What do you need to make Shrimp Caesar Salad
This fancy recipe calls for more pieces than the ordinary salad. You will need the following:
Garlic Crouton. Baguette, olive oil, and garlic.
Dressing. Anchovy paste, lemon, mustard, mayo, sour cream, Worcestershire sauce, parmesan, salt, and black pepper.
Salad. Shrimp, seasoning, paprika, and lettuce.
How to make Shrimp Caesar Salad
Prep the croutons. Slice the baguette and coat it with the oil and minced garlic. With a baking sheet, bake the bread on a preheated oven at 350F for 10 minutes or remove when it turns golden.
Cook the shrimp. Season the fish with salt and pepper, as well as garlic powder and paprika for extra flavor. With the oil in a pan on high heat, cook it for 2 minutes on each side, or until browned. Set aside.
Prep the dressing. Stir all dressing ingredients in a bowl and set aside.
Assemble the salad. Wash and pat the lettuce with a paper towel until dry. Chop and layer the lettuce first in the serving bowl before adding the fish and croutons.

Serve. Drizzle a fine amount of the dressing on top and toss the dish until everything is evenly coated. Serve.
How do you make Homemade Caesar Dressing
Making a Caesar dressing is pretty easy after you have made a paste out of anchovies, garlic, lemon, mustard, and Worcestershire. You can then just mix the paste and the rest of the ingredients such as mayo, sour cream, parmesan, and seasonings of your choice.
For other simple and quick dressing, you may want to take a look at some of my other recipes:
Recipe Variations:
For other ways to enjoy this dish, I have also created several variants that are also healthy and delicious. Here are other ways to be creative:
How to store:
If you plan to store the dish for a short time, you can just place it on a bowl and directly in the fridge. The dish will last for at least a day.
However, you can also wrap the bowl tightly with a plastic wrap so that it will last for up to 3 days.
Recipe tips:
If you are serving for guests, I will recommend getting peeled bite-sized shrimps. These make it easier to eat or you can also cut up regular sized ones.
When coating, try to toss gently so that the dish will not turn mushy.

Sometimes, I also make multiple dressings so that people can choose which ones they would prefer. This makes it easier to satisfy the taste of all guests.
Deliciousness to your inbox
Enjoy weekly hand picked recipes and recommendations