Sweet and Sour Shrimp Recipe
Sweet and Sour Shrimp is made with golden-crispy shrimp, healthy veggies, and coated in a delicious sweet and sour sauce. It is the perfect quick and easy Chinese meal that is ready in about 30 minutes!
I love making simple, quick, and flavorful meals for the whole family to enjoy. If you love Asian inspired dishes, you might also love Kung Pao Chicken, Crispy Orange Chicken, Mongolian Beef.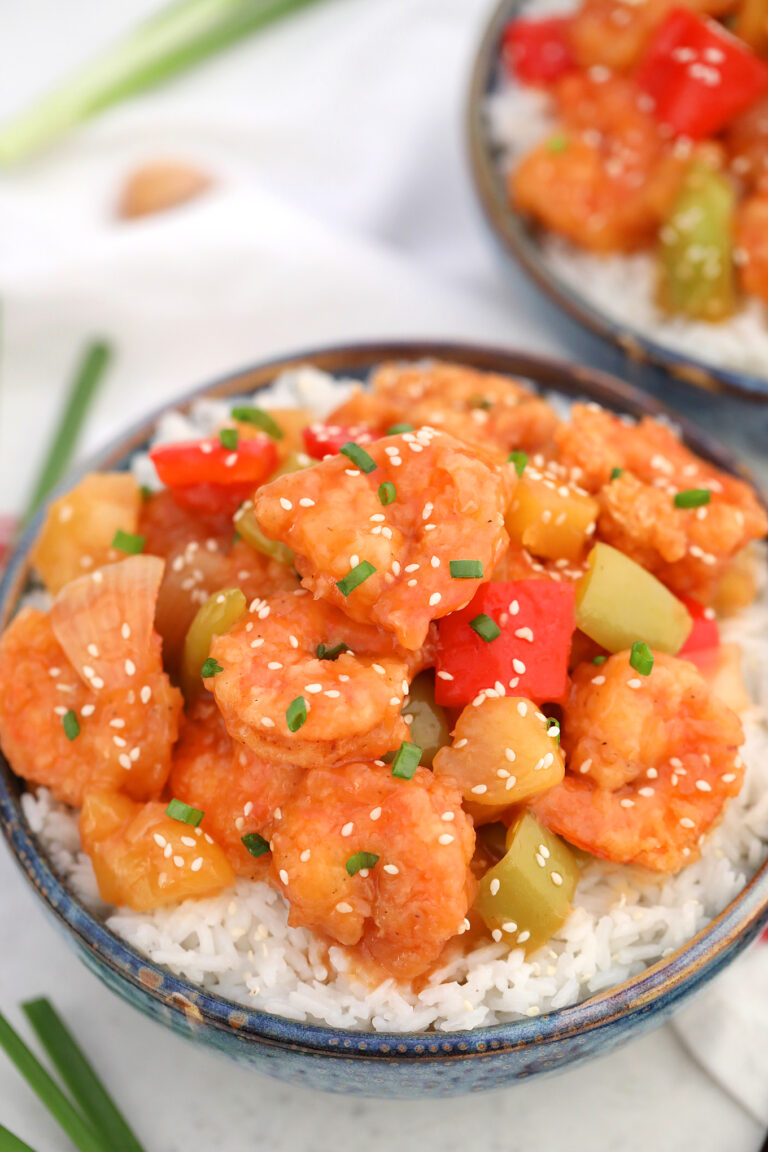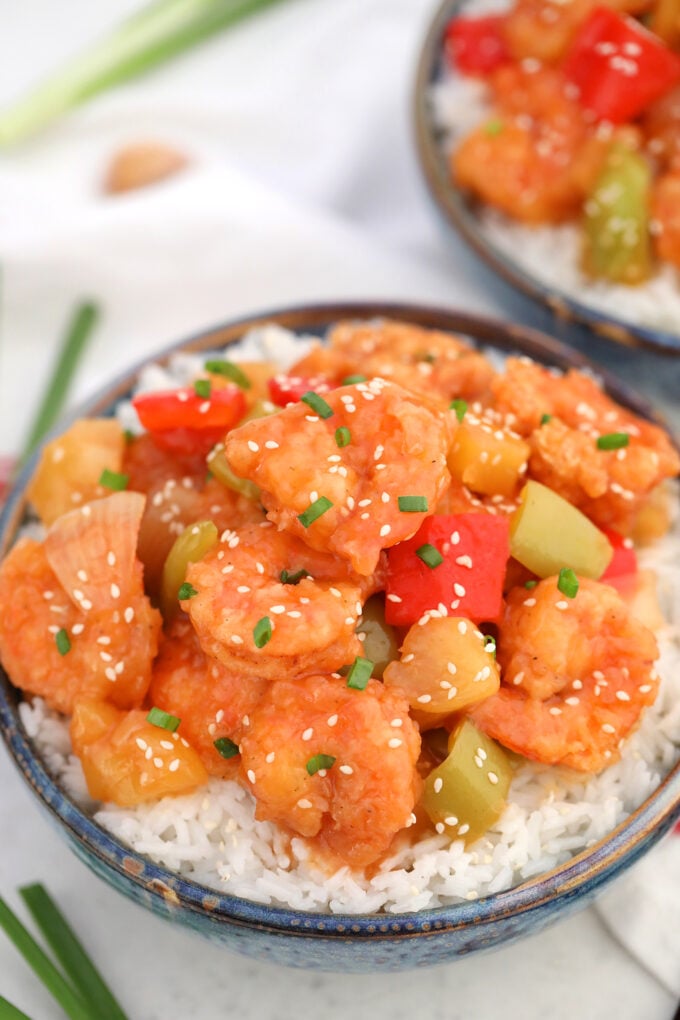 Easy Sweet and Sour Shrimp
This homemade Sweet and Sour Shrimp is our go-to meal during busy days. We love this meal, as it is a simple stir-fry dish that is all in one-pot. The flavors are deep and just amazing! In addition, this is quite a healthy recipe, and kids love it just as much!
Chinese dishes are some of our most favorite ones, and this one is definitely on top of our list. I have made it numerous times and adjusted the flavors to make it better than takeout. Trust me, this is one of the easiest (and tastiest) weeknights dinners you can make.
Also, unlike many over Asian dishes, this one is quite healthy. We try to incorporate seafood into our family's diet, at least once a week. According to the USDA website, it is recommended to serve at least two 4-ounce of seafood a week. Therefore, feel free to enjoy it whenever you crave some Asian inspired meals, ready in less than 30 minutes!
Is Sweet and Sour Shrimp Chinese?
This dish is commonly served in Chinese restaurants all over the world. In the USA, it became very popular in the last decade. This
dish generally is made of shrimp, mixed with veggies, and served in a delicious sweet and sour sauce.
It can be topped with various fruits, or vegetables, such as pineapple, green peppers, broccoli, or carrots.
How to make Sweet and Sour Shrimp?
Clean the Shrimp and the veggies: Ensure to use deveined and peeled shrimp. If not, clean them and devein at home. Season with salt and pepper and set aside. Also, wash the veggies and cut them into smaller cubbed pieces.
Make the sauce: Simply, combine honey, rice vinegar, soy sauce, tomato paste, and pineapple juice. Then, make a cornstarch slurry, and set it aside.
Cook the ingredients: The shrimp and peppers/veggies cook together in one pan over medium-high heat. I like using sesame oil, as it has a deep and nice flavor. However, if you do not have it on hand, use regular cooking oil.
Add the sauce: When the shrimp and veggies are almost cooked, add the sweet and sour sauce. Then, simmer for an additional 2 minutes.
Stir in the cornstarch slurry: Add the slurry to it, and cook until thickened, for about 30 seconds more.
Garnish and serve: I love to garnish it with freshly chopped green onions and sesame seeds.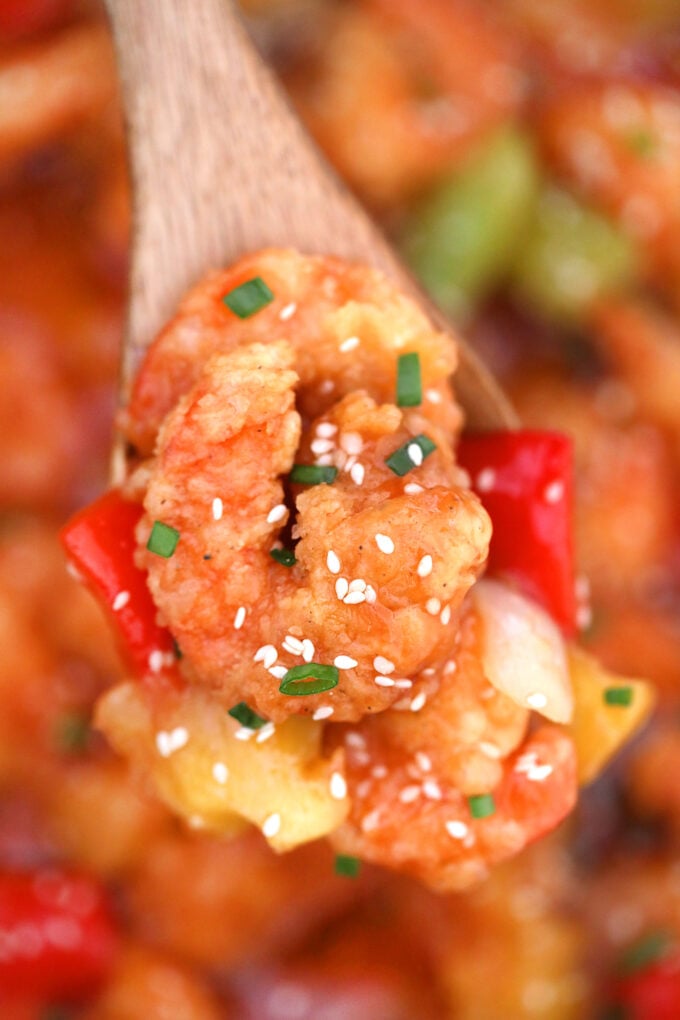 What size shrimp do you use?
Depending on whether you are buying them already in a package or per pound, I usually go with larger sizes once. As a general rule, I use a 16/18 count per pound.
However, feel free to use a smaller version as well. Also, you can go with extra-large or even tiger once. In that case, you might want to cut them in half as they are very large.
Just remember, that shrimp cooks very fast. All you need is about 3-4 minutes, and they are done. Therefore, no matter what size you are going with, keep a close eye on them, not to overcook.
What to serve with Sweet and Sour Shrimp?
We love serving it over coconut rice, or white rice. Also, feel free to serve it with some steamed broccoli, or roasted asparagus on the side.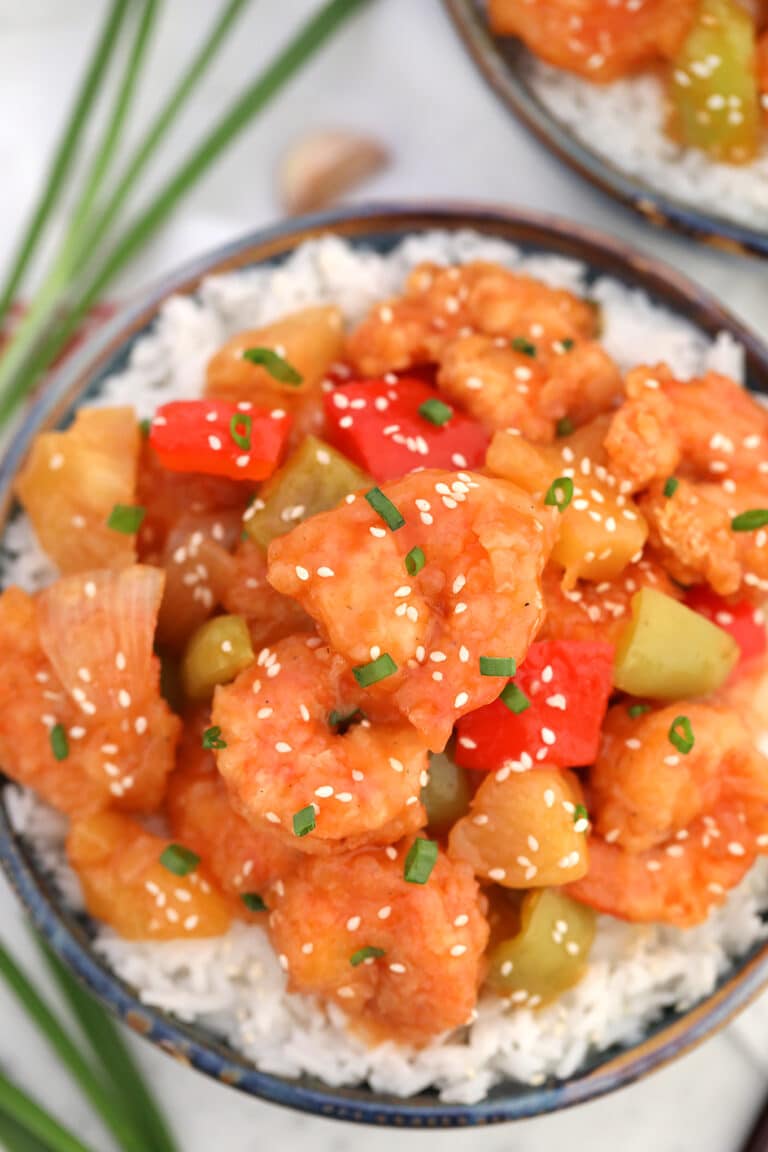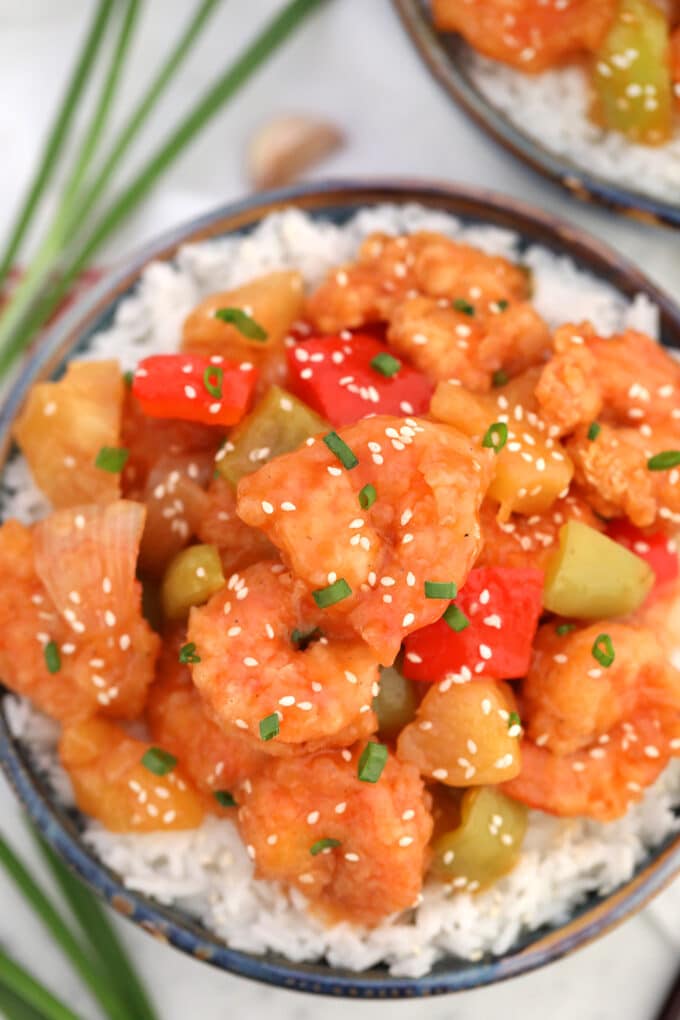 More easy Shrimp recipes:
Deviled Eggs with Old Bay Shrimp
Recipe Tips:
This dish is very versatile. Therefore, feel free to use or substitute with your favorite veggies. Some good additions are, celery, broccoli, carrot, green pepper, mushrooms, pineapple.
The same goes for the garnish. Sesame or black sesame seeds work really well here, but feel free to go with what you like.
For a spicier kick, add some crushed red pepper flakes, or chop in some chili pepper.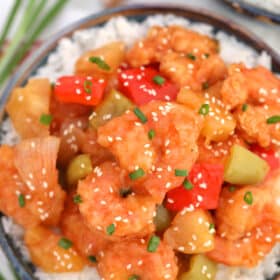 Sweet and Sour Shrimp
Sweet and Sour Shrimp is made with golden-crispy shrimp, healthy veggies, and coated in a delicious sweet and sour sauce.
Save
Share
Print
Pin
Rate
Ingredients
2

pounds

shrimp

(peeled and deveined)

1

cup

cornstarch

1/4

cup

flour

1/2

teaspoon

salt

1/4

teaspoon

ground black pepper

2

eggs beaten

canola oil for frying

1

cup

pineapple chunks

1

red bell pepper

(cut into 1-inch chunks)

1

green bell pepper

(cut into 1-inch chunks)

1

yellow onion

(cut into 1-inch chunks)

3

cloves

garlic

(minced)
Sweet and Sour Sauce:
2/3

cup

pineapple juice

1/4

cup

orange juice

2

tablespoons

soy sauce

1/4

cup

light brown sugar

(packed)

1/4

cup

white sugar

1/4

cup

rice vinegar

1/4

cup

apple cider vinegar

1/3

cup

ketchup

1/4

teaspoon

garlic powder

1/4

cup

cornstarch

1/4

cup

water

Garnish:
Instructions
Sweet and Sour Sauce:
Add all the ingredients to a medium saucepan and whisk to combine until the cornstarch is dissolved.

Place it on the stove over medium heat. Stir or whisk well until it comes to a light boil.

Stir constantly until the sauce thickens. Taste and adjust for sugar and tanginess.

Once the sauce is thick enough to coat the back of a spoon, remove it from heat. Set aside.
Shrimp:
In a large, shallow bowl, whisk cornstarch flour, salt, and black pepper.

Add beaten eggs to another bowl.

Pour about 2 inches of canola oil into a deep frying pan and heat it over medium-high heat.

Dip the shrimp into the beaten eggs.

Add the shrimp to the cornstarch mixture and toss until well coated. Work in batches.

Cook it in batches in the hot oil until golden and crispy.

Remove to a plate and set aside.
Combine:
Once done cooking the shrimp, discard all the oil, leaving only 2 tablespoons in the pan.

Add the onion chunks, bell pepper chunks, garlic, and pineapple chunks, cook for 2-3 minutes, until just tender.

Add the sauce back to the pan, stir until all the veggies are coated well.

Add the shrimp and stir again to coat well in the sauce.

Stir and cook until the sauce has thickened more and is simmering lightly.

Serve over rice, garnished with sesame seeds and chopped green onions.
Nutrition
Calories:
720
kcal
|
Carbohydrates:
109
g
|
Protein:
53
g
|
Fat:
6
g
|
Saturated Fat:
1
g
|
Cholesterol:
653
mg
|
Sodium:
2784
mg
|
Potassium:
736
mg
|
Fiber:
4
g
|
Sugar:
59
g
|
Vitamin A:
1365
IU
|
Vitamin C:
99
mg
|
Calcium:
393
mg
|
Iron:
7
mg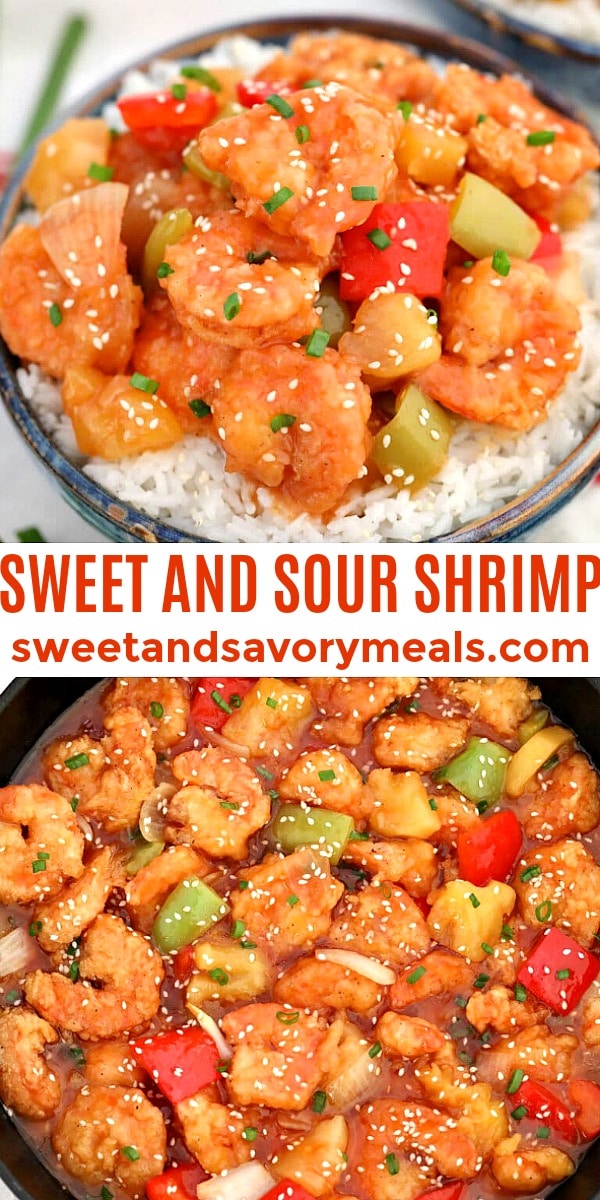 More recipes you might love