Kung Pao Chicken Recipe [Video]
Kung Pao Chicken is a famous Chinese stir-fry dish that is crisp-tender and very easy to make at home! It has the perfect combination of salty, sweet, and spicy flavors.
If you are up for the challenge, then, these spicy recipes are for you! Recreate our recipes for Bang Bang Shrimp, Hunan Beef, and Szechuan Sauce!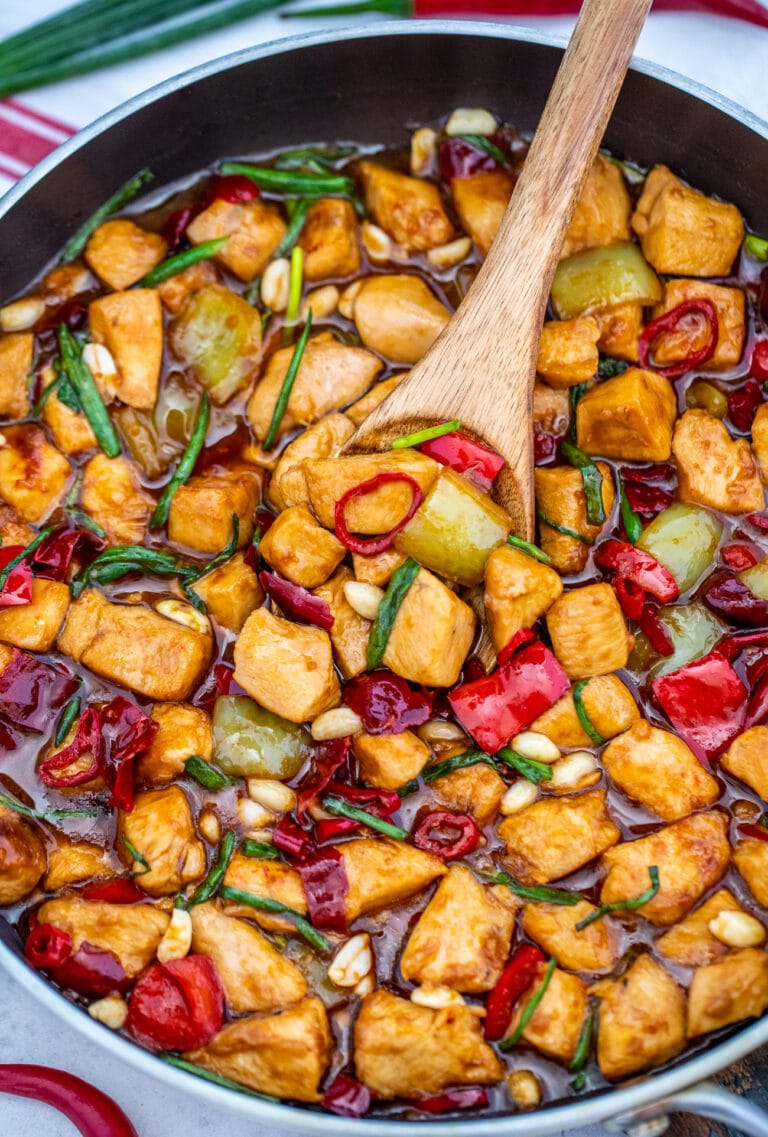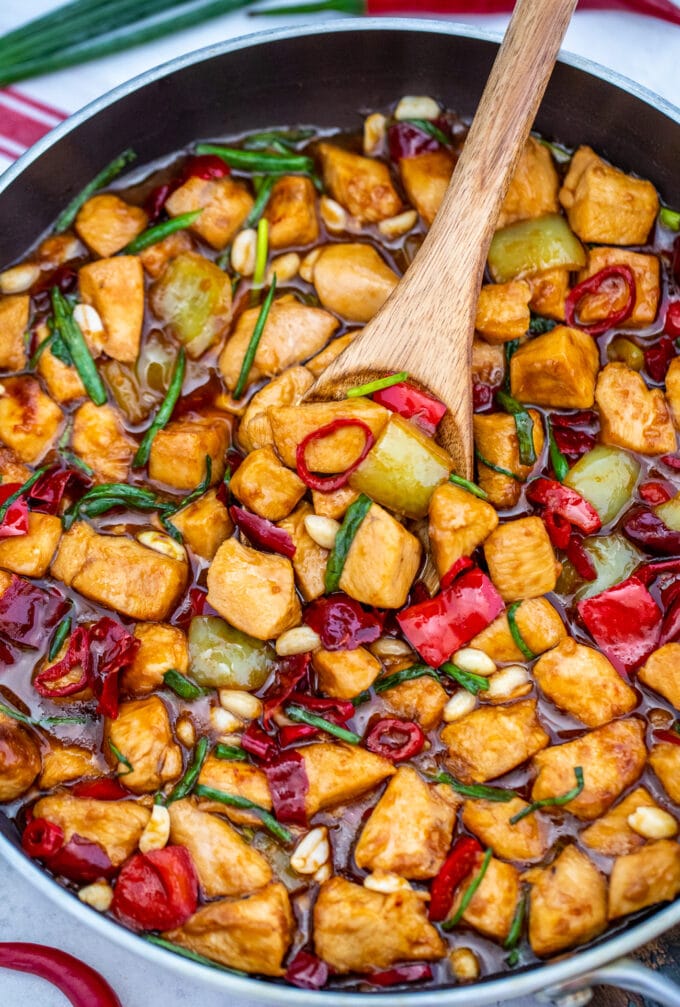 The Best Kung Pao Chicken
Kung Pao Chicken has its roots in the Szechuan province in China where cooking continues to flourish. Lately, it has grown so popular that it has spread its presence throughout the world, including in the US.
We love this dish and order it quite often every time we go to a Chinese restaurant. Although there had been changes to the traditional recipe, what remains is the distinct spiciness and the way that the meat is cooked.
For this recipe, we marinate the meat in a cornstarch mixture that makes it silky and velvety. What we are after is to make it tender. Learn how to make this flavorful recipe so you can make it anytime you crave that intense heat!
What is kung pao chicken?
It is an Asian dish made of tender and tasty chunks of white meat with a sauce that is sweet, salty, spicy, and sour all at the same time.
Also, it is so easy to make as it is just stir-fried. Vegetables like bell peppers and aromatics accompany the white meat. All these add flavors and another dimension to the dish.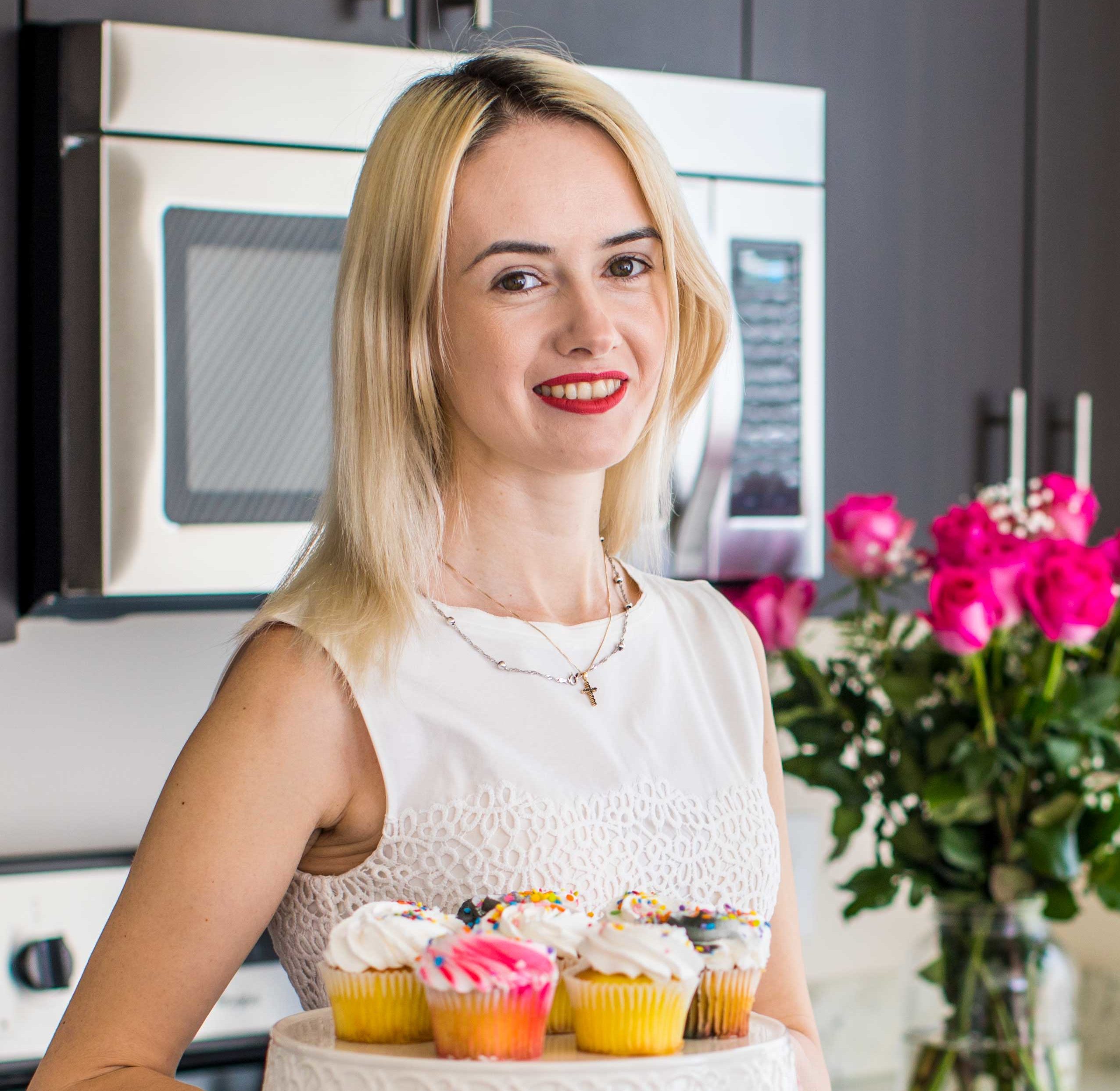 Follow us on Pinterest for more delicious recipes!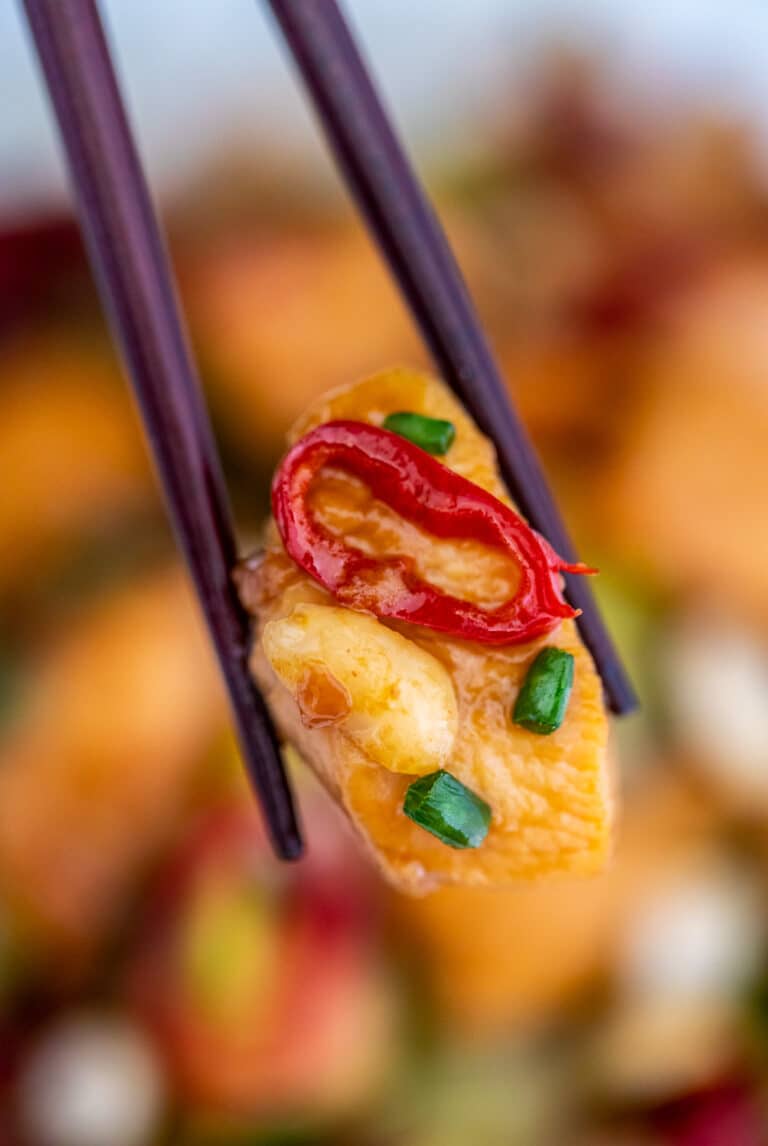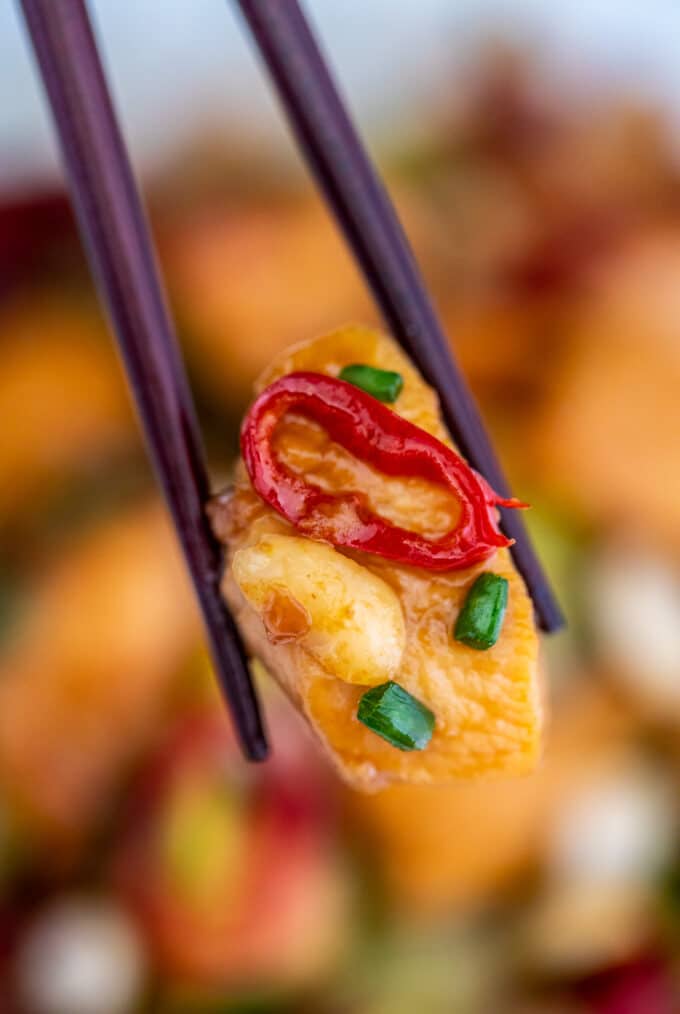 What does kung pao chicken taste like?
It has the right balance of everything starting from sweet to salty. However, the main distinction of this dish is that it is quite spicy. The authentic recipe one has Szechuan peppercorns that are mouth-numbing after all.
But this recipe was already adjusted to fit the American taste to make it sweeter. It has hoisin sauce that is like the Chinese barbecue sauce. Also, it contains lots of chilis which makes it spicy and the nuts add texture and that delicious nutty flavor.
How to make kung pao chicken
For exact steps and measures, follow the recipe card below. Also, feel free to watch the short video tutorial attached.
Marinate the meat: Cut the white meat into cubes then, marinate in a mixture of dry sherry, soy sauce, rice vinegar, sesame oil, and cornstarch. Cover it and allow it to sit for 30 minutes.
Make the sauce: In a bowl, combine all the ingredients for the sauce then, set aside.
Fry the meat: Heat oil in a pan, then, brown the slices of meat, set aside. This will take about 3 to 4 minutes.
Stir-fry: Add in more oil in the same pan, then, sauté the garlic, ginger, bell peppers, dried and fresh chili peppers. Then, stir in the sauce. Once the consistency starts to thicken, add in and stir-fry all the other ingredients aside from the green onions and peanuts.
Serve: Once every piece of the meat is coated, you may then serve this dish with rice!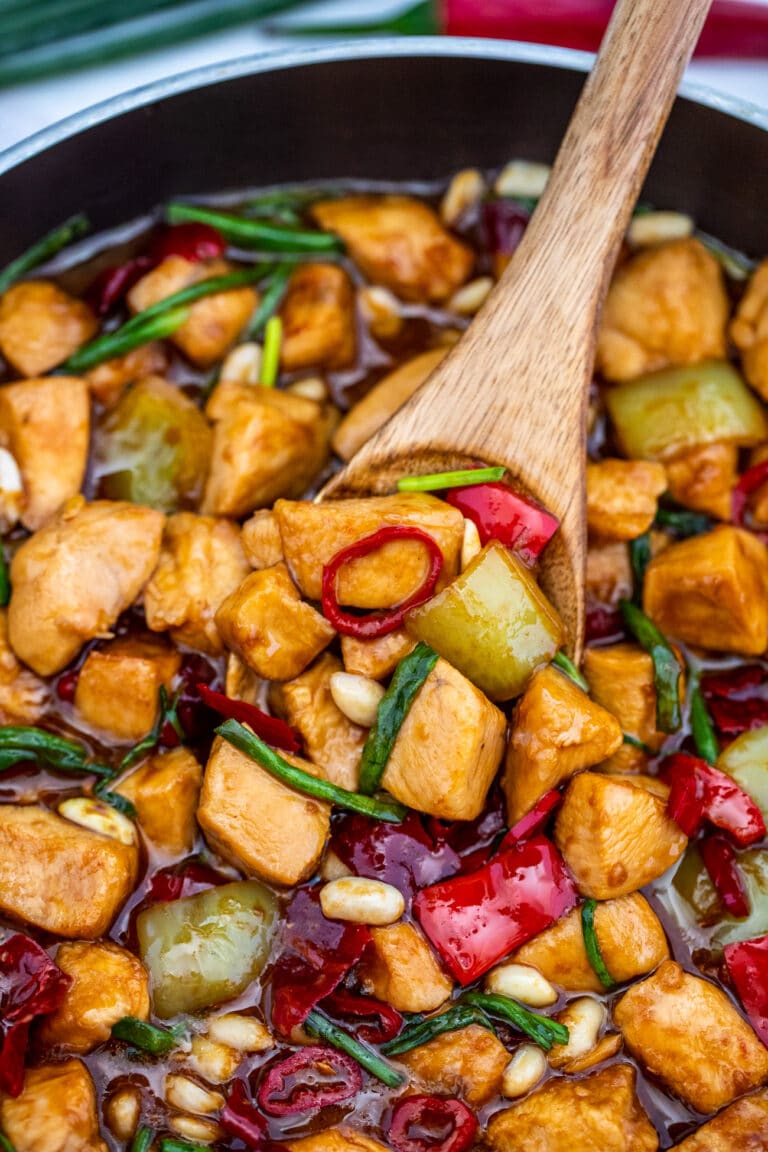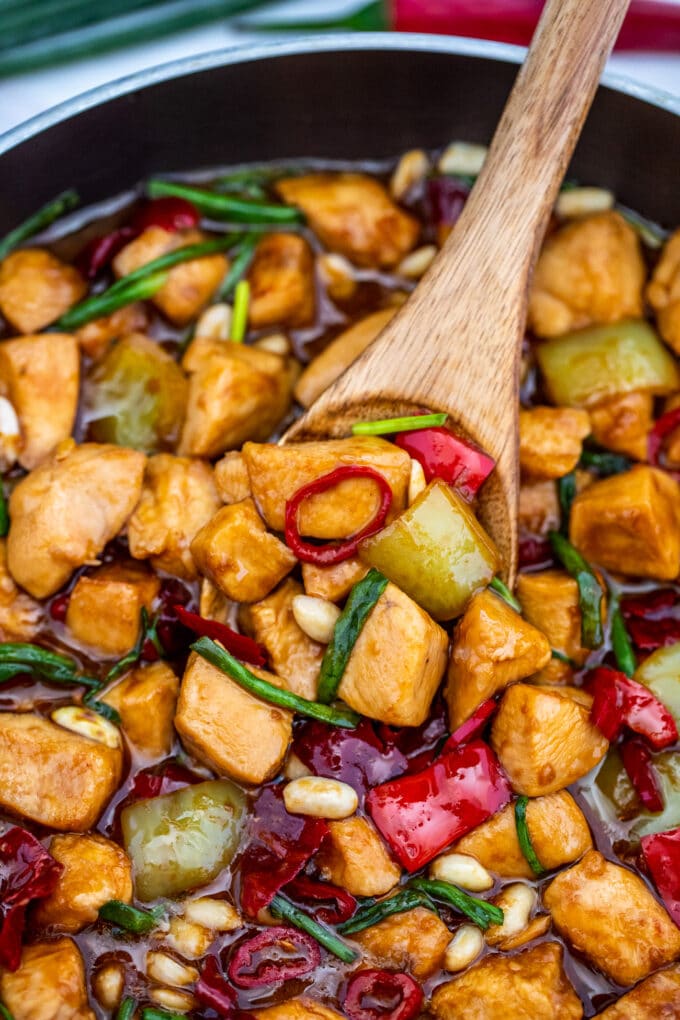 What is kung pao sauce made of?
All you need are the following ingredients:
low-sodium chicken broth
soy sauce
water
dark soy sauce
balsamic vinegar
dry sherry
hoisin sauce
brown sugar
cornstarch
What is the difference between kung pao chicken and General Tso's chicken?
There are a few key differences although both recipes have meat that was pre-cooked before incorporating the sauce. General Tso's Chicken does not have peanuts, has a sweeter sauce, and it is not an authentic Chinese dish.
How many calories in kung pao chicken?
According to the USDA, this comfort food will set you back by 381 kcal for one package.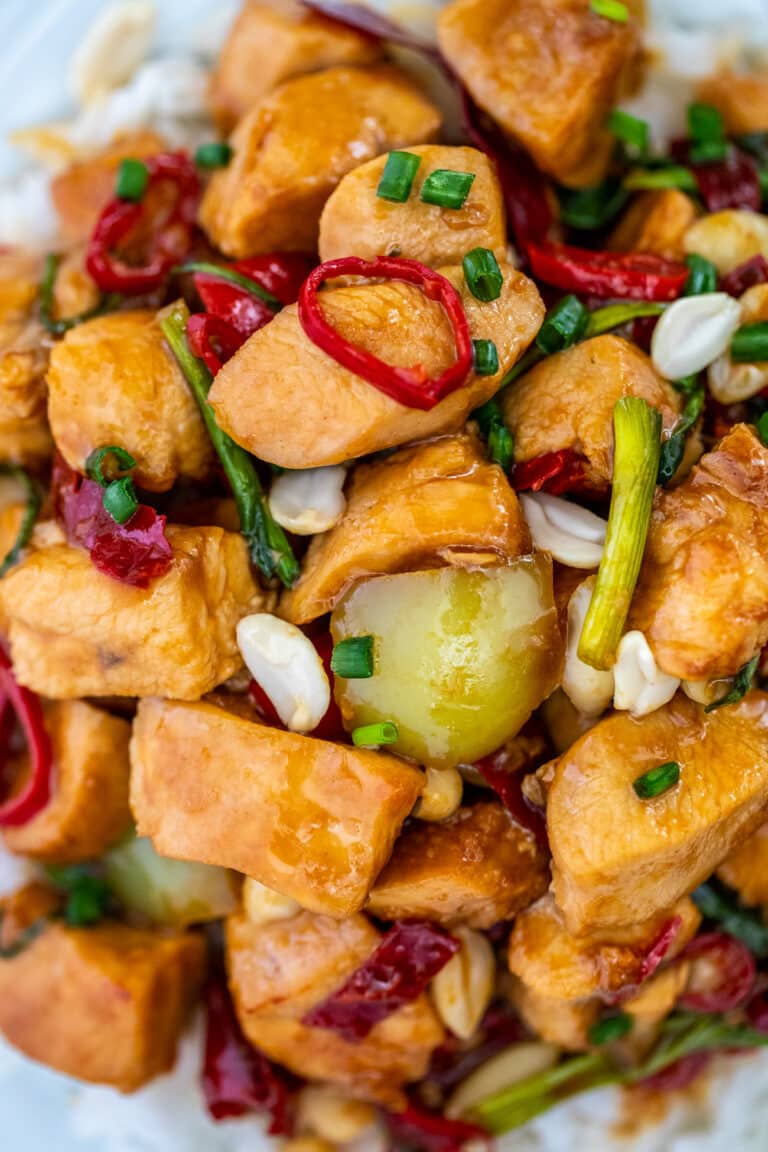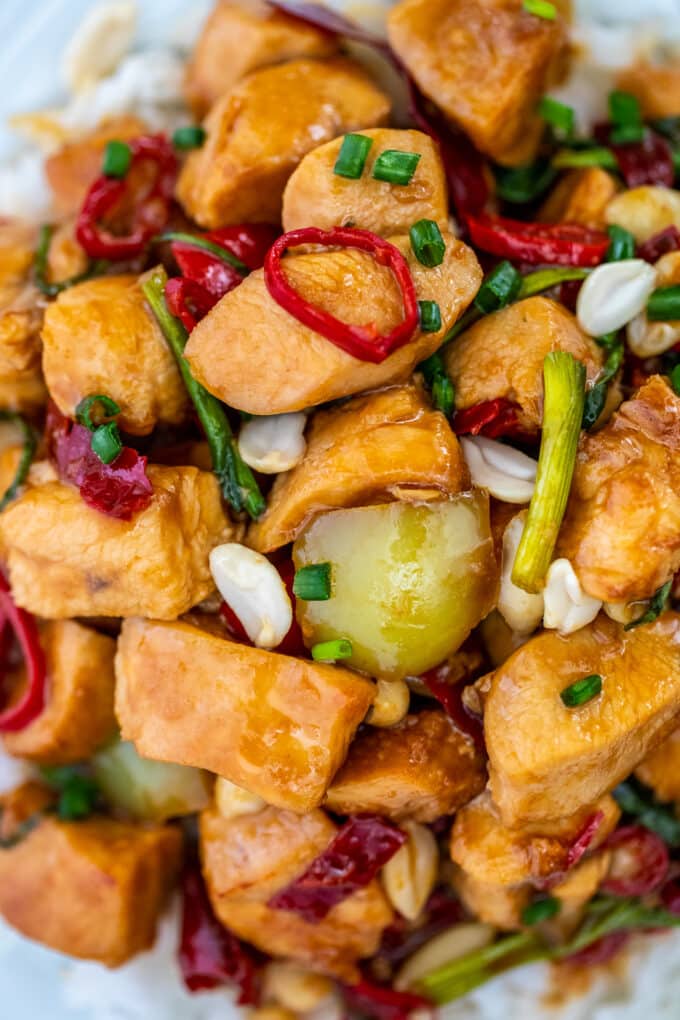 How to store it?
Refrigerate: Store it in an airtight container in the fridge for up to 4 days.
Freeze: You can put this in freezer bags and store frozen until 2 months. Make sure to remove any excess air and flatten the bags.
To reheat: Simply thaw overnight in the refrigerator and reheat in a skillet over medium heat until heated through. You can also reheat using the microwave.
To make ahead: Follow this recipe except for adding the cornstarch in the sauce as its thickening power degrades when stored or frozen. Reserve the garnishing, too. When it is time to serve, then, add in the cornstarch to thicken the sauce.
Recipe Tips
You can follow the same recipe but use other types of meat like shrimp, pork, or fish.
Add more fiber by adding crunchy veggies like cucumbers and celery.
For a vegetarian take, you can opt for mushrooms or tofu as a meat replacement.
Save Recipe
Kung Pao Chicken
Kung Pao Chicken is a famous Chinese stir-fry dish that is crisp-tender and very easy to make at home! It has the perfect combination of salty, sweet and spicy flavor.
Author: Catalina Castravet
Serves: 4 servings
Prep time:

10

minutes
Cook time:

20

minutes
Total time:

30

mins
Ingredients
Chicken:
Marinade:
Sauce:
Stir Fry:
Instructions
Marinate:
Sauce:
Cook Chicken:
Stir Fry:
Nutrition information
Calories: 618 Carbohydrates: 20 Protein: 56 Fat: 33 Saturated Fat: 14 Cholesterol: 145 Sodium: 1727 Potassium: 1138 Fiber: 2 Sugar: 9 Vitamin A: 920 Vitamin C: 36.1 Calcium: 39 Iron: 2.4
Save Recipe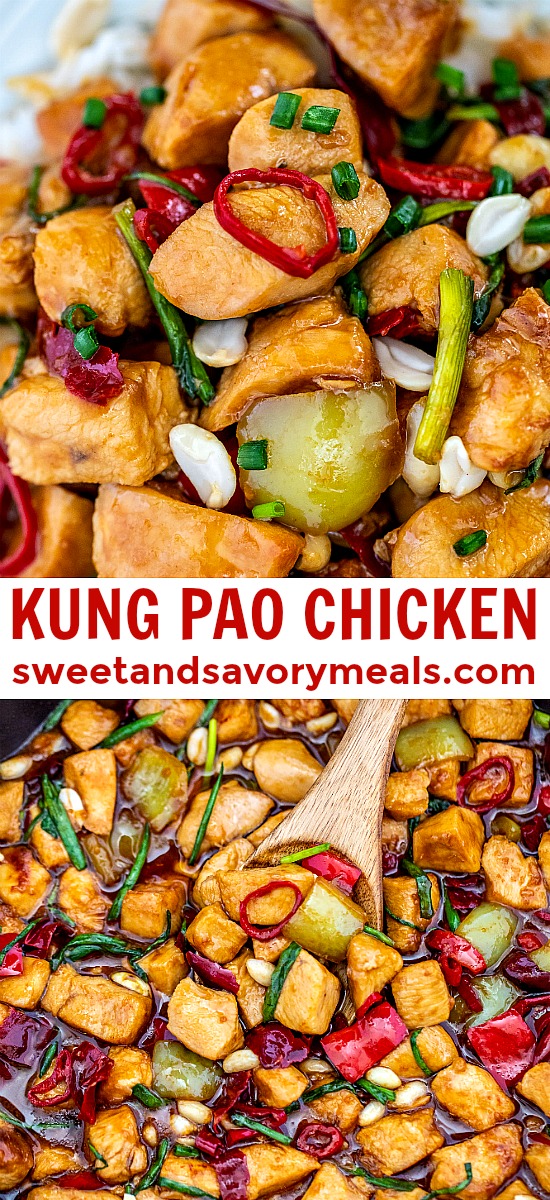 More recipes you might love
Categories: