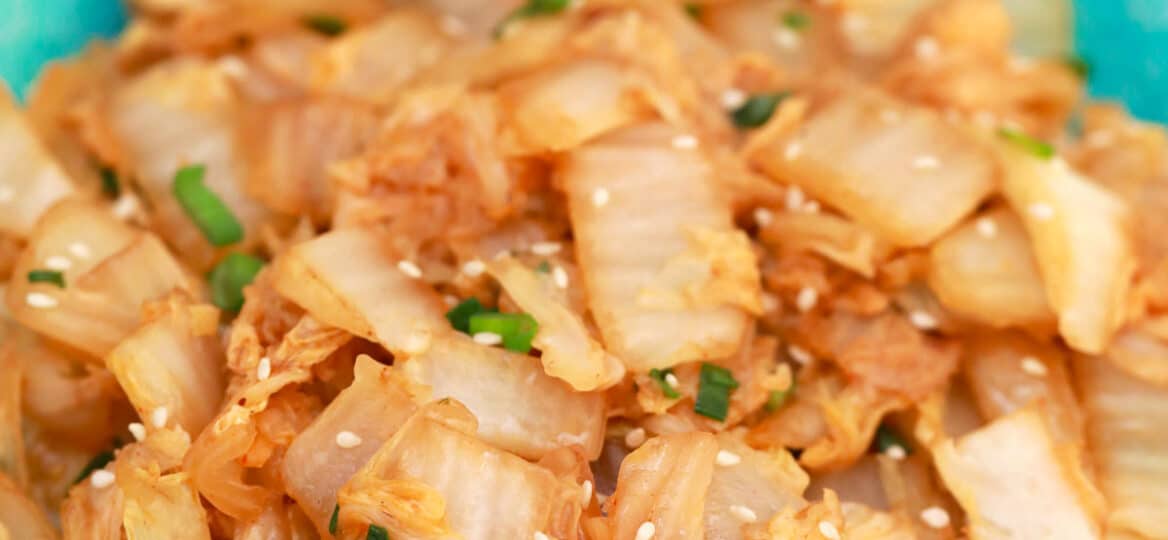 Sauteed Napa Cabbage [Video]
Sauteed Napa Cabbage is stir-fried with garlic, hoisin sauce, ginger, and soy sauce, then finished with sesame seeds and green onions. A quick, flavor-packed vegetarian side!
For more delicious Asian-inspired sides, try our Sticky Sesame Baked Cauliflower, Oven Roasted Bok Choy with Garlic, and Panda Express Mixed Veggies (Copycat).
Napa Cabbage Stir Fry
Sauteed Napa Cabbage is one of the quickest and simplest stir-fries ever! Chopped, tender Napa cabbage is sauteed with Asian seasonings like hoisin, soy sauce, chili flakes, ginger, and garlic with a touch of vinegar and sugar. The result is a savory veggie dish with sweet and tangy notes you'll want to devour right out of the pan!
It's easy to turn it into a complete meal, too, by adding meats like pork and beef. Do you have any leftover veggies you need to use up? Chop them up and add them to the pan! Try this versatile, tasty, and beyond easy stir-fry tonight!
What is Napa Cabbage?
Aka Chinese or celery cabbage, you'll recognize Napa by its long, pale green leaves versus the usual green cabbage that's packed tightly in a round shape. It looks sort of like romaine lettuce. The Napa variety is the most tender of all, making it perfect for raw salads and stir-fries.
Is Napa Cabbage good cooked?
Yes! They turn slightly sweet and tender with a subtle peppery taste. But since they're very delicate, they're more well-suited for quick cooking methods like sauteing. If you'd rather roast or bake cabbage, it's better to use regular green ones.
How do you cut napa cabbage to cook for a stir fry?
Slice off the tough, white bottom end. Then, take off the outer leaves if you haven't already. After that, slice into shreds (1-inch in size for this recipe, in particular).
More Side Dishes Recipes:
Do you need to wash napa cabbage?
Yes, rinse off the whole head before prepping it for the recipe. This gets rid of any dirt or stray insects that may be in there. Make sure to drain and pat dry!
What do you need to make sauteed napa cabbage?
Napa cabbage: Chopped into 1-inch sized strips.
Soy sauce: Adds umami and a nice saltiness and color to the dish!
Hoisin: A thick, sweet-and-salty sauce that's also known as Chinese BBQ sauce.
Aromatics: Fresh ginger and fresh minced garlic, plus dried chili flakes.
Vinegar: Balances out the hoisin and soy sauce with a delicious tang.
Sugar: Helps the sauces caramelize a bit and rounds out the salty and tangy flavors.
Green onions: chopped finely for both sauteeing and as a garnish.
Sesame oil and seeds: Adds a nutty finish to the dish.
How do you make sauteed napa cabbage?
Saute. Stir-fry the ginger, fresh garlic, and chili flakes in hot oil for about a minute until it is fragrant and slightly soft.
Add the veggies. After sauteing the aromatics, add your vegetables, plus all the seasonings and sauces. Stir-fry until it's tender as you like, add the green onions, and saute for a minute more.
Serve. Plate up with a drizzle of sesame oil, and sprinkle with more chopped green onions and sesame seeds. Enjoy!
Recipe variations:
Include meat: Turn it into a complete meal by adding thin strips of beef, pork, or chicken. Tofu or tempeh is a great vegetarian option, too!
Include other vegetables: Most vegetables taste delicious in this dish, so it's a great "clear the fridge" recipe! Just make sure to adjust the sauteeing time for veggies that take longer to cook. Other great additions are cauliflower, carrots, snow peas, mushrooms, bell peppers, and onions.
Alternatives to Napa cabbage: Can't find Napa? Bok Choy, Savoy, regular green cabbage, and swiss chard will work just as well.
How to serve:
You can eat it on its own as a really light vegetarian meal! But it really shines as a side dish, especially for Chinese or Asian entrees like Garlic Sesame Chicken, Panda Express Beijing Beef, and Teriyaki Salmon.
How to store leftovers:
Cooldown all the leftovers, then transfer to a sealed container and store in the fridge for up to three days. However, we do recommend finishing the leftovers as soon as you can so that it doesn't get too soggy in there.
Can you freeze sauteed napa cabbage:
Sure! Once it's cool, transfer to a freezer bag and squeeze all the air out before sealing it up. You can store it frozen for up to 3 months. To reheat, thaw, then microwave until hot.
More Asian Recipes:
Recipe tips:
Look for a cabbage that's bright green outside, crisp, and with no signs of wilting anywhere.
If you can get it, use toasted sesame oil— the intense, nutty flavor is fantastic. You can toast the sesame seeds too before using them as a garnish.
Make sure to chop off the stem end of the vegetable because it's tough to eat.