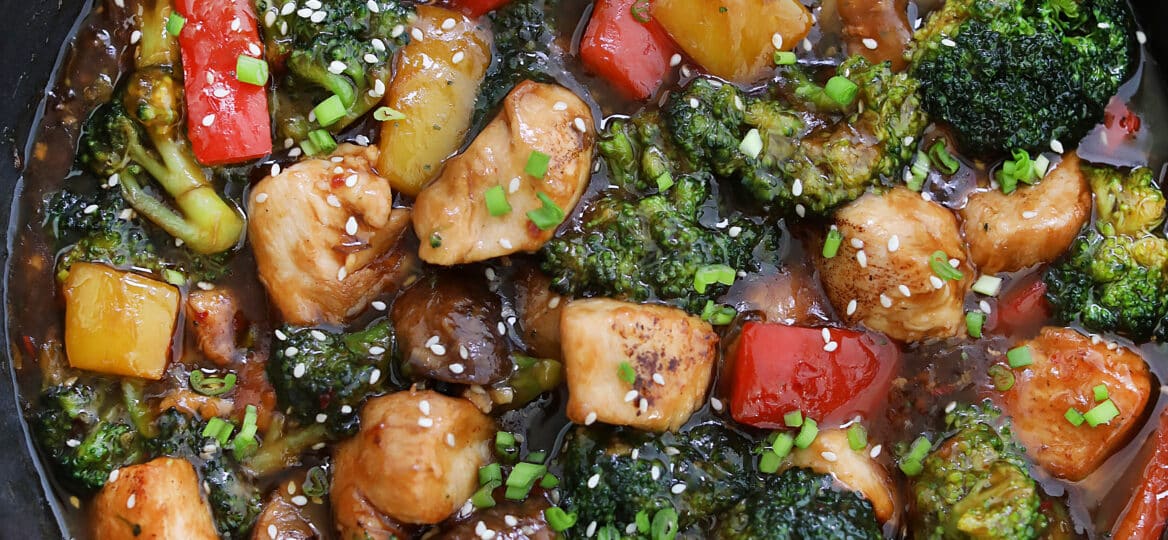 Honey Garlic Chicken Stir Fry [video]
Honey Garlic Chicken Stir Fry is a quick and easy dinner, filled with crunchy veggies and tender chicken. This recipe adds a little kick of flavor and its perfect for busy weeknights. Watch the video tutorial below and you'll see how easy this is.
The number of different spices and sauces you can put with chicken makes it so versatile and delicious. Other recipes like Chicken and Broccoli Stir Fry, Instant Pot Orange Chicken, and Bourbon Chicken always turn out delicious too.
Easy Honey Garlic Chicken Stir Fry
Honey Garlic Chicken Stir Fry is made with diced chicken, multiple vegetables and a super appetizing honey garlic sauce. The garlic and honey make this dish sweet and savory, with the sauce coating all the veggies and meat. Delicious served over rice or noodles, so the starch can soak in all the delicious sauce.
I love the simplicity of stir-fries, made with very easy to find ingredients like chicken, vegetables, honey, and a few spices then boom you have the perfect dinner meal. This is an amazing healthy alternative to most dinner dishes, especially since it is homemade and you can control the quality of the ingredients used.
What kind of sauce do you put in a stir fry?
The homemade Honey Garlic Stir-Fry Sauce is definitely our favorite and we use it in so many other dishes. It is absolutely delicious with some flank steak, cooked in Mongolian style.
You can also customize the sauce, for example, skip the honey and add some brown sugar. Or replace the honey with maple syrup if you have allergies. Add more pepper flakes or even some chili paste for a spicier kick.
Honey Garlic Sauce ingredients:
Soy sauce
Chicken Broth
Minced Garlic
Minced Ginger
Pepper flakes
Rice vinegar
Sesame oil
Cornstarch
Honey
How do you make chicken stir fry?
First, decide what you will serve it with. It can definitely be served on its own, but since the sauce is so good, we recommend serving it over rice or noodles. You can use leftover rice or you can make your own.
To cook the rice, start off by boiling some rice and water in a pan over high heat. Add the rice and bring the heat down to medium-low and cover and simmer the rice until it is done. It will take about 20 to 25 minutes for the liquid to be absorbed.
Take soy sauce, brown sugar, and corn starch and stir it in a small bowl until the consistency is smooth. Then, mix some ginger, garlic, and red pepper into the sauce. Coat chicken so that it can marinate in the refrigerator for fifteen minutes.
Use one tablespoon of sesame oil and place it in a large skillet over medium-high heat. Cook and stir water chestnuts, broccoli, bell peppers, onions, and carrots until it's tender for about five minutes. Then remove vegetables from the skillet and keep it warm.
Take it out of the marinade and heat one tablespoon of sesame oil in a skillet over medium-high heat. Stir and cook the chicken until it is slightly pink inside (it will take a couple of minutes per side) then put the vegetables into the same skillet as the chicken. Put the heat to boil then cook and stir it until it is no longer pink in the middle and the vegetables are cooked as well. It should take about five to seven minutes. Serve this dish with rice and voila.
Stir fry variations:
Rather than using chicken replace it with shrimp or pork instead.
You can use any vegetables, personally, I like using green beans, snap peas, broccoli, mushrooms, and asparagus, or anything else.
If you don't want it to be spicy don't add in any pepper flakes. But if you want to make it a little spicier add some extra chili or hot sauce.
How to freeze chicken stir fry:
This meal makes great leftovers. You can totally use it for next-day lunches. But, you can also easily freeze it. All you need to do is transfer it to a Ziplock bag or a freezable container and place it in the freezer. It's great because it lasts up to six weeks in the freezer rather than four days in the refrigerator.
More Asian inspired dishes:
Slow Cooker Asian Chicken Noodle Soup
How to reheat Honey Garlic Chicken Stir Fry:
Personally, I find that the best way to reheat this is by putting it in a pan and searing it until it is warm or until you can see steam coming off of the food.
Or you can put leftovers into a medium-sized bowl. Place it in the microwave for three to four minutes. Take it out of the microwave and enjoy!