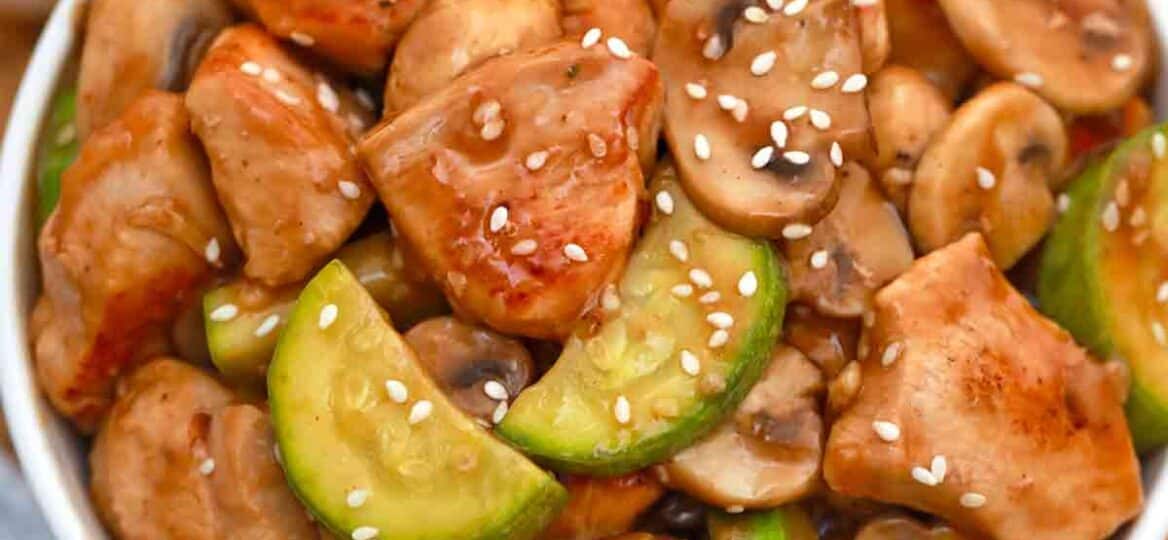 Panda Express Mushroom Chicken (Copycat)
Panda Express Mushroom Chicken tastes even better than the original and is ready in about 20 minutes. Juicy chicken is seared until golden, then tossed in a savory Asian sauce with tender veggies. Tastes like authentic Chinese takeout, except is homemade and much healthier!
If you love Asian-inspired flavors as I do, you have to try Moo Goo Gai Pan and the Best Hunan Beef. Also, learn How to Make General Tso Sauce from scratch while you're at it. That sauce takes stir-fries to the next level!
Panda Express Mushroom Chicken
Panda Express Mushroom Chicken is every bit as delicious as the original Chinese takeout. I dare to say that it tastes even better because it's all made from scratch using real and healthy ingredients. It's a weeknight favorite at my house because it's so easy to make and ready in no time.
Simply, marinate, sear, then sauté. In less than 30 minutes you have a delicious family dinner ready! The chicken is perfectly tender and juicy. Also, the zucchini and mushrooms are lightly coated with an amazing soy garlic ginger sauce. No more spending a ton of money on greasy take-out.
This recipe will satisfy your Chinese food cravings every time! Serve this Asian stir fry with white rice or brown rice, freshly steamed broccoli, or noodles.
What is Panda Express Mushroom Chicken?
It's a signature dish from the popular fast-food chain – Panda Express. The main components are meat, zucchini, and mushrooms. All of it is wok-tossed in a flavorful Asian sauce.
Also, it's one of the most popular items on the menu, and naturally, I just had to make my own version!
Is Panda Express Mushroom Chicken Healthy?
Yes! It has vegetables and a lot of lean protein. However, it also depends on the ingredients. For instance, use low-sodium soy sauce to reduce the amount of salt. Also, use good oils like avocado oil and olive oil.
But overall, making this recipe at home is a much healthier alternative to the restaurant version.
What goes into Panda Express Mushroom Chicken?
You'll need thinly-sliced chicken and mushrooms, plus zucchini sliced into half circles.
For the marinade, combine rice wine and soy sauce. Brown sugar for a hint of sweetness, and cornstarch as the thickening agent.
For the stir-fry sauce, mix together water, stock, and soy sauce. Rice vinegar tones down the saltiness, while oyster sauce adds umami. Grate some ginger and mince fresh garlic. Mix in cornstarch. For that deliciously nutty flavor, you'll need sesame oil as well.
How to sauté chicken to get the perfect sear?
Too many beginner cooks end up with pale meat stuck to the pan due to basic searing mistakes. It's not hard to get a perfect sear. Follow these tips:
Make sure the wok or pan is very hot: The oil should be so hot, it's shimmering. You'll hear a nice sizzle when you put the chicken into the pan. Also, if it's not hot, the meat will sit in the oil while it heats up and gets stuck to the work.
Shake off excess marinade: To get a good sear, let as much of the marinade drip off the meat. DON'T pour the liquid into the pan. The chicken will steam instead of getting seared.
Sear in small batches: Never crowd the pan. Because too much meat at the same time will lower the temperature of the oil. The pieces should not be touching. No overlapping and lay them in a single layer.
Don't keep moving the meat around: Be patient! Wait for 30 seconds to a minute before flipping the pieces of meat.
How to make Panda Express Mushroom Chicken?
Marinate: First, soak the poultry in the marinade mixture for half an hour at least. But to really get those flavors into the meat, leave it overnight.
Sear the meat: Brown the chicken in small batches, then transfer to a plate.
Sauté the veggies: In the same pan, sauté your vegetables until tender. Add the poultry back.
Stir-fry in sauce: Next, toss everything in the sauce mix until lightly coated and the sauce thickens.
Enjoy: Serve immediately with sesame seeds on top.
Recipe Variations and substitution:
Use other proteins: Try it with pork or beef. Both should be thinly sliced.
Use other vegetables: Feel free to add snow peas, carrots, broccoli, cauliflower, and other types of mushrooms.
Add nuts: For more texture and crunchiness, add toasted peanuts.
Make it spicy: Red pepper flakes or chopped jalapeno will add some heat to the dish. Just adjust the amount per your taste.
What to serve with Panda Express Mushroom Chicken?
Enjoy it with fluffy white rice or brown rice for a quick and filling meal.
Also, it goes great with a side of steamed broccoli and on top of soba noodles.
But for a full take-out style feast, try it along with Egg Fried Rice and the easiest Chicken Chow Mein!
Storing instructions:
The leftovers are still fantastic after a few days. Store in an air-tight container, keep in the fridge and consume within five days. If freezing, it can last up to two months.
More delicious copycat recipes:
Recipe Tips:
You can use cooking wine instead of rice wine.
Use thin-sliced thigh fillets instead of the breast for juicier meat.
Also, beef or pork can be used instead of poultry.
Remember to have a hot pan prior to stir-frying the ingredients.
To get a crispy chicken, do not touch it when frying. Leave it alone for about 1 to 2 minutes per side, until it gets that nice golden brown color.
Deliciousness to your inbox
Enjoy weekly hand picked recipes and recommendations