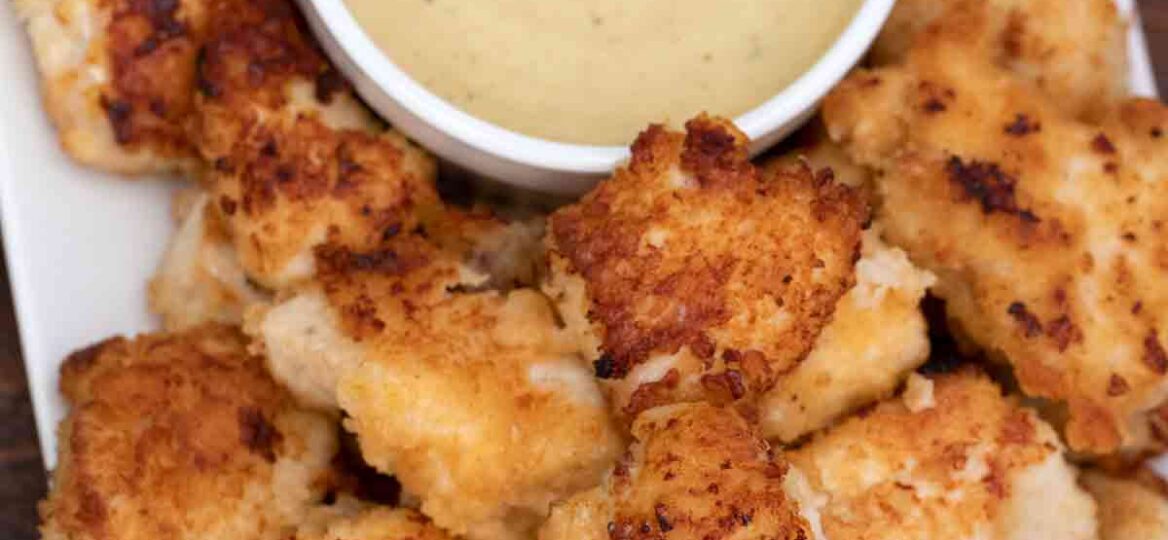 Chick-Fil-A Chicken Nuggets (Copycat) with Video
Chick-fil-A Nuggets are tender on the inside and crispy on the outside. This is a copycat version of the original restaurant recipe made with real chicken breast meat. They are super addictive, and making them at home is cheaper and healthier.
There is not a better way to enjoy these nuggets than dipping them in the original Chick Fil A mustard sauce. I love copycat recipes, and my other favorite ones are KFC Chicken, Wendy's Chilis, and Chipotle Black Beans.
Chick-fil-A Nuggets with Mustard Sauce
Our family is a huge fan of Chick-fil-A Chicken Nuggets. We tend to visit the spot a few times a month. My son just LOVES the nuggets, especially since they have a sweet flavor to them. The honey mustard sauce is just the perfect complement to them.
Instead of spending so much time and money going to the actual restaurant, I decided to make this recipe at home. It is quite an easy recipe to follow, and also healthier than the restaurant version. Not to mention, you will save a few dollars making it yourself.
I like to cut the meat into about 1-inch chunks, and then coat with flour. This way, when you cook it, the outside becomes crispy while the inside is super tender. Also, when fried in peanut oil, they get a golden-brown color. Just perfect t satisfy your Sunday cravings!
Follow us on Pinterest for more delicious recipes!
Chick-Fil-A Chicken Nuggets Ingredients:
To make this copycat dish, you will need the following ingredients:
Boneless chicken breasts – I love cutting the meat into bite-size, about 1-inch pieces.
Dill pickle juice – This is optional. I have made it with and without the pickle juice, and both version taste great. However, with pickle juice, the meat is more flavorful, and I tend to love it a bit more. But you can skip it.
Large eggs – Needed for coating the poultry with flour.
Milk
All-purpose flour – This makes the outside skip super crispy.
Peanut oil – The original, classic recipe calls for peanut oil, and this is what I always use. Other oils can also be used, such as canola oil.
Breadcrumbs – Another key ingredient for getting that crispy outside texture.
Seasoning – Salt, powdered sugar, black pepper, paprika, white pepper, and chili powder.
How to make Chick-Fil-A Chicken Nuggets?
What If You Don't Have Pickle Juice?
You can skip the pickle juice altogether. I have made this recipe with and without the juice, and both versions are phenomenal. The pickle juice simply adds another layer of flavor to it, but it is not that intense. So, if you do not have it in your fridge, feel free to skip it. Also, you can use buttermilk instead.
Can I Bake Chick-Fil-A Chicken Nuggets Instead Of Fry Them?
Absolutely! Baking is another alternative to frying, and a much healthier one! The only thing with baking is that the texture will not be as crispy. Other than that, you will end with an equally delicious copycat nugget. To bake, follow the same recipe steps up to the point of frying the nuggets.
Then, preheat your oven to 425 degrees F. Line a large baking sheet with parchment paper, and lay the coated pieces on the sheet. Bake them for about 20 minutes, until golden brown color.
WHAT OIL DOES CHICK-FIL-A USE?
The classic recipe calls for peanut oil. It works the best for frying the poultry, and it also has a mild, but distinctive flavor, which perfectly complements the meat. In addition, peanut oil has a high smoke point of 450 degrees F, making it ideal for frying.
What is in the Chick fil a sauce?
Their sauce is another signature dish, that just goes hand in hand with the nuggets. The dipping sauce is made with honey, mustard, mayonnaise, barbecue sauce, and lemon juice. You can find the full copycat sauce recipe here.
Looking for more Copycat recipes?
How to store the Nuggets?
Refrigerate: If you have leftovers, refrigerate them using an airtight container for up to 4 days.
Freeze: You can also make a larger batch and freeze for months to come. Use a freezer-safe container, or zip-top freezer bag, and freeze them for up to 3 months.
Reheat: When ready to serve, simply pop the chicken into the preheated oven at 400 degrees F, and bake them for about 8-10 minutes.
Recipe Tips:
As stated above, pickle juice is optional and can be skipped. It has a distinct and rich flavor that complements this dish a lot. I love the taste and tend to use it in my recipe. However, if you do not have it in the fridge, feel free to skip it.
Also, you can replace pickle juice with buttermilk.
The chicken should be done when its internal temperature reaches 165 degrees F. Use a meat thermometer to check its internal temperature.
To get a super crispy texture, I highly recommend frying in batches, and avoid crowding the pieces together.
Similarly, once fried, do not drain the poultry on a paper towel, as it will soften them up.
Chick-fil-A Nuggets Copycat
Ingredients
For the Nuggets:
2

skinless and boneless chicken breasts

cut into 1-inch pieces

1

large egg

beaten

1/2

cup

milk

1/2

cup

dill pickle juice

optional or use more milk

1

cups

all-purpose flour

1/4

cup

plain breadcrumbs

2

tablespoons

powdered sugar

1

teaspoon

paprika

1

teaspoon

white pepper

1/4

teaspoon

chili powder

1

teaspoon

salt

peanut oil

or canola oil for frying (about 2 cups depending on pan size)
For Honey Mustard Dipping Sauce:
1/2

cup

mayonnaise

2

tablespoons

yellow mustard

3

tablespoons

honey

use maple syrup if allergic

1

tablespoon

BBQ sauce

optional

salt and pepper to taste
Instructions
To make the honey mustard dipping sauce
In a small bowl whisk together all the sauce ingredients and set aside in the fridge.
To make the nuggets:
In a large bowl, combine chicken with milk, pickle juice (if using), and the beaten egg. Cover with plastic wrap and chill for 1 hour or better overnight.

Add the breadcrumbs to a food processor and pulse a few times.

In a large shallow bowl combine flour with breadcrumbs, powdered sugar, paprika, white pepper, chili powder, and salt. Stir to combine.

Place a large skillet over medium-high heat and add the oil.

Once the oil is hot, dip the chicken pieces into the flour mixture and then place in the pan.

Work in batches, careful to not overcrowd the pan. Cook chicken until evenly golden and crispy, about 3-5 minutes.

Transfer fried chicken pieces to a cooling rack.

Serve immediately with honey mustard sauce.