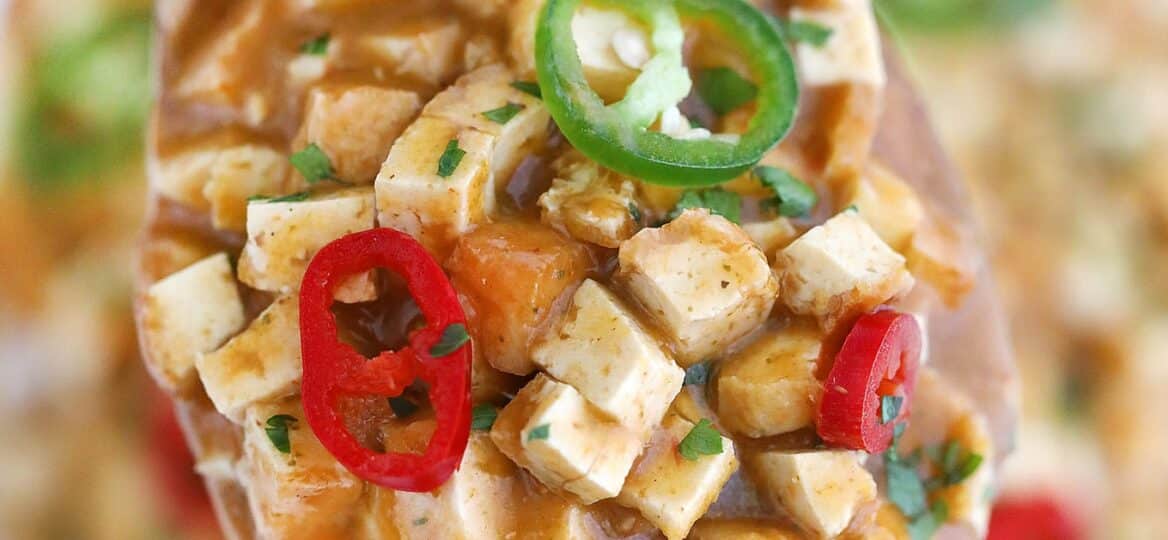 Chipotle Sofritas Copycat [video]
Chipotle Sofritas is a super easy vegan dish that even non-vegans will love! This recipe tastes just like the original where tofu is braised in authentic Mexican spices, and served over rice, burritos, tacos, or salads!
You know that we love Mexican cuisine! Try this recipe with the other copycat recipes of Chipotle dishes like the Cilantro Lime Rice, Black Beans, and Barbacoa Beef! Heck, this recipe is even great on some Taco Pasta!
Chipotle Sofritas is surprisingly tasty and full of Mexican flavors, but so easy to prepare! I already have a Chipotle Chicken Buritto Bowl recipe that is packed with flavors. But this is a meatless version and equally tasty and delicious. In addition, it is very budget-friendly, and you can easily make a larger batch for later use.
Tofu is abundant and affordable which makes this recipe super easy to make. You can buy a block of tofu at any local grocery store, and use it in this recipe. The best part is that it does not add up to calories that much. Enjoy the savory dish without having to think of your waistline!
The restaurant developed the recipe with the end goal of making the bland tofu taste like meat and appeal not just to vegans but also to meat lovers. The marinade itself is composed of different vegetables, spices, and herbs that make this dish extremely flavorful. It is so delicious that you will not mind that it is not real meat.
If you like this dish, then, read on for our copycat recipe and enjoy restaurant-quality food at home! Not only can you control the ingredients that go into this recipe, but it would also be a lot cheaper. The best part about this dish is that you can use it on pretty much anything, such as burrito bowls, tacos, and salads.
Ingredients needed:
To make this dish you will need the following ingredients. For the exact measures, please see the recipe card below
Tofu: I go with firm tofu here as it works the best. Also, I would recommend going with the organic version as it is more natural
Veggies: Fresh bell peppers, tomatoes, yellow onion, garlic, jalapeno or poblano pepper, and chilies
Olive oil
Seasoning: Chili powder, dried oregano, paprika, salt, cumin, and pepper
Adobo sauce: This adds some flavor and heat to the dish
Freshly chopped parsley
Lime or lemon juice
Red wine vinegar
How do you make Copycat Chipotle Sofritas recipe?
Prepare the tofu. First, use the extra firm type for this and press it to remove excess liquid. After that, in a large skillet, add some olive oil. Then, over medium-high heat, brown the tofu on both sides for about 2-3 minutes per side. Once done, drain excess oil by putting it in a paper towel. Next, chop into smaller pieces of about 1/4 inch (or pulse in a food processor).
Prepare the marinade. Secondly, in a food processor, pulse the marinade ingredients.
Combine and marinate. After that, place the bean curd in a bowl, then, add in the marinade. Set it aside for at least half an hour or overnight in the fridge for best results.
Braise. Finally, add water and simmer the mixture on medium-high heat in a skillet until desired consistency.
How to press tofu?
First, wrap the extra-firm tofu in a paper towel and place it on a large plate or bowl. Then, set another heavy dish on top of it such as a bowl full of water, or a large can. You can press gently until on it.
Another alternative would be to use a tofu presser. This is a quick and handy kitchen tool to have.
After you have pressed it, slice it into small pieces for cooking.
How to serve Chipotle Sofritas:
You can serve this as is, with some freshly made guacamole, refried beans, over brown rice, or with Mexican salad.
Similarly, this dish can also be enjoyed in a burrito bowl, wraps, quesadillas, and with a bean dip.
This dish is great paired with some Mexican drinks like Horchata, Strawberry, or Blueberry Margarita.
It is fantastic when paired with some fresh pico de gallo.
Make lettuce cups with it or add it on top of some salads, like this Mexican Black Bean Salad or Grilled Chicken Fajita Salad.
Storing Recommendations:
Fridge: You can make it in advance, and the flavors intensify the longer it sits. Also, make sure to store it into an airtight container, it will stay good for 3-4 days if properly refrigerated.
Freeze: Hence, this recipe is also a great freezer meal. In order to freeze the leftovers, first, let them fully cool. After that add them to a freezer-safe Ziploc bag or freezer-safe sealed container. Freeze for up to 3 months.
Thaw: When ready to thaw, just remove from the freezer and place in the fridge overnight.
Reheat: Simply reheat in a skillet or microwave for a few minutes when ready to serve.
Frequently Asked Questions:
What is Sofritas' meat at Chipotle?
It makes use of tofu, which is also sometimes called bean curd. They use GMO-free ones that come from Hodo Soy. Prepared in a way to have a "meaty" vegan option on the menu.
Is this dish vegan?
Yes, it is! Vegans and vegetarians can enjoy this! Along with peas, nuts, and some protein-rich veggies like broccoli and kale, bean curd is one popular source of protein especially for vegans and vegetarians alike.
Is it healthy?
Bean curd is its main ingredient and it has many health benefits. It has no cholesterol, has lots of iron, calcium, and protein, and it is gluten-free, too.
Sofritas contain 150 calories according to Chipotle. Therefore, it is quite a healthy dinner!
But while it does not amount to so many calories unlike the other fillings in their menu, it has a high sodium content. The key is to eat everything in moderation and in balance.
What else can I add to it?
Feel free to modify it based on your own taste. Some great additions are:
Black beans
Pinto beans
Garnish it with sofritas sauce
Hot sauce
Adobo pepper
Tomato paste
More Tex Mex recipes to try:
Recipe Tips:
Make sure to use pressed tofu for this recipe. It helps eliminate excess water and allows flavors to seep in. Do this by first draining it and wrapping it in a paper towel, then, place a heavy object on top for at least 15 minutes. Or, you can use a tofu press for this.
Extract the adobo sauce from the canned chipotle chilis in adobo sauce by first straining the sauce and then, press on the chilis to extract more.
Alternatively, you can use chipotle peppers.
Feel free to garnish it with sour cream, or corn salsa.
Also, if you cannot take the heat, feel free to lessen or omit some of the hot peppers. You can simply double the bell peppers to get the peppery flavor without adding more heat.
Deliciousness to your inbox
Enjoy weekly hand picked recipes and recommendations