How to Make Mexican Horchata
Horchata is a refreshing and milky beverage made with rice and flavored with cinnamon and vanilla! Make this sweet treat at home with this easy recipe!
If you are looking for beverage options, you might like our recipes like these ones: Orange Julius, Slow Cooker Apple Cider, and Cherry Kiwi Iced Tea.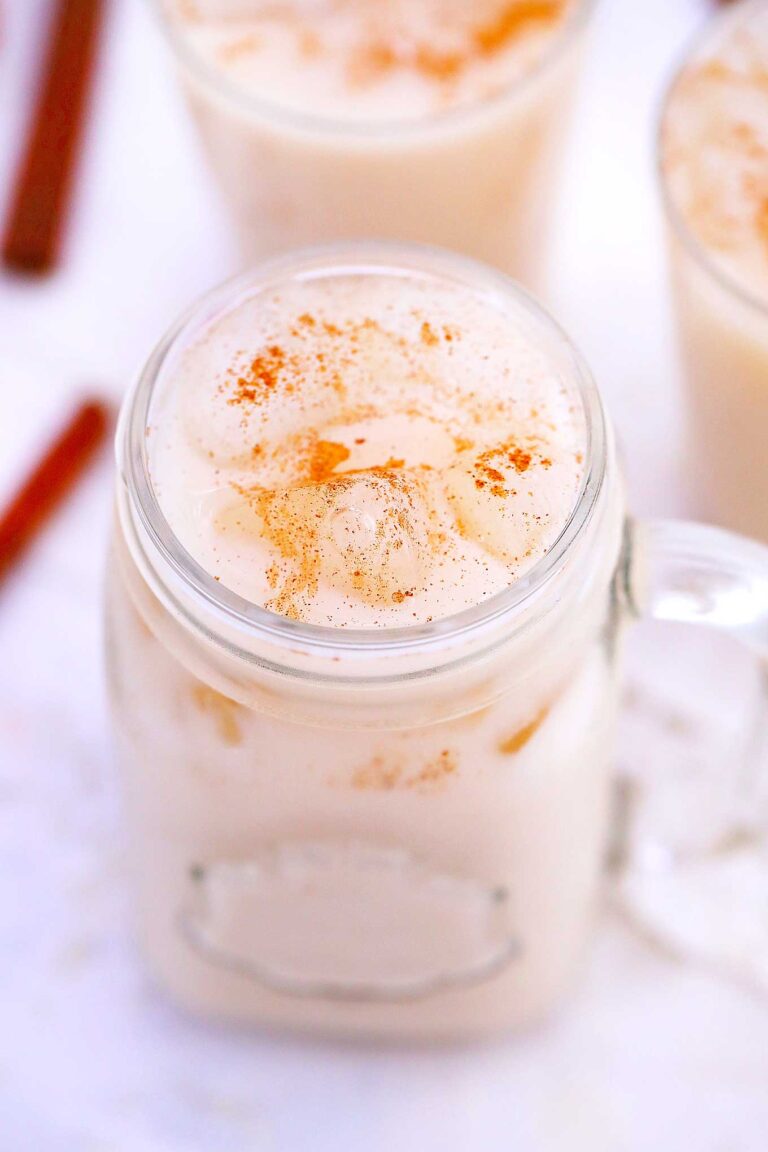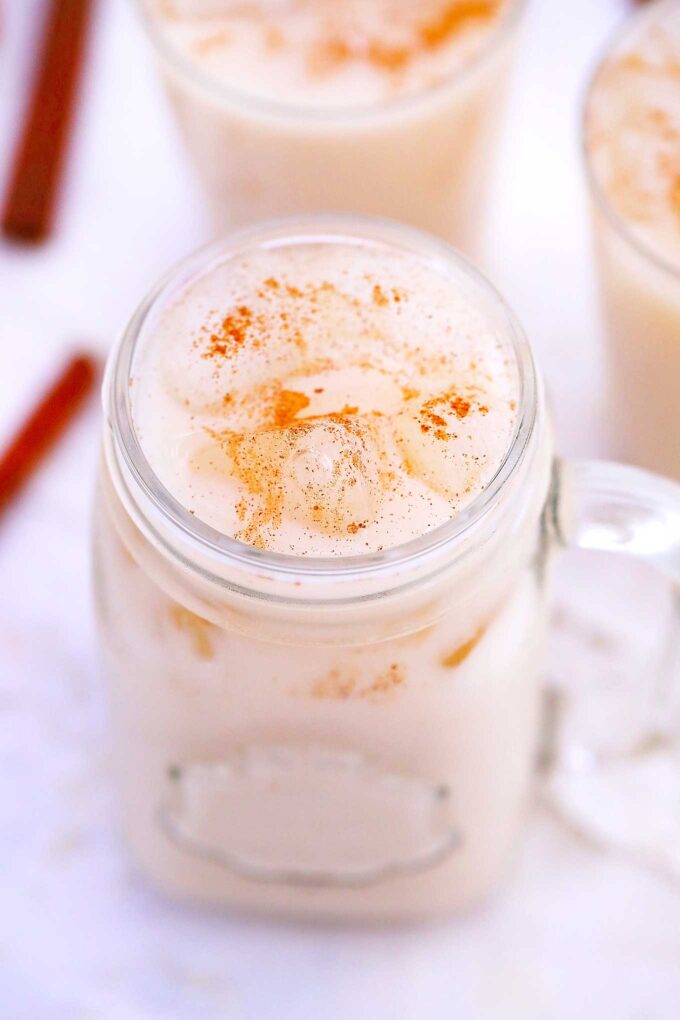 Classic Horchata Recipe
Horchata fits perfectly in your Mexican themed parties! This makes for a sweet refreshing dessert or beverage as you feast on other savory entrees, perfect for the hot weather this summer.
It is a nice addition to your menu rotation. Used to coffee, teas, sodas, and juices? Well, this drink is not like any of those and it is a welcome change.
If you like ordering this in restaurants, and think that this is difficult to make, then, this recipe is for you! You must plan in making this beverage because of the preparation that the rice requires. But other than that, everything is easy breezy!
What is horchata?
It is the term being used to describe drinks from ground nuts, seeds, and grains. Originally, in Valencia, tiger nuts make up this beverage.
But in this recipe, we will use rice. Rice imparts a rich flavor which is even made richer with milk. The cinnamon also adds more flavor.
What does horchata taste like?
It is creamy and milky, and has a flavor similar to rice pudding!
Where to buy horchata?
Often, you can buy it in taquerias and other Mexican restaurants. There are instant packs already in the groceries, too.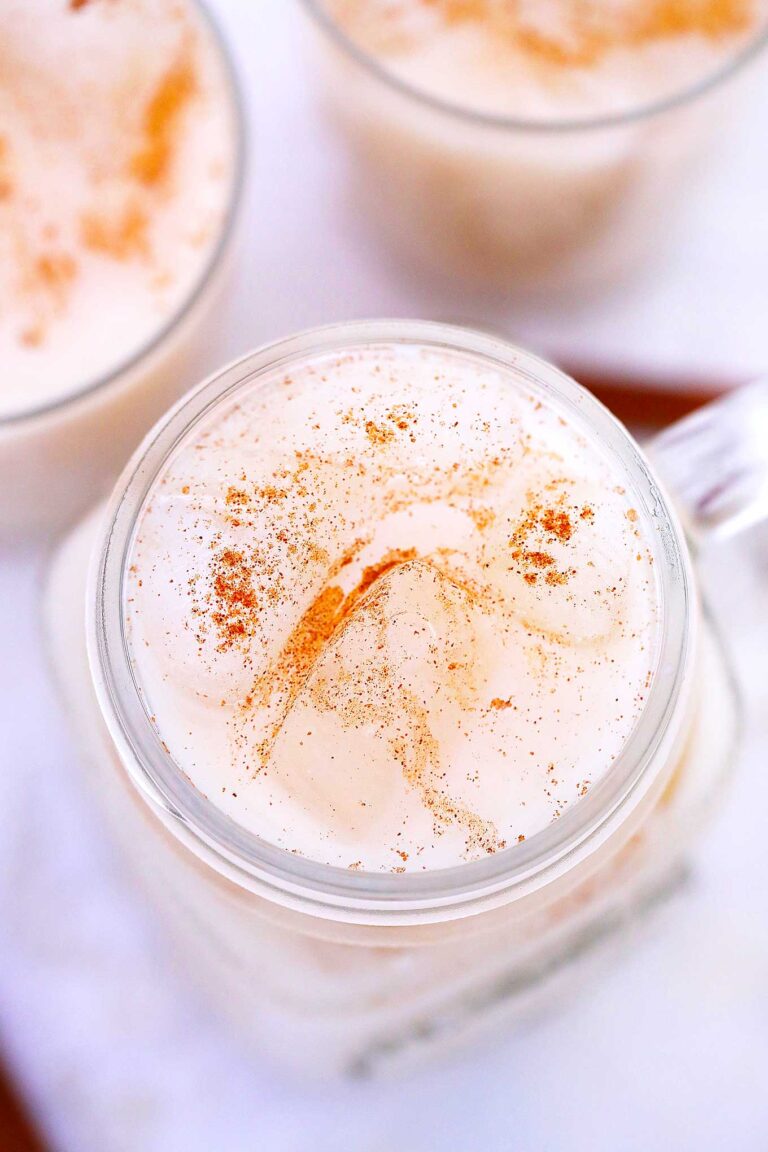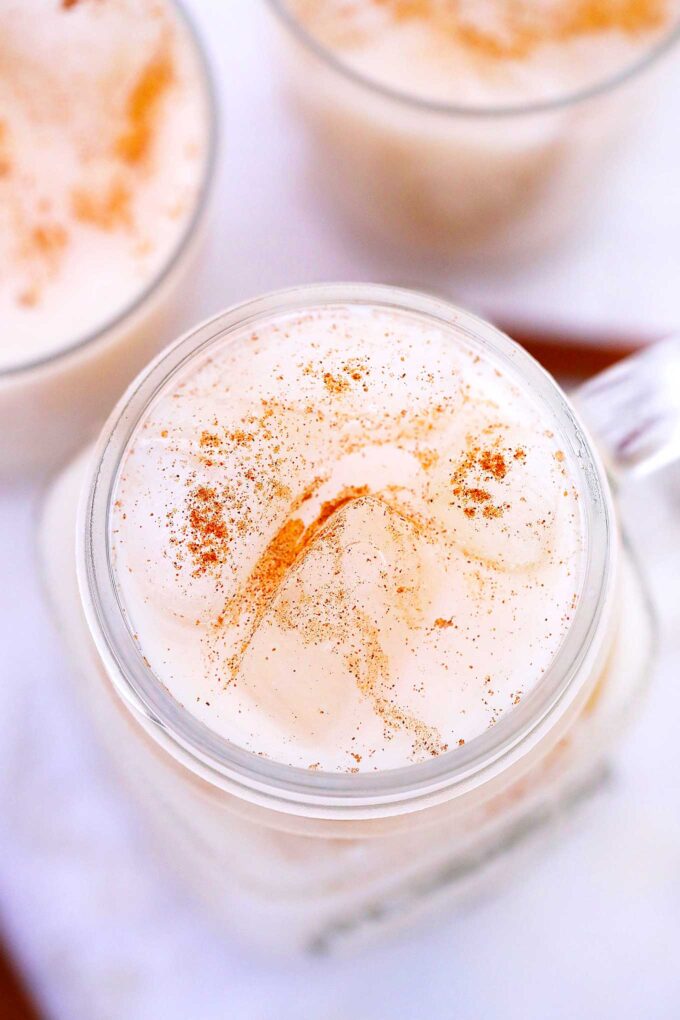 How to make horchata?
Soak: Soak rice and cinnamon sticks in water for at least 8 hours or overnight.
Blend: Remove the cinnamon sticks and blend the rice with the water in a blender. Add cinnamon powder and brown sugar (optional) and blend well.
Screen: Remove rice grains by pouring the blended mixture through a sieve and then through a cheesecloth.
Mix: Put the strained mixture in a pitcher and stir in the rest of the ingredients.
Serve: Garnish with some ground cinnamon and serve cold over ice.
Horchata variations:
Make into a smoothie: Add Greek yogurt and ice cream and top with whipped cream.
Latte: Add a shot or two of espresso.
Brown Rice: Use brown rice for a more nutritious version.
Alcohol: Add a shot of rum and whiskey to make it alcoholic.
What's the difference between Salvadorian and Mexican horchata?
The Salvadorian version has ground jicaro seeds aside from the rice that the Mexican version has. Both versions have cinnamon, but the Salvadorian has many more ingredients including ground cocoa, nutmeg, and tiger nuts.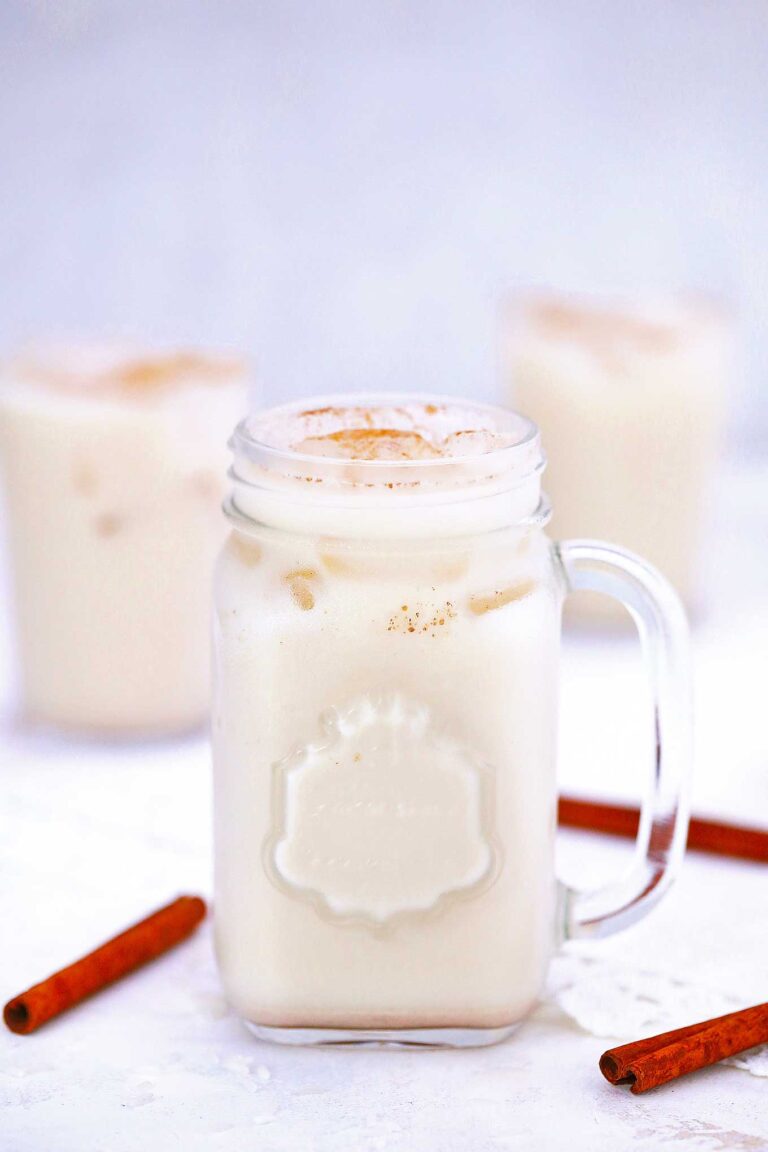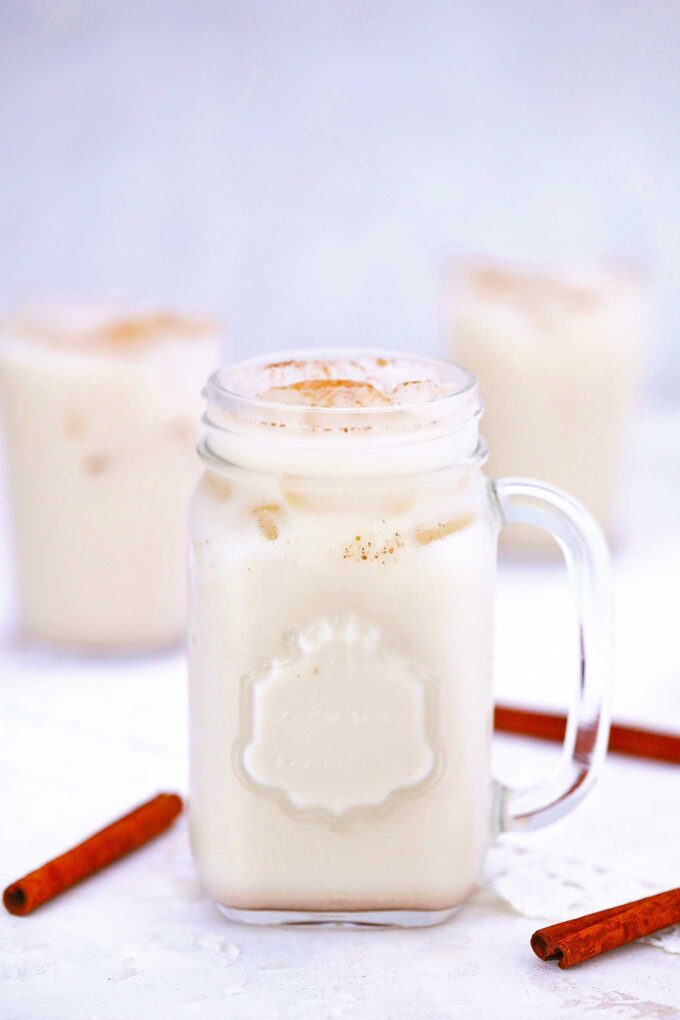 Is horchata good or bad for your health?
It is good for your health because it has lots of fiber, and it contains potassium, calcium, sodium, and arginine. All of which are good for the body.
It is a refreshing drink that is caffeine-free and lactose-free (if you leave out the milk). It also has fewer calories than most sodas at 54 calories per 100 grams.
However, it is bad for your health if your serving is made with nuts or seeds that you are allergic to. Make sure to know the ingredients before ordering. What's even better is if you can make it on your own by following this recipe! It will save you the hassle and the risk.
Recipe Tips:
Initially, add more sugar than you think is necessary. This is to make sure that it will not be bland when the ice melts and dilutes your beverage.
Instead of grinding the rice in the blender, you can use rice flour instead.
If you do not have a blender, a food processor works just as perfectly.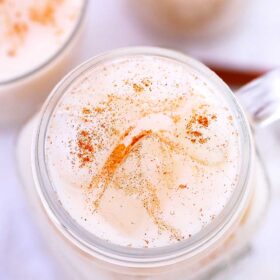 Mexican Horchata Recipe
Horchata is a refreshing and milky beverage made with rice and flavored with cinnamon and vanilla! Make this sweet treat at home with this easy recipe!
Save
Share
Print
Pin
Rate
Ingredients
1 1/4

cups

white rice

(uncooked and rinsed)

5

cups

water

3

cinnamon sticks

1/4

teaspoon

ground cinnamon

(plus more for garnish)

1

cup

unsweetened milk

(any milk of your choice will work)

1/3

cup

pure maple syrup

(plus more to taste)

2

tablespoons

brown sugar

(optional)

1 1/4

tsp

pure vanilla extract

Ice cubes
Instructions
Using a rice colander, wash and drain the rice.

Add rice to a large bowl with cinnamon sticks and 5 cups of water. Cover with plastic wrap and soak overnight in the refrigerator or for at least 8-10 hours.

After the rice has soaked, discard the cinnamon sticks and transfer the rice and water mixture into a blender.

Add 1/4 teaspoon cinnamon and brown sugar (if using) and blend on low for 3-5 minutes until well blended and smooth.

Place a fine-mesh sieve over a medium bowl and pour the rice mixture through it two times. Finally, pour the mixture one more time through a cheesecloth.

Transfer the strained mixture into a pitcher, add milk, pure maple syrup, and vanilla, stir well to combine. Taste and add more maple syrup if needed.

To serve, pour over ice and garnish with ground cinnamon on top.
Nutrition
Calories:
336
kcal
|
Carbohydrates:
73
g
|
Protein:
5
g
|
Fat:
1
g
|
Saturated Fat:
0
g
|
Cholesterol:
0
mg
|
Sodium:
45
mg
|
Potassium:
211
mg
|
Fiber:
2
g
|
Sugar:
22
g
|
Vitamin A:
125
IU
|
Calcium:
161
mg
|
Iron:
1
mg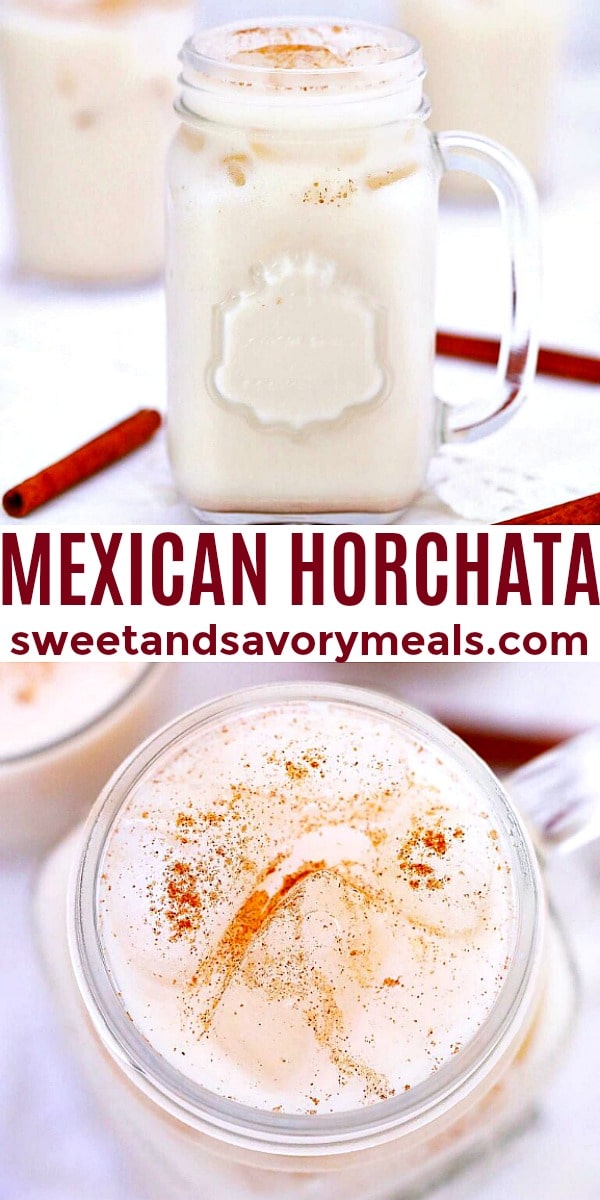 More recipes you might love