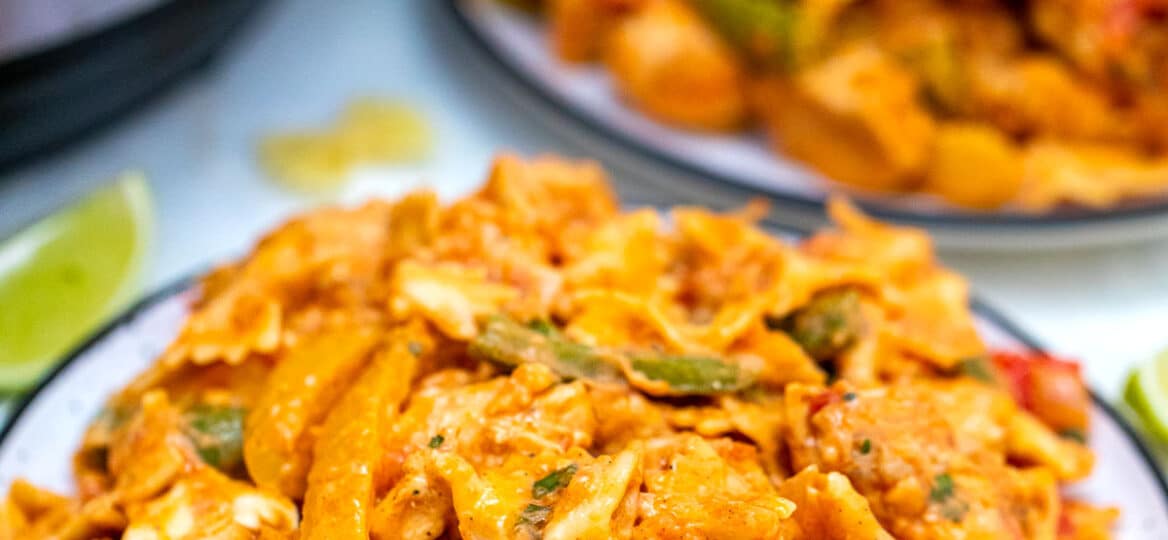 Instant Pot Chicken Fajita Pasta
Instant Pot Chicken Fajita Pasta features the bold Tex-Mex flavors of chicken fajitas in a hearty, creamy pasta dish. Let the IP work its magic for a quick and easy weeknight dinner!
We're obsessed with Mexican food around here. So when I have a bit of time, I turn the meal into a fiesta by serving it with my Chicken Quesadillas, Tortilla Soup, and Mexican Black Bean Salad!
Pressure Cooker Chicken Fajita Pasta
Instant Pot Chicken Fajita Pasta is the answer when you're craving Mexican food. It's everything you love about chicken fajitas— the light protein, the slightly sweet crunch of bell peppers, and the smoky, complex flavors of fajita seasoning.
Add some pasta, smother it in a creamy sauce, and you've got a rave-worthy dish. The instant pot method means it all gets done in a snap.
Consider making a larger batch if you're serving it to a group. Thank me later— the only bad thing about this recipe is that everyone tends to ask for seconds!
What is fajita?
The word "fajita" originates from the Spanish word "faja," which means girdle or belt. Culinary-wise, it refers to a skirt steak (a cut of beef resembling a belt), the traditional meat of choice for the dish.
Today, they are known as grilled meats served on a corn or flour tortilla. It's typically served with grilled bell peppers on a cast-iron pan with grated cheese and sour cream.
The simple combination of grilled meat, vegetables, tortilla, and fajita seasoning is so flavorful, it became the inspiration of many creative dishes. Think chicken fajita crunch wraps, rice bowls, salads, pizzas, and of course, my version of Instant Pot Chicken Fajita Pasta!
Can you cook pasta in the IP?
Yes, and it's one of my favorite ways to do so! I never have to babysit the pasta. No stirring, no overflowing pot, and after a few minutes, I'm ready to serve my pasta dish.
Ingredients for Instant Pot Chicken Fajita Pasta
This dish has such a fantastic, complex flavor profile. It's easy to assume it has a lot of ingredients. Don't worry; I bet you already have some of these in your pantries, such as olive oil, garlic, onion, salt, and pepper.
You also need fajita seasoning, boneless chicken breasts, bell peppers (any color is okay, but I like how beautiful the dish looks with red, green, and yellow peppers), heavy cream, and chicken stock.
Finally, I like using bow tie pasta for this since the grooves hold the sauce well, but substitute whatever small size dried pasta you have on hand. That's it!
How to make Instant Pot Chicken Fajita Pasta
Prepare the ingredients. Cube the chicken, dice and slice the vegetables, measure out the seasonings, and get the rest ready.
Brown. Season the meat with the fajita seasoning. Use the IP's saute function to brown it, then set aside. Do the same for the vegetables.
Cook the pasta. Saute the garlic and onions, then deglaze the pan with the broth. Stir in the dried bowtie, cream, tomatoes, and set the IP to cook. Once done, add the chicken and vegetables, then stir everything through.
Serve. Stir in or grate the cheese on top if using, and serve.
Can you make it ahead?
Feel free to do so! To cut down on the prep work, you can cut the vegetables the day before. The flavors fuse together so well after being refrigerated, so it's perfectly fine to make this dish a day or two ahead.
How to freeze Chicken Fajita Pasta?
Let it cool down completely before transferring to an airtight container. Keep it frozen up to 3 months. Reheat by microwaving on low for a few minutes.
Serving Suggestions:
This dish can stand as a main on its own. You can dress it up with shredded cheese and cilantro to make it pop.
You can also serve it with a side salad for a well-rounded meal plus some extra protein.
More Instant Pot Recipes:
Recipe Tips:
Add some heat with chopped jalapenos.
Instead of bow tie pasta, you can use other types such as macaroni, ziti, shell, penne, and rotini.
Try the dish with tender strips of beef.
Experiment with cheese like Cheddar and Mexican cheese.
Deliciousness to your inbox
Enjoy weekly hand picked recipes and recommendations