Instant Pot Lamb Stew is comfort food at its finest! It is hearty, tender and full of flavor, and the perfect dish to serve for St. Patrick's Day or Easter!
It is perfect for the cold season! A bowl of this dish will warm anyone up. If you are looking for more dishes that can help you combat the cold, check out my recipes for Chinese Hot and Sour Soup, Slow Cooker Cabbage Roll Soup, and Ham Split Pea Soup.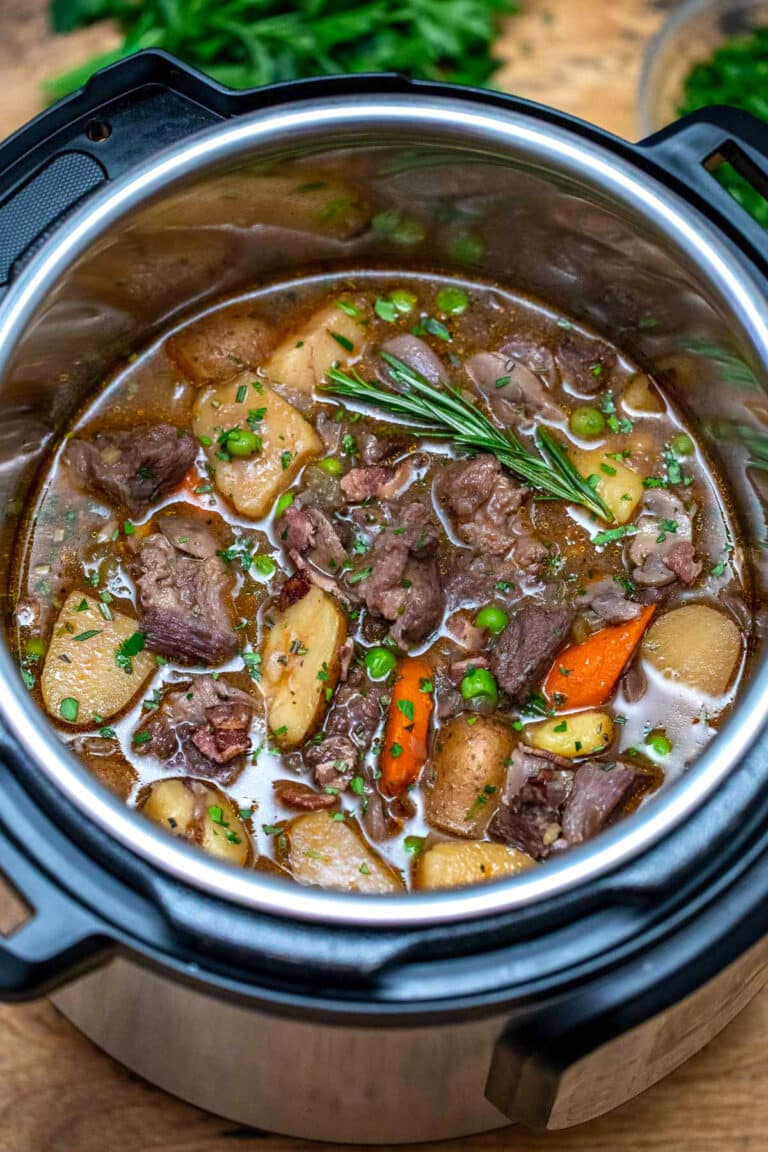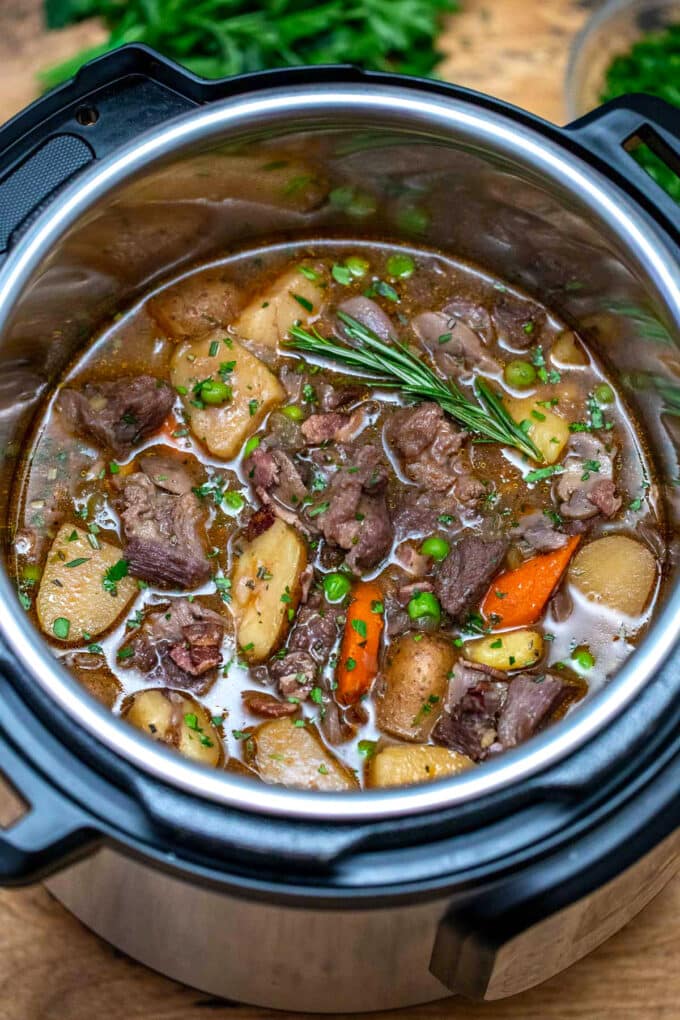 Pressure Cooker Lamb Stew
Instant Pot Lamb Stew is not only delicious, but it also holds significant cultural importance among the Irish. This Irish stew is traditionally made with mutton as well, but never beef.
Lamb meat is more widely consumed in Mediterranean cuisine. It has more calories than beef and could even be fatter. But all you need to do is trim off the fat and you will get meat that is leaner than beef.
It even has a better protein profile than beef. So, overall, it is a good kind of meat to put in any dish, not just this one. It is tender and stewing will render it easier to chew and digest. The use of the IP in this recipe makes it even quicker to tenderize.
The traditional version only has root vegetables and water in addition to the meat. But it has come to evolve into a richer and heartier version over the centuries.
In this recipe, you will see a lot of vegetables among the ingredients which all contribute a nice balance to all that meaty goodness.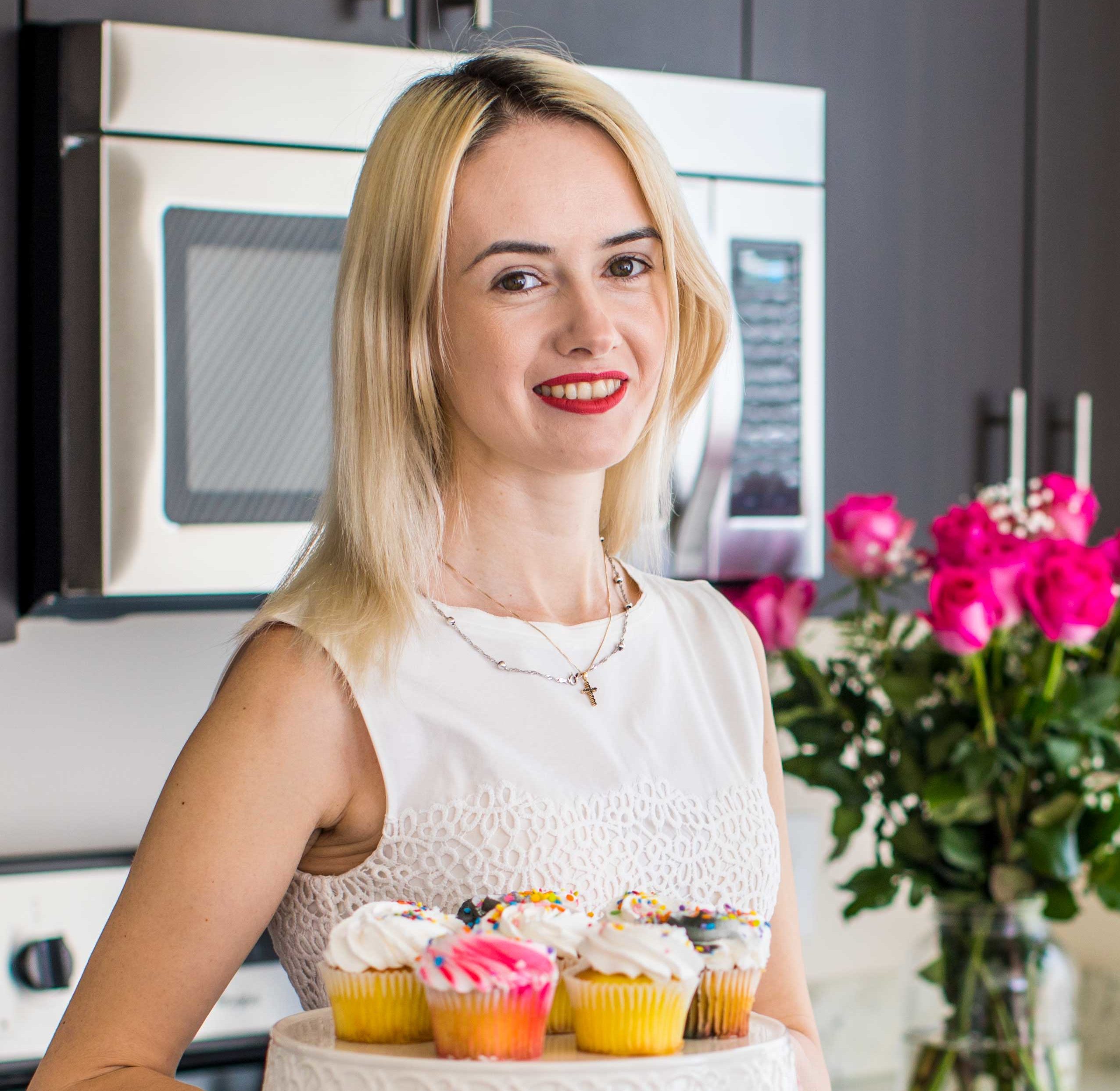 Follow us on Pinterest for more delicious recipes!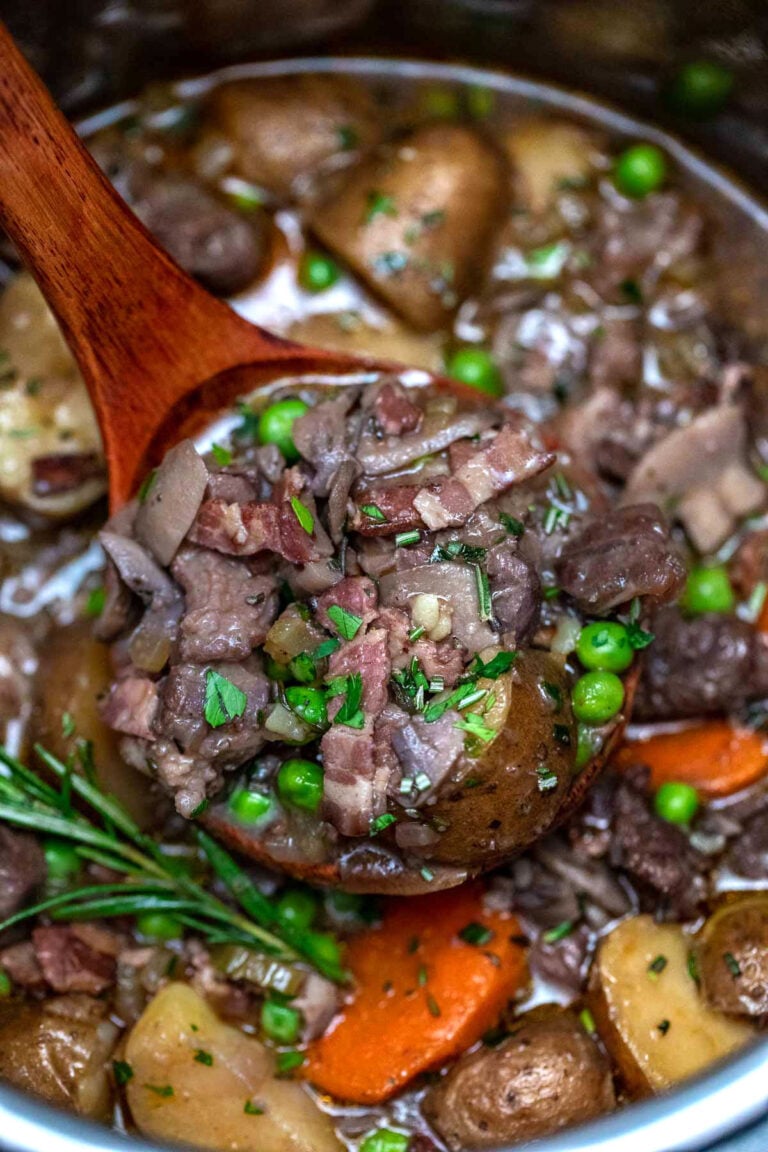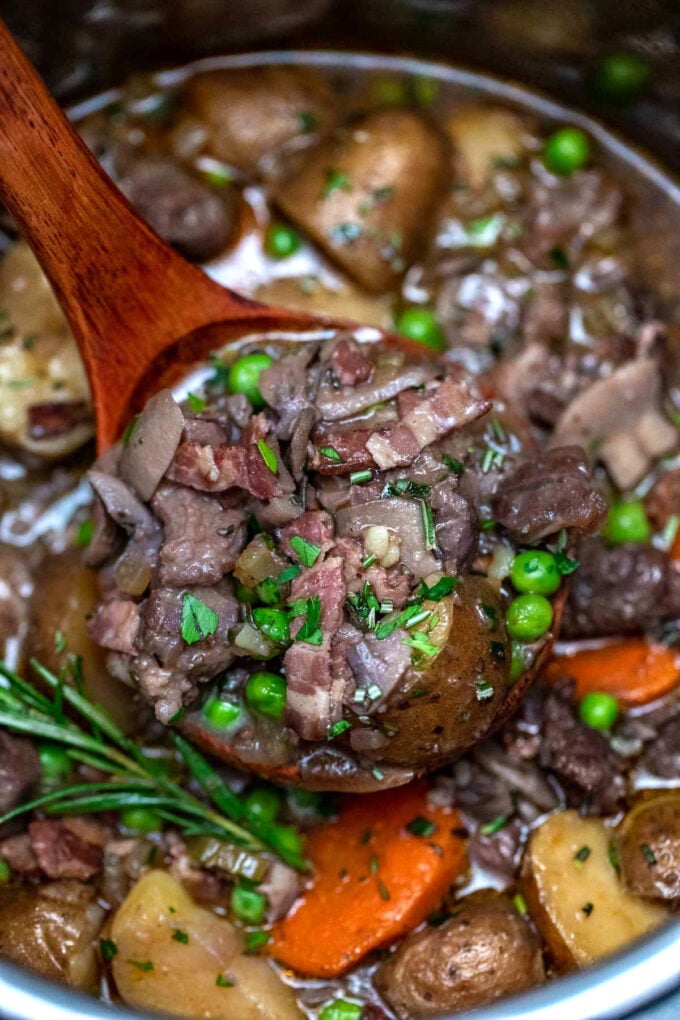 What is the best cut for Instant Pot Lamb Stew
Any cut will do but the best and popular choice is the shoulder cut. It may be tough because it gets exercised more than other parts, but it does not matter in stewing because of the lengthy cooking time.
So, even if you choose the tougher parts, your dish will still have tender meat in it. Tough cuts tend to be cheaper, too.
But of course, if you are pressed with time, then, you are in the right place! This Instant Pot recipe is the solution to shorten the cooking time.
How to make Instant Pot Lamb Stew
Brown: Use the sauté function of the IP to cook the bacon first, set aside after. Then, season the meat and cook it until brown and set aside.
Deglaze: Using some red wine and a wooden spot deglaze the pot.
Add: Then, saute the onion and garlic and add in the rest of the ingredients, including the lamb meat and the bacon.
Cook: Set it to cook for 30 minutes followed by a 10-minute natural pressure release.
Serve: Then, garnish with fresh parsley and serve warm.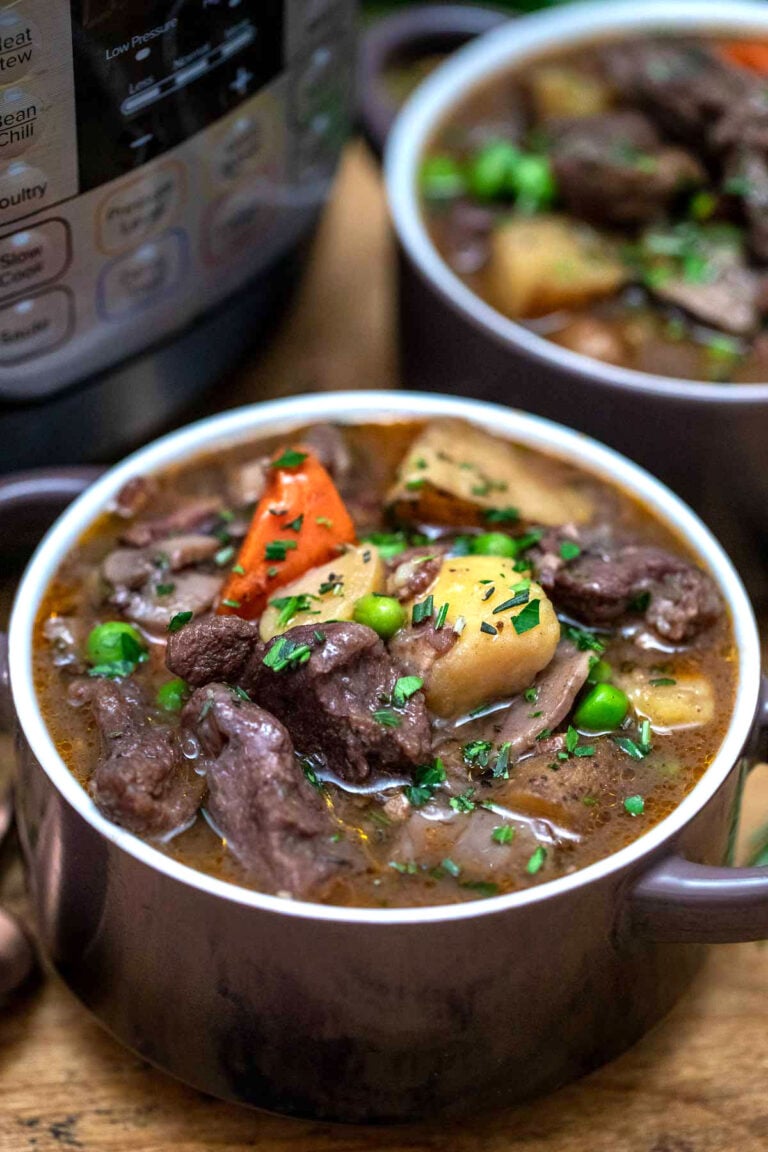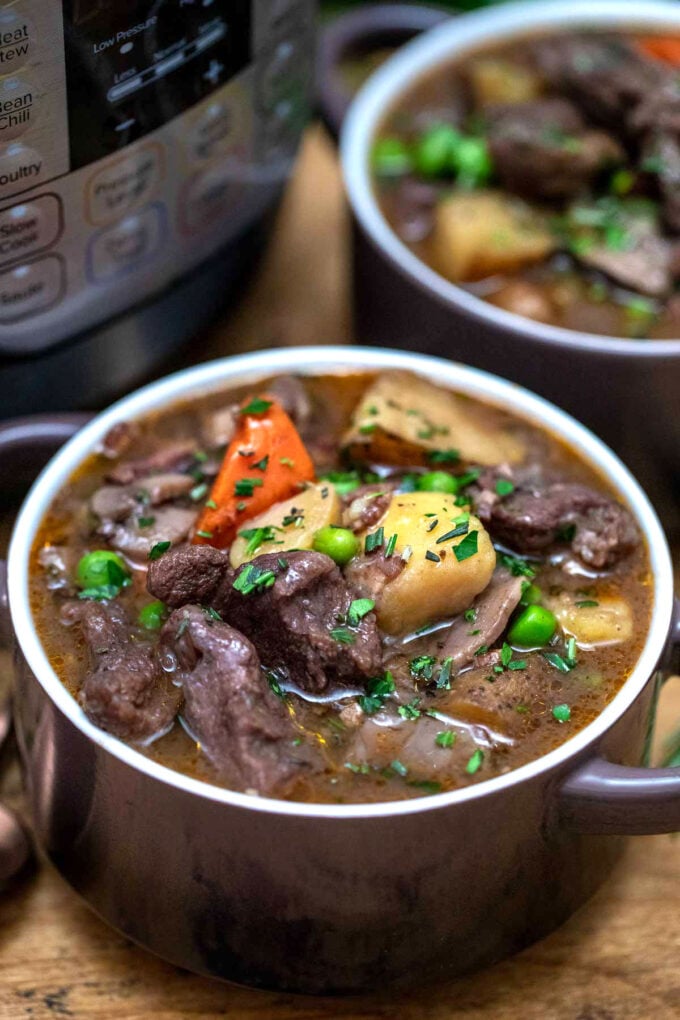 Recipe Variation
Here are some suggestions:
Use the Guinness stout beer instead of red wine. You can follow this IP Guinness Beef Stew recipe and just substitute the meat with lamb.
If you choose not to do this in the IP, you can go to this link for the stovetop version.
Stews taste great when all the flavors are extracted as it is in this slow cooker version.
What to Serve with Instant Pot Lamb Stew
It is best served over mashed potatoes or with some beer bread. You can serve it with white rice, brown rice, or quinoa.
How to Store:
Refrigerate: This dish even tastes better the next day. You can choose to store it first in the fridge once it has cooled completely. It will stay good for up to 4 days.
Freeze: If you want to have a stash of this in the freezer, transfer it to freezer bags and freeze for up to 3 months.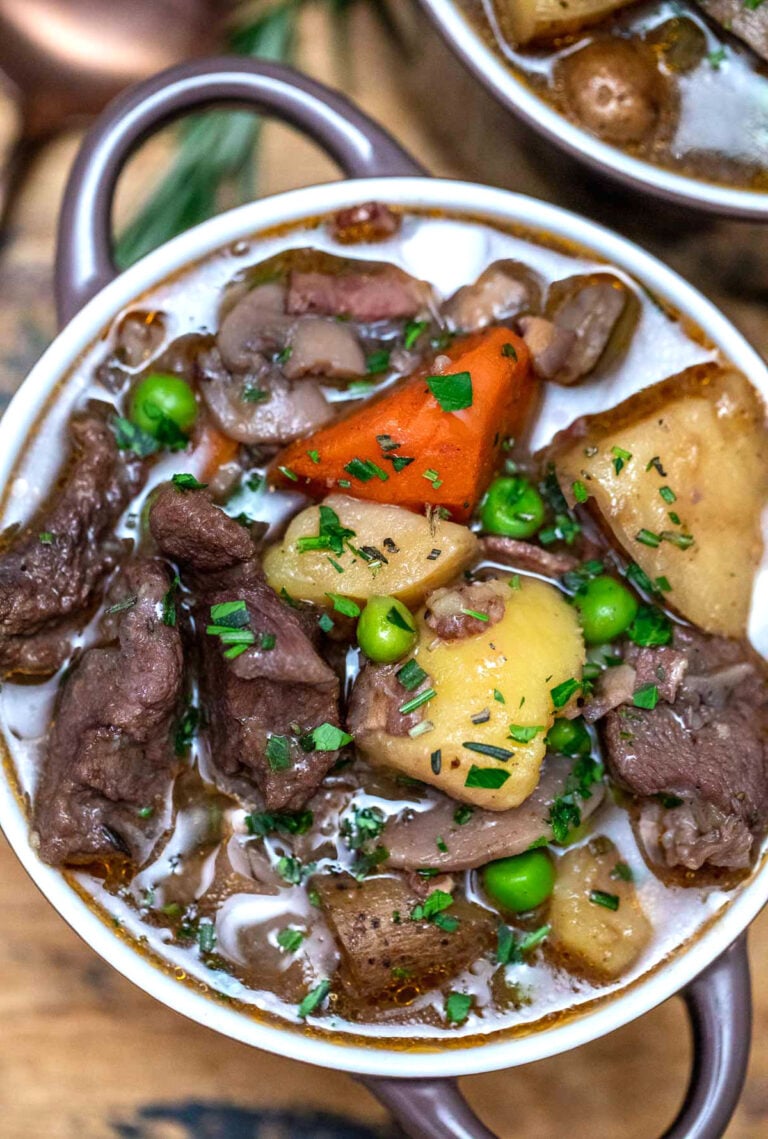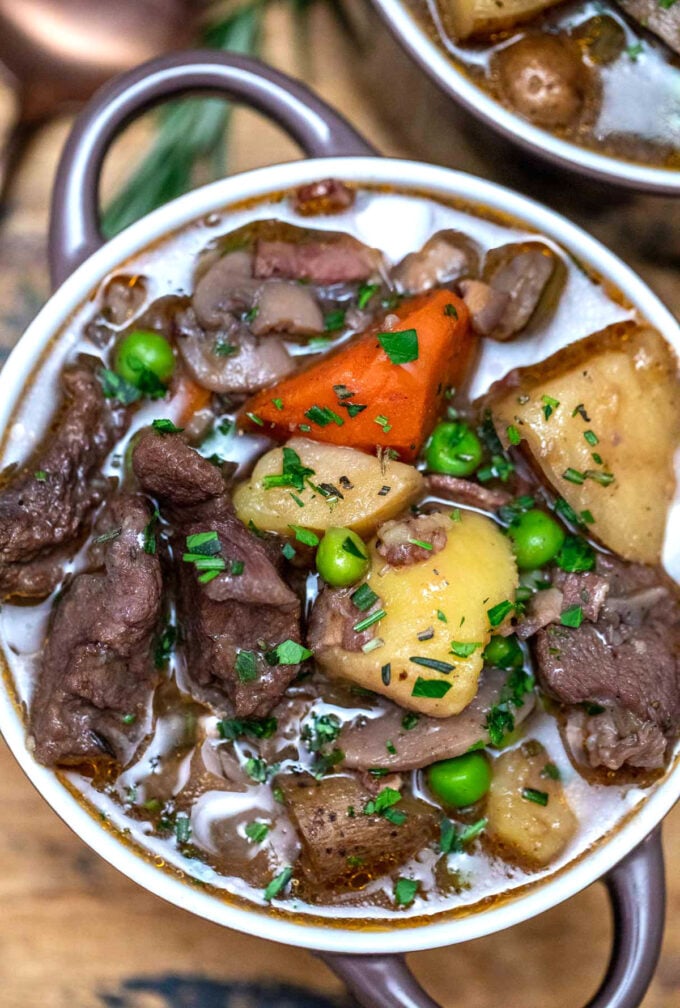 Recipe Tips:
There is no need to thaw the frozen peas when cooking using the IP.
If you can, choose a local supplier for the meat over importing so that you are sure that you get the freshest cuts.
The main consideration in choosing red wine is that it must be something that you will drink yourself.
Save Recipe
Instant Pot Lamb Stew
Instant Pot Lamb Stew is comfort food at its finest! It is hearty, tender and full of flavor, and the perfect dish to serve for St. Patrick's Day or Easter!
Author: Catalina Castravet
Serves: 6 servings
Prep time:

30

minutes
Cook time:

30

minutes
Total time:

1

hr

10

mins
Instructions
Brown:
Deglaze:
Pressure Cook:
Thicken:
Serve:
Nutrition information
Calories: 598 Carbohydrates: 36 Protein: 43 Fat: 26 Saturated Fat: 10 Cholesterol: 122 Sodium: 1431 Potassium: 1775 Fiber: 5 Sugar: 7 Vitamin A: 3876 Vitamin C: 26 Calcium: 93 Iron: 6
Save Recipe
More recipes you might love