Last updated on June 18th, 2021 at 09:08 pm
Lamb Stew recipe is super easy to make and is loaded with hearty ingredients. The Irish Stew is cooked in one-pan resulting in tender chunks of lamb, and a super flavorful dish!
This dish is very similar to our Beef Stew. This recipe is traditional for St. Patrick's Day or Easter. We like to serve it with Broccoli Salad, Beer Bread, or Instant Pot White Rice.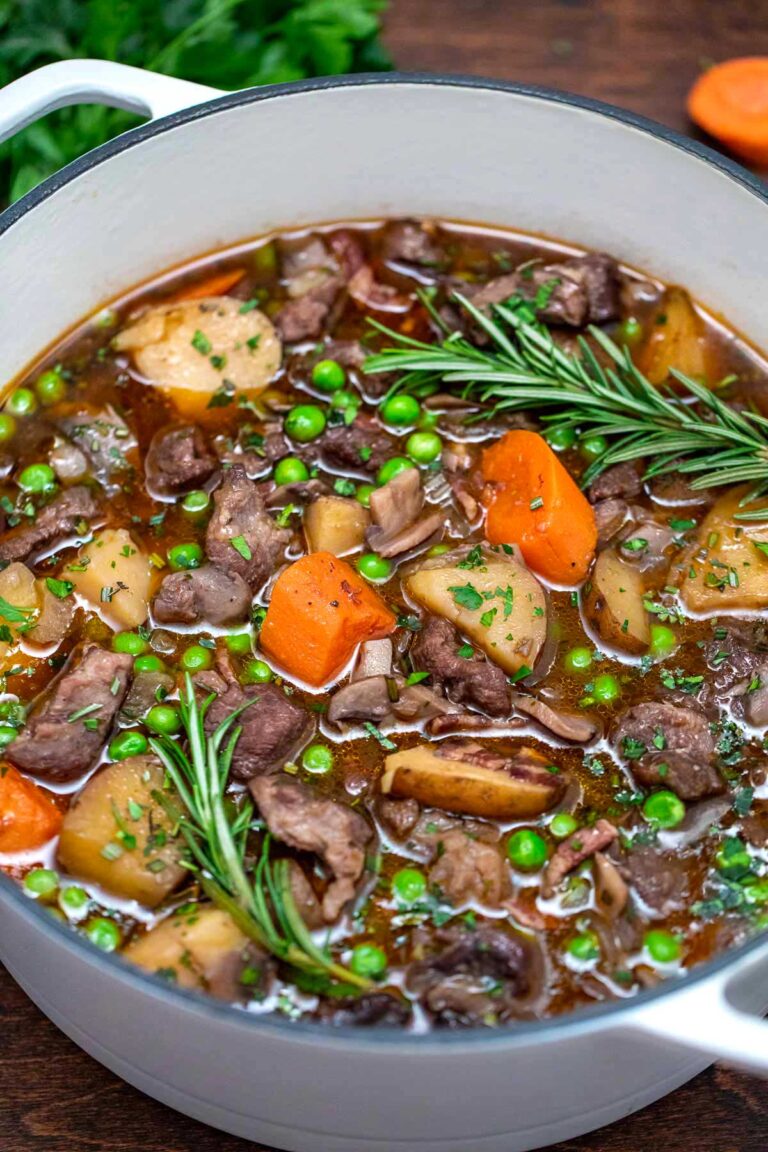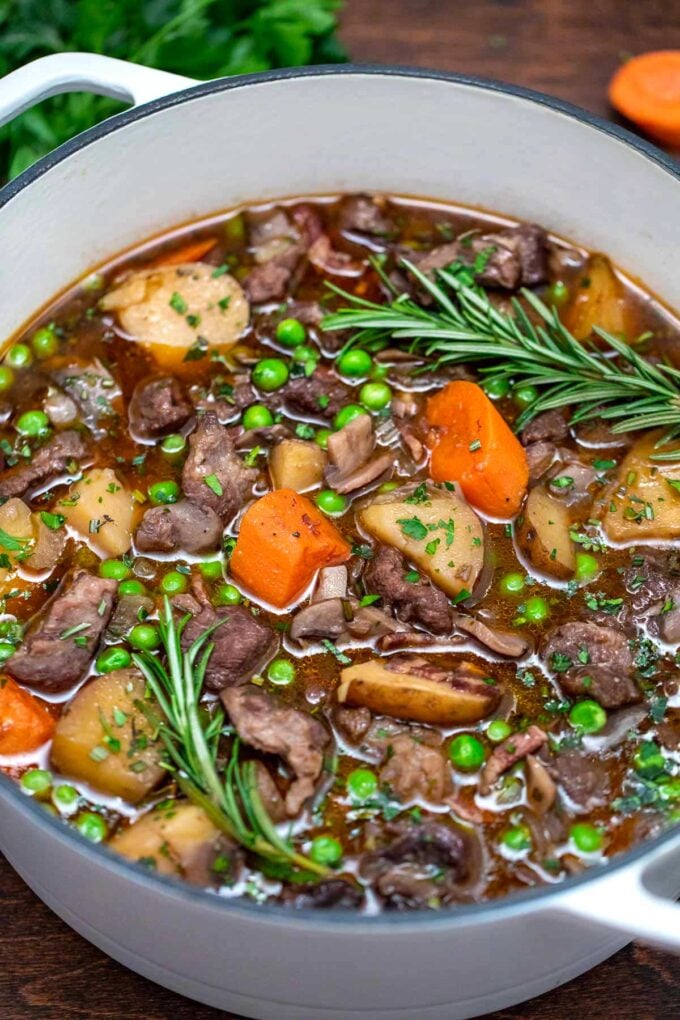 The Best Lamb Stew (Irish Stew) Recipe
This is a super satisfying recipe because it is cozy, hearty, and the meat is super flavorful and tender. We always make this Lamb Stew for St. Paddy's Day and Easter. But it is also perfect to enjoy during colder days to warm your soul up.
Nothing beats a warm bowl of flavorful stew that was cooked to perfection over a lengthy period. The flavors are rich and deep, giving the impression that it was cooked in the oven for the whole day. If you like homemade stews, this recipe is nothing short of amazing!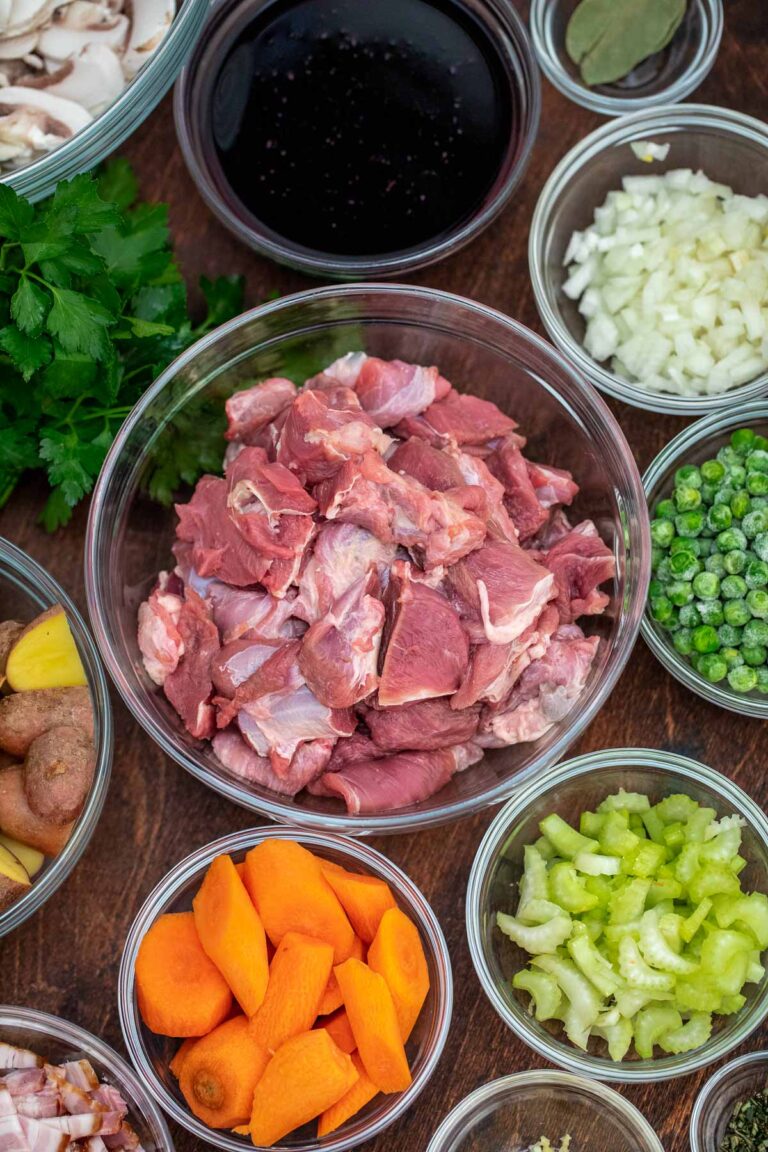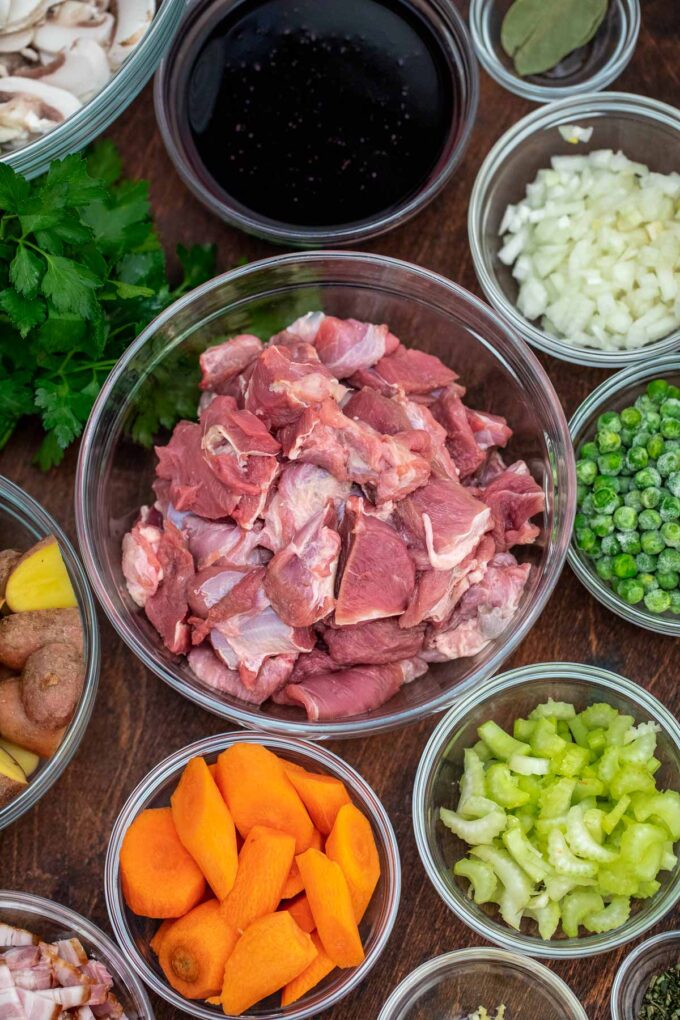 Another reason to try this dish is that it is quite simple and easy to make. The preparation takes only about 20 minutes. You simply prepare the veggies and cut the meat. Then, simmer them in the rich broth, and bake in the oven. Give it a try, and you will see why this recipe is absolutely delicious!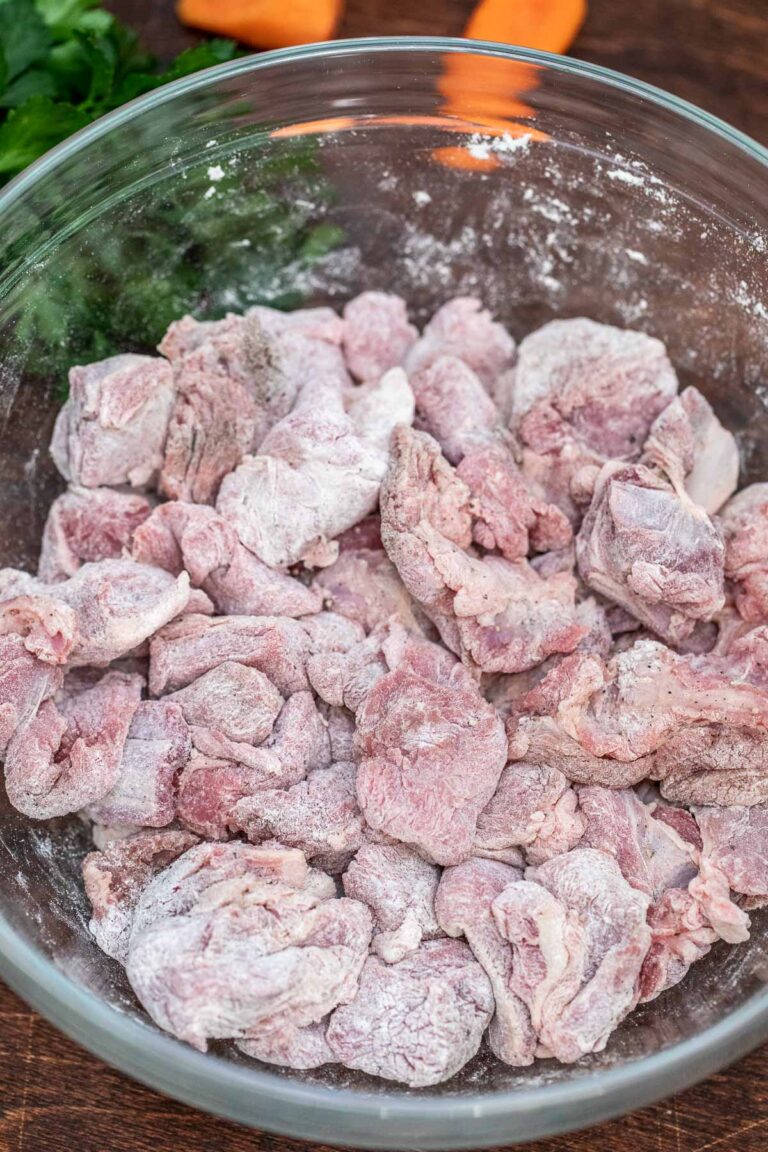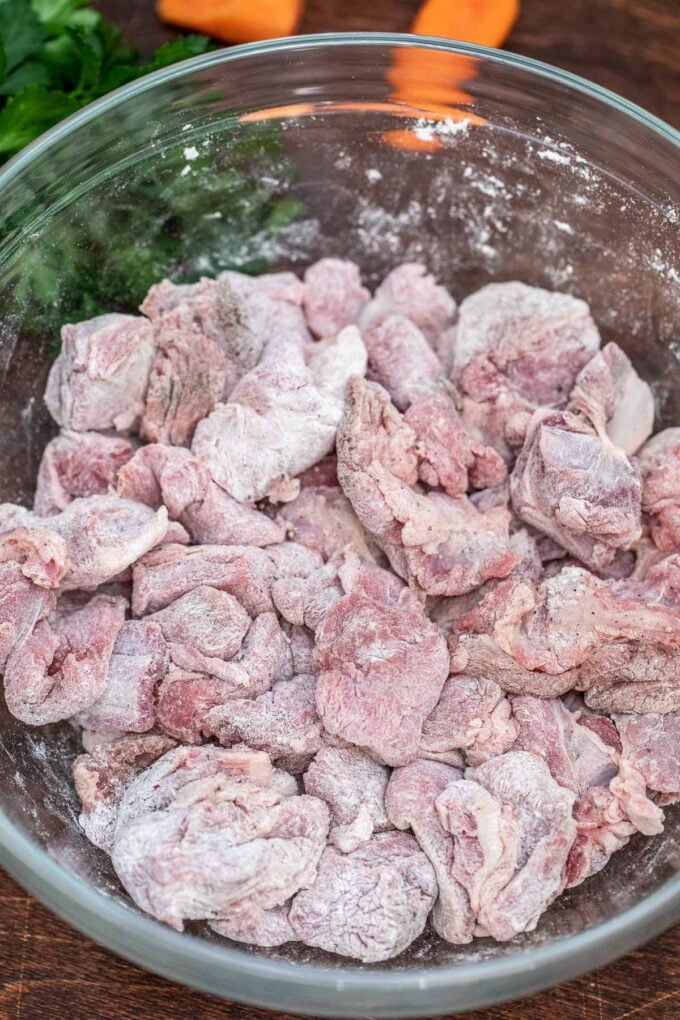 What is the best cut of lamb for stew?
The best cuts would be the shoulder or leg of lamb. These cuts are great for this recipe and stews in general because they are both tender and super flavorful when cooked during a longer period.
The important thing to remember is to trim excess fat from it and cut into smaller pieces prior to simmering and cooking the meat.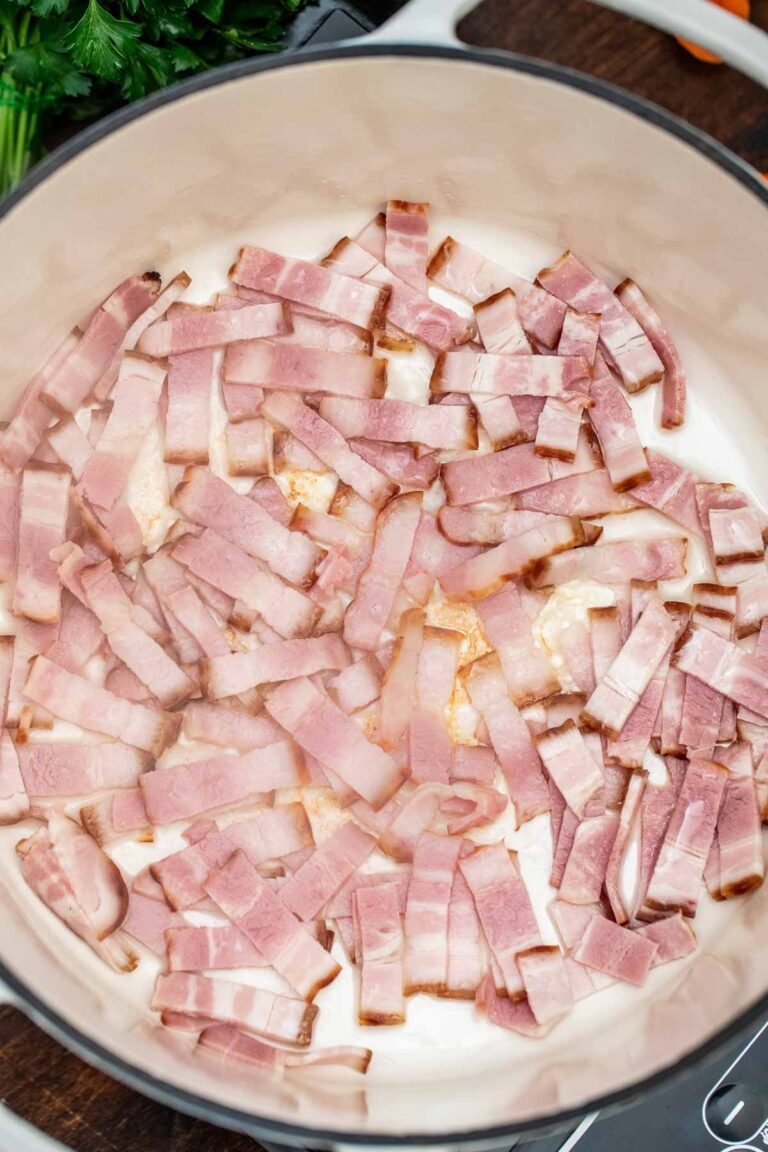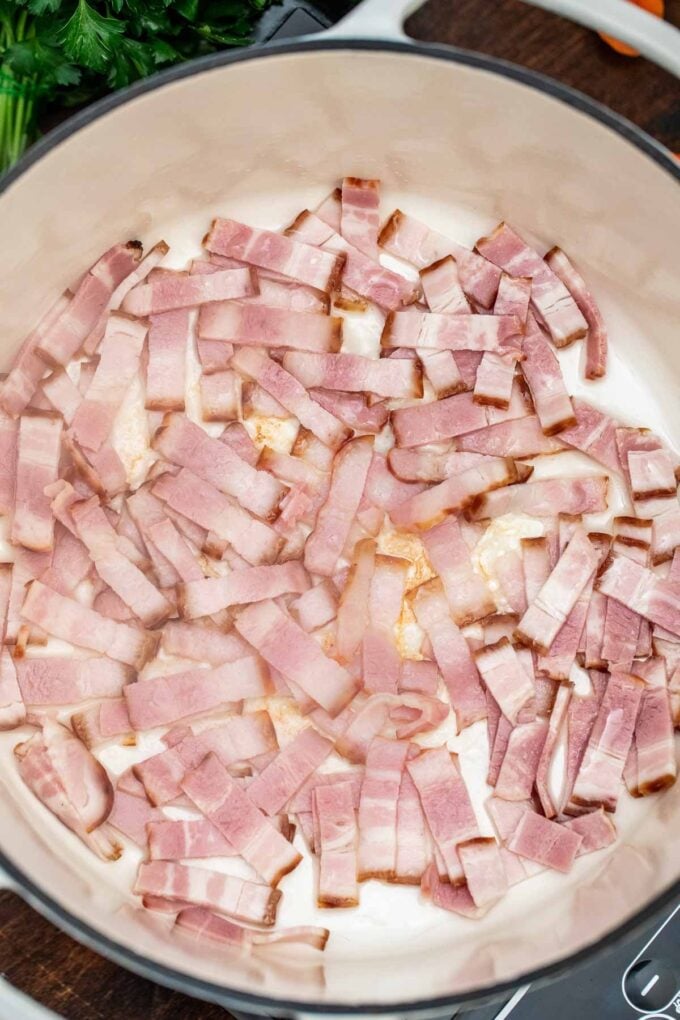 How To Make Lamb Stew?
Start by cutting the meat into about 1 1/5 inch pieces. You want to cut it into about the same size so it cooks evenly and uniformly. Then, season the lamb and set aside.
In a large dutch oven pot, saute chopped bacon until golden brown and the fat is released. Then, remove the bacon from the pot and set aside on a plate.
Next, cook the lamb in the same pot using the bacon grease. Sprinkle with 1/4 cup flour and toss to coat, and brown the meat for about 4-5 minutes. Ones browned, removed from the dutch oven, and set aside.
Saute diced onion with garlic for about 2 minutes, and pour in the wine. Then, add the sliced mushrooms, to the pot and bring to simmer, and cook for about 10 minutes. Be certain to scrape the brown bits off the bottom of the pan after browning the meat and onion.
Add the bacon and the lamb to the pot along with the broth and seasoning. Stir in the potatoes and carrots and bring to boil. Then, cover the pot and transfer it to the preheated oven at 325 degrees F.
Bake for about 1 hour and 45 minutes to 2 hours. (Alternatively, you can simmer the stew on the stovetop, but baking it will result in more tender meat). Top with fresh parsley and serve warm.
After baking it for almost 2 hours, the meat will be super moist, and the flavors will be rich and delicious!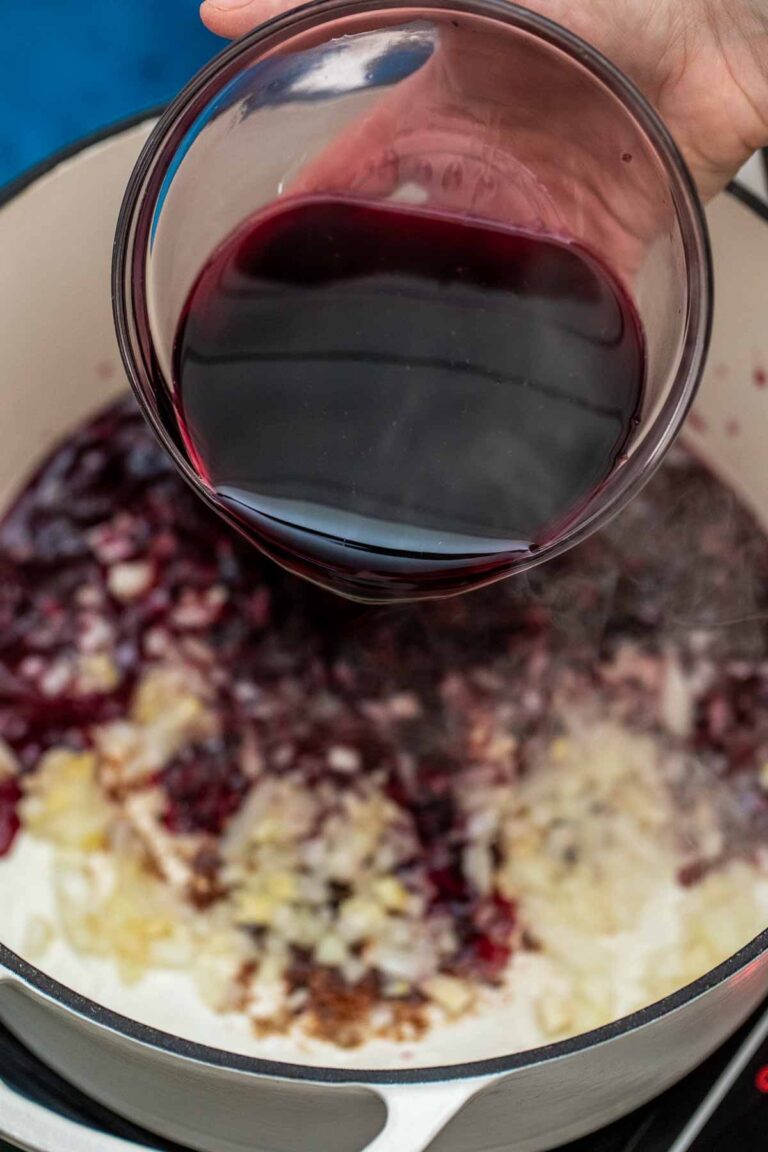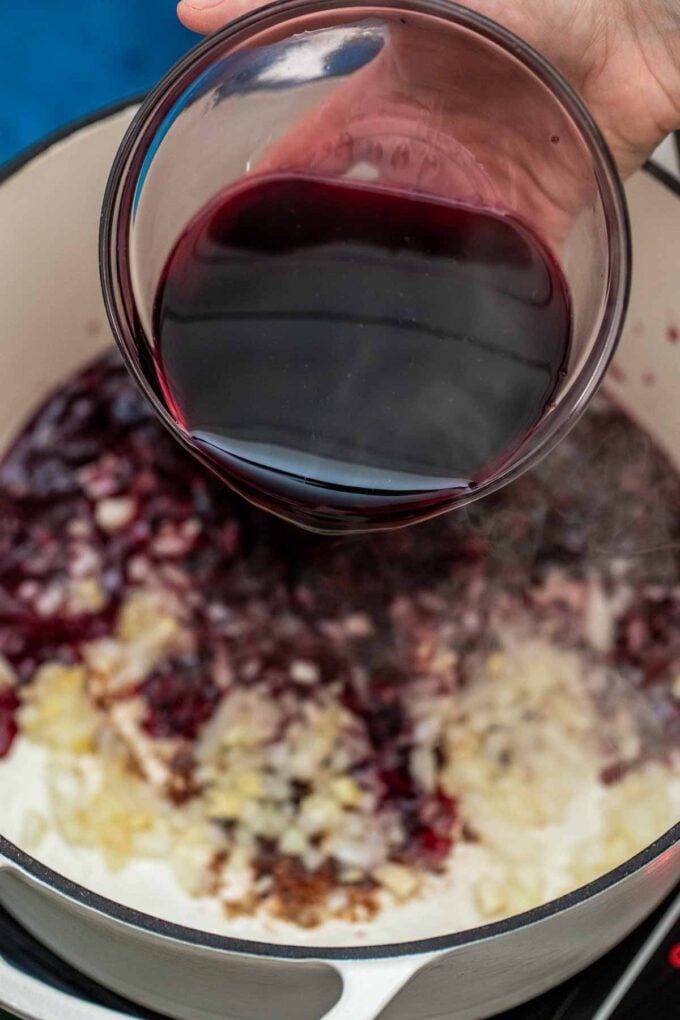 Recipe Variation:
Guinness Lamb Stew – You can easily substitute the wine with Guinness beer. It is perfect to celebrate St. Patrick's day, and also swap up the flavors a bit. The lamb is braised in a flavorful Guinness beer, broth, and herbs, resulting in a super flavorful and fall apart meat.
Moroccan Lamb Stew: Similarly, you can give this dish a twist with Moroccan style herbs, spices, and flavors. Just add some dried fruits, and herbs, such as dried apricots, figs, raising, and cumin to the pot, prior to baking it.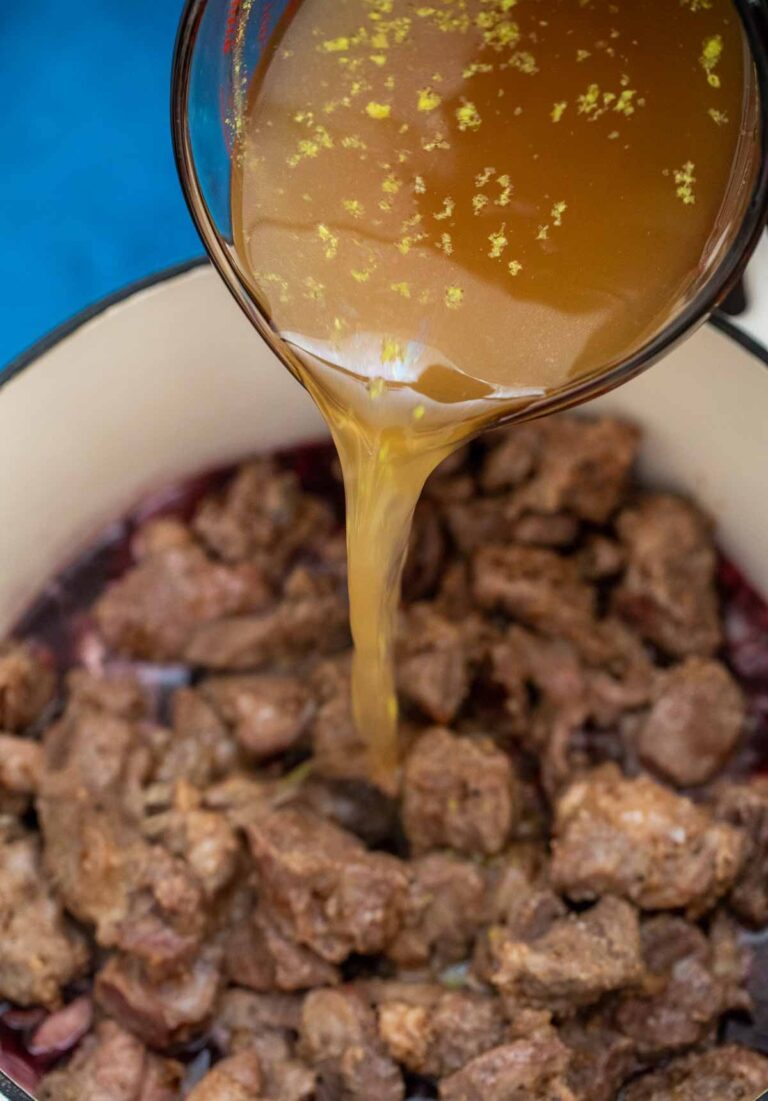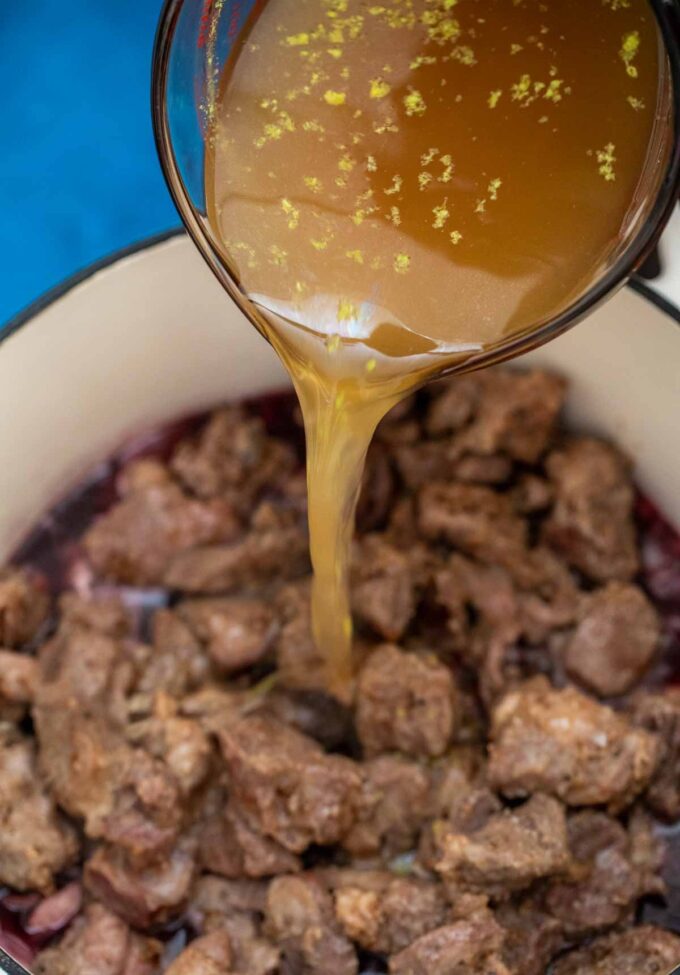 Crockpot Lamb Stew:
You can easily make this recipe in the crockpot. The process is simple, and the flavors are extraordinary!
Simply, sautee the veggies and brown the meat first. Then, transfer the ingredients to the Crockpot/SlowCooker and add the broth, and season to taste.
Then, set the cooking time on LOW for 6 to 8 hours, or HIGH for 3-4 hours. At the end of the cooking process, stir in the slurry into the stew by whisking 2 tablespoons of flour with the 3 tablespoons of cold water. Stir the slurry and cook for an additional 10 to 15 minutes until the dish thickens.
Instant Pot Lamb Stew Recipe:
To make it in the Instant Pot or any other Pressure Cooker, start by sauteing the meat using the Instant Pot saute function.
When the meat is browned, add the rest of the ingredients to the Instant Pot. Also, whisk the broth with flour and add to the pot as well.
Close the lid, and cook for 30 minutes on high pressure, following by 10 minutes of natural pressure release.
Garnish with fresh parsley prior to serving.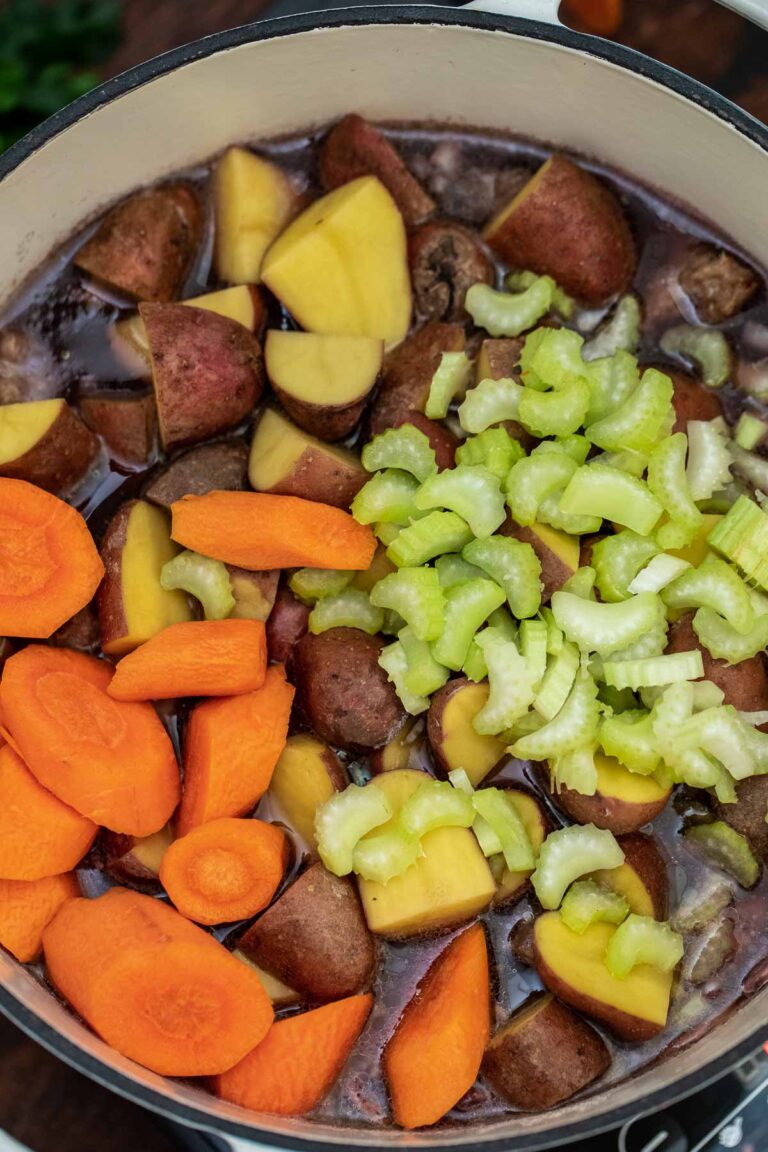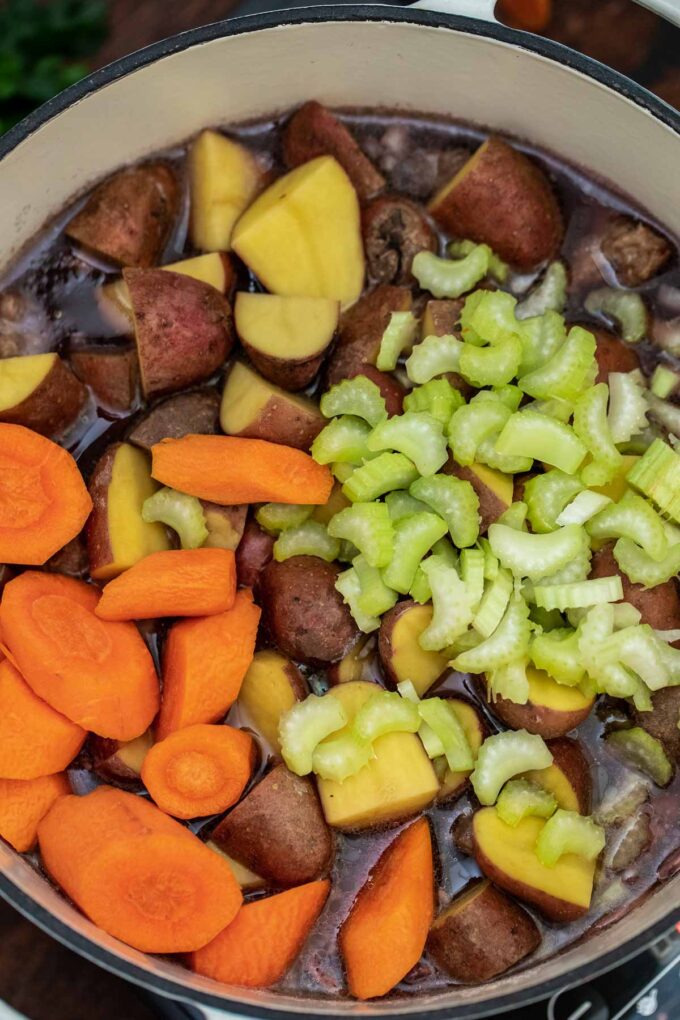 What To Serve with Lamb Stew?
This is a pretty satisfying meal on its own. However, if you want to pair it with other dishes, we suggest the following:
Mashed Potatoes – simply serve it over the mashed potatoes.
Beer Bread – This is the perfect complement to this dish, especially if you want to go fully Irish!
Bread and Butter Pickles – Just serve them alongside the stew. It is a nice balance between sweet and sour taste, that goes a long way with this meal.
Roasted Veggies – Asparagus, bok choy, or cauliflower are nice side dishes to it.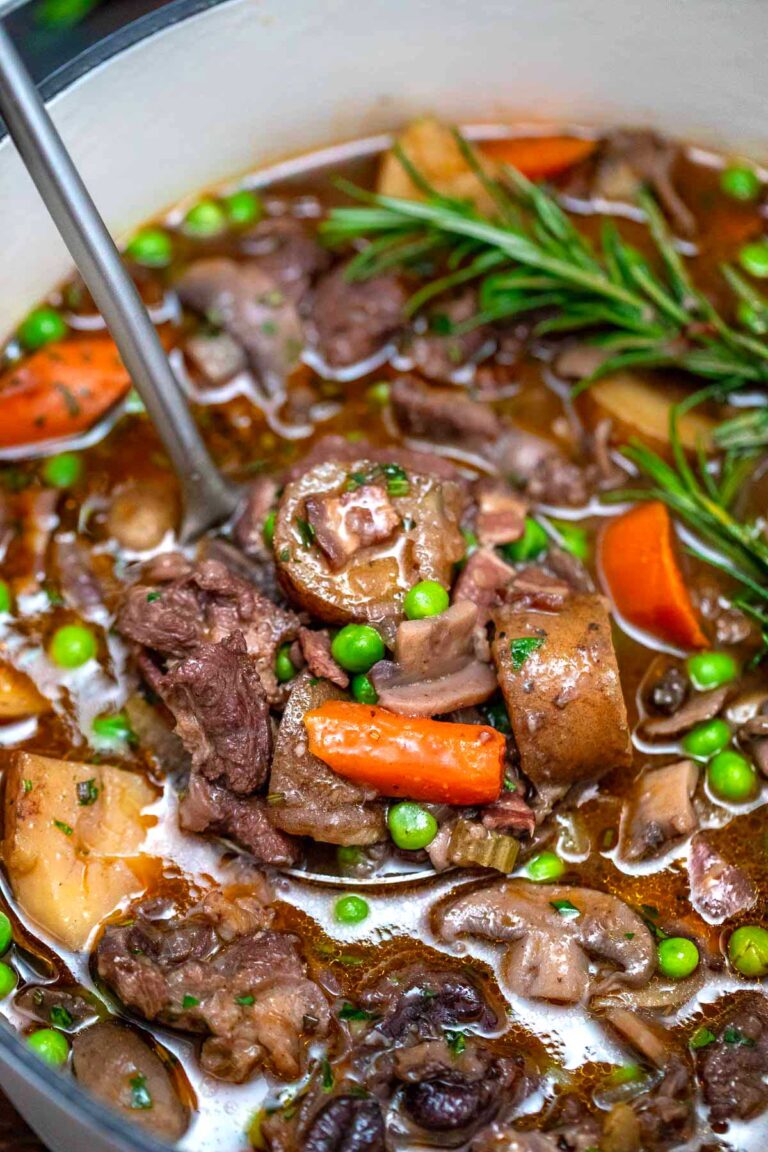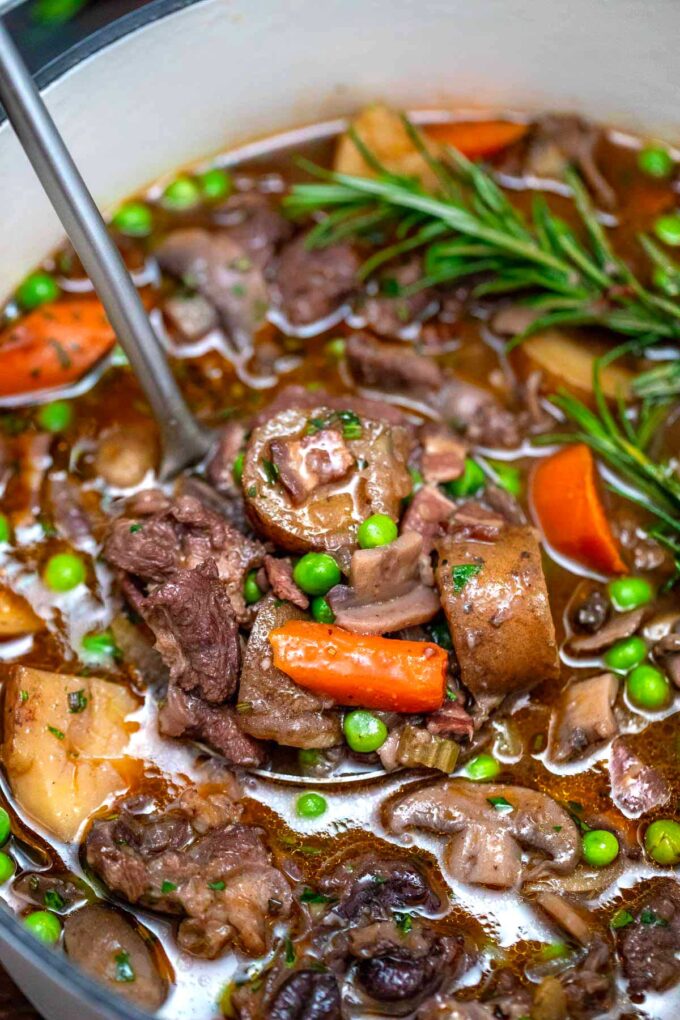 More comfort soups and stews:
How to Store it?
The beauty of this recipe is that it tastes even better the following days. Because the flavors get to sit together longer, they blend together more, resulting in even richer and deeper flavors.
So, feel free to store leftovers in an airtight container, and refrigerate for up to 4 days.
To freeze, use a freezer-safe container, and free it for up to 3 months.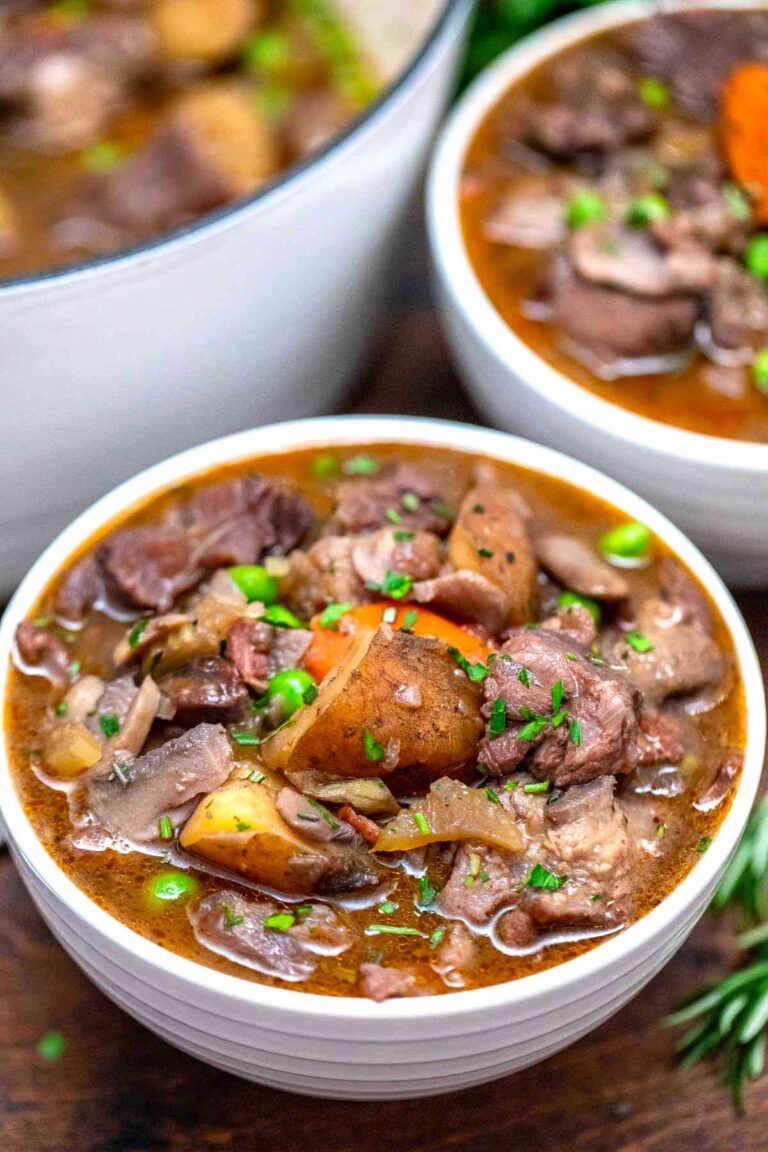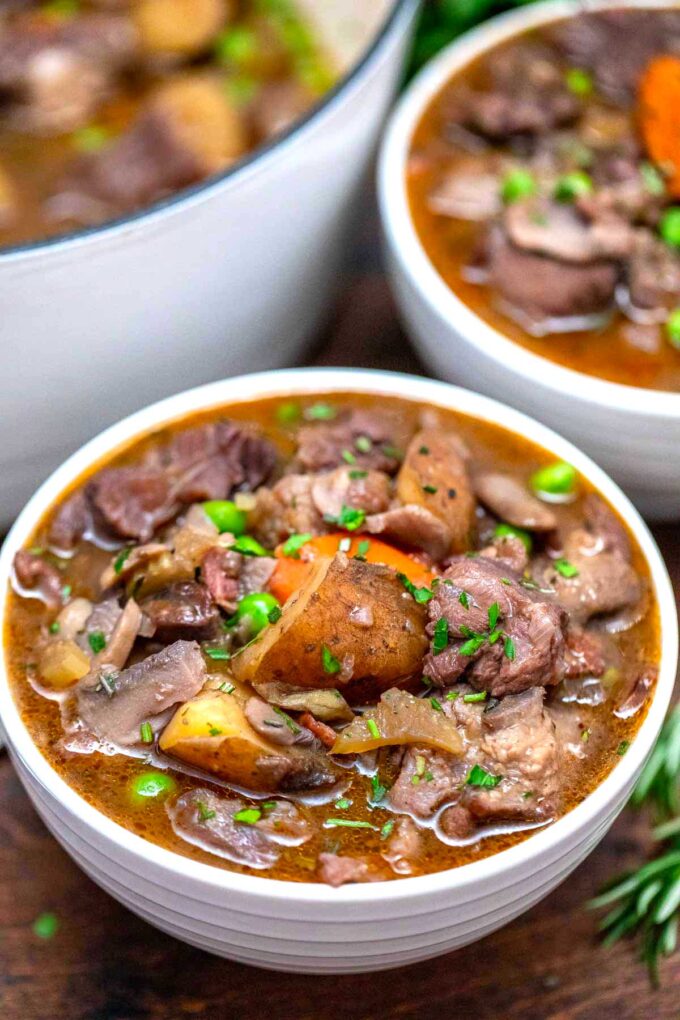 Recipe Tips:
Although you could skip browning the meat to save time, I would highly recommend this step. It makes the dish better because it locks in the juices and flavors.
As noted above, you can cook it on the stovetop as well for about 90 minutes. However, I prefer to cook it in the oven at a lower temperature for about 2 hours. This results in fall apart and tender meat.
Also, you could skip the flour if desired. Simply add a few extra potatoes, as they have natural starches. This will thicken the sauce naturally.
Feel free to stir in about a 1/2 teaspoon of gravy browning sauce into the stew prior to serving.
You can replace the beef stock with vegetables as well.
In addition, use any red wine that you prefer. Just try to use good-quality ones as it will reflect on the taste as well.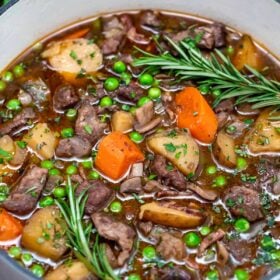 Lamb Stew Recipe
Lamb Stew recipe is super easy to make and is loaded with hearty ingredients. The Irish Stew is cooked in one-pan resulting in tender chunks of lamb, and a super flavorful dish!
Save
Share
Print
Pin
Rate
Ingredients
8

oz

bacon

(chopped into 1/4" strips)

2

lbs

boneless leg of lamb or lamb shoulder

(trimmed of excess fat and cut into 1 1/2" pieces)

1

teaspoon

sea salt

(or to taste)

1

teaspoon

ground black pepper

1/4

cup

all-purpose flour

1

large yellow onion

(diced)

4

cloves

garlic

(minced)

1 1/2

cups

red wine

(or broth)

1

lb

baby Bella mushrooms

(sliced)

4

cups

beef broth

(low sodium)

2

tablespoons

Worcestershire sauce

1

tablespoon

tomato paste

2

bay leaves

1

teaspoon

fresh rosemary

(chopped)

1 1/2

lbs

red potatoes

(halved or quartered)

4

medium carrots

(peeled and cut into 1/2" thick pieces)

2

celery ribs

(chopped)

1

cup

frozen sweet peas
Garnish:
1/4

cup

parsley

(finely chopped)

Fresh rosemary
Instructions
In a large, 5qt Dutch oven, placed over medium heat, saute the chopped bacon until browned. With a slotted spoon, transfer bacon to a large plate and set aside.

Add lamb meat to a large bowl, season it with 1 teaspoon salt and 1 teaspoon pepper. Sprinkle with 1/4 cup flour and toss to coat.

Preheat oven to 350 degrees F.

Cook the lamb pieces in 2 batches in the hot bacon grease over medium heat, until browned. It will take about 3-4 min per side, then transfer the meat to the plate with bacon.

Add diced onion to the dutch oven and sauté for 2 mins.

dd garlic and cook another minute, stirring constantly.

Add 1 1/2 cups wine, scraping the bottom of the pot with a wooden spoon to deglaze it.

Add sliced mushrooms, bring to simmer and cook uncovered for 10 mins.

Add bacon and lamb to the pot and add the beef broth with the rest of the ingredients, except for sweet peas.

Make sure that the potatoes are mostly submerged in liquid.

Season with salt and pepper.

Bring to a boil then cover with the lid and carefully transfer to the preheated oven and cook for 1 hour and 45 min.

Stir in the frozen sweet peas in the last 30 minutes of cooking, also taste and adjust for salt and pepper.

When done, potatoes and lamb should be very tender.

Garnish with parsley and fresh rosemary before serving.
Nutrition
Calories:
492
kcal
|
Carbohydrates:
23
g
|
Protein:
23
g
|
Fat:
31
g
|
Saturated Fat:
12
g
|
Cholesterol:
81
mg
|
Sodium:
881
mg
|
Potassium:
1066
mg
|
Fiber:
4
g
|
Sugar:
5
g
|
Vitamin A:
4388
IU
|
Vitamin C:
17
mg
|
Calcium:
66
mg
|
Iron:
3
mg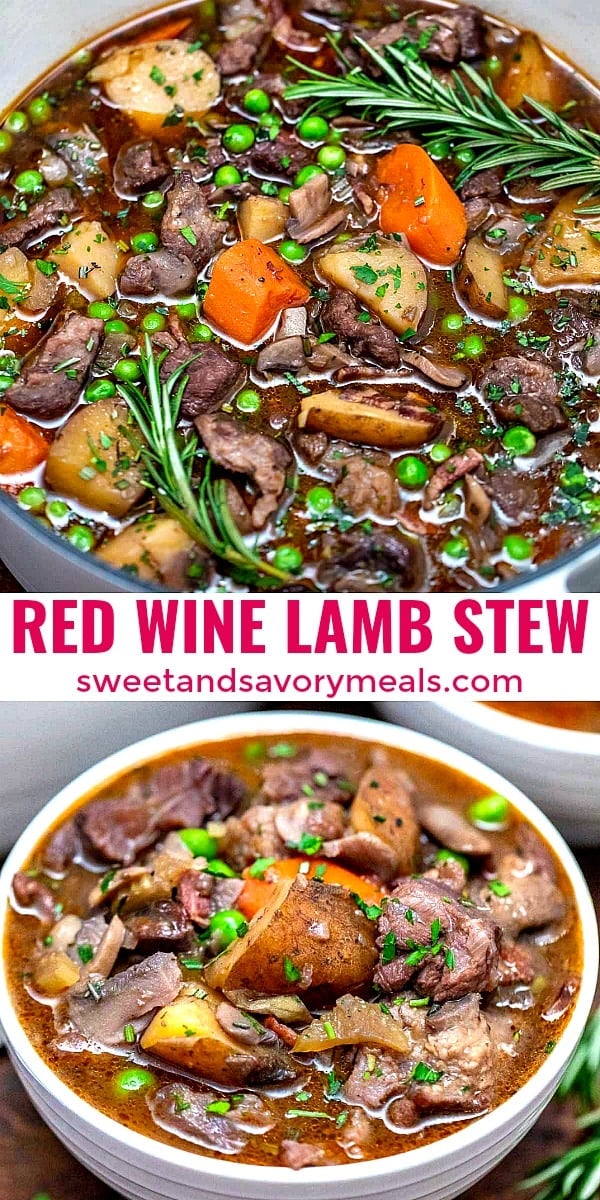 More recipes you might love