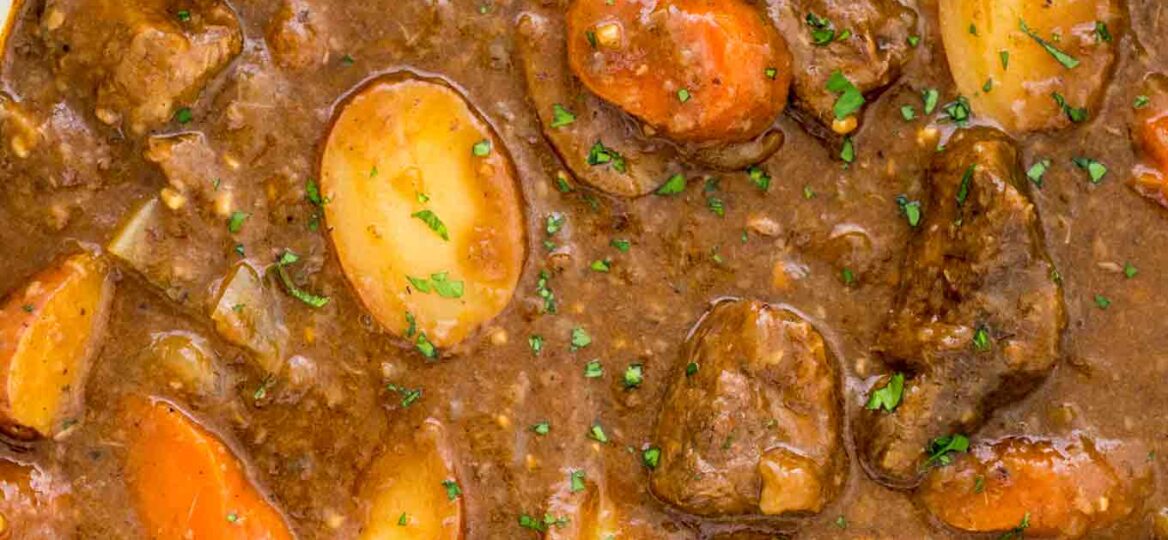 How to Make Beef Stew [Video]
Beef Stew is easy to make with tender fall apart beef and hearty vegetables. It is super flavorful, rich, and PERFECT for cold days. A full and delicious meal that the entire family will love.
Nothing can be better than a bowl of homemade beef stew during the winter days. This dish is a staple in our house, and we make it quite often during this time of the year. If you enjoy comfort food, then this is a must-try! You might also love our delicious Shrimp Creole, Cheeseburger Soup, or Chicken Noodle Soup.
Homemade Beef Stew
A classic beef stew is a combination of chunks of meat, vegetables, broth, wine, garlic, and seasonings. It is filled with the most amazing aromas and rich flavors. The nice thing about this stew is that it's easily customizable, as you can play with ingredients to fit your taste.
Feel free to substitute with your favorite veggies, or even add leftover roasted potatoes, or mushrooms. For bacon lovers, just chop some up, brown it, and throw it into the stew.
This homemade recipe is also great to make ahead and store for days to come. The aroma will absorb into it as it sits, and will taste even better in the days to come. Serve it as is, or with some warm baguette or over homemade mashed potatoes for the perfect finish!
What is the secret to a perfect beef stew?
The secret to a perfect stew starts with the meat. You always want to use the best meat which is well-marbled. This way when you cook it, it is perfectly juicy and tender.
In addition, it is important to brown your meat before adding it to the stew. It makes such a difference in the flavor as it adds a nice caramelization to it, and also a perfect color that looks very appealing.
Similarly, you want to use broth instead of water, as this will intensify the flavors and give the dish a rich and delicious aroma.
Lastly, you want to give this dish some time to cook and not rush it. Not cooking the stew long enough might result in tougher meat, which you want to avoid. Follow this tip: for really juicy and tender meat, cook it low and slow, for approximately two hours.
How to thicken up beef stew?
When using starchy potatoes, the beef stew will thicken a bit naturally. However, this is usually not enough, so we love to thicken it up by doing the following:
Flour/butter method – You can mix an equal amount of flour/butter together (about 1 tablespoon), and add it to the dish during the last hour of cooking. Make sure it is well mixed together before pouring into the dish.
Cornstarch Slurry method – It is similar to using the flour method, and what we do most of the time. Use 1 tablespoon cornstarch mixed with 1 tablespoon cold water for each cup of medium-thick sauce. Make sure to mix it well before pouring it into the sauce. Then, pour the mixture little by little into the bubbling sauce/stew to thicken it up, until the desired texture is reached. Once thickened, allow it to boil for at least another 2 minutes.
Puree the vegetable method – Using this method, you simply remove about half of the vegetables from the pot by using a slotted spoon. Then, give the vegetables a quick mash or place in a food processor. Add 2 cups of stock to the vegetables and puree them. Lastly, add the mixture back into the stew and bring it back to simmer. Make sure you

DO NOT

puree ALL of the vegetables as it will have a very thick consistency.
Can you make beef stew in the Instant Pot?
Absolutely! Making this delicious homemade dish in the Instant Pot is easy and delicious. Also, it will be done in a fraction of the time compared to the traditional stovetop or slow cooker version. We have already made it in the Pressure Cooker, the recipe can be found here.
Which cut of beef is best for stew?
Generally, you can find in store pre-cut cubbed beef meat for stew. It is usually chuck or round, as they tend to be tougher cuts but become tender and flavorful when slowly simmered and cooked in liquid.
For the classic stew, it's best to use chuck roast and cut it at home. We find this cut to work best for this recipe, as the meat is uniformly marbled. However, you could also use:
Bone-in short rib
Ribeye
Bohemian
Fatty brisket
Oxtail
Chuck steak
Shoulder steak
CAN YOU MAKE THIS RECIPE AHEAD OF TIME?
This is the perfect dish to make ahead of time and store because the flavors and aromas will get richer and better as it sits. Make it 1-2 days in advance, and simply refrigerate it. Then, just reheat in the stovetop or microwave until warm.
Can You Freeze Beef Stew?
Absolutely! Simply transfer the dish into an airtight container and freeze it for up to 3 months. Another great idea is to freeze it in individual freezer bags so you can reheat it in single-serving portions. When ready to eat, defrost overnight in the fridge then heat it up until warm.
More Beef recipes to try:
Instant Pot Corned Beef and Cabbage
Pressure Cooker Red Wine Beef Roast
Recipe Tips:
Always brown the meat it will make a huge difference. Cut it into 2-3 inch sizes, and brown on both sides.
For bacon lovers, chop some up, brown it, and throw it into the dish. Just don't overdo it, or the stew base will be greasy.
You can omit the wine if you are not a fan. However, using wine helps develop richer and more complex flavors in this dish.
Similarly, you can make this recipe with other meats. Use the same steps in the recipe as a base, then replace it with your preferred meats, such as pork, lamb, or chicken.
Serve it with bread, biscuit, or French baguette.