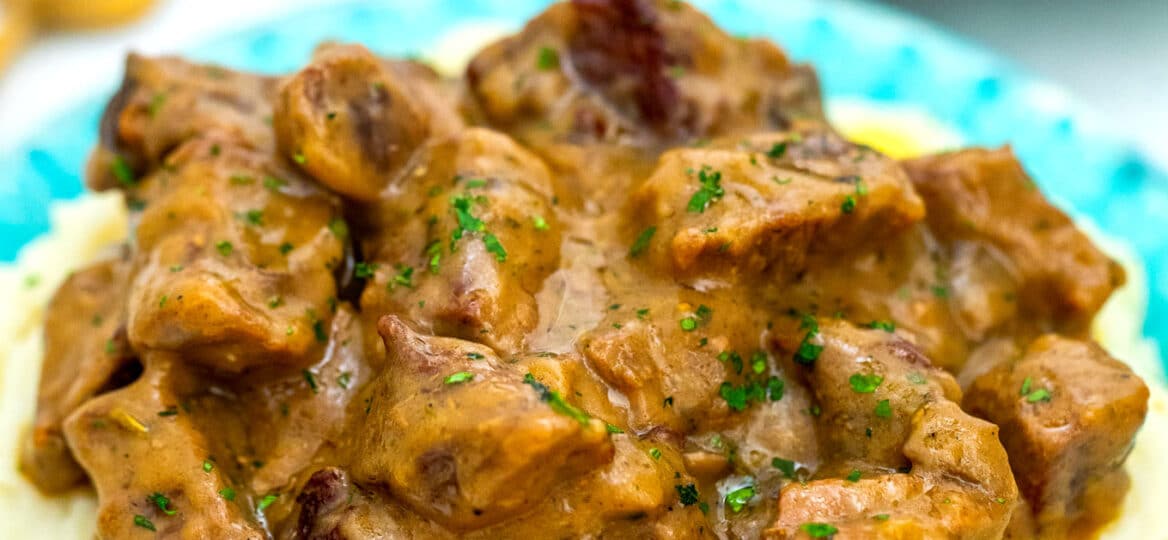 Beef Tips and Gravy [Video]
Beef Tips and Gravy is easily prepared on the stove with only a few basic ingredients but the result is tender meat in a thick savory sauce that everyone loves! Watch the recipe video tutorial attached below and see how simple this dish is!
If you are looking for a main dish recipe, then, this is just perfect! This dish is meaty and comforting at the same time! Check out our other recipes for comfort food like the Goulash, Crack Chicken and Dumplings, and Bacon Cheeseburger Meatloaf!
Beef Tips and Gravy Recipe
Beef Tips and Gravy is a humble and simple recipe that is nothing but comforting. The aroma that it produces as it cooks in the Dutch oven is so irresistible!
The cubes swim in a flavorful sauce and they are so tender that they melt in your mouth! Just thinking about it makes me want to reach out for some already!
For the meat to be that soft, you need to cook it long enough. Afterward, you will no longer notice that they are not premium cuts.
For this recipe, you can go grab that meat that is on sale. Tough as it may be, that is not a problem with this recipe.
Don't worry, it is worth the wait, I promise!
What are beef tips?
Either sirloin tip, tenderloin tip, or any cut of beef, a beef tip was once part of a steak cut but is already too small to be considered as one. They are scrap pieces of meat that are great for stewing and braising.
What is the difference between beef tips and stew meat?
The beef tip can be a great kind of stew meat, but not all stew meat is a beef tip. Stew meat can come from any part and when mixed, it could be difficult to cook as each part can have its own ideal cooking time.
How to Make Beef Tips and Gravy:
Brown: Place the cubes in a heated Dutch oven with a little oil. Brown each side then, set them aside.
Sauté: Sauté the onions in the same Dutch oven, then, add in the garlic and mushrooms.
Simmer: Put back the cubes and then, add the broth, the sauces, and the seasonings. Let the stew simmer until the cubes are fork-tender. This may take an hour or longer. The longer it simmers, the more tender the cubes will be later.
Strain: Remove everything from the Dutch oven. Using a strainer, separate the solids from the liquid and set them aside.
Stir: Make a roux in the Dutch oven by cooking the flour in butter. Whisk it for a few minutes and then, add the liquid mixture slowly while still whisking the roux. Wait for the gravy to thicken. Taste and season, if needed.
Serve: Place back the solids, and then, combine with the gravy. Serve while still hot!
What to serve with Beef Tips and Gravy?
You can choose from the following suggested sides:
egg noodles
dinner rolls or any of your favorite bread
crisp salad
How to Store:
Refrigerate: Let it cool and transfer portions to airtight containers. Then, put them in the fridge for a day or two.
Freeze: Freezing will prolong its shelf life to up to 3 months. Simply put portions in freezer bags. If you put individual servings in separate bags, then, you can limit the amount that you will thaw for reheating.
To reheat: Simply put the frozen bag in the fridge the night before you want to serve it. Then, reheat on the stove.
Recipe Tips:
Buy a chuck roast and cut it up into cubes. This way, you know exactly what goes into your dish instead of buying stew meat that is already packed. It is cheaper, too, instead of buying steak cuts.
Adding wine gives it a deeper and richer flavor.
Do not skip the sautéing part. It releases more flavors from the aromatics and the meat itself.
Deliciousness to your inbox
Enjoy weekly hand picked recipes and recommendations