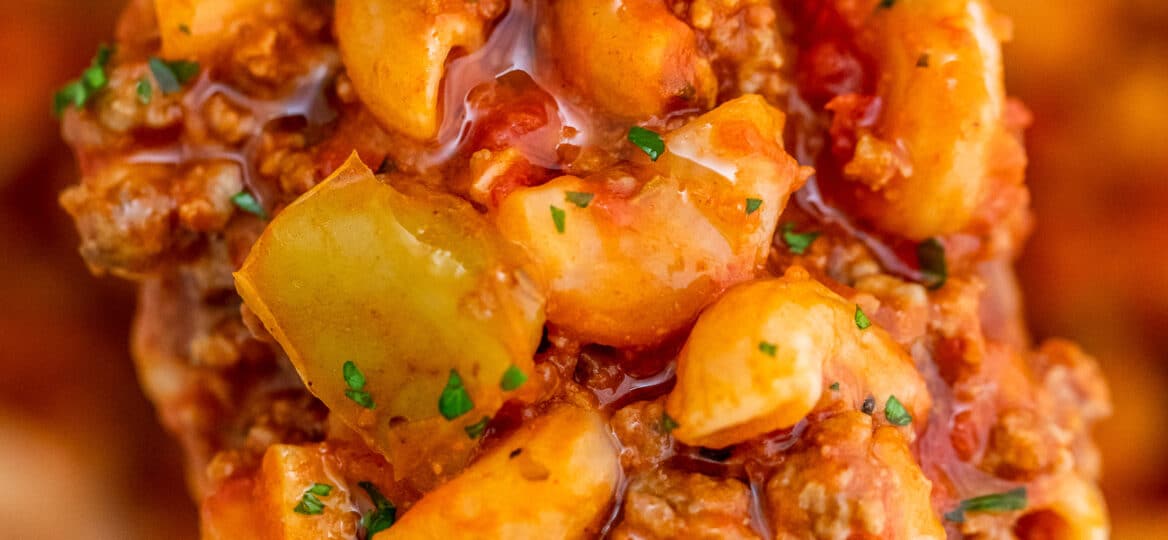 One Pot Goulash Recipe [Video]
Goulash is a traditional Hungarian recipe that has an American version that is equally hearty and delicious! It is the perfect comfort food for the cold season! Watch the recipe video tutorial below and see how easy this is!
It is a complete meal on its own! Include this recipe in your regular menu rotation along with Crack Chicken and Dumplings, Instant Pot Asian Chicken Noodle Soup, and Taco Pasta!
One-Pot Beef Goulash Recipe
Goulash has carbs in the form of macaroni, protein from the ground beef, and fiber from the vegetables. Not to mention, the tomato-based sauce is full of vitamins and nutrients, too!
Having all these elements together in just one dish makes it an ideal dinner choice. No need to think of other dishes, this alone can satisfy one's craving for comfort food.
The traditional Hungarian recipe is so good that the Americans were inspired by it. Eventually, that led to the creation of this dish.
Whenever I make this for the family, there are no leftovers! It is a hit, and I hope that your family enjoys it as much as mine does!
What is goulash?
It is made with tender beef chunks in a paprika-laden soup that is stewed to perfection. This dish is popular in Europe and has a long history dating back to the 9th century.
Hungarian shepherds back then stored meat in bags made from sheep's stomachs. They cooked the beef chunks in onions which is pretty much the same as the modern version. The soup turns reddish with the addition of ground spices including a generous heap of paprika.
But in the modern American version, elbow macaroni and tomatoes are added aside from the beef and onion.
How to make homemade goulash?
Brown the beef: You can use a Dutch oven for this dish or a deep pan large enough for the sauce. Directly put the ground beef in a heated Dutch oven and cook it until it is no longer pinkish. Drain any excess fat. Add in the chopped onions, too. At this point, you can already add the seasonings.
Add the sauce: Add in the tomato sauce, diced tomatoes, the other vegetables, and the other spices and seasonings. Thin out the sauce by adding the broth.
Add the pasta: Add in the raw pasta. Turn the heat up and when it starts to simmer, reduce the heat until it simmers steadily. Check for the doneness of the pasta by biting a piece. Taste and season as needed.
Serve: You can add a layer of cheese on top, garnish, and then, serve while hot.
What goes with goulash?
Serve it with your favorite bread, may it be cornbread or garlic bread or some biscuits. I suggest that you try my dinner rolls recipe! A serving of salad also goes well with this dish.
Can you make it in advance?
Yes! But you need to change up a bit of the recipe. If you are going to make this in advance, you can freeze it first but do so without the pasta. Just add it in when you reheat the goulash or cook the pasta separately.
Another option is to not cook the pasta thoroughly at first. Refrigerate it and when you reheat it, it will soften just perfectly and not become too mushy.
How to Store leftovers?
Refrigerate: Allow it to cool completely and put it in an airtight container. It will keep good for up to 4 days.
Freeze: You can freeze it without the pasta. Put it in a freezer bag, allowing some space for the sauce to expand and squeeze out the air. It will keep good for up to 3 months.
To reheat: Thaw it overnight, and reheat it on the stove or in the microwave oven. Add in pasta and top with cheese.
Recipe Tips:
You can use ground turkey, pork, or sausage as a substitute for the beef.
Use lean ground beef. The leaner the meat is, the less fat it will create during browning that you may skip draining the fat to not lose the flavor.
If you want to make it thicker, you can add in a roux. Or, simmer it uncovered. If you think it is too thick, you can add more broth.
Deliciousness to your inbox
Enjoy weekly hand picked recipes and recommendations