Ultimate Instant Pot Beef Stew [video]
Ultimate Instant Pot Beef Stew is made in a fraction of the time a stovetop or slow cooker version would take. Tender beef and veggies, in a hearty sauce!
We love a good beef recipe that is easy to make during a busy weeknight. Other great beef options to rotate the menu around are IP Beef and Broccoli, IP Mongolian Beef, and Pressure Cooker Corned Beef.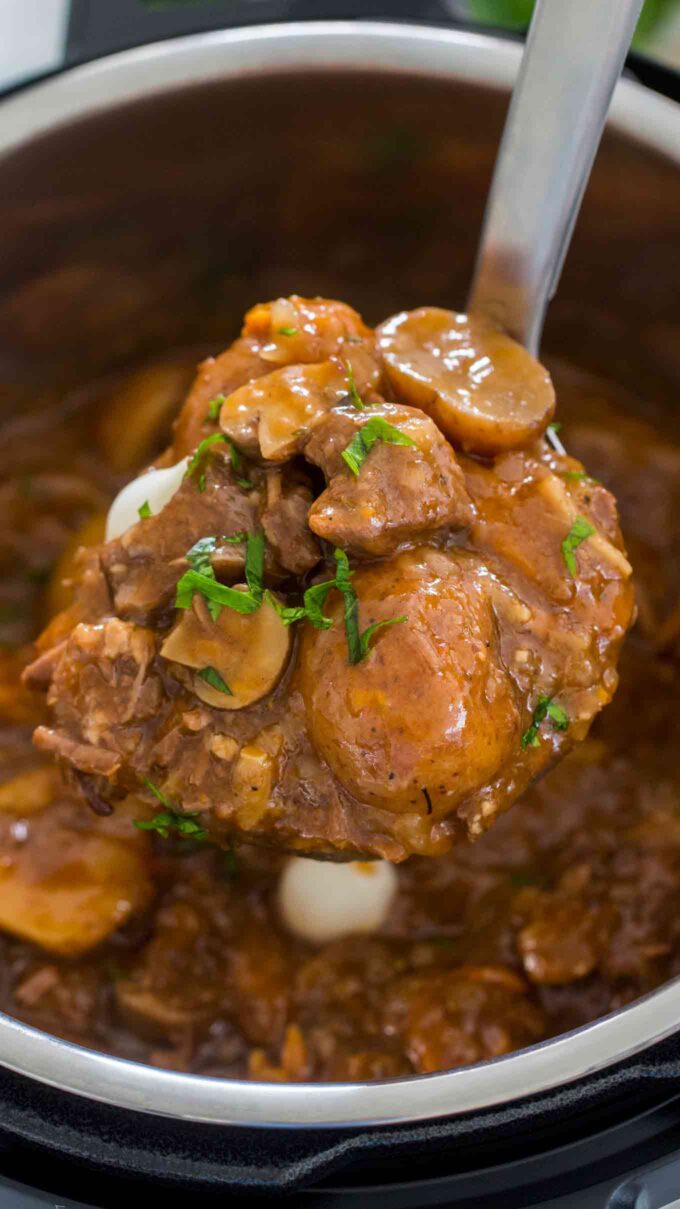 Instant Pot Beef Stew
Instant Pot Beef Stew is a delicious and very flavorful homemade recipe, which is perfect for cold winter days! We can probably all agree that Pressure Cooker is like pure magic. It makes meals that usually take hours and hours to cook, in just a fraction of the time.
Take this beef stew recipe that usually it would take 8 hours to make using the slow cooker and about 2 hours on the stovetop. With the pressure cooker, it's ready in just over an hour. You have to appreciate the small things in life. Having a fantastic beef stew on the table with little effort is one of the things that rank high in my appreciation book.
I called this recipe the Best Instant Pot Beef Stew for a reason. It just tastes out of this world, mouthwatering, and super flavorful. That is not the only perk that this recipe meets: it's budget-friendly, it's hearty, and tasty, with little prep work required.
Therefore, you can feed a large family or have amazing leftovers the next day. The leftovers heat really well, and the stew tastes even better the next day after all the flavors get a chance to soak in.
HOW DO YOU MAKE INSTANT POT BEEF STEW?
Brown the Beef: The first step in this recipe is to brown the meat. If you're in a huge hurry, you can skip this step. However, I highly recommend this step, as it locks in the flavors. Once browned, set aside.
Chop the veggies: Clean and chop the other ingredients, including carrots, onions, potatoes, and seasonings. Then, add them to the pressure cooker and saute for about 1 minute.
Cook the meat: Next, add the meat back to the IP, and cook together with the veggies, to tender perfection.
Serve: Enjoy it warm with some dinner rolls, fresh baguette, or cornbread.
How Long Do You Pressure Cook Beef Stew?
For tender and juicy meat, we recommend cooking it for 35 minutes of high pressure (the manual setting), plus 15 minutes of natural release. This will result in pieces of stew meat that tasted as if they'd been cooking for hours instead of minutes.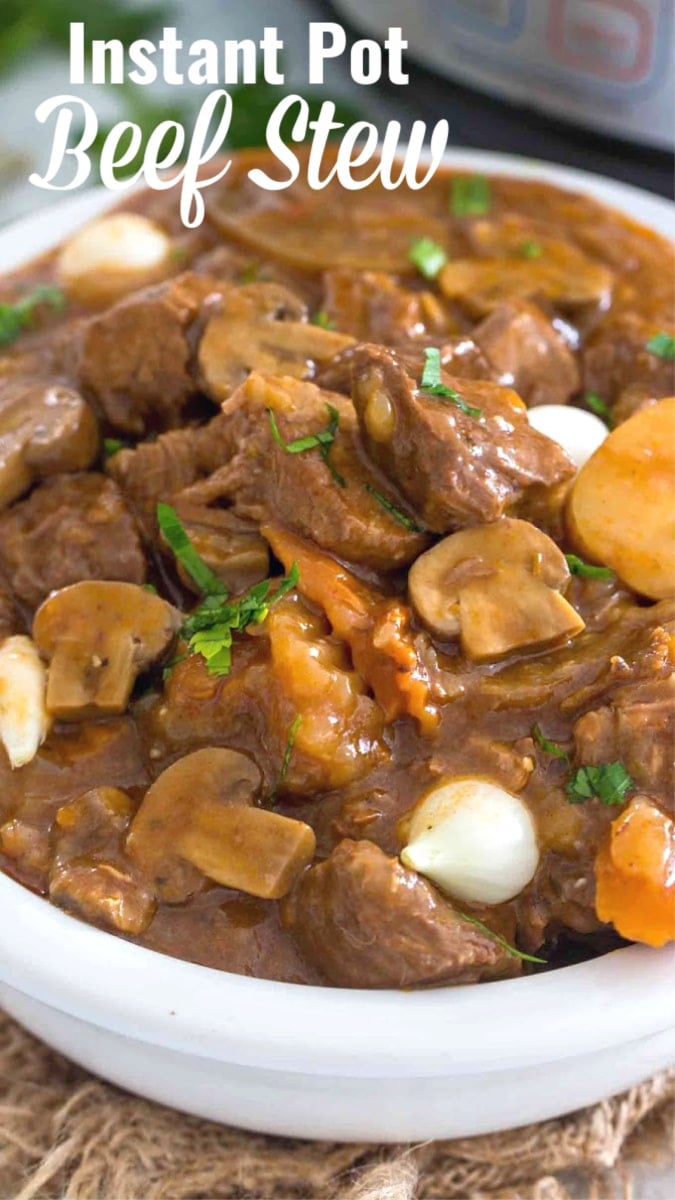 BEST MEAT FOR BEEF STEW:
Chuck Roast: Traditionally, this cut is used in this recipe because it is well-marbled and is super juicy and tender when cooked.
Stew Meat: This is the budget-friendly option, and also pre-cut already. So it is very easy and convenient to use. The negative of it is that you cannot choose the best cuts, so usually, the meat is not the highest quality. So use it at your discretion.
Ribeye: This cut usually is the most expensive, but worth it. Like chuck roast, the cut is well-marbled and resulting in tender and juicy meat.
What kind of potatoes should I use for stew?
Yukon gold potatoes or new mini-potatoes work the best for this recipe. They are hearty potatoes that will withstand their texture well when cooked under pressure without turning to mush.
Also, if you will go with Yukon golds, then I recommend cutting them into about 1 1/2-inch pieces.
Russet potatoes are not as firm and will get mushier and fall apart when cooked under pressure.
What To Serve With Beef Stew?
This homemade dish is super delicious and flavorful on its own. It is truly a complete meal. However, from time to time we serve it with bread, a french baguette, or biscuit.
It also goes well with mashed potatoes or a salad on the side.
Can You Freeze Instant Pot Beef Stew?
Yes, you can absolutely freeze it! We like freezing it in a freezer bag. Simply transfer the stew into a freezer bag and freeze for up to 3 months. Similarly, for more convenience, you could transfer it into a single-serving portion and freeze it. This way, you can take one portion at a time and enjoy it!
Best to defrost overnight in the refrigerator before serving. Heat in microwave or stovetop for a few minutes and stir occasionally.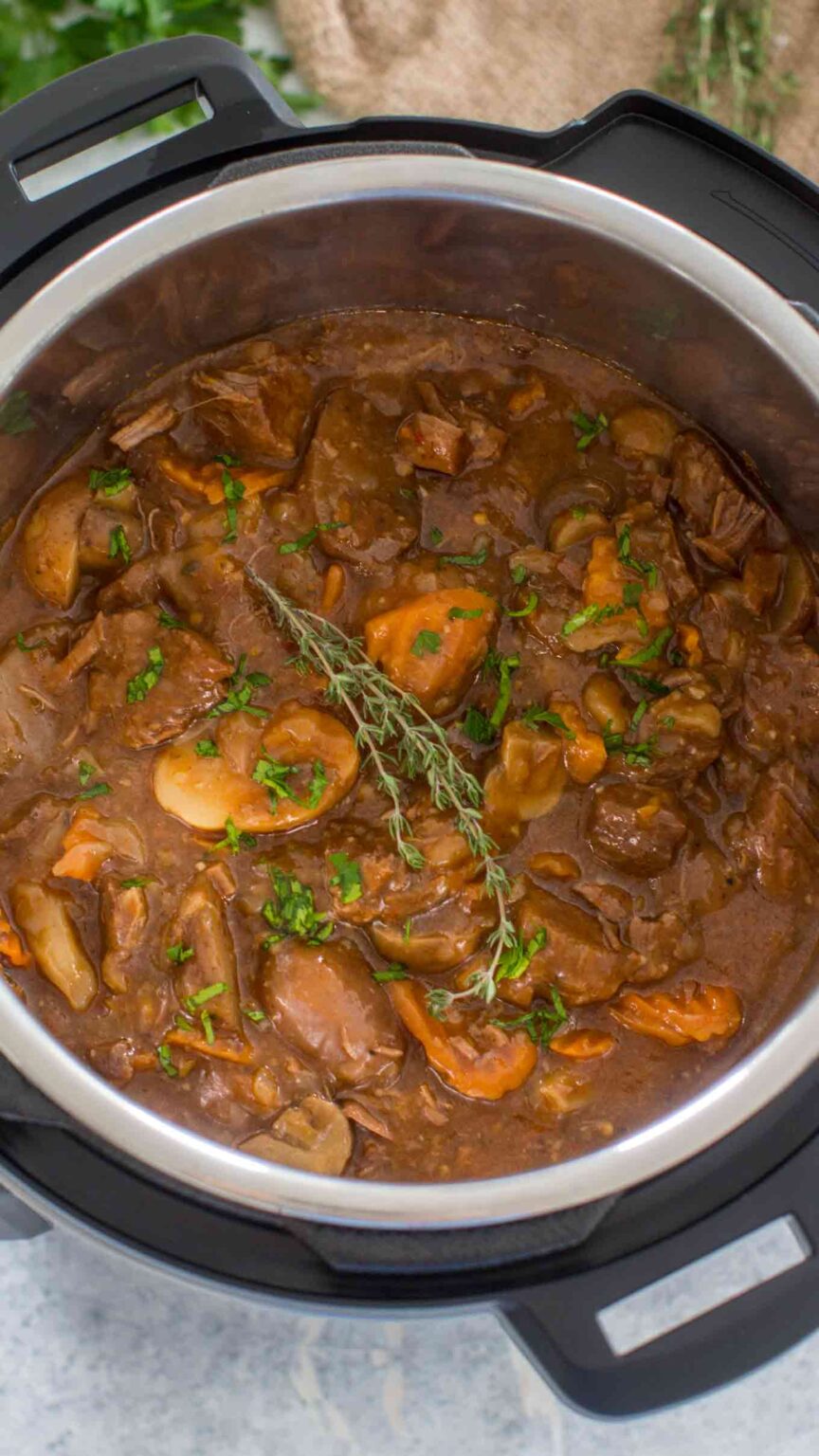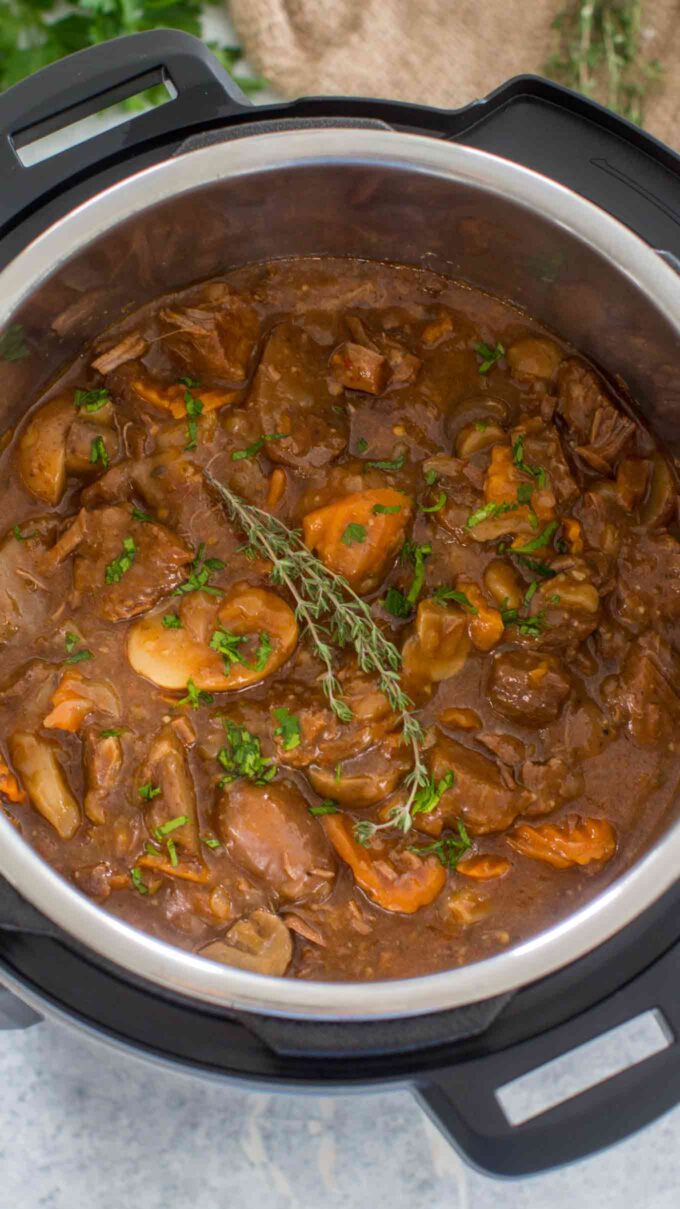 Looking for Instant Pot Side Dishes? These are my favorites:
What is a 15 Minutes Natural Pressure Release?
A Natural Pressure Release means that the pressure is released gradually. For a Natural Pressure Release, you click on Keep Warm, and wait 15 minutes, after which you open the valve and let any leftover pressure to release. Another option is to Turn Off/Unplug the pressure cooker, wait 15 minutes, and after that open the valve.
A natural release is usually used when cooking soups, meat in a large amount of sauce, pasta or steel cut oats. This method prevents any foam from the dish to shoot out through the valve, which can happen during a Quick Pressure Release.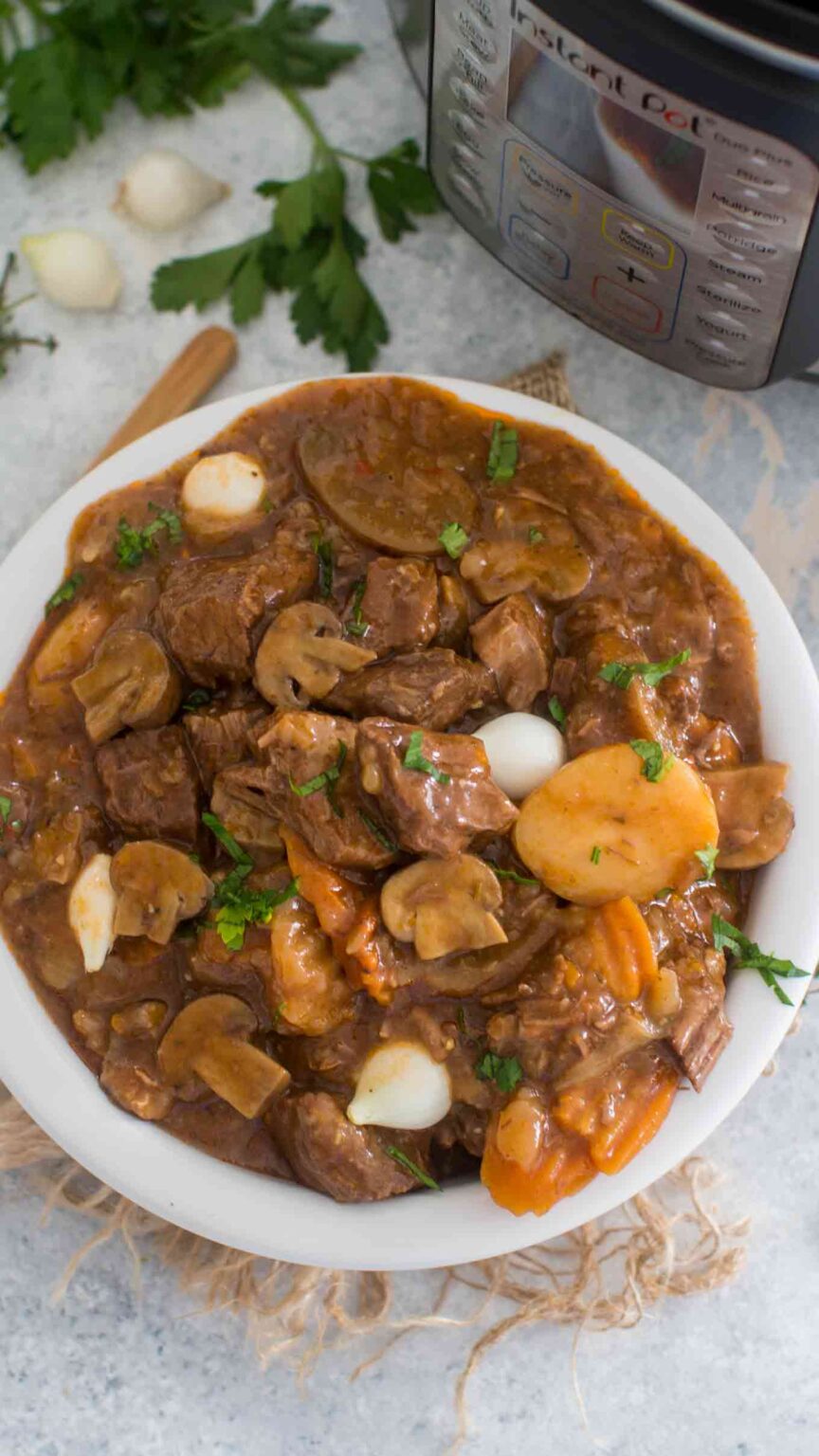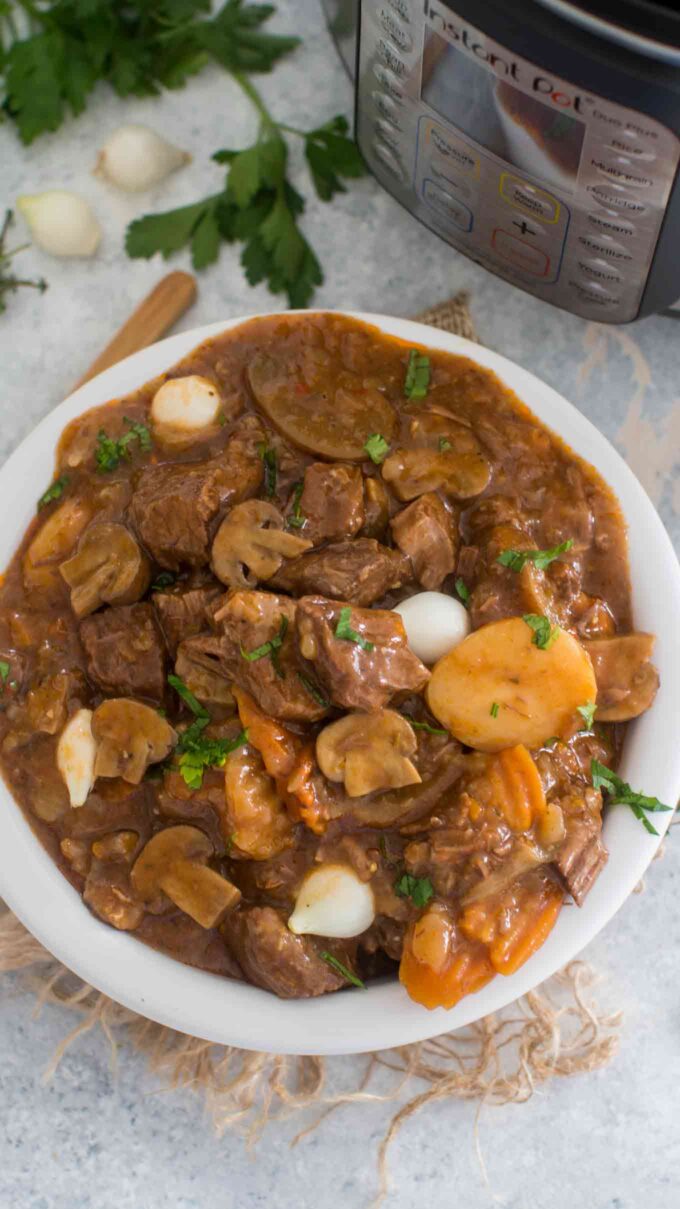 Recipe Tips:
Start with quality meat, preferably use organic beef for this meal. I used stew meat.
Also, look for fresh meat, that has a bright color, and lots of marbling. The marbling is essential to get great flavor and tenderness.
Cut the beef into 2-inch chunks if it's not pre-cut, so it holds its shape well after cooking.
In addition, sear the meat first as directed in the recipe! Taking the quickstep to sear the meat instead of just tossing everything it produces a much more flavorful stew.
If you would prefer fewer carbs and want to skip the potatoes. Also, you can replace them with celery.
Similarly, if you are wondering what potatoes will hold their shape best after cooking under pressure then you need to use Yukon potatoes. I used a tri-color mix potato bag, but they don't hold their shape as well. I like how they taste and I like the color. However, if you are looking for the potatoes to hold their shape then go for Yukon are the best ones.
Cut your carrots and potatoes into large pieces so that they don't get mushy in the stew after cooking.
You can add red pepper flakes for the dish to be spicier.
Similarly, feel free to sprinkle some crumbled bacon over the top before serving.
Instant Pot – I use it all the time, I have the 6 quarts one. It makes weeknight meals so much easier.
Ultimate Instant Pot Beef Stew
Ultimate Instant Pot Beef Stew is made in a fraction of the time a stovetop or slow cooker version would take. Tender beef and veggies, in a hearty sauce!
Save
Share
Print
Pin
Rate
Ingredients
Beef:
1 1/2 - 2

pounds

stew meat cut into 1 1/2 - 2 inch cubes

2

tablespoons

all purpose flour

1

teaspoon

salt

1/4

teaspoon

ground black pepper

2

tablespoons

canola or olive oil
Rest of Ingredients:
1/2

cup

water

1

sweet yellow onion peeled and chopped

1

tablespoon

garlic minced

1/2

teaspoon

salt

1/4

teaspoon

ground black pepper

1/2

tablespoon

dried rosemary

1/2

tablespoon

dried thyme

1

teaspoon

dried marjoram

1/4

teaspoon

red pepper flakes

2

tablespoons

tomato paste

2

tablespoons

Worcestershire sauce

1

tablespoon

brown sugar

2

cups

beef broth

2

carrots

(peeled and chopped into 2 inch chunks)

8

ounces

baby Bella mushrooms

(trimmed and quartered)

1

pound

new mini potatoes or Yukon potatoes

(halved)

1

cup

pearl onions

(fresh or frozen)

1

bunch thyme tied in a bundle
Cornstarch Slurry:
3

tablespoons

cornstarch

3

tablespoons

water
Instructions
Add beef chunks to a large bowl, sprinkle flour, salt, and pepper onto it. Stir to combine.

Turn on the Instant Pot and select Sauté. Once Hot add oil to the pot.

Once the oil is hot, cook the beef in batches 2-3 minutes on each side until nice and brown.

Remove the beef from the pot, cover with foil and set aside.

Add the water to the IP to deglaze it, and using a wooden spoon scrape well the bottom of the pot to remove any bits that stuck to it, make sure you scrape it well to avoid burning during cooking.

Add the chopped onion and cook for 1 minute, add the garlic, stir and cook for 1 minute.

Add salt, pepper, dried rosemary, thyme, marjoram, and red pepper flakes. Stir to combine.

Then, add tomato paste, Worcestershire sauce, brown sugar, and beef broth. Stir to combine.

Next, add the beef back to the pot, followed by chopped carrots, mushrooms, potatoes, and pearl onions if using.

Make sure you don't go over the Max line of your pot.

Add a bunch of fresh thyme on top.

Close the lid and seal the valve. Cook for 35 minutes on High Pressure. Once the Instant Pot beeps, do a 15 Minute Natural Pressure Release.

Release manually the remaining pressure.

Discard thyme.
Optional:
If you want the sauce to be thicker, mix corn starch and water in a small bowl until fully combined.

With the IP on Saute, add the mixture to the pot and gently stir, trying not to crush the veggies. Cook for 2-3 minutes, until the sauce, thickens.

Serve and enjoy.
Nutrition
Serving:
0
g
|
Calories:
138
kcal
|
Carbohydrates:
23
g
|
Protein:
3
g
|
Fat:
4
g
|
Saturated Fat:
0
g
|
Cholesterol:
0
mg
|
Sodium:
757
mg
|
Potassium:
578
mg
|
Fiber:
3
g
|
Sugar:
7
g
|
Vitamin A:
2655
IU
|
Vitamin C:
12
mg
|
Calcium:
65
mg
|
Iron:
3.5
mg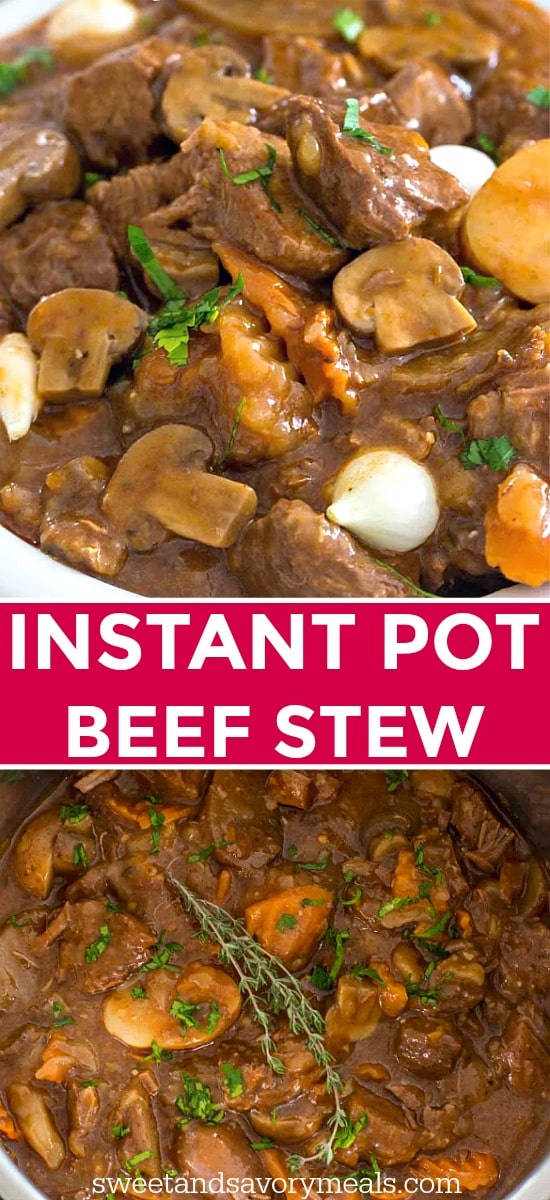 More recipes you might love