Instant Pot Mashed Potatoes [VIDEO]
Instant Pot Mashed Potatoes are the easiest, fluffiest and creamiest mashed potatoes you will ever try. The perfect side dish with this foolproof recipe. Also, check out the quick video tutorial attached and see how to make this recipe mess-free!
We love cooking delicious and easy dishes in the Instant Pot. Some of the popular meals that would go well with these mashed potatoes would be IP Short Ribs, Pressure Cooker Garlic Sesame Chicken and IP Corned Beef.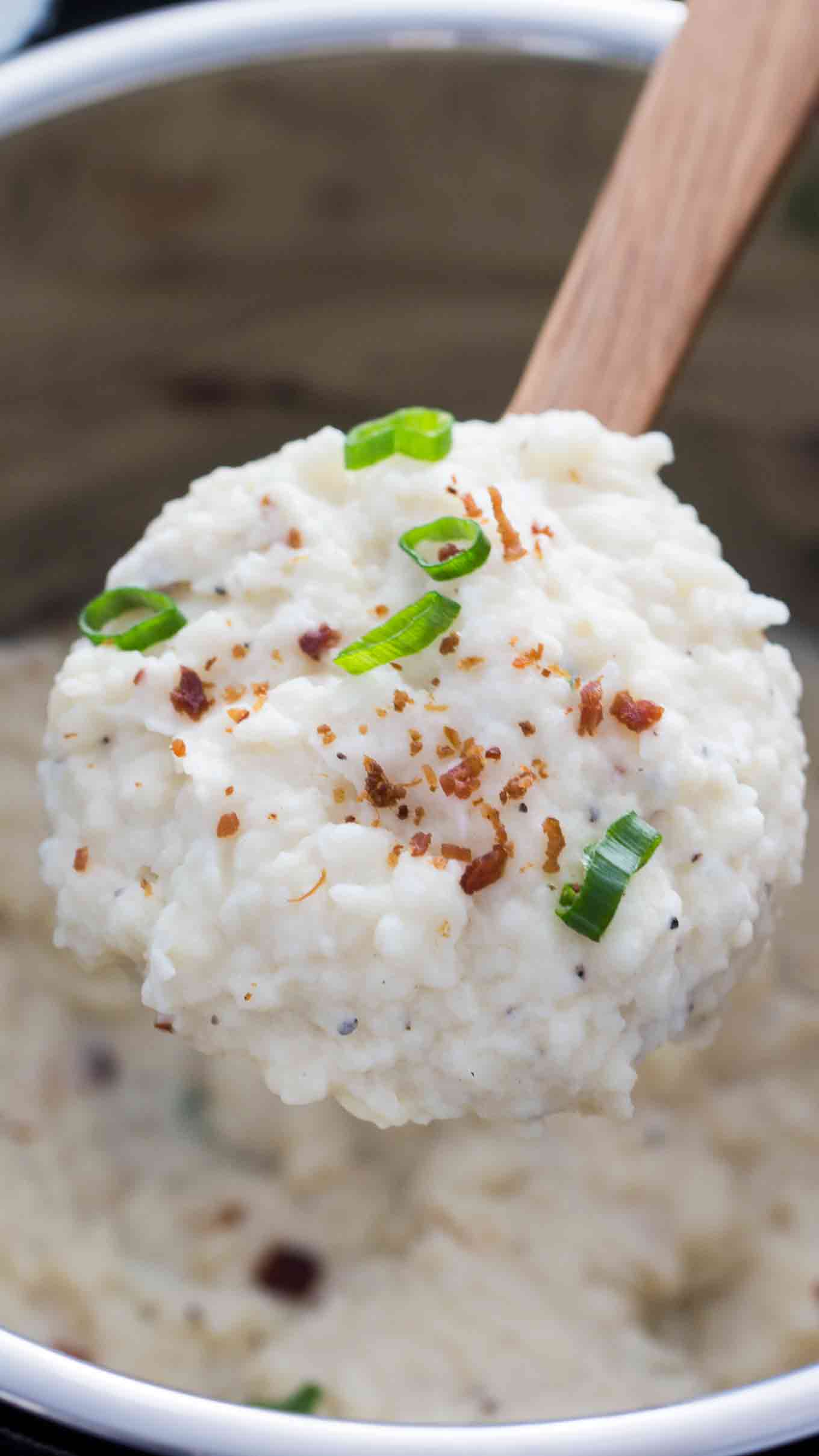 Easy Instant Pot Mashed Potatoes
These Instant Pot Mashed Potatoes are so easy to make, guys, they are seriously amazing! Mashed potatoes are one of my favorite dishes because they are the perfect comfort food for me. I make them for all the holidays and many times for dinner as my kid is such a huge fan too.
Having the mashed potatoes very creamy, rich and fluffy, is always satisfying. With this delicious recipe, you will have a side dish that is super easy to prepare, very tasty, and ready in no time.
You can make it healthier or pile it with your favorite topping. Also, I am a huge fan of stirring in some Ranch dressing and sprinkling some bacon crumbs on top. Yum!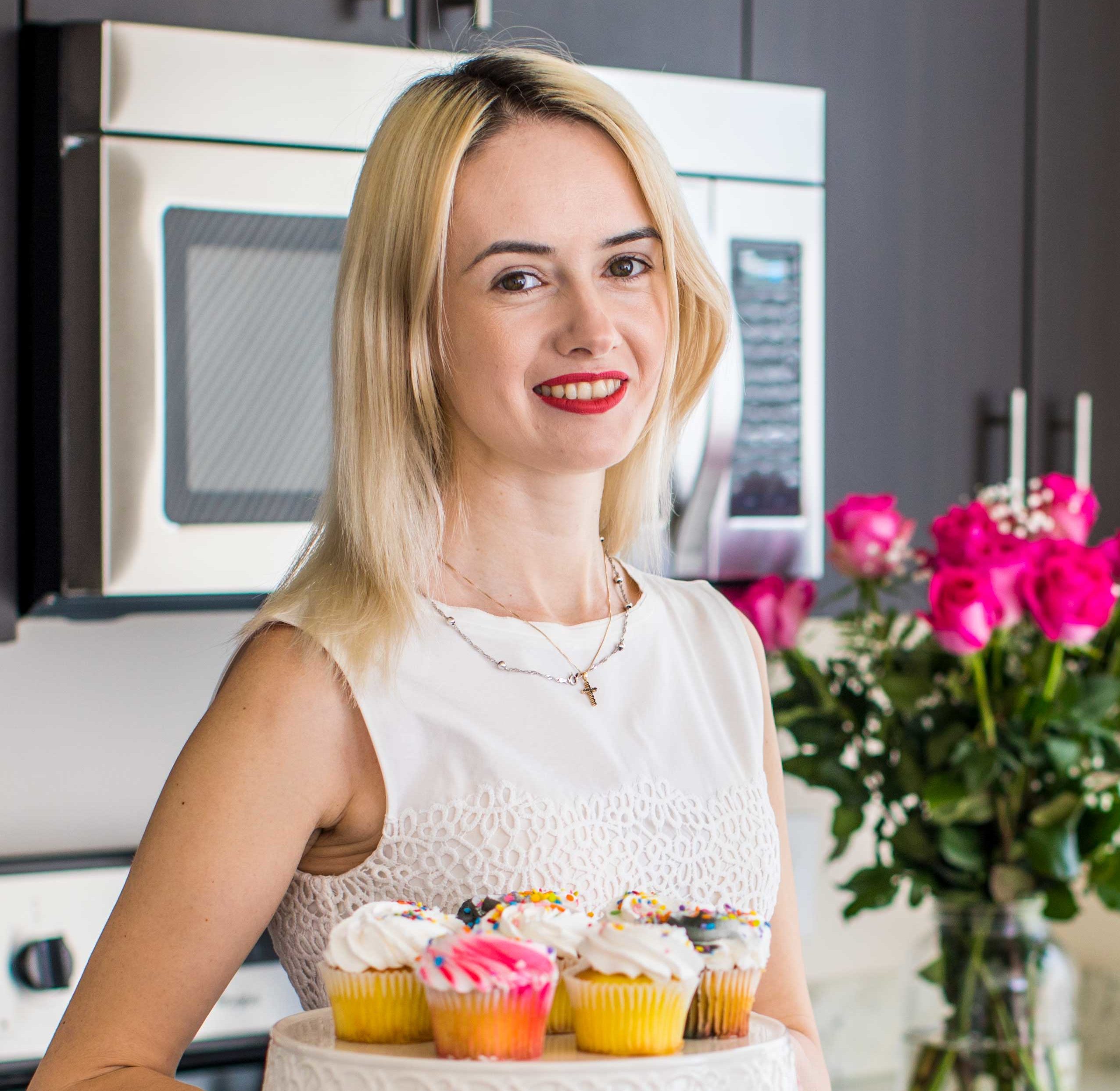 Follow us on Pinterest for more delicious recipes!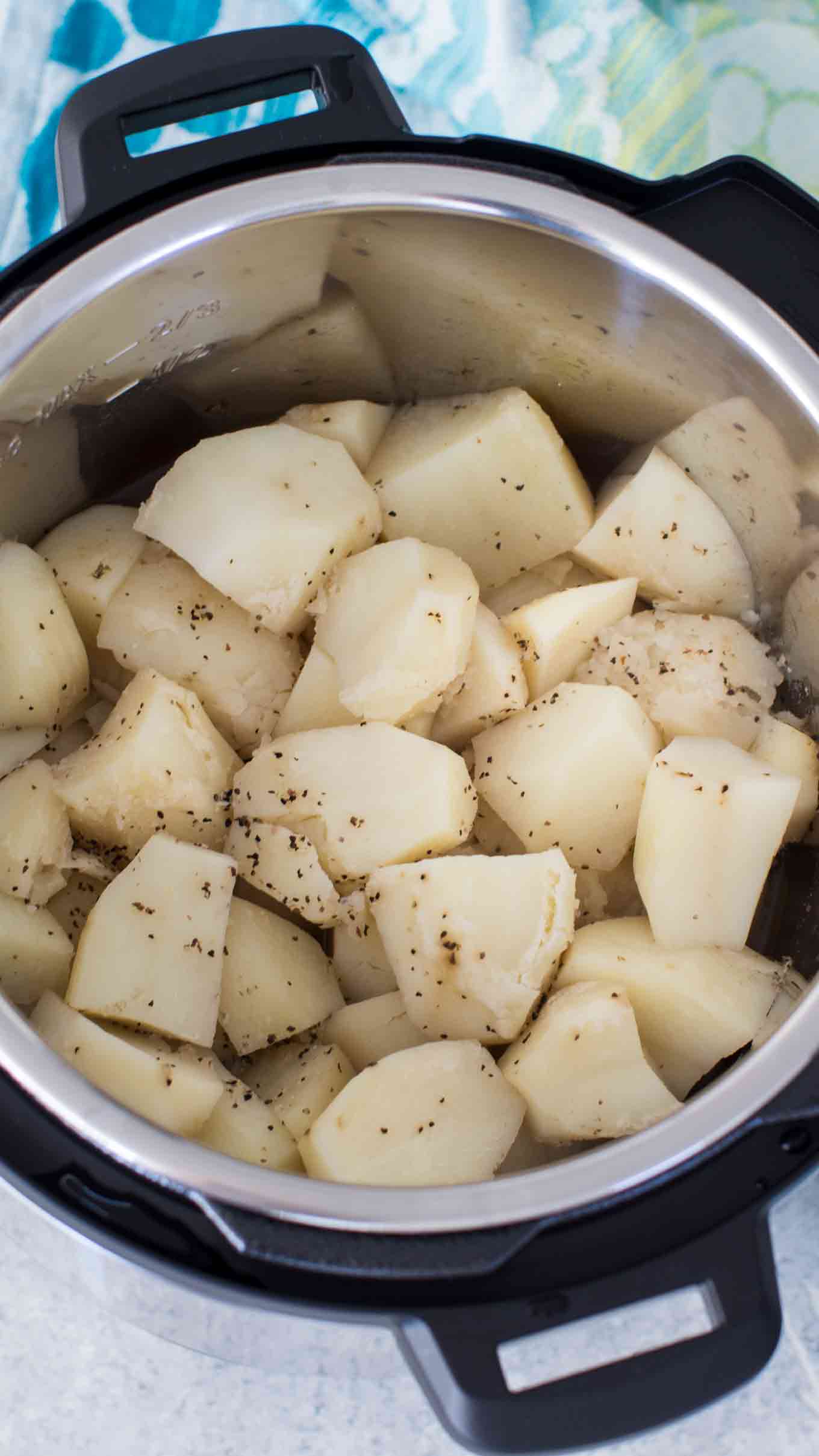 What type of potatoes should I use to make mashed potatoes?
Idaho or Russet potatoes are the best choices as they are high in starch and low in moisture. Also, they will result in fluffier and creamier mashed potatoes. However, if you can't find them, feel free to use any type.
HOW DO YOU MAKE INSTANT POT MASHED POTATOES?
This recipe is super fast and easy. After you make the mashed potatoes using the pressure cooker, you will never make this recipe any other way!
First, start by peeling and chopping the potatoes. I like cutting them into the larger side. Then, add them to the pot along with some salt and pepper, and liquid. You can use water or broth. Next, close the lid, and cook on HIGH for 12 minutes.
Recipe Variation:
Creamy mashed potatoes: I like to add heavy cream and butter to mine, for the creamiest and most comforting taste and texture.
Cream Cheese Potatoes: Add 3 ounces of cream cheese to the recipe.
Roasted Garlic Potatoes: Add 1/4 cup roasted garlic cloves, 1/4 cup parmesan cheese, and 1/4 cup parsley
HOW DO YOU MASH POTATOES?
The quickest and easiest way to mash them would be using a potato masher. After they are cooked, just use the masher and gently push into them.
Mashed Potatoes Toppings Suggestion:
Chopped green onion or parsley
Bacon crumbs
Chives
Sliced jalapeños
Cheddar cheese
Crumbled blue cheese
Sour cream or herbed butter
French fried onions
Caramelized onions or mushrooms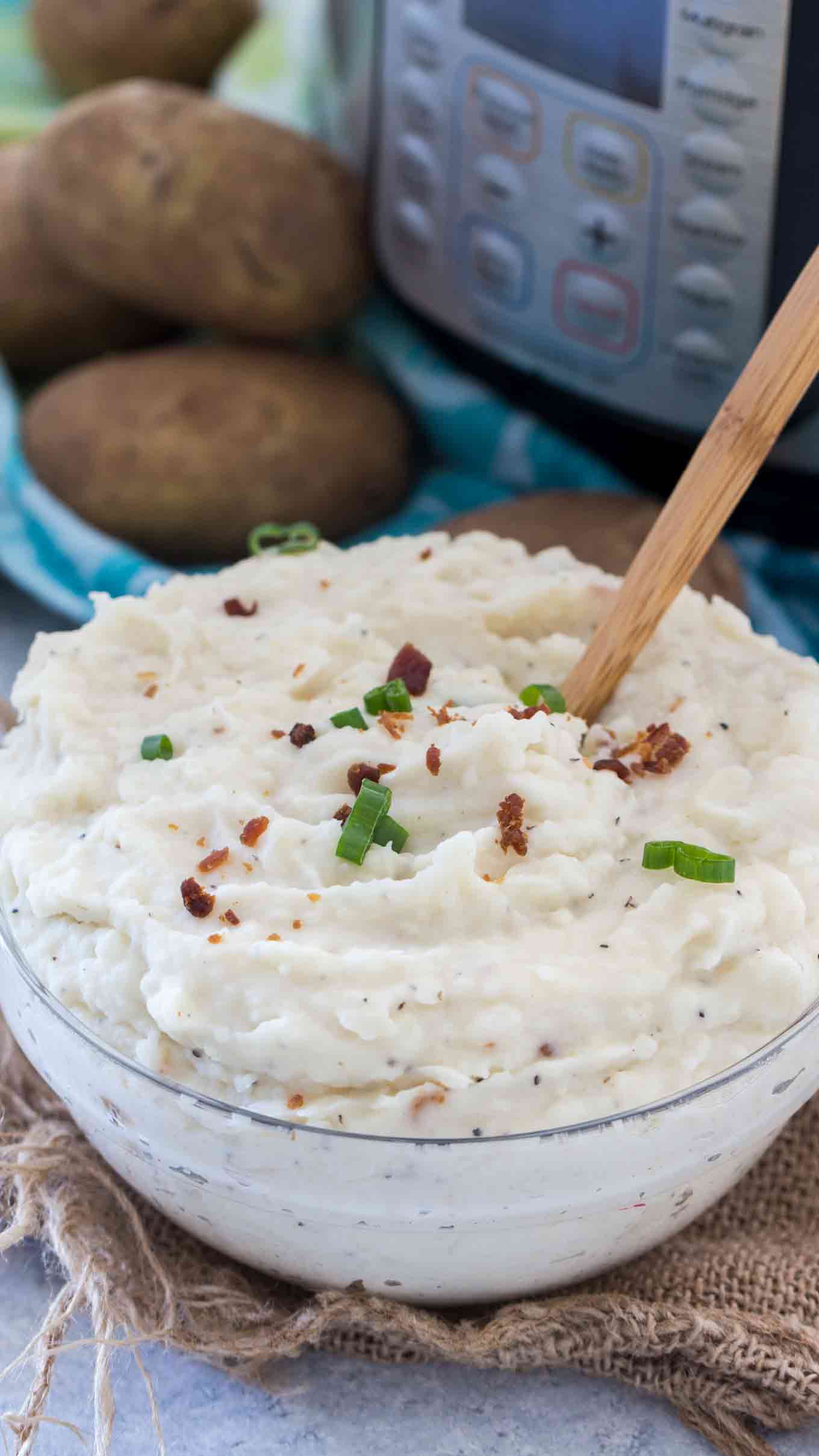 How can I make Instant Pot Mashed Potatoes Healthier?
To cut on the calories, you can add skim milk, a few tablespoons of whipped butter and light sour cream to them.
How do I make Ranch Mashed Potatoes?
After I mash the potatoes, I like to stir in 1/2 cup of Ranch salad dressing, they taste amazing!
How to reheat mashed potatoes?
Add them to a microwave-safe dish and heat them at half power for five minutes, stirring occasionally. Once the potatoes are hot, stir well, and add additional warm cream or milk and butter, as needed. Stir well to combine.
What is a "Quick Release"?
A quick pressure release is when you open the valve and allow the steam to release quickly. If you're using an Instant Pot, you turn the valve from sealing to venting to release the pressure. Make sure you don't stand over the steam as it is very hot.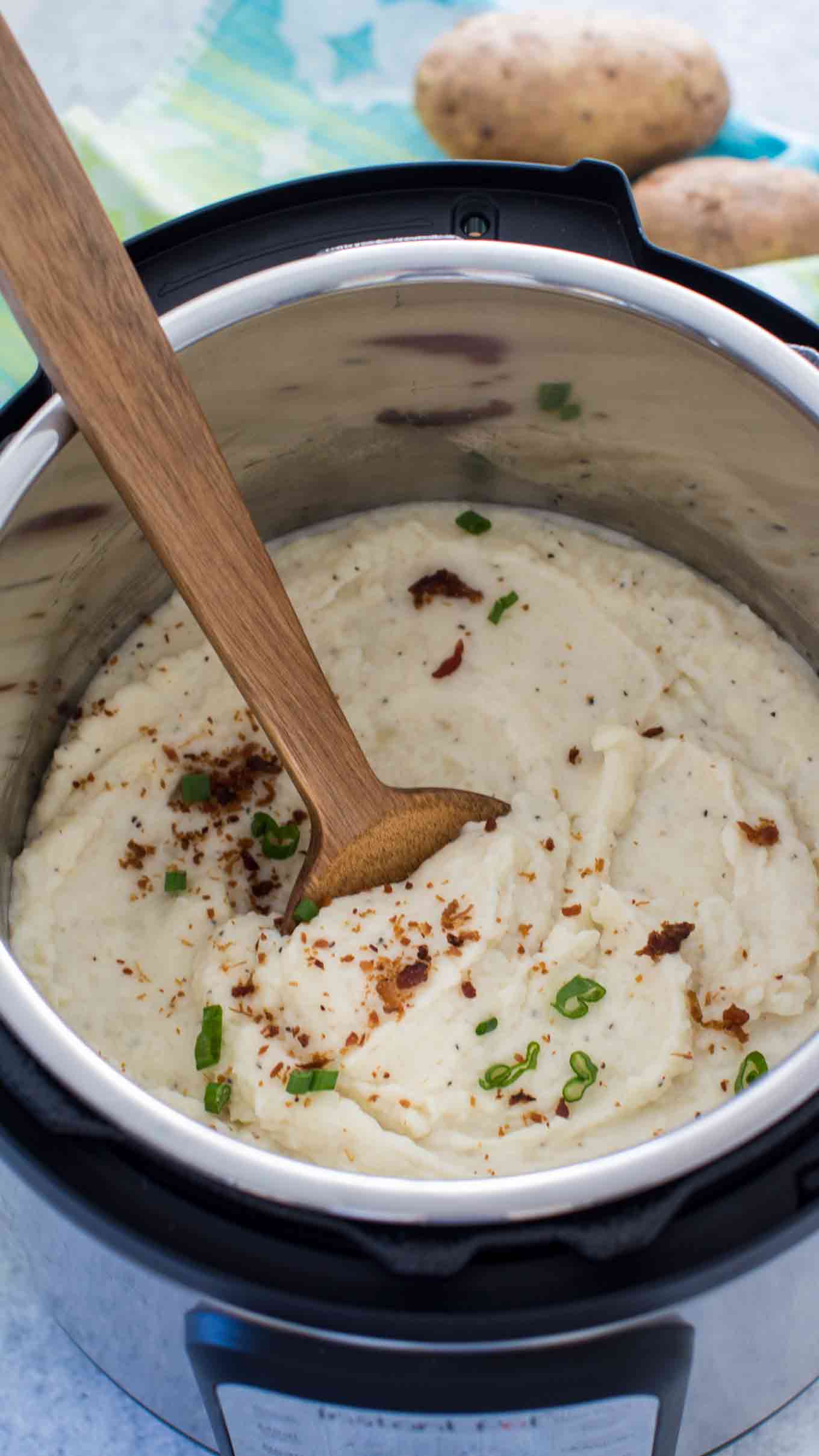 Recipe Tips:
A 6q Instant Pot is used for this recipe.
Also, I drain the water after I cook the potatoes and add back as needed, to avoid making the mashed potatoes too watery.
You can use whole milk or skim milk instead of heavy cream. I prefer to use the cream as it makes the creamiest and most rich mashed potatoes.
Preferably, I use unsalted butter, but if you use salt, make sure you add if first and after that the salt, to avoid ending up with salty potatoes.
To make the mashed potatoes fluffier, you can use a mixer to fluff them up.
Use garlic powder for garlic mashed potatoes, or some caramelized mashed garlic.
Save Recipe
Instant Pot Mashed Potatoes
Author: Catalina Castravet
Serves: 8 servings
Prep time:

10

minutes
Cook time:

12

minutes
Total time:

22

mins
Ingredients
5 pounds russet potatoes (peeled and cut into chunks)
1 1/2 cups water
1 teaspoon salt
1 teaspoon black ground pepper
1/2 cup cream or milk
1/4 cup unsalted butter
1 teaspoon garlic powder (optional)
Salt and Pepper to taste
Optional:
1/2 cup Ranch salad dressing / or sour cream / or cream cheese
Instructions
Add water to the pot, make sure you use at least the minimum amount required for your pot size.
Place peeled and chopped potatoes in the Instant Pot and season with a bit of salt and some pepper.
Put the lid on, close it and set the valve to "Sealing" position.
Press the Manual button and using the +/- buttons set the cooking time to 12 minutes.
It may take a while for the pot to come to pressure, because of the high volume of potatoes. That is ok, make sure the valve is sealed.
Once the Instant Pot is done cooking and it beeps, do a Quick Pressure Release by turning the valve to Venting position.
Once the pressure has vented, open the lid, carefully remove the pot and drain the water, save about 1 cup.
Add back the pot to the cooker, and while the potatoes are still hot, add the butter and stir.
Heat the cream or milk in the microwave for 30 seconds and add it to the pot as well.
Use a potato masher to mash the potatoes right into the pot, add salt and pepper to taste. Add garlic powder if you are using it.
To make the potatoes fluffier, you can use a hand mixer to fluff them up.
If you want the potatoes thinner in texture, you can add a little of the reserved water or more milk or cream.
At this point, stir in the Ranch salad dressing if you want to make Ranch mashed potatoes.

Enjoy!
0 Calories: 307 Carbohydrates: 53 Protein: 7 Fat: 8 Saturated Fat: 1 Cholesterol: 6 Sodium: 481 Potassium: 1229 Fiber: 3 Sugar: 3 Vitamin A: 45 Vitamin C: 16.7 Calcium: 71 Iron: 2.6
Save Recipe
More recipes you might love