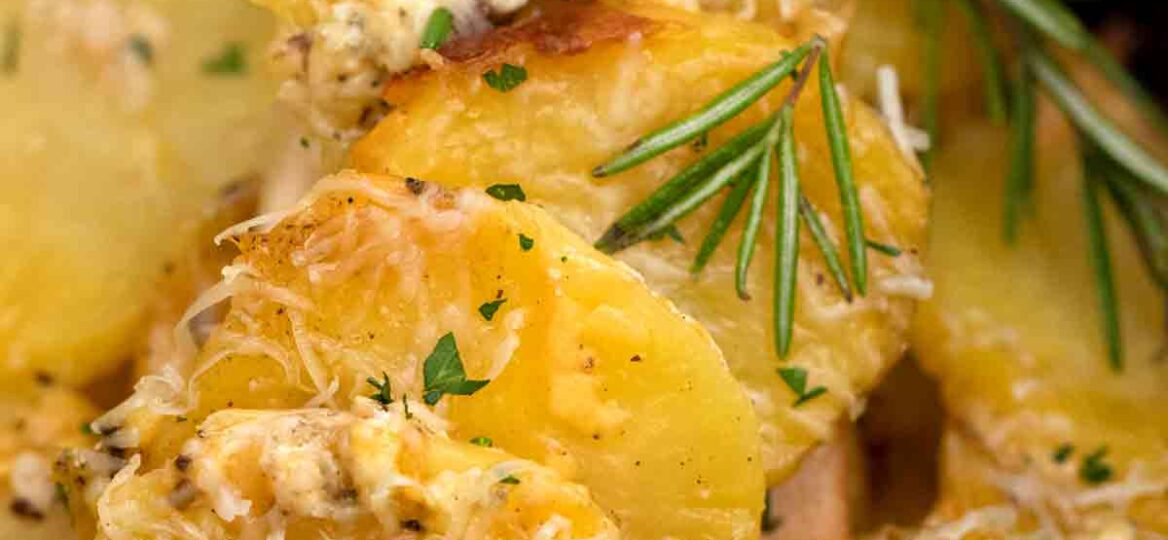 Slow Cooker Scalloped Potatoes [Video]
Slow Cooker Scalloped Potatoes are super creamy, cheesy, and delicious. The perfect side dish to just about any meal!
This recipe is one of the easiest comfort side dishes one can make in the crockpot. Made with a few simple ingredients it is always on our menu list. We love pairing it with Homemade Meatloaf, Pork Loin, and Air Fryer Chicken.
Easy Slow Cooker Cheesy Scalloped Potatoes
Slow Cooker Scalloped Potatoes is an easy casserole dish that is flavorful, creamy, and cheesy. It is one of the best comfort food to serve during the holiday season such as Thanksgiving or Christmas. You can serve it as a main dish or side dish. No matter how you serve it, we guaranteed that you will love every single bite of it!
To make it, all you have to do is layer your potatoes between the homemade cream sauce and cheese. Then, let the crockpot do its magic. I also love the oven version, but the slow cooker version is richer, creamier, and cheesier. Because the slow cooker maintains the moisture and heat, the sprouts end up super tender, creamy, and very flavorful.
Also, I like to serve them crispy on top. Once they are done cooking, I quickly pop the casserole into the oven for a few minutes and broil it. As a result, the dish is tender and creamy inside, and crispy on the outside, with a golden brown color. This extra step just makes this dish so much better!
What are scalloped potatoes?
This is a well known and classic side dish, where potatoes are thinly sliced and layered with cream and cheese, and then baked till bubbly hot.
You may also know this recipe as "potatoes au gratin", and the two names are used interchangeably.
Ingredients for Slow Cooker Scalloped Potatoes:
You will need the following Ingredients:
Potatoes: I like using Russet ones or Yukon gold.
For the sauce: I go with heavy cream. You can also use any cream of soup instead.
Cheese: Feel free to use your favorite type. I tend to go with shredded Gruyere, cheddar, or freshly grated Parmesan.
Seasoning: I use dried thyme, rosemary, basil, nutmeg, salt, ground black pepper, chopped parsley, and minced garlic.
Recommended Tools to Make This Recipe:
6-quart slow cooker–

I like this version as it is affordable and reliable. However, you can use any type you desire.

Mandoline – It does a great job slicing the potatoes.
How to make Slow Cooker Scalloped Potatoes?
Prepare the spuds: Clean and peel the spuds. Then, using a mandoline, slice them into about 1/8 of an inch thick.
Make the sauce: In a saucepan over medium heat, combine heavy cream, garlic, thyme, and nutmeg. Whisk continuously until the sauce is well combined.
Layer the dish: Spray some cooking oil into the pot, and then spread about 1/3 of the sliced potatoes into the bottom. Add about 1/3 of the seasoning and 1/3 of the sauce, and shredded cheese evenly over the spuds. Repeat with the remaining two layers.
Slow Cook: Next, close the lid and cook on HIGH for 4-5 hours.
Serve: Spread some shredded cheese on top, and garnish with some chopped parsley, and serve warm.
Recipe Variations and Substitutions:
Sweet potatoes: If you love sweet potatoes, you can substitute them instead of the regular ones. Also, you can mix the two together.
Instant Pot: Want to make this recipe in the Pressure Cooker? Then, try my Instant Pot version.
Oven-baked: You can also make this side dish the classic way – in the oven.
Add meat: For more proteins, add some cubed ham, leftover turkey breasts, or shredded chicken.
Add veggies: To make it healthier, add some veggies to it, such as broccoli, asparagus, bell pepper, etc.
Cheese: Feel free to use your favorite cheese. I tend to go with Gruyere, cheddar, or parmesan cheese. However, you can use any type. For example, mozzarella, Colby, Swiss, will add a nice flavor as well.
How long to cook potatoes in the crockpot?
I cook this dish on HIGH for about 4-5 hours. Just check them at about 4 hours mark to see if they are tender. If not, leave them to cook for another 30 to 60 minutes.
Alternatively, you can cook it on LOW for 7-8 hours.
Which potatoes are best to use for Scalloped Potatoes?
Pretty much any type you have on hand. I usually use Russet or Yukon gold, or a combination of the two. However, you can use any type you prefer. If you do not want to peel them, I would suggest going with red potatoes.
What to serve with slow cooker scalloped potatoes?
This side dish goes well with pretty much anything. Here are some suggested ways to serve it with:
How to store slow cooker scalloped potatoes?
Serve: The dish can be kept at room temperature for up to 3 hours before it should be stored.
Refrigerate: Prior to refrigerating, let it cool completely. Then, transfer the dish to an airtight container and refrigerate for up to 4 days. Reheat in the oven or on the stovetop for best taste.
Freeze: Cool the scalloped potatoes completely prior to freezing. Then, using a freezer-safe dish, or a sealed container, freeze it up to 3 months.
More easy side dishes:
Recipe tips:
For more proteins, add ham, shredded chicken, Italian sausage, leftover turkey, or pork to it.

Also, feel free to use your favorite cheeses or a mixture of a few. Whatever you like and you have available will work just fine.
I like to garnish it with chopped parsley or green onions.
You can also cook this dish on LOW for 7-8 hours.
To make it crunchier, you can pop it right in the oven for about 2-3 minutes and broil it. That will make the potatoes crunchy on the top, and also give them a nice golden-brown color.
Deliciousness to your inbox
Enjoy weekly hand picked recipes and recommendations