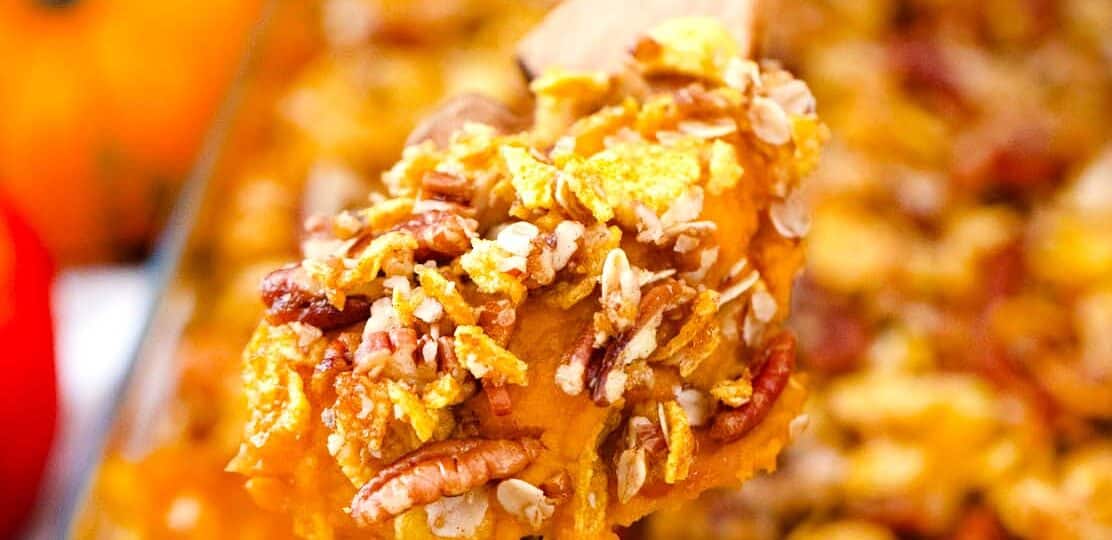 Apple Butternut Squash Casserole Recipe
Apple Butternut Squash Casserole is a delicious vegetarian side dish, with wonderful fall flavors and textures, for your Thanksgiving dinner or holiday menu. Made with sweet fresh squash, tangy apples, coconut, and a little brown sugar with a crunchy nut topping for a mixture of textures and flavors in every bite. Everyone will love this dish so be sure to have the recipe handy. Our recipe card is printable so you can share it.
Although there are many squash varieties that have been eaten by Native Americans for thousands of years, the butternut squash has only been around since 1944. It was Charles Legget from Massachusetts who mixed gooseneck squash varieties and pumpkin to produce the delicious winter squash we now know as butternut squash. It got that name because it is smooth as butter and sweet as a nut.
With plenty of vitamins and minerals, our squash and apple casserole recipe is healthy as well as incredibly flavorful. All you need are a handful of ingredients including squash, apples, coconut, brown sugar, oats, cornflakes, and pecans with some herbs and spices. It is so easy, you can get the kids to help you.
Ingredients needed:
All the ingredients play an important role in the flavors and texture of this delicious squash apple casserole. After gathering all you need, find the recipe card at the bottom of the page for the details.
Large butternut squash: You need about three pounds of butternut squash.
Cored apples: Make sure you cut thin apple slices and do not remove the peel. You do not want them to turn into applesauce.
Coconut: This unique ingredient gives your butternut squash mixture a distinctly tropical flavor and a chewier texture.
Light brown sugar: For a warm sweetness in each layer.
Salted butter: Adds a rich buttery flavor throughout the dish.
Nutmeg: Gives a slightly sweet and nutty flavor without too much sweetness.
Cinnamon: Goes well with nutmeg for warm fall flavors.
Salt: Brings out the flavors of all the other ingredients.
Olive oil: For roasting the squash.
Topping:
Corn flakes cereal: For an extra crunchy topping.
Oats: Quick-cooking oats are best, but you can use any kind. They are just for blending in the topping.
Chopped pecans: Toast your pecans to give your casserole a slightly nutty and sweet flavor.
Nutmeg: Gives a slightly sweet and nutty flavor without too much sweetness.
Cinnamon: Goes well with nutmeg for warm fall flavors.
How to make squash and apple casserole from scratch?
Preheat oven: First, preheat oven to 425 degrees F and grease a casserole dish.
Prep your squash: In the meantime, cut squash in half lengthwise and use a spoon to remove the seeds. Rub oil on the fleshy part and place it skin-side up in a foil-lined baking dish.
Cook the squash: Now, roast squash in your preheated oven for 35 to 40 minutes or until fork-tender and lightly browned. When it is done, turn the oven down to 350 degrees F.
Saute apples: While the squash bakes, melt three tablespoons of butter in a large skillet. Once it melts, add the apple slices and 1/4 cup of brown sugar and give it a stir. Saute apples until they are soft, for about 10 to 15 minutes. Spoon the apples into your prepared casserole dish, leaving the juices in the skillet.
Blend the squash mixture: Now scoop out the flesh from the warm squash and put it into a food processor or blender. Add 1/4 cup of brown sugar, three tablespoons of butter, nutmeg, cinnamon, and salt. Process until it is smooth and then spread it on top of the apples.
Make the topping: After, crush the cornflakes and put them in a large bowl. Add oats, pecans, and the remaining brown sugar and spices. Mix with four tablespoons of melted butter and then sprinkle it on top of the squash.
Bake casserole: Last, bake your casserole for 25 minutes or until heated all the way through. Keep an eye on it to make sure the pecans do not burn. You may have to put a foil tent on top of the dish for the last 10 minutes or so to prevent over-browning.
Serve warm: Finally, serve your delicious casserole while it is still warm.
Recipe variations:
Other nuts: Instead of pecans, you can use chopped walnuts, peanuts, almonds, or cashews.
A different oil: You can use another oil such as avocado oil or whatever you like cooking with.
Use flour: Feel free to use some flour in your topping instead of oats if you find them too filling or high in carbs. In fact, for that oat taste, you can use oat flour.
No brown sugar: Similarly, feel free to use honey or maple syrup instead of brown sugar if you are trying to cut down on sugar.
Add vanilla: To give your casserole an extra bit of flavor, add a teaspoon of vanilla.
More herbs and spices: This fall dish can be enhanced by even more herbs and spices like fresh thyme, mace, basil, sage, and cloves.
Make it spicy: You can spice up your casserole with a teaspoon of cayenne pepper.
How to serve:
This squash and apple bake is easy to make and tastes sweet without being too sugary. It is the perfect side dish for any occasion. Or add some meat and make it a meal. Here are some fantastic serving ideas you can try, or you can share your own ideas in the comments section.
Top with mini marshmallows for a sweet potato casserole flavor.
Add a dollop of whipped cream to the top of this casserole for a sweeter taste. We have a great recipe for rich whipped cream you can use.
Toss some dried cranberries on top of your casserole just before serving for a different flavor.
You can use your excess juices from sautéing your apples in a smoothie or add some more sweetness to other dishes. Try it in our green smoothie bowl.
This goes great with a small bowl of ice cream for a different kind of dessert.
Use your leftovers to add to this creamy butternut squash soup.
Another way to use leftovers is to add them to a different kind of dish like chicken casserole.
Frequently asked questions
What kind of apples are best for this recipe?
You can use any kind of apples you like but it would be best if you have a firm and tart apple. Mix it up. Do not just use one type of apple. Some of the best for this are Honey Crisp, Pink Lady, Braeburn, and Granny Smith apples. No matter what apple mixture you use, just make sure you cut them into thin slices.
What are the different kinds of squash?
Butternut squash is one of the most common although acorn squash is another popular winter squash. Spaghetti squash is a stringy type that is perfect for healthier pasta dishes. For a buttery sweet flavor, try buttercup or honeynut squash. Any type of winter squash would work well in this recipe.
Can I peel my apples?
Although this recipe calls for unpeeled apples, you can peel them if you like. But it is best if you have apples with firm flesh because peeled apples can turn into mush if you get the wrong kind. However, even if they do get mushy, your apple squash casserole will still have great flavor and be the perfect side dish for any meal.
Are butternut squash healthy?
Squash of any kind has a plethora of vitamins and minerals as well as fiber and antioxidants. In fact, one cup of cooked squash has more than 50% of your recommended daily allowance of vitamin C and over 450% of your daily needs of vitamin A. Butternut squash also does not have any saturated fat or cholesterol. It is also a good source of potassium, beta-carotene, magnesium, niacin, and folate.
More Thanksgiving side dishes to try:
How to store leftovers:
Store: Keep leftover butternut squash and apple casserole in the fridge for up to a week in an airtight container.
Freeze: To freeze leftover casserole, put it in a freezer-safe container and it will stay fresh for up to 90 days.
Thaw: Thaw your leftovers in the refrigerator overnight for the best texture and flavor.
Reheat: To reheat, place in a microwave-safe bowl and set it on medium power. Microwave for one to two minutes, depending on the size of the portion and the wattage of your microwave.
Recipe tips:
The cooking time may need to be adjusted depending on your oven temperature.
Make sure the oven is cooled down to 350 degrees F before baking the casserole.
Instead of cornflakes, you can use panko breadcrumbs or crushed crackers. Ritz Crackers will give your topping a delicious buttery flavor.
After reheating your leftovers, you may want to add some more topping for crunchiness.
Make sure you use firm apples, so they do not turn mushy from cooking.
If the topping is getting too brown, cover it for the last 10 minutes or so.
Not a fan of squash? You could substitute it with sweet potatoes.
If you are looking for more recipes, check out the rest of our food blog. We add new recipes every day.
Apple Butternut Squash Casserole
Ingredients
1

large butternut squash

about 3 lbs.

2

tablespoons

coconut oil

6

medium apples

thinly sliced but not peeled - about 2 lbs. Use firm apples like Honey Crisp, Granny Smith, Braeburn, and Pink Lady.

6

tablespoons

salted butter

divided

1

cup

light brown sugar

divided

1/2

teaspoon

salt

1/2

tsp

cinnamon

1/4

tsp

nutmeg
Topping:
2

cups

Corn Flakes cereal

1

cup

chopped pecans

1/4

cup

oats

1/2

teaspoon

cinnamon

1/4

teaspoon

nutmeg

4

tablespoons

salted butter

melted
Instructions
Preheat oven to 425 degrees F.

Cut the squash in half lengthwise. Scoop out the seeds and rub the coconut oil on the flesh. Place the squash flesh-side down on a foil-lined baking sheet and roast in the preheated oven for 35-40 minutes, or until tender when pierced with a fork.

In the meantime, place a large skillet over medium heat and melt 3 tablespoons of butter. Add the sliced apples and 1/4 cup of the brown sugar. Stir and sauté the apples until they're soft, about 10-15 minutes.

Grease a 3-quart casserole dish.

Transfer the apples to the prepared casserole dish, BUT NOT the juices from the skillet.

When the squash is cool enough to handle, scoop out the flesh and add it to a food processor or blender.

Also, add 3 tablespoons of butter, 1/4 cup of brown sugar, spices, and salt, and process until smooth.

Spread the squash mixture on top of the sautéed apples.
Topping:
Reduce oven temperature to 350 degrees F.

Crush the cornflakes and add them to a small bowl, add the chopped pecans, oats, and the remaining 1/2 cup of brown sugar, spices, and melted butter. Stir well to combine and sprinkle the topping over the squash layer.

Bake, uncovered, for 25-30 minutes, or until heated through. If the pecans start to burn or turn too brownish, tent the top of the dish loosely with foil.

Let the dish cool for 10 minutes before serving. It is good warm and cold.