Best Green Bean Casserole [Video]
Green Bean Casserole is the ultimate comfort food, loaded with fresh green beans, cream of mushroom soup, Cheddar cheese, and french fried onions. This is the perfect holiday dish, easily made at home, and ready in about one hour.
We love making easy and delicious Casseroles, because they are tasty, can feed a larger crowd, and usually make enough leftovers. Occasionally, I like to prepare a few ahead of time and freeze them, to have dinner readily available for busy weeknights. We often make this Cheesy Crack Chicken Casserole, White Pizza Casserole, and Chicken Hash-brown Casserole.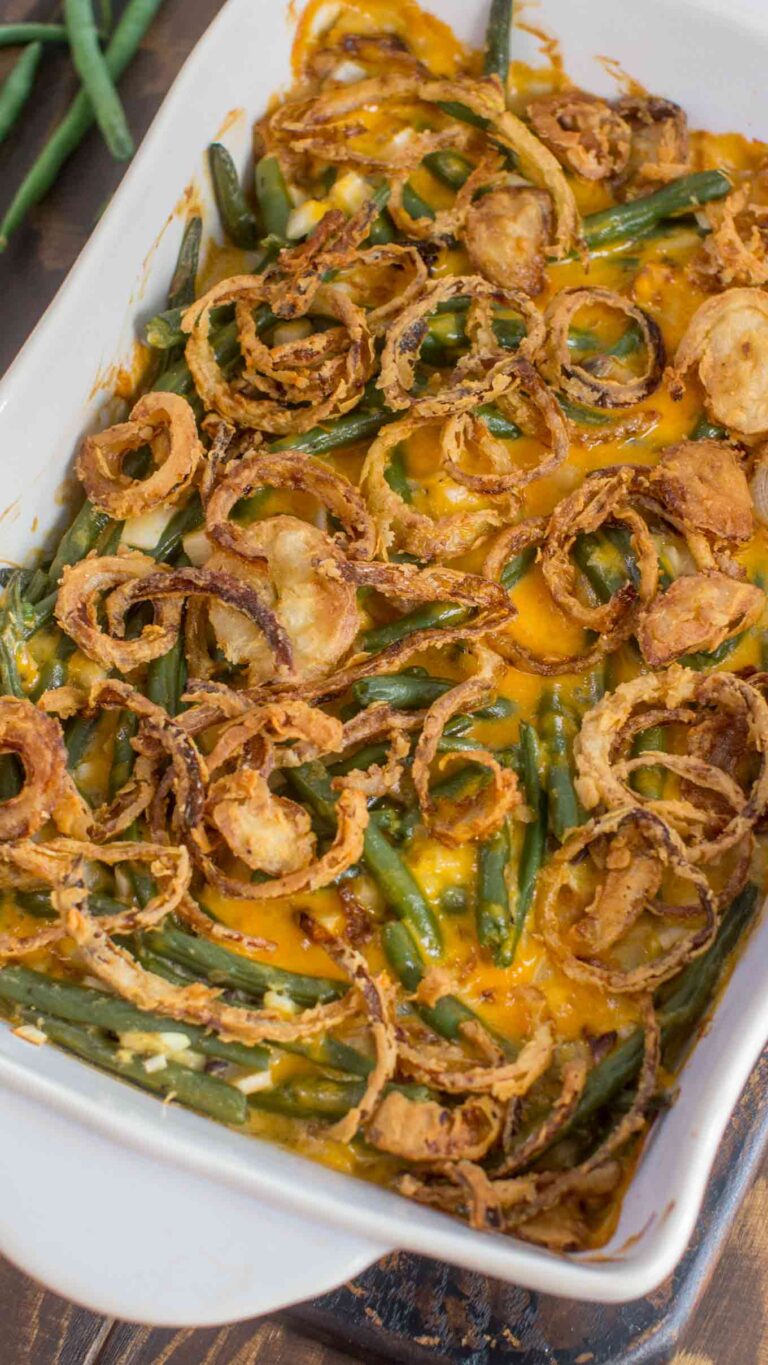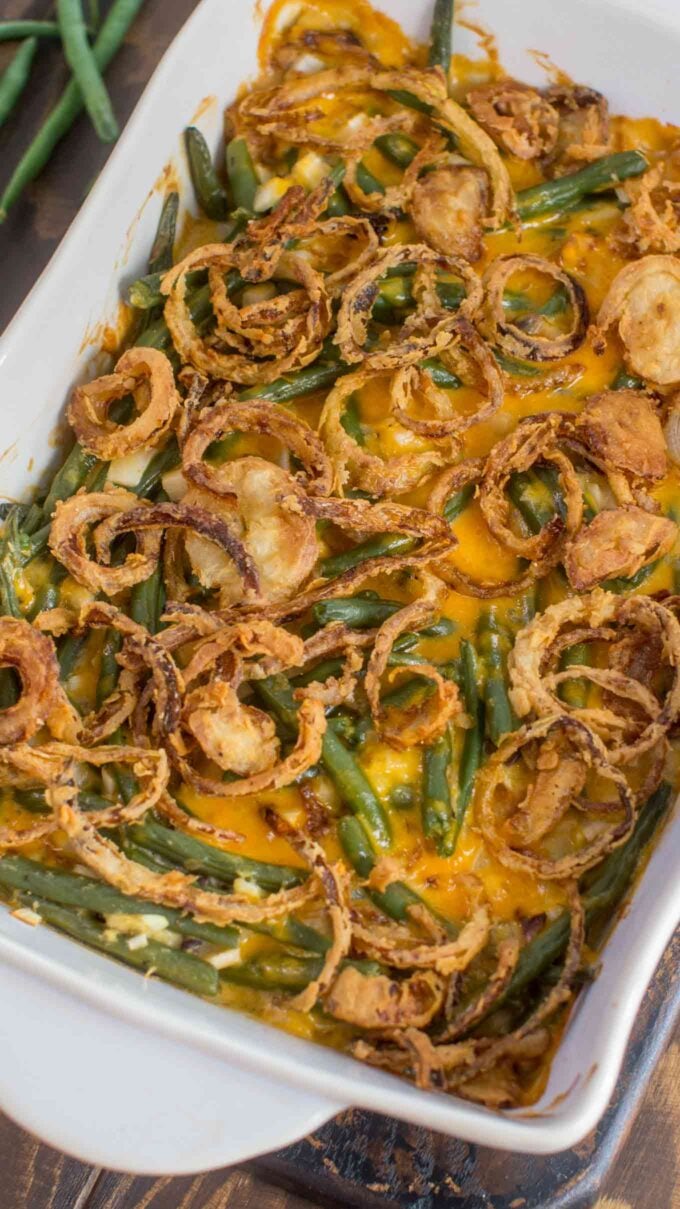 The Best Green Bean Casserole
This Green Bean Casserole is such a classic dish and is always a hit with my family. Also, it is the perfect holiday dish for the whole family to enjoy. Similarly, this dish is very easy to adapt to your own taste preference, since you can swap the green beans with other veggies, such as broccoli or cauliflower.
In addition, for bacon lovers, add a few slices of cooked and crumbled bacon, to the bean mixture. Whichever version you prefer, we guarantee this dish will be a hit in your family.
Casseroles are a great option when you don't want to cook every single night or have a large family. They are usually easy to make, and large enough to serve to a crowd or have leftovers. Casseroles also freeze well, which means you can make a few ahead of time and freeze for busy times. When you are ready to serve, just pop it in the oven and a stress-free the homemade dinner is ready.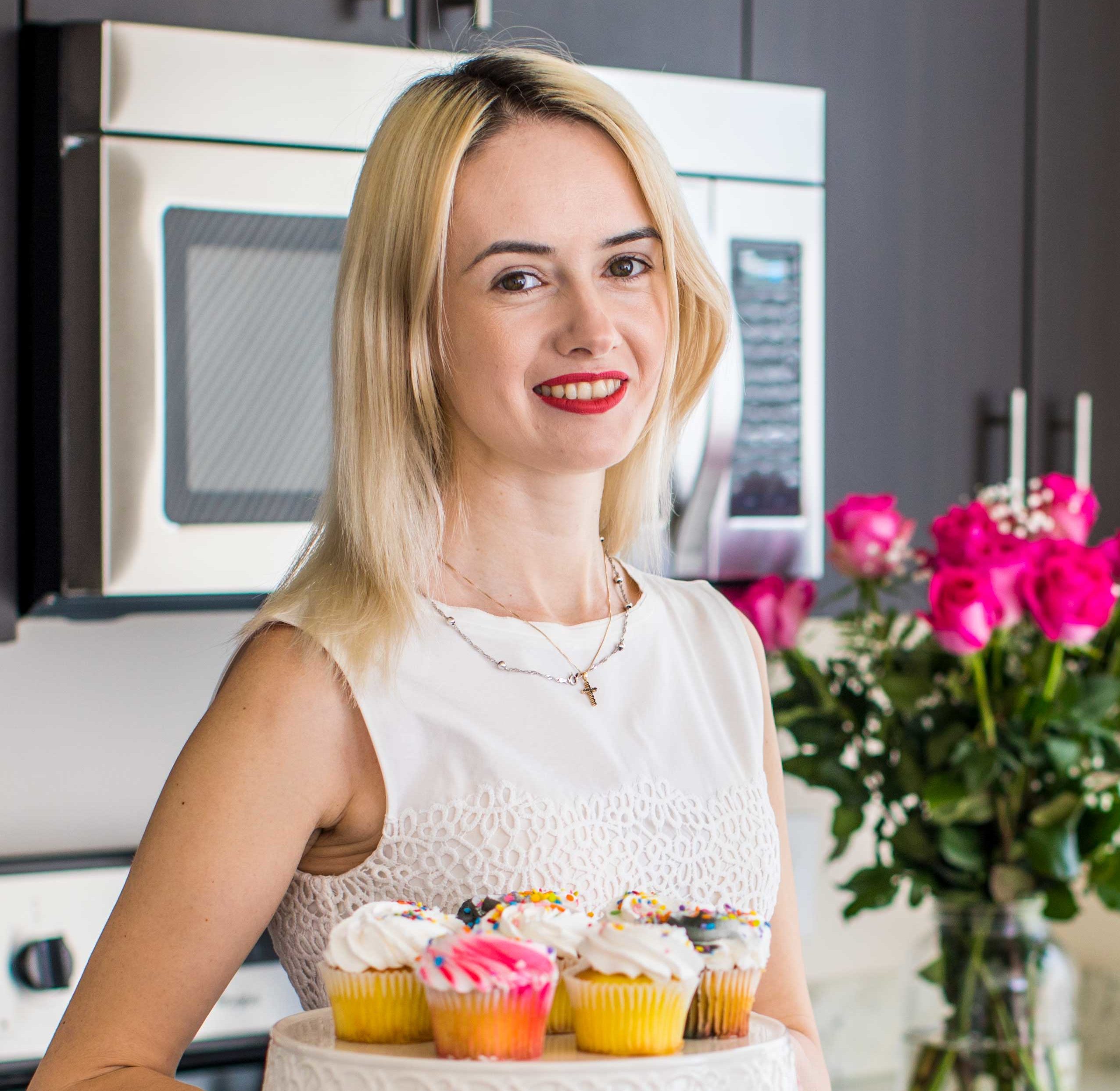 Follow us on Pinterest for more delicious recipes!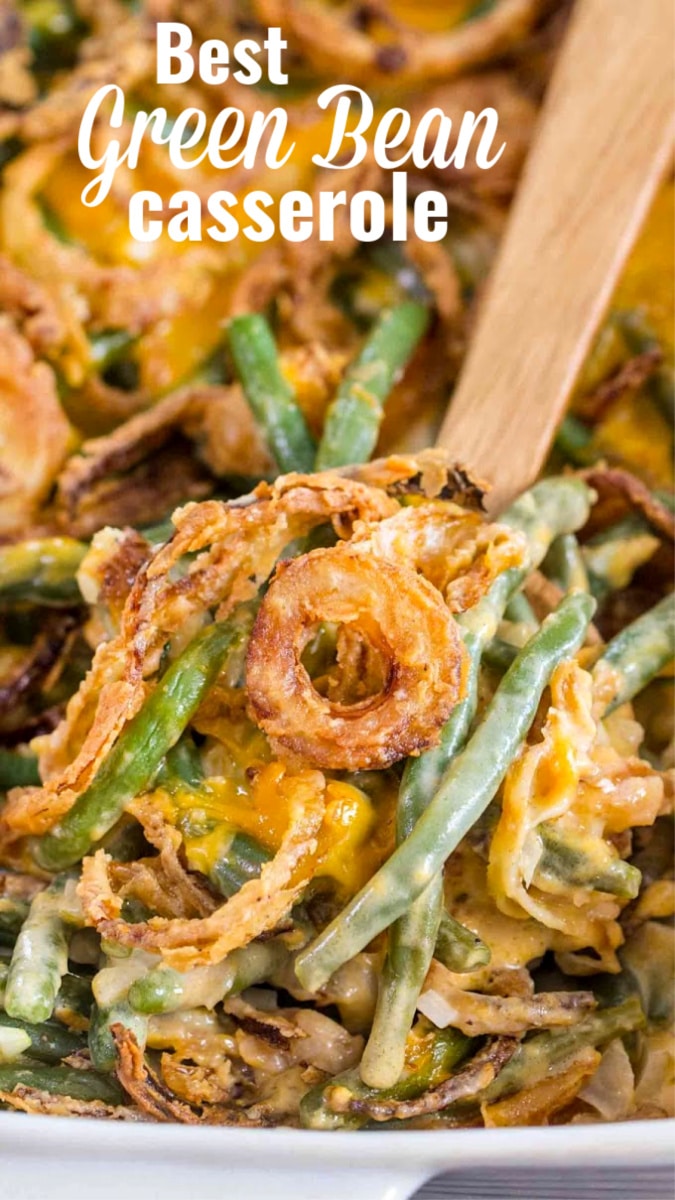 Green Bean Casserole Recipe Tips
Firstly, I try to use fresh green beans for this casserole recipe. It just tastes better and gives the perfect flavor to this dish.
Also, if you prefer broccoli instead of green beans, feel free to swap. For Broccoli Casserole, substitute 4-6 cups cooked broccoli florets for the green beans.
For cheese lovers, use extra shredded Cheddar cheese. Also, sprinkle with an additional 1/4 cup Cheddar cheese when adding the remaining onions.
For bacon lovers, add few cooked and crumbled bacon slices to the bean mixture. Similarly, if you prefer to use meat in this casserole, feel free to add ham, or even cooked ground chicken or ground turkey.
To add some crunch to the dish, add some sliced almonds or croutons to the onion topping.
Can I use canned green beans instead of fresh green beans?
While I prefer to use fresh green beans for this casserole, canned beans are certainly an option and an easy one. For the cooked green beans use 1 bag (16 to 20 ounces) frozen green beans, thawed, or 2 – 3 cans (14.5 ounces each) green beans, drained.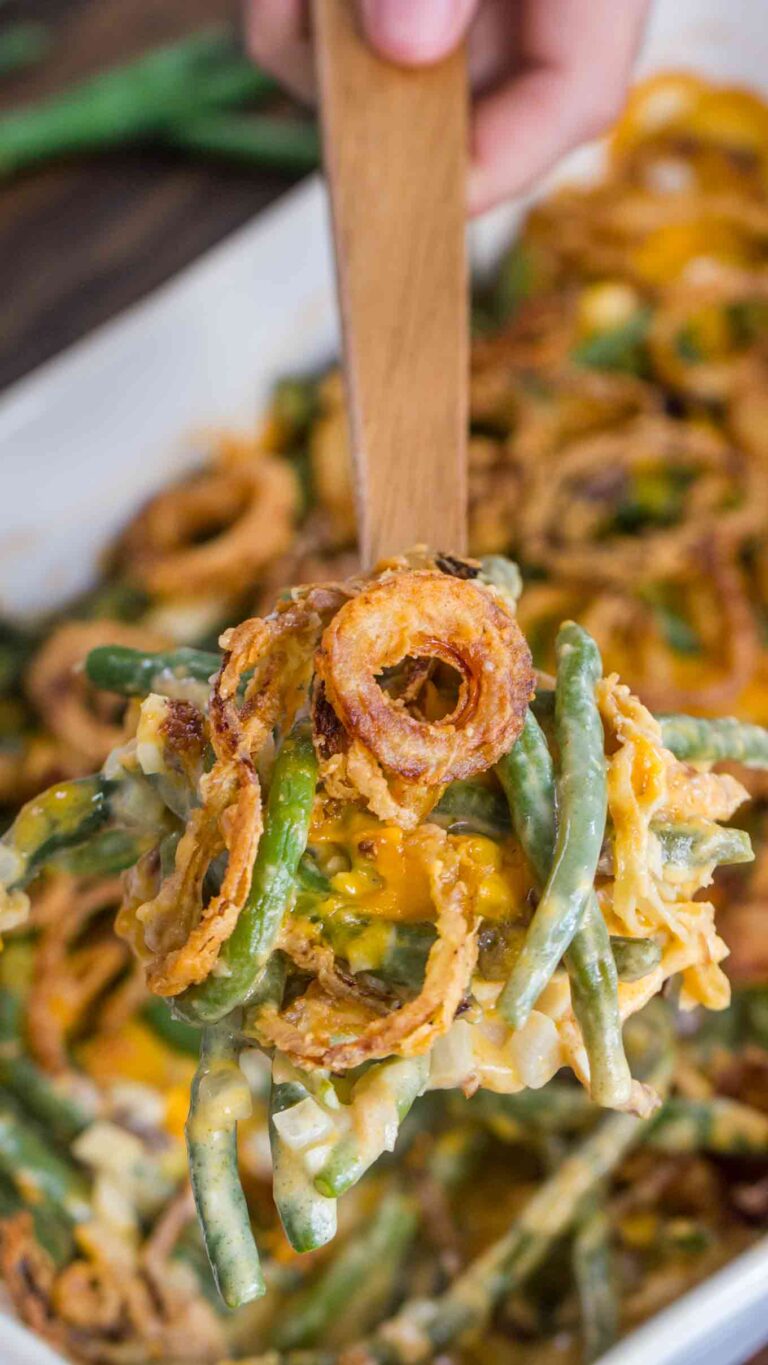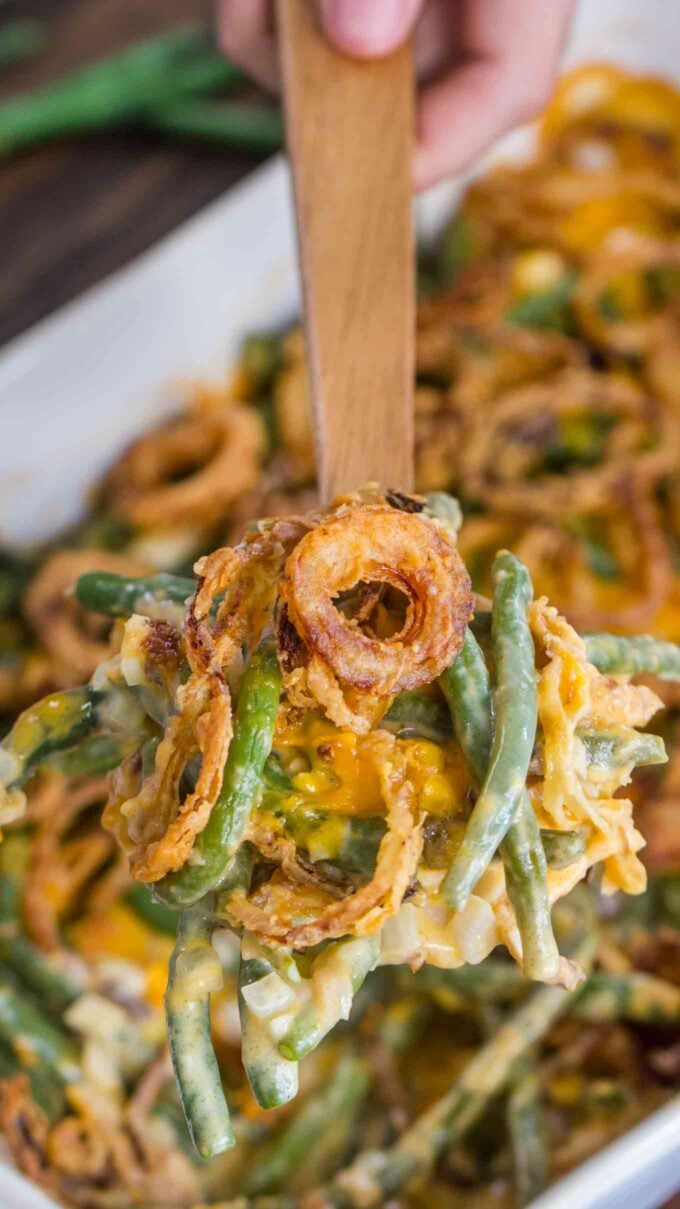 WHAT IS CONDENSED CREAM OF MUSHROOM SOUP?
Condensed soup is a canned variety of soup that is prepared with a reduced proportion of water. A liquid, like water or milk, is added to the soup when heated up. Condensed soup is used often to add more flavor and creaminess in many recipes.
CONDENSED CREAM OF MUSHROOM SOUP SUBSTITUTE:
Don't worry, if you are not from the US and can't get your hands on Condensed Cream of Mushroom Soup, or simply want a homemade, more wholesome version. You can use the below recipe to make a quick homemade version, which will make roughly about 3 cups of soup, enough to replace 2 (10 1/2 oz each) cans of condensed cream of mushroom soup.
Ingredients:
4 ounces baby Bella mushrooms, finely diced
6 tablespoon unsalted butter
2/3 cup all-purpose flour
1 teaspoon garlic powder
2/3 cup whole or skim milk
2/3 cup chicken broth or veggie broth
1 teaspoon onion powder
1 teaspoon ground thyme
salt and pepper to taste
Directions:
First, place a medium saucepan over medium heat. Once hot, add the butter and melt it.

Then, add diced mushrooms and cook stirring for 2-3 minutes.

Add flour to the mushroom and butter mix, and stir well to combine and form a paste.

Whisk in milk slowly until fully combined with no lumps.

Next, whisk in broth, slowly again, until fully combined.

Then, stir in garlic, onion powder, thyme and adjust for salt and pepper.

Lastly, whisk the mixture until it starts to simmer. Let it simmer on low heat for about 2 minutes. The soup should be smooth and creamy. If it's too dense, whisk in a little more milk or broth.

When replacing the Condensed Cream of Mushroom Soup use a 1:1 ratio, so if you are using a 10 1/2 ounces can of condensed soup, you will need 1 1/3 cup of the homemade version to replace in recipes.

The homemade soup can be stored in an airtight container in the refrigerator for up to 3-4 days.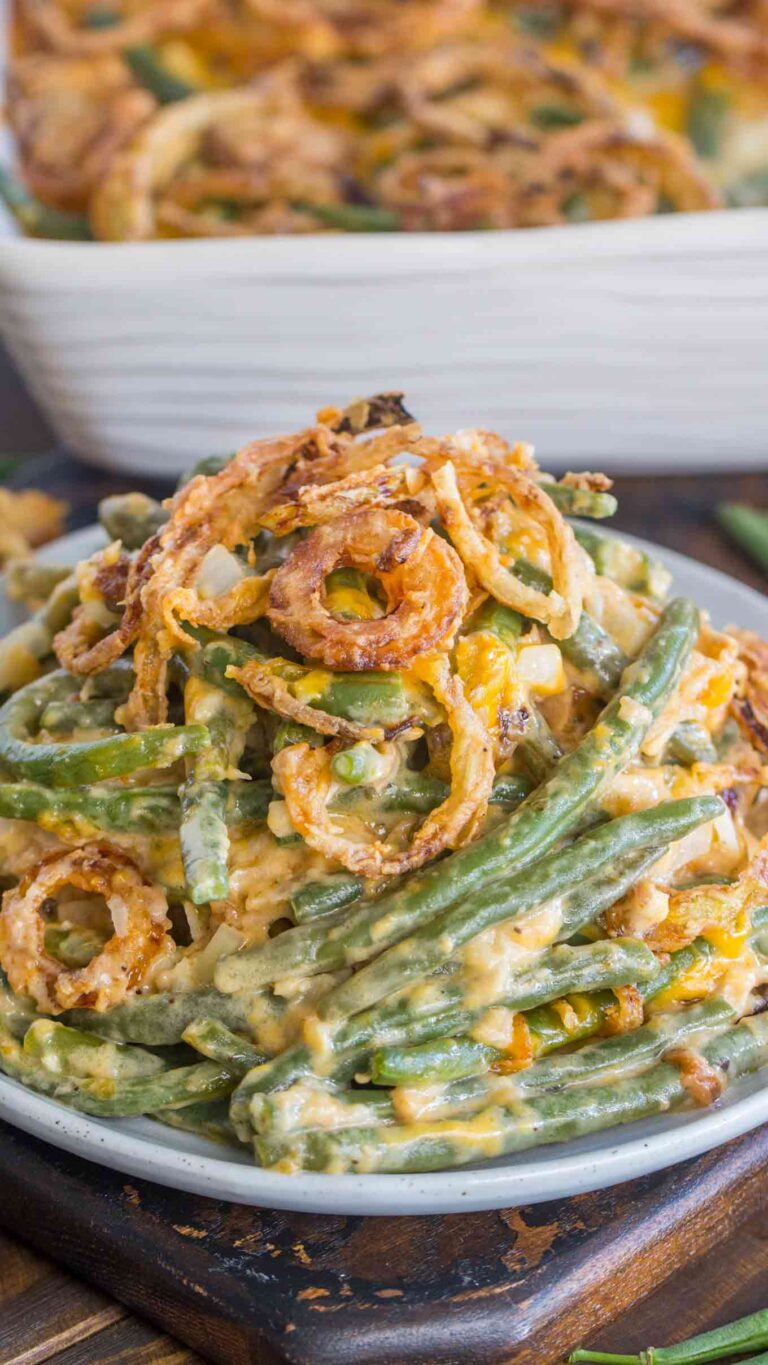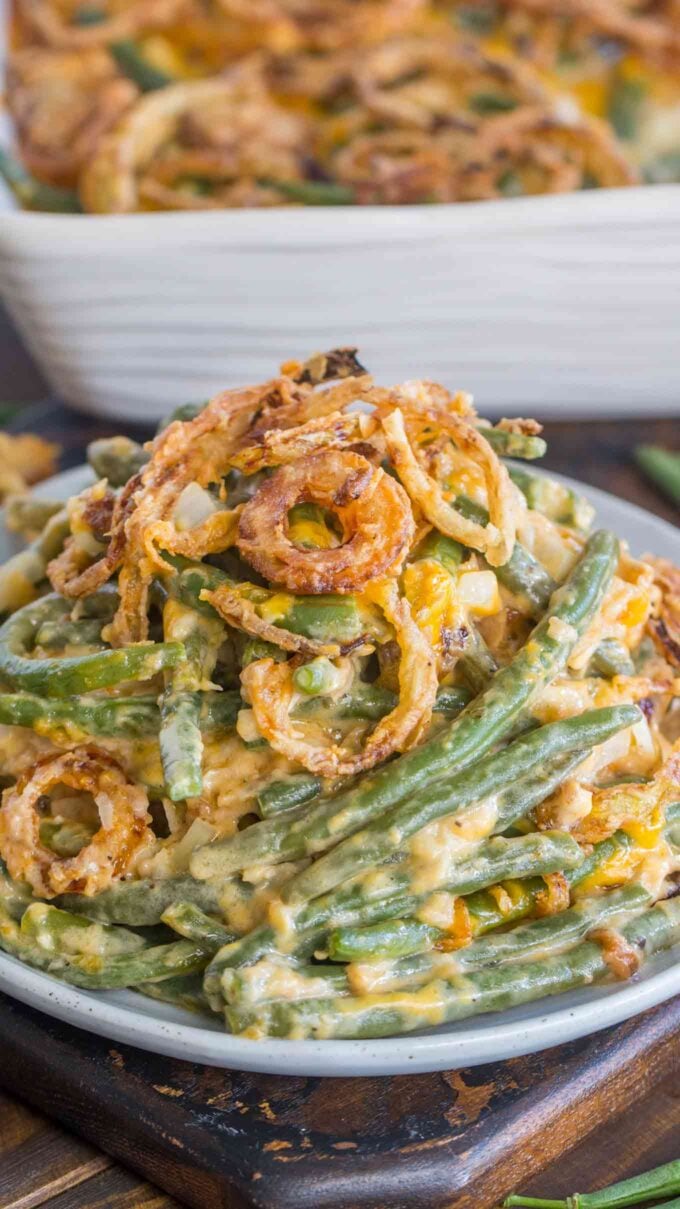 HOW TO FREEZE THIS GREEN BEAN CASSEROLE
To freeze, transfer the mixture to a buttered 9-by-13-inch freezer-to-oven baking dish. Cover tightly with aluminum foil. Freeze for up to 6 months. Bake, frozen and covered with foil, at 350°F, for 1 hour. Uncover, and bake for another 10-15 minutes.
Save Recipe
Best Green Bean Casserole
Author: Catalina Castravet
Serves: 8 servings
Prep time:

20

minutes
Cook time:

30

minutes
Total time:

50

mins
Ingredients
Casserole:
Topping:
Homemade French Fried Onions:
Instructions
Casserole:
Topping:
Bake:
Homemade French Fried Onions:
Nutrition information
Calories: 377
Carbohydrates: 42
Protein: 17
Fat: 26
Saturated Fat: 13
Cholesterol: 46
Sodium: 854
Potassium: 423
Fiber: 3
Sugar: 6
Vitamin A: 990
Vitamin C: 9.3
Calcium: 407
Iron: 3.4
Save Recipe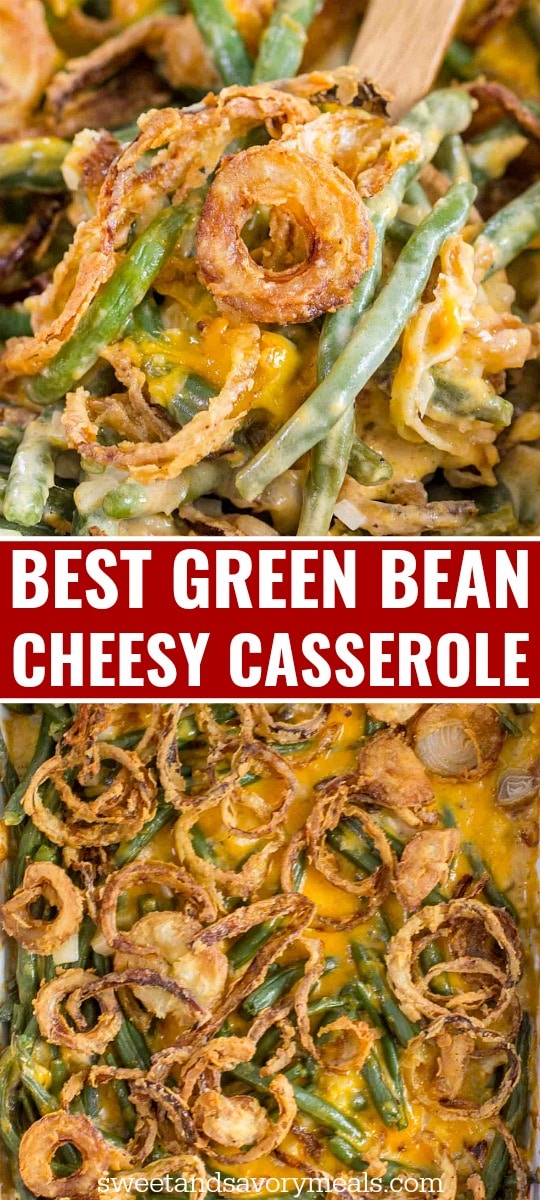 More recipes you might love