Slow Cooker Brown Sugar Ham
Last updated on June 18th, 2021 at 05:35 pm
Slow Cooker Brown Sugar Ham with Orange Glaze is an amazingly flavorful and refreshing way to easily cook ham to juicy perfection in your slow cooker.
Our love for Slow Cooker meals has been well documented here. We like making easy and restaurant-quality dishes using it. With the holiday season around the corner, this is one of our most popular dishes to enjoy. Our other favorite holiday recipes are Cranberry Orange Chicken Breasts, Oven Roasted Turkey Breasts, or the Best Crockpot Meatloaf.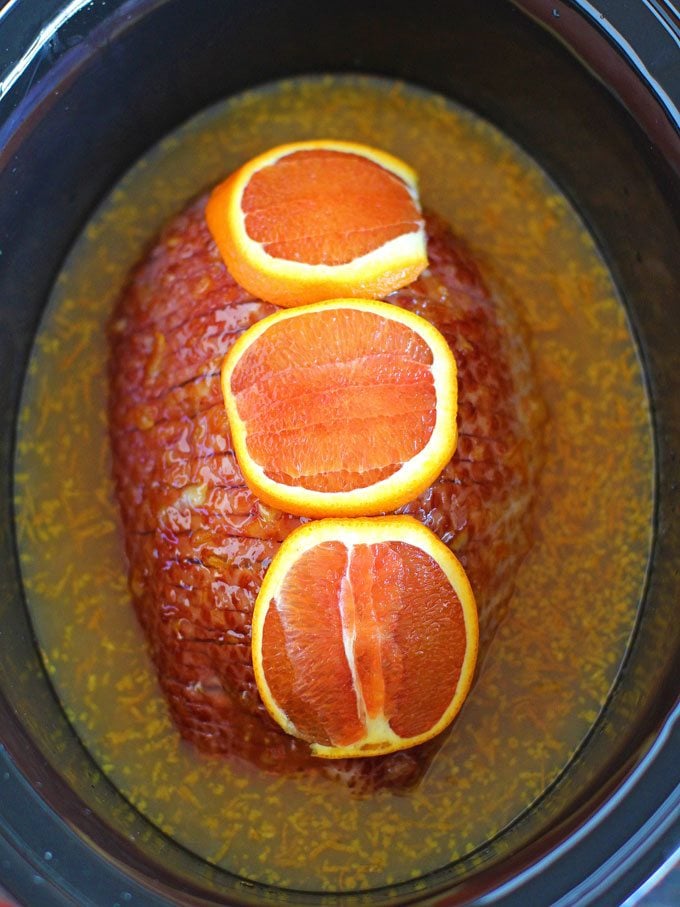 The Best Slow Cooker Ham
Slow Cooker Brown Sugar Ham with Orange Glaze is so incredibly flavorful and delicious. It is perfect to make for a springtime get together as the sweet and fresh flavors truly shine. The best part is that the crockpot does all the work, and you will end up with the BEST holiday ham!
I like to serve it with mashed potatoes, biscuits and a warm green bean salad. This Slow Cooker Brown Sugar Ham with Orange Glaze is so easy to make, which gives you more time to do more fun things than spending extra time in the kitchen. With sweet brown sugar notes and a beautiful citrus finish. This ham will be a hit with everyone, either you choose to serve it for brunch or dinner! This is the perfect dish to have for Thanksgiving or Christmas dinner, as it's festive, delicious, and flavorful!
Why you will enjoy Slow Cooker Brown Sugar Ham?
What Kind of Ham Works Best in the CrockPot?
You can use just about any cut and any size as long as it fits into the pot. Also, you can use bone-in, boneless, whole or spiral-sliced. For this recipe, I used whole spiral-cut boneless cooked ham. This is one of the most available versions of it, and can also be found in almost every major grocery store or at your local butcher.
Keep in mind to consider the size of your slow cooker when shopping for your ham. A 10-pound ham is as big as you can go for a six-quart slow cooker.
How do you make Crockpot Brown Sugar Ham?
This is one of the easiest dishes to make in the crockpot. The first step is to choose your ham. I like to use a smoked spiral cut. Also, you'll want a ham around 7-8 pounds in size. If you go any larger, you may have trouble fitting it into your crockpot. Therefore, ensure to get a piece that will be able to fit. Also, you can always trim off the end to make it fit if needed.
Once you have the meat, the rest is simple. Just put in the pot, coat it with brown sugar and orange mixture to form a sweet glaze that simmers away along with the meat. Then, let it cook to perfection!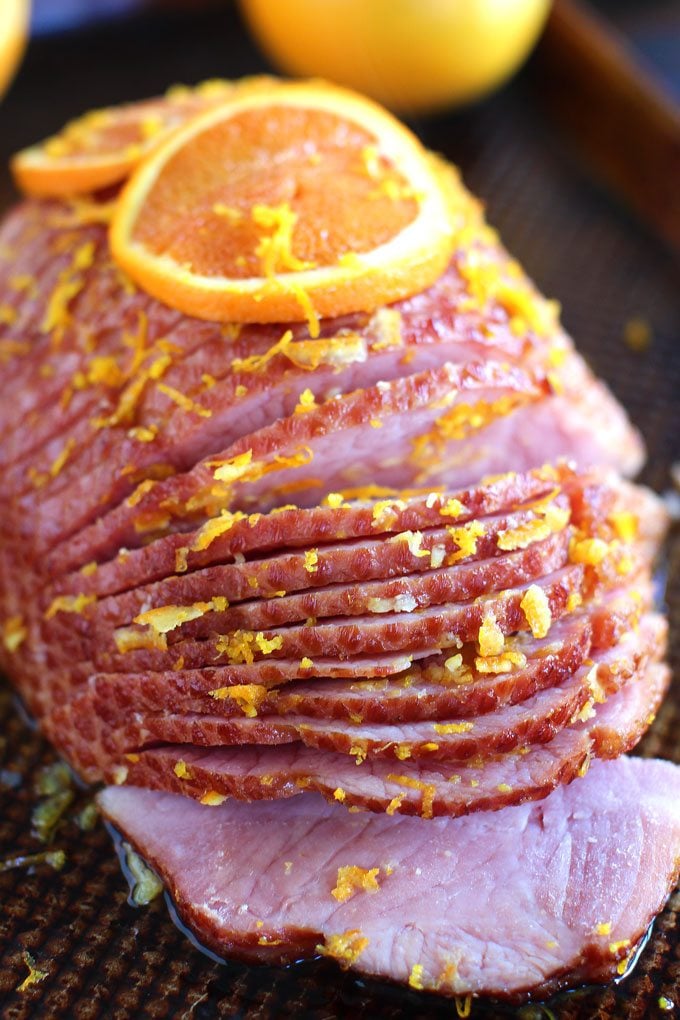 How Long Does It Take cooking the ham in the slow cooker?
A large fully cooked ham, should not take more than 3-4 hours in the Slow Cooker if cooked on the LOW setting. If using the HIGH setting, the cooking time should be about 2 hours.
How to slice Slow Cooker ham?
The recommended way is to cut it on a flat surface, flat-side down. Also, ensure to slice against the grain because it'll be nice and tender and easier to chew that way.
How much ham do I need per one person?
You'll need about 3/4 pound of ham per person for a bone-in ham. However, if you are planning on hosting a larger crowd, increase that amount to 1 pound of meat per person. This way, you will also end up with plenty of leftovers.
How to make orange zest for ham?
Rinse the orange.
Set your tool over a cutting board. A Microplane produces a very fine zest, perfect for baking and cooking. If you don't have a microplane, use the smallest holes on an ordinary grater.
Grate the skin of the orange only. Grate just enough to get through the orange skin, this way you can avoid the bitter white pith underneath.
Rotate the orange and repeat. Once the white pith is exposed, rotate the orange and zest the next strip of peel. Repeat until most of the peel is removed, or until you have enough zest for your recipe.
WHAT TO SERVE WITH Crockpot Brown Sugar Ham?
Some of our favorite side dishes that go really well with it are:
What to do with leftover ham?
If you end with leftovers, you can easily store in the fridge for days to come. Alternatively, try making some of these recipes and incorporate the leftover into:
Can I store Slow Cooker Ham?
It's best to store a baked ham for up to 3-4 days in the refrigerator. However, if you have a pre-cooked ham that is not yet opened, it can stay in the fridge for up to 2 weeks. If the ham is too large, you can cut it up into smaller slices, and store it that way.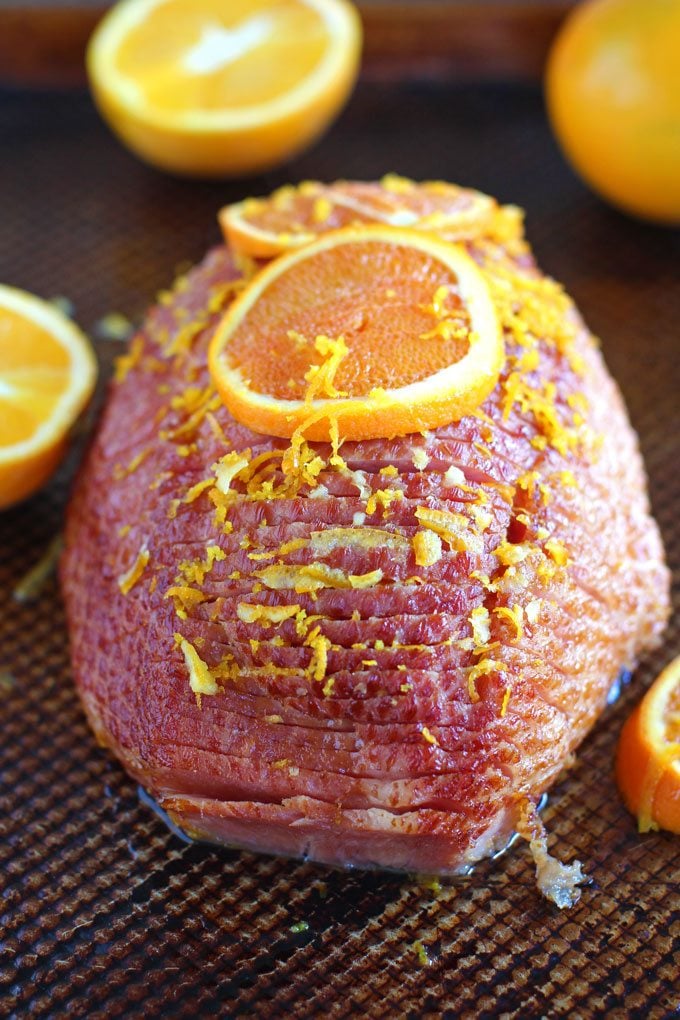 Reheating leftover ham
A great thing about a big junk of ham is that you usually end up with delicious leftovers. To reheat the leftover ham, simply reheat it by covering it with foil and warming it in a 350 degree F oven for about 20 minutes.
Orange juice ham in slow cooker recipe – rips and tricks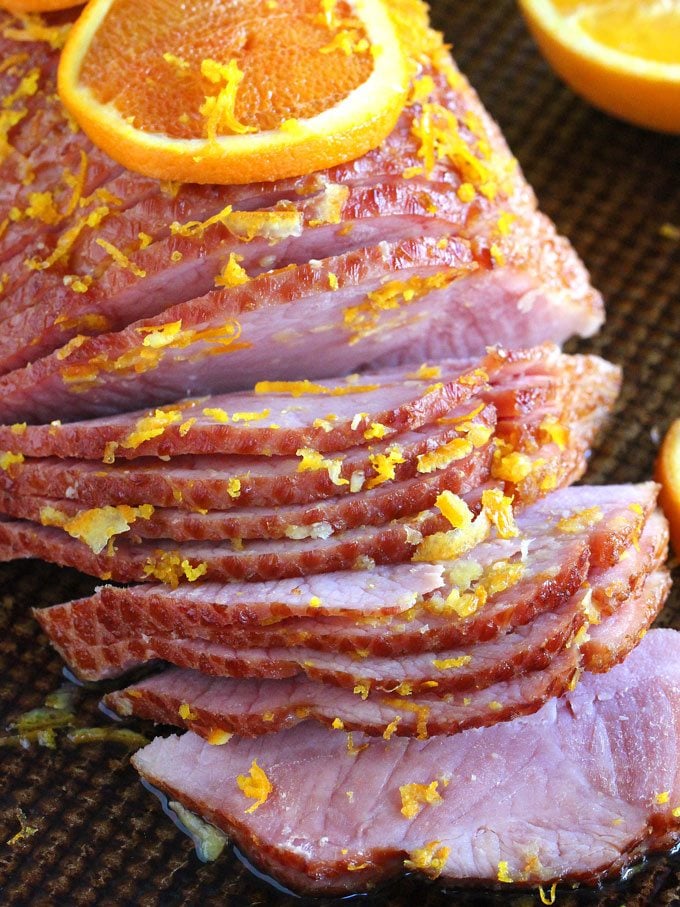 Products and tools I used to make this recipe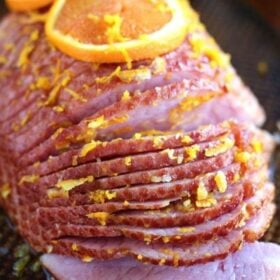 Slow Cooker Brown Sugar Ham with Orange Glaze
Slow Cooker Brown Sugar Ham with Orange Glaze is an amazingly flavorful and refreshing way to easily cook ham to juicy perfection in your slow cooker.
Save
Share
Print
Pin
Rate
Ingredients
½

fully cooked spiraled sliced boneless smoked ham

2½

cups

packed brown sugar

2

cups

orange juice

3

tablespoons

grated orange peel

(from about 2 oranges)

12

ounces

orange marmalade

5

tablespoons

Boar's Head Brown Sugar & Spice Glaze*

3

orange slices
Instructions
In a medium bowl combine: 2 cups brown sugar, 2 cups orange juice, 3 tablespoons orange zest and 8 ounces of orange marmalade, whisk to combine.

If the ham is not pre-sliced, slice it, one inch from the bottom/flat side, so the slices are still holding together. Place ham flat side down in the slow cooker. Pour the brown sugar orange mixture over it.

Spread the remaining orange marmalade and Boar's Head Brown Sugar & Spice Glaze in between the slices.

Top the ham with the remaining ½ cup of brown sugar, rub it well into the ham. Top with orange slices.

Put the lid on slow cooker and cook on low for 4 hours, or high for 2 hours. Since the ham is pre-cooked, you're are only heating it up and melding the flavors into it. Cooking too long will just dry it out.

During the cooking process, lift the lid a few times and using a ladle pour the juices over the meat in order to keep it moist.

Once ready, slice ham and serve.

Store it in an airtight container filled with the brown sugar orange glaze mixture from the crockpot.

Enjoy!
Nutrition
Calories:
284
kcal
|
Carbohydrates:
73
g
|
Protein:
0
g
|
Fat:
0
g
|
Saturated Fat:
0
g
|
Cholesterol:
0
mg
|
Sodium:
31
mg
|
Potassium:
169
mg
|
Fiber:
0
g
|
Sugar:
70
g
|
Vitamin A:
115
IU
|
Vitamin C:
25.8
mg
|
Calcium:
61
mg
|
Iron:
0.5
mg
More recipes you might love