Last updated on April 3rd, 2022 at 05:35 pm
Bunny Butt Cake is the perfect Easter dessert, very easy to make and to assemble, without special pans or equipment. Made with tender vanilla cake layers, cream cheese frosting, and covered in coconut flakes. Serve it with berries for the perfect holiday dessert!
If you are searching for easy Easter desserts, we have quite a few in our arsenal. We enjoy making this No Bake Tiramisu Cheesecake, it is always a huge hit! Classic Ambrosia Salad and Polish Paska Bread are always part of the celebration. Recently I have added this Classic Simnel Bundt Cake and the Carrot Zucchini Bread.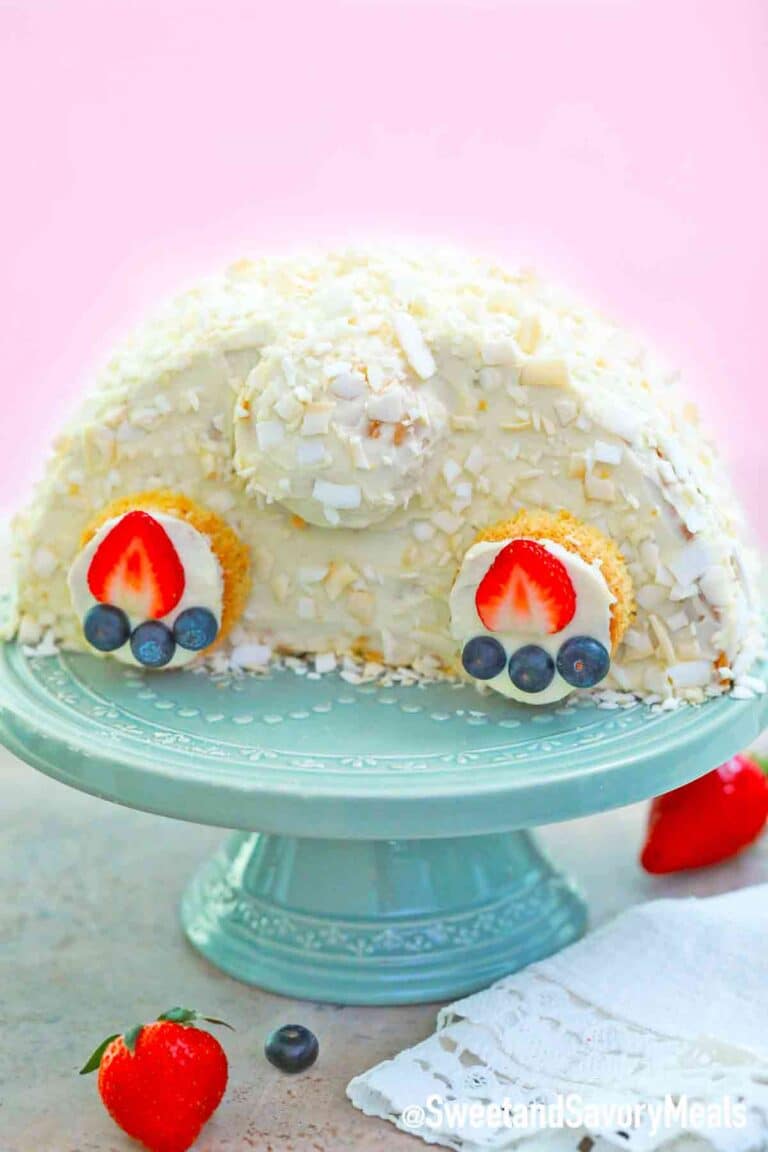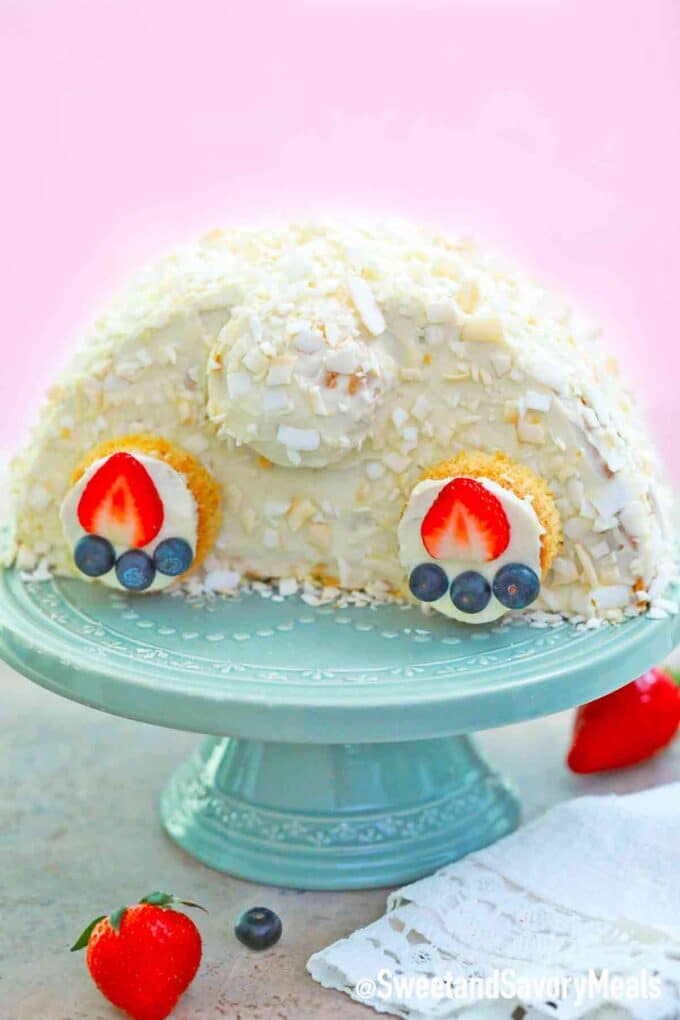 Easter Bunny Cake Recipe
Bunny Butt Cake is your ultimate fail-proof Easter project. This is a great recipe that you can make with kids, and the best part is that you won't need any special pans or fancy cutting skills!
The dessert is made with a basic recipe for vanilla cake, to make it even easier you can use store-bought cake mix. To maintain the Easter theme try a lemon cake mix, the flavor combo will be delicious.
The dessert is covered in vanilla buttercream, the bunny eggs are made using two muffins and the tail is also a muffin! Decorated with coconut flakes and berries, this cute dessert will be a show stopper that everyone will admire and enjoy!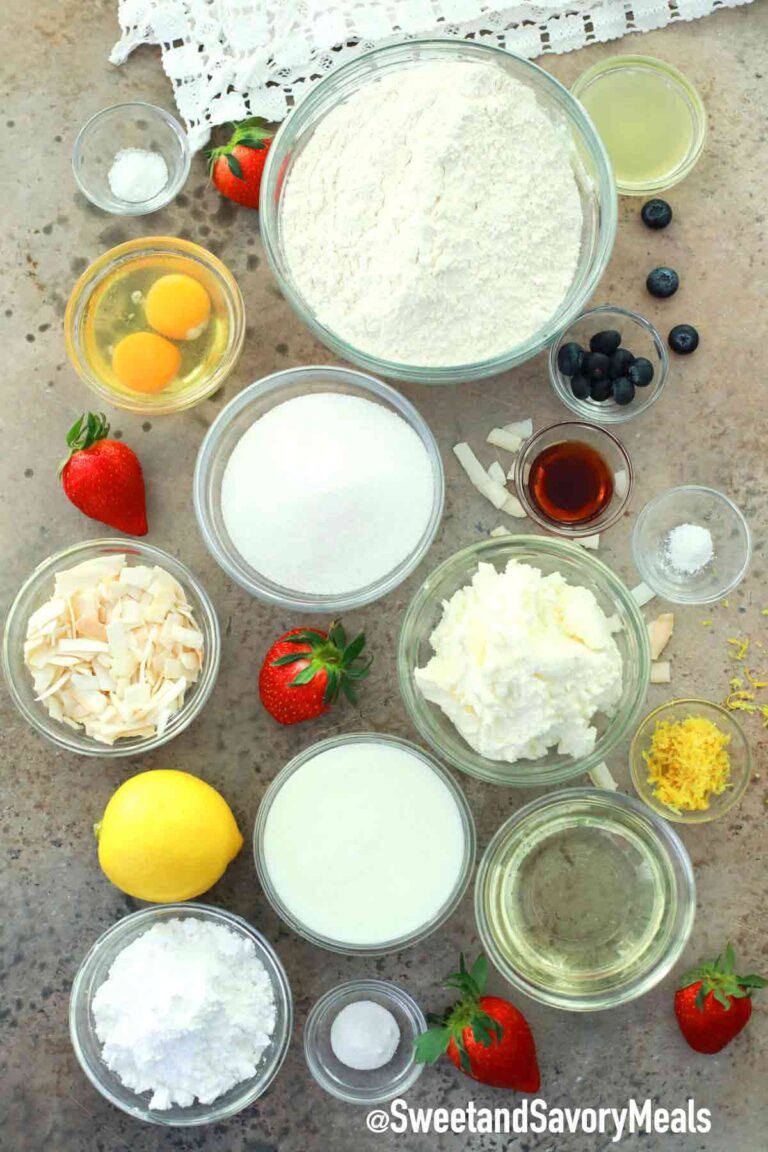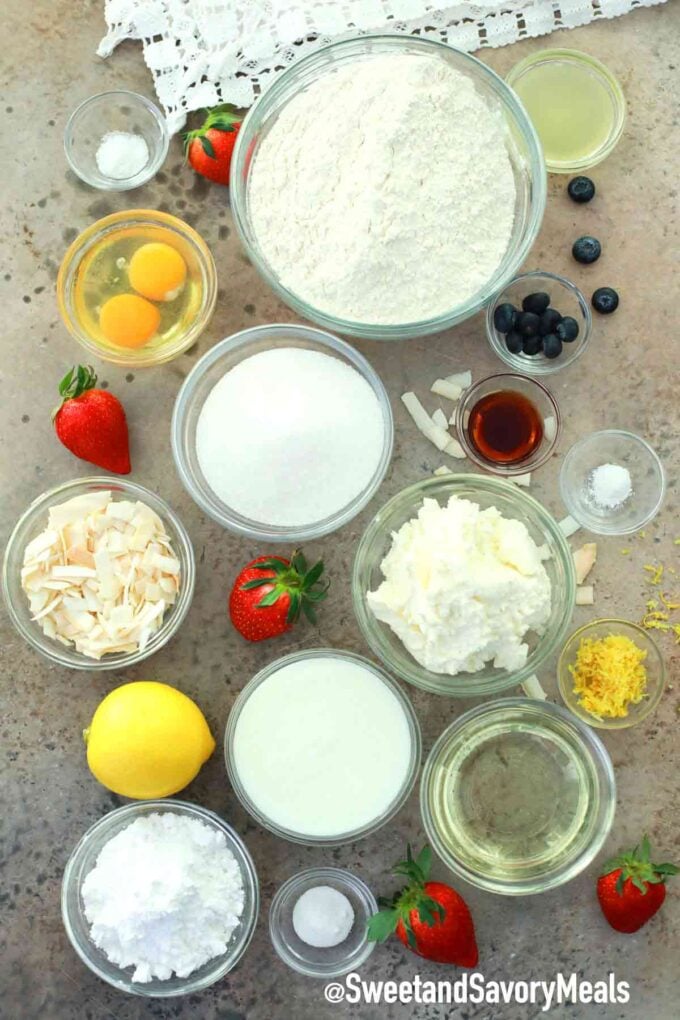 What do you need to make Bunny Butt Cake?
Cake layer:
All-purpose flour
Baking soda
Baking powder
Salt
Sugar
Coconut oil
Lemon zest and juice
Buttermilk
Frosting:
Cream cheese
Powdered sugar
Vanilla
Garnish:
Coconut flakes
Blueberries
Strawberries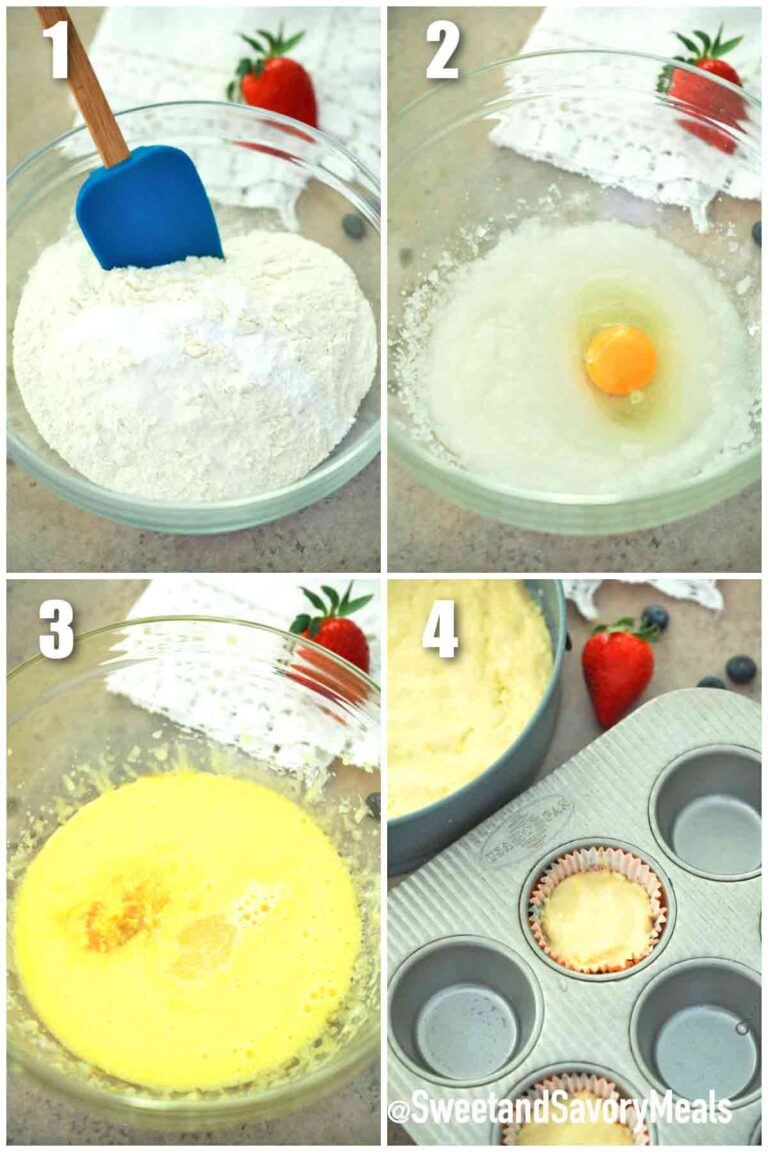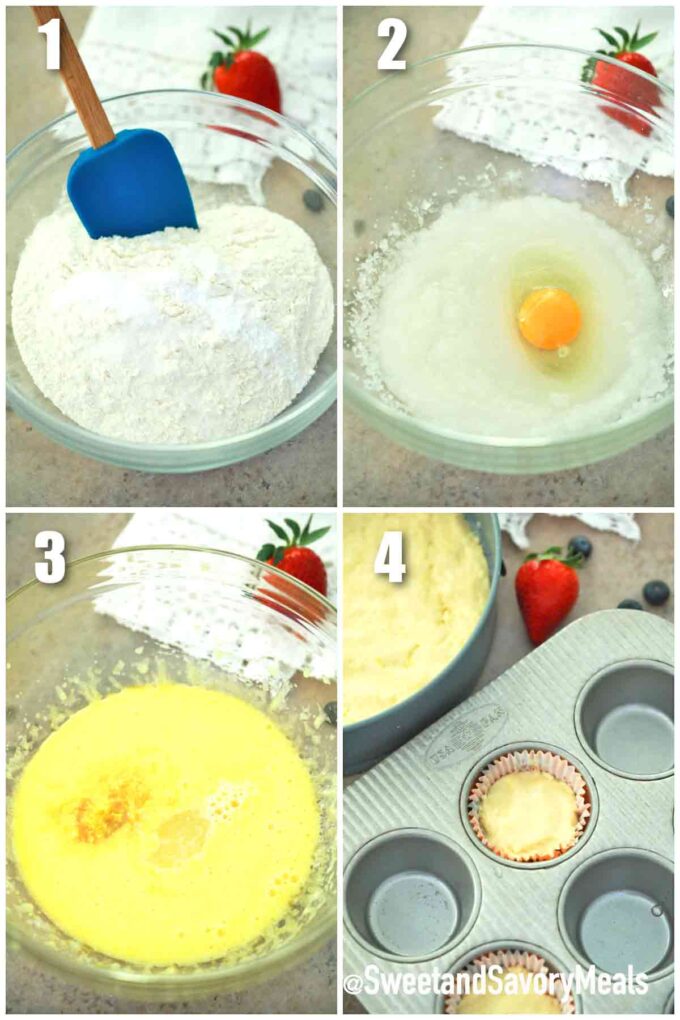 How do you make Bunny Butt Cake from Scratch?
For the Vanilla Cake Layers:
Mix dry ingredients: In a bowl whisk together the flour, with salt, baking powder, and baking soda.
Beat the oil: Next, in another bowl beat the oil with the sugar until fully combined. Add the eggs, lemon zest, and juice.
Combine: Add the egg mixture into the flour mixture alternating with the buttermilk.
Bake: Transfer the batter into a cake pan and 3 muffins tins and bake at 350 degrees F.
For the Cream Cheese Frosting:
Combine all the frosting ingredients until smooth.
If the frosting too runny, add a bit more powdered sugar and whisk.
Assemble the Cake:
Halve the cake layer. Frost the top of one of the halves. Place them vertically, oval side up, and stick together.
Cover in frosting. Place 2 muffins as the bunny legs and one as the tail. Also, cover with frosting.
Next, cover the cake in coconut flakes and add blueberries and strawberries to resemble the bunny paws.
More Easter Desserts:
Recipe Variations:
Cake Mix: Try this recipe with different types of cake mixes, our favorites are Strawberry Cake Mix, Lemon Cake Mix, Red Velvet, you can also go for a White Cake Mix or even Chocolate.
Frosting: Play with the frosting, add food coloring if you want. Also, you can use store-bought frosting to save more time.
Make it Gluten-Free: Just use a gluten-free mix or make sure to use gluten-free flour in this recipe.
Make it bigger: If you plan on serving the cake to more people, I highly recommend you first bake a large, 9×13 cake, just. use a pre-mix for it. Cover it in green buttercream, or green cream cheese frosting to resemble green grass. Next, place the Bunny Butt Shaped Cake on top and garnish the surface with candy carrots.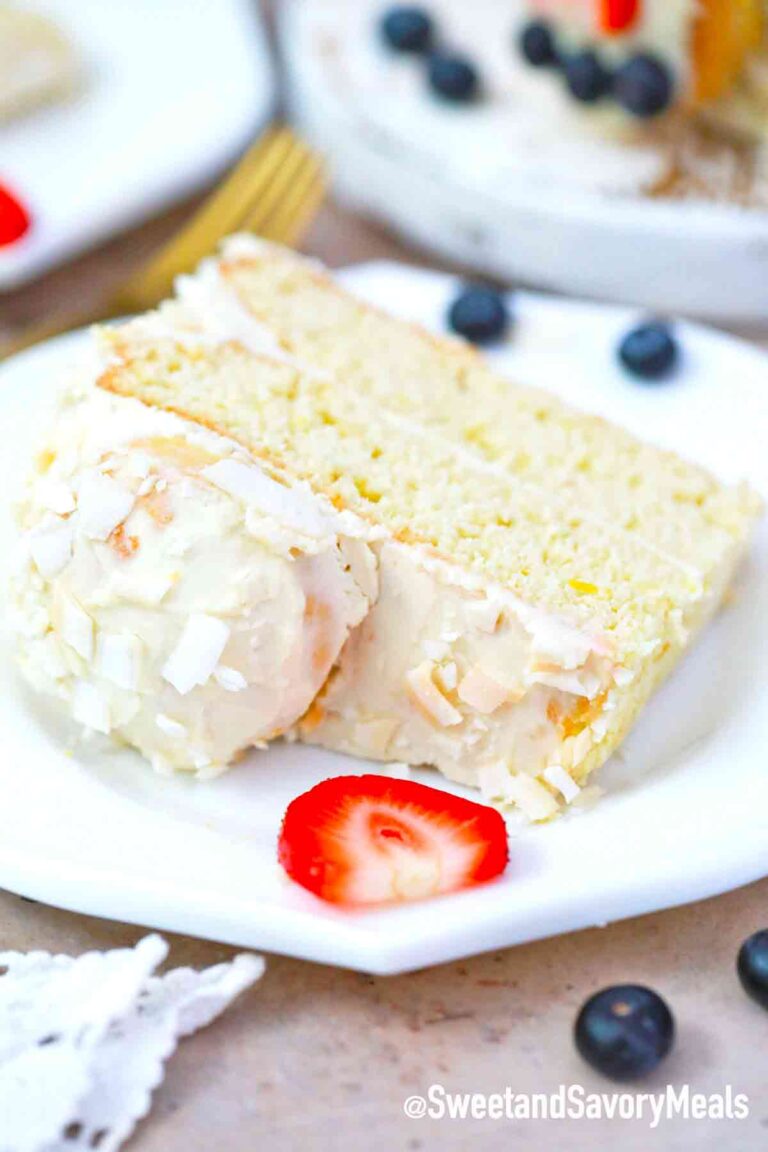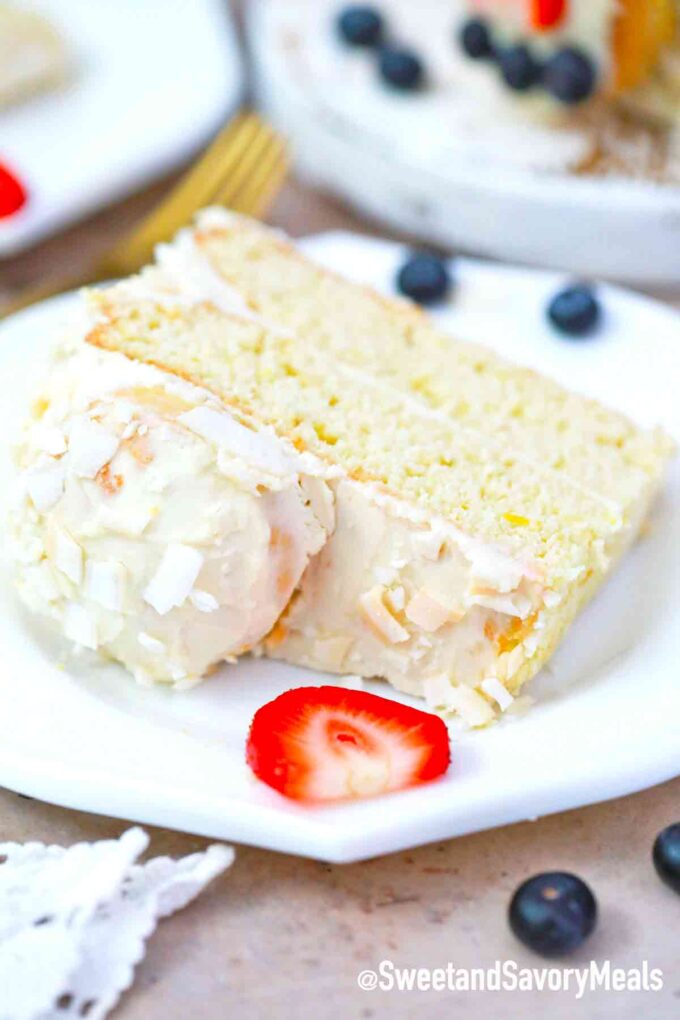 What makes cake moist and soft?
There are a few tricks to make the layers moist and soft:
First, beat oil and sugar very, very well until fluffy and pale. This process is known as creaming, it incorporates the air into the batter.
Another trick is to use buttermilk, the high acidic content in buttermilk, breaks down the gluten in the flour.
When using buttermilk, make sure you also use a bit of baking soda.
Using cake flour will result in a fluffier and lighter dessert.
Sift the dry ingredients!
Beat the eggs slowly.
Adding a sugar syrup to the layers will ensure a softer dessert, that will not dry out when stored in the fridge.
When deciding to use sugar syrup to moisten the cake, first, use a bamboo skewer to poke holes into it and after that pour the sugar syrup slowly on top. Also, to better control the amount of syrup, use a kitchen brush to brush it into the layers.
More Easter Recipes:
How to store leftovers:
Store leftovers in an airtight container in the fridge for up to 4-5 days.
To freeze the slices, either add them to freezer-safe Ziploc bags or cover them in plastic wrap and next in foil and freeze for up to 3 months.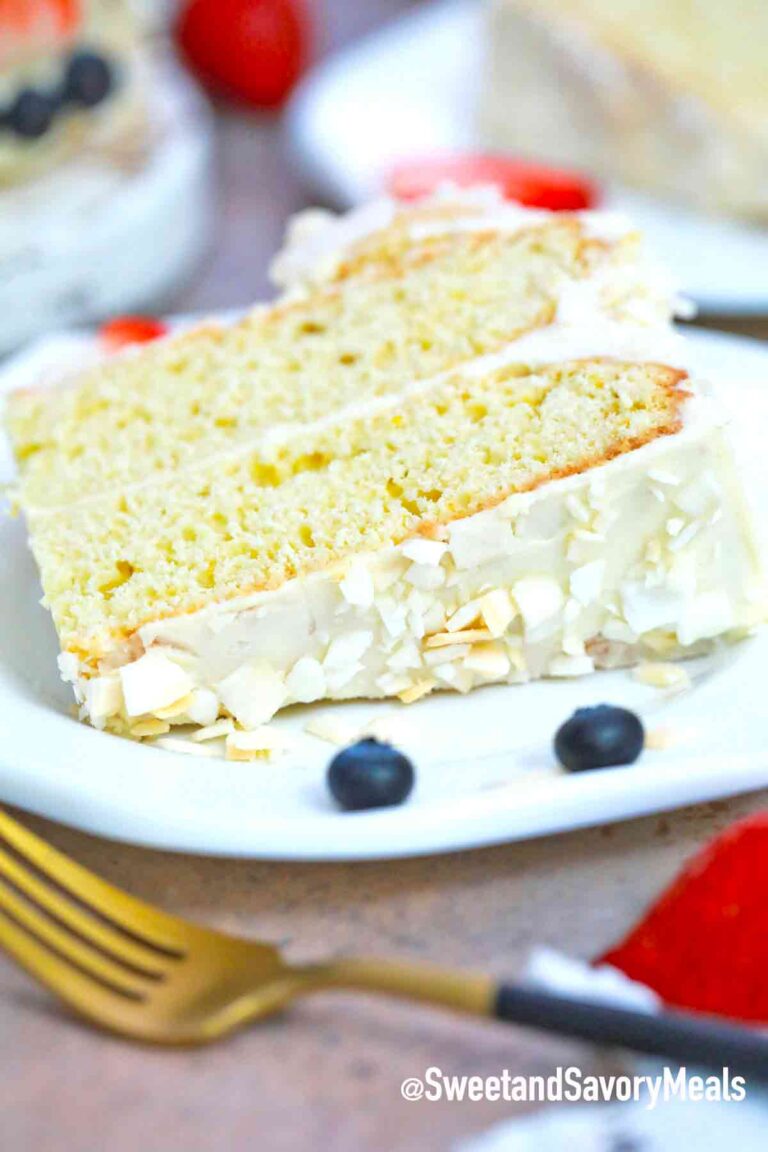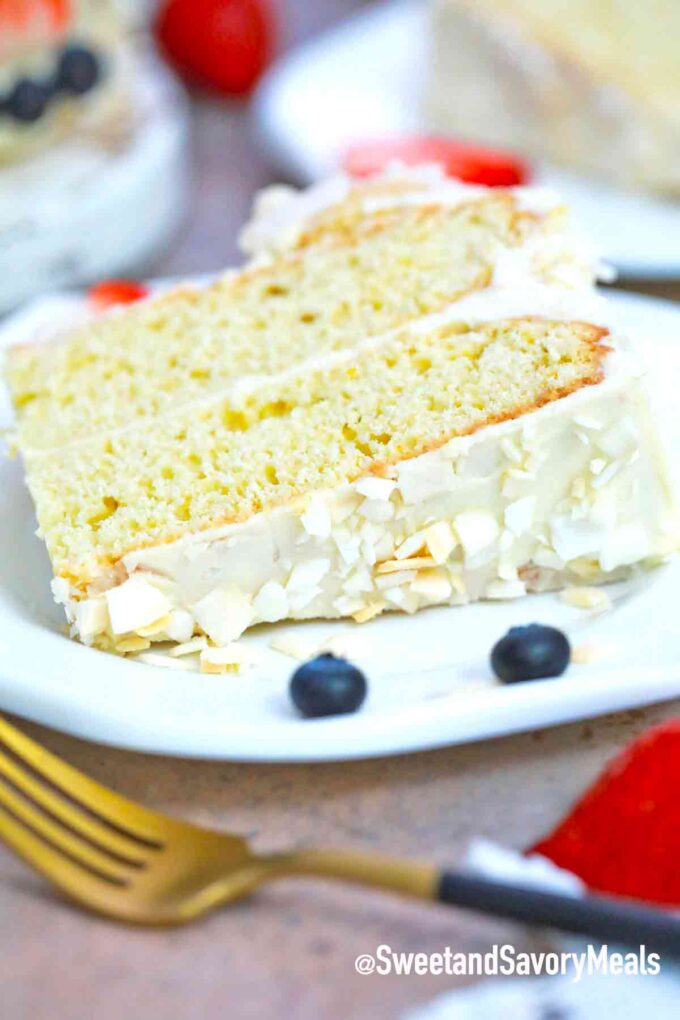 Recipe Tips:
Use room temperature ingredients.
Make sure you bake the cake at the right temperature and it is equally important for the oven to be preheated.
Ensure the cake is fully cooled before frosting it, otherwise, the frosting will melt and become runny.
Refrigerate it before slicing and serving.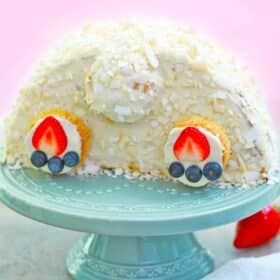 Bunny Butt Cake
Bunny Butt Cake is the perfect Easter dessert, very easy to make and to assemble, without special pans or equipment.
Save
Share
Print
Pin
Rate
Ingredients
Cake:
2 1/2

cups

all-purpose flour

1/2

teaspoon

baking soda

1/2

teaspoon

salt

1/4

teaspoon

baking powder

1

cup

white granulated sugar

1/2

cup

coconut oil

(softened)

2

large eggs

1

lemon

(zested and juiced)

3/4

cup

buttermilk
Frosting:
8

ounces

full-fat cream cheese

(softened)

1/3

cup

powdered sugar

1

teaspoon

vanilla extract
Garnish:
1

cup

shredded coconut

(unsweetened)

1

large strawberry

(sliced)

6

blueberries
Instructions
Cake:
Preheat oven to 350 degrees F.

Line 3 muffin cups with paper liners and coat a 9-inch cake pan with cooking spray. Set aside.

In a large bowl, whisk all-purpose flour, baking soda, salt, and baking powder.

In another medium bowl, using an electric mixer, beat together granulated sugar and coconut oil until light and creamy. Add eggs, one at a time, and beat on low speed, just until combined.

Add lemon zest and juice and beat on low-meedium speed until combined.

With the mixer on low, add the dry ingredients to the egg mixture, alternating with buttercream and finishing with the fliur mixture. Scrape the sides and bottom of the bowl as needed.

Transfer the mixture into the prepared muffin cups, filling them half way and also add the rest of the batter to the prepared cake pan.

Place the cake pan in the center rack in the oven and the cupcakes on a rack above it.

Bake until a toothpick inserted into the center comes out clean, about 20 minutes for the cupcakes and 30 minutes for the cake.

Let the cupcakes and cake layer cool in the pan for 5 minutes, then transfer to a rack to cool completely before frosting.
Frosting:
Combine all the ingredieents in a mixing bowl and beat with an electric mixer until smooth. Cover the cake leaving some for the tail and paws.
Assemble:
Halve the cake vertically.

Frost the top of one half and placce the other half on top. Stand the layers upright on their cut end, oval side up.

Trim the cupcakes, then using toothpicks attach one, to the top center of the cake for the bunny tail. And two on each end of the bottom of the cake as paws.

Use more frosting to cover the paws and tail. Cover the cake with shredded coconut.

Press a strawberry slice and three blueberries into each cupcake-paw to create the bunny's feet.

Reefrigerate the cake for 2-3 hours before slicing and serving.
Nutrition
Calories:
553
kcal
|
Carbohydrates:
66
g
|
Protein:
8
g
|
Fat:
31
g
|
Saturated Fat:
22
g
|
Trans Fat:
1
g
|
Cholesterol:
75
mg
|
Sodium:
376
mg
|
Potassium:
250
mg
|
Fiber:
3
g
|
Sugar:
37
g
|
Vitamin A:
557
IU
|
Vitamin C:
7
mg
|
Calcium:
119
mg
|
Iron:
3
mg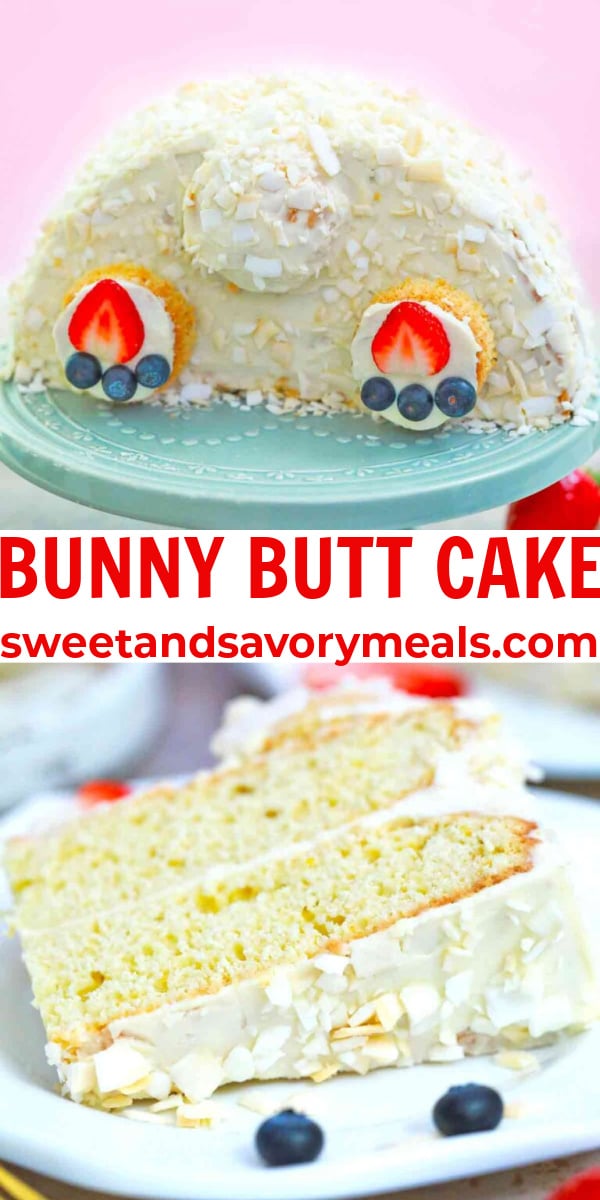 More recipes you might love