Easter Paska Bread Recipe [video]
Last updated on June 18th, 2021 at 07:34 pm
Easter Paska Bread is a traditional Eastern European recipe that is the perfect sweet addition to your Easter meal. It is easy to make and the perfect dessert.
There are so many different ways to make bread or similar versions of this kind of bread. Try recipes, such as: Homemade brioche bread, Lemon Bundt Cake, and Keto Bread with Coconut Flour.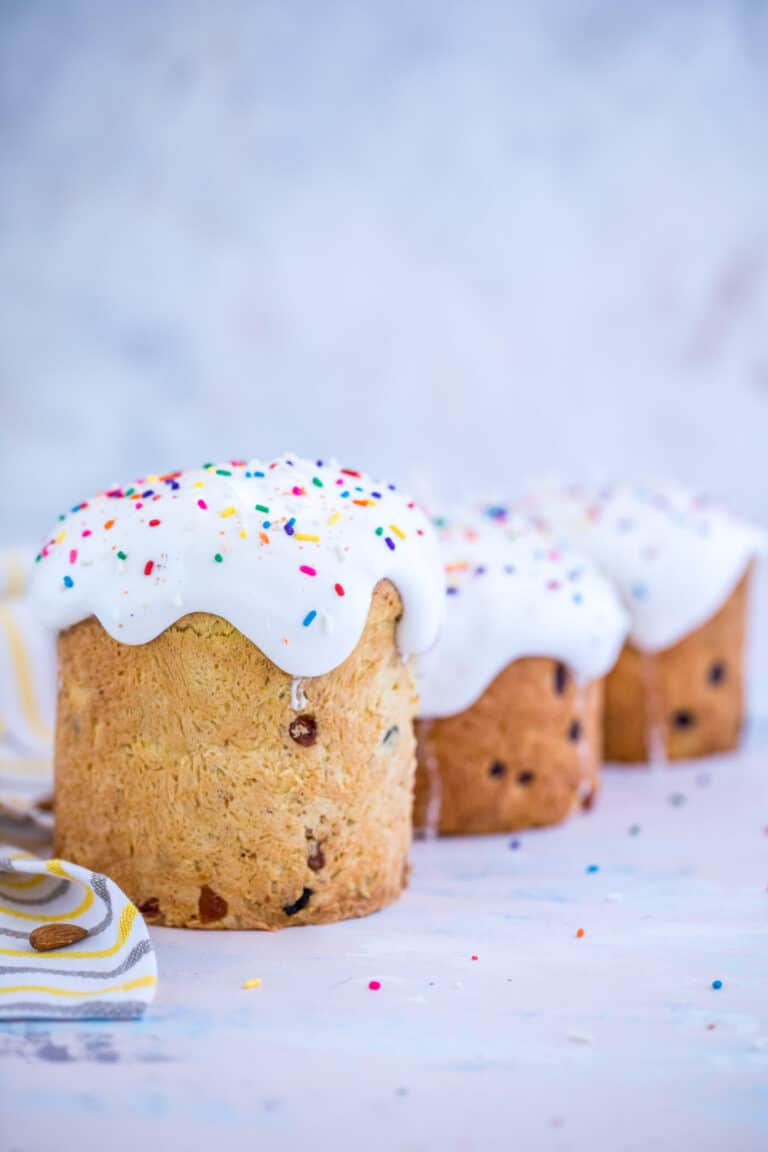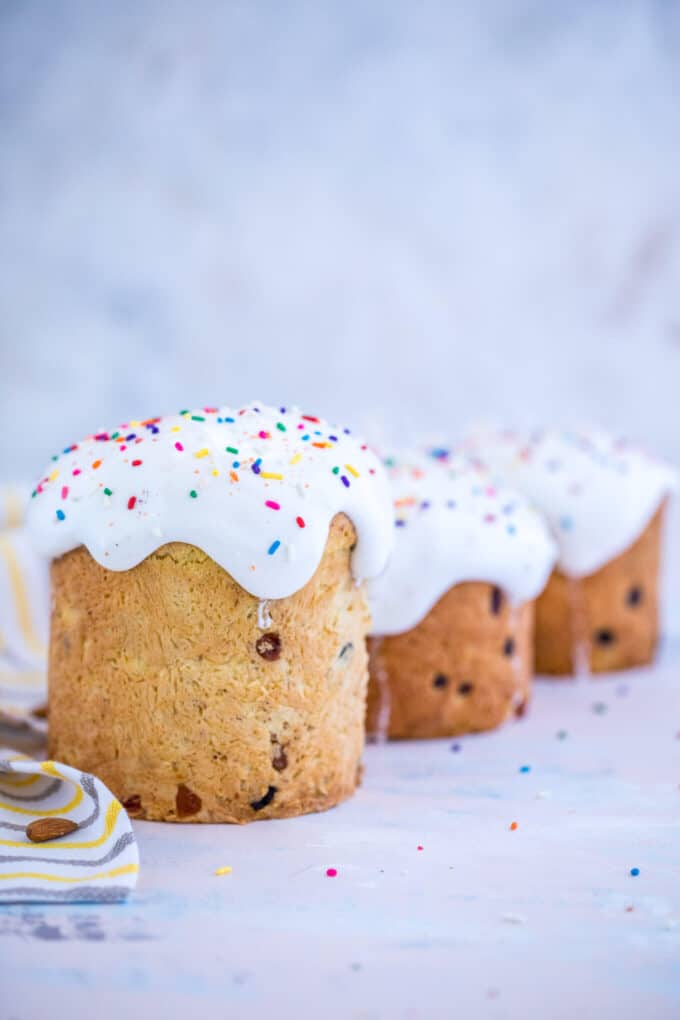 Homemade Easter Paska Bread
Easter Paska originated in Eastern Europe which celebrates the resurrection of Jesus on Easter day. There is a swirl on the inside that represents the resurrection of Christ and everyone enjoys the body of Christ on this day. As a traditional Easter recipe, shops up in Polish tables for many years. But enough about history! Let's get back to food.
I love the sweetness of this dish especially when I put a little slice of butter on top and enjoy it with some kind of tea. I prefer to eat this with black or fruity tea because the flavors taste better. The sweet cream on the top called "Hrudka" is a lovely glaze that sits right on top and melts into the bread.
Because of the number of eggs in the recipe, the flavor and the cake is more dense and rich. It's a family tradition since I can remember, and it is one of the best homemade paska recipes we've made.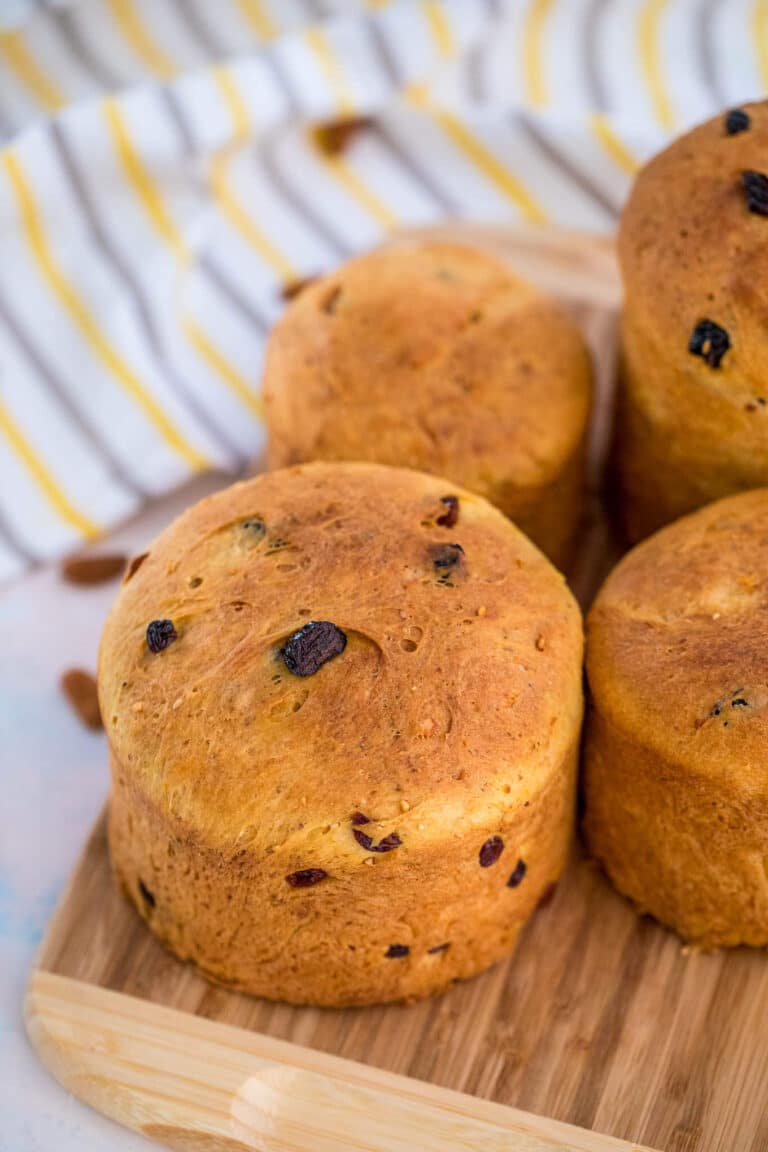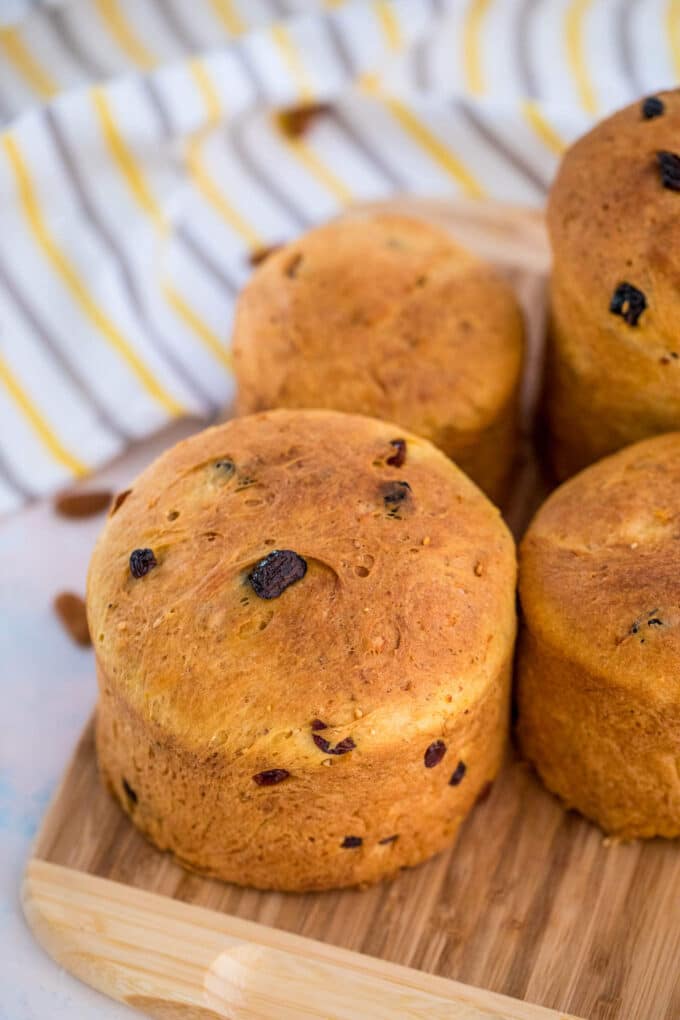 What is Easter paska bread?
It's traditional sweet bread that has a light sugar glaze over the top. It is a bread traditionally served with tea and eaten at the end of an Easter meal.
However, you can enjoy it for breakfast with some savoury eviled eggs as well. It resembles a bit in texture and flavor of the Italian panettone bread, and is super delicious!
Where to buy Polish Easter Paska bread?
You can usually find it during the Easter holiday in many European stores, especially the Eastern European ones. If you have a close-by in a Polish market, there is a good chance they have it during this time of the year. But your best bet is to use this recipe and make it at home!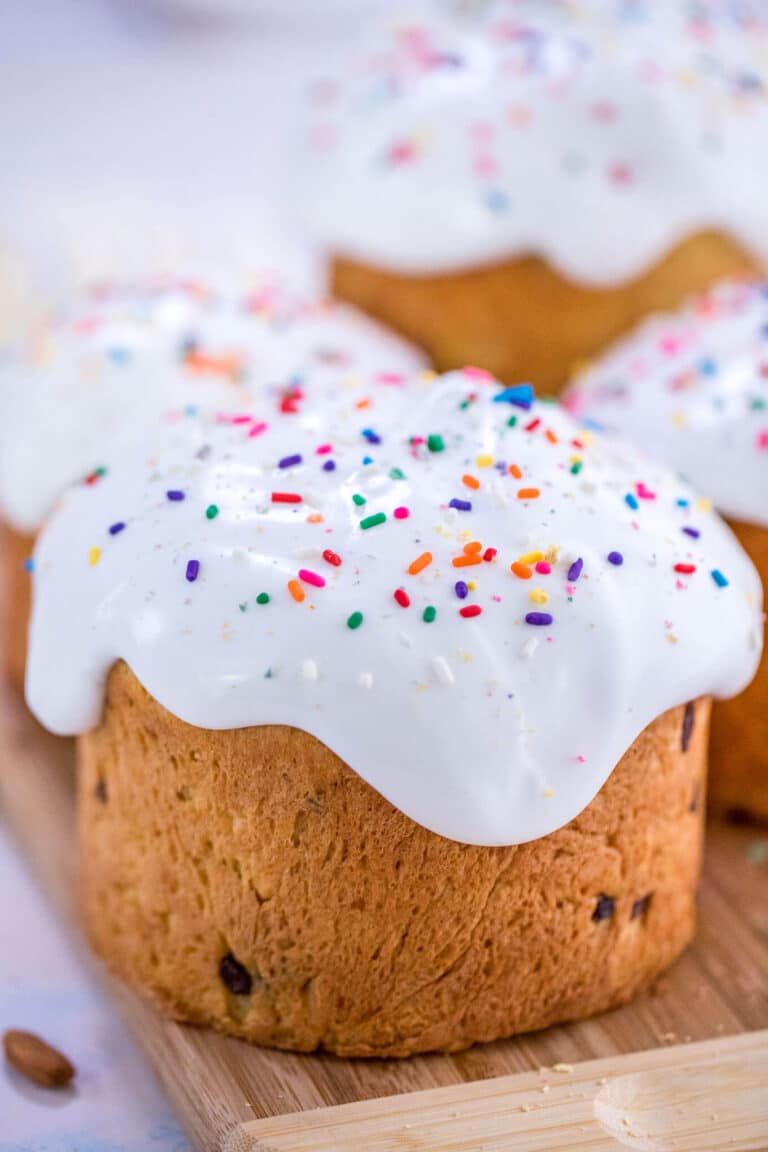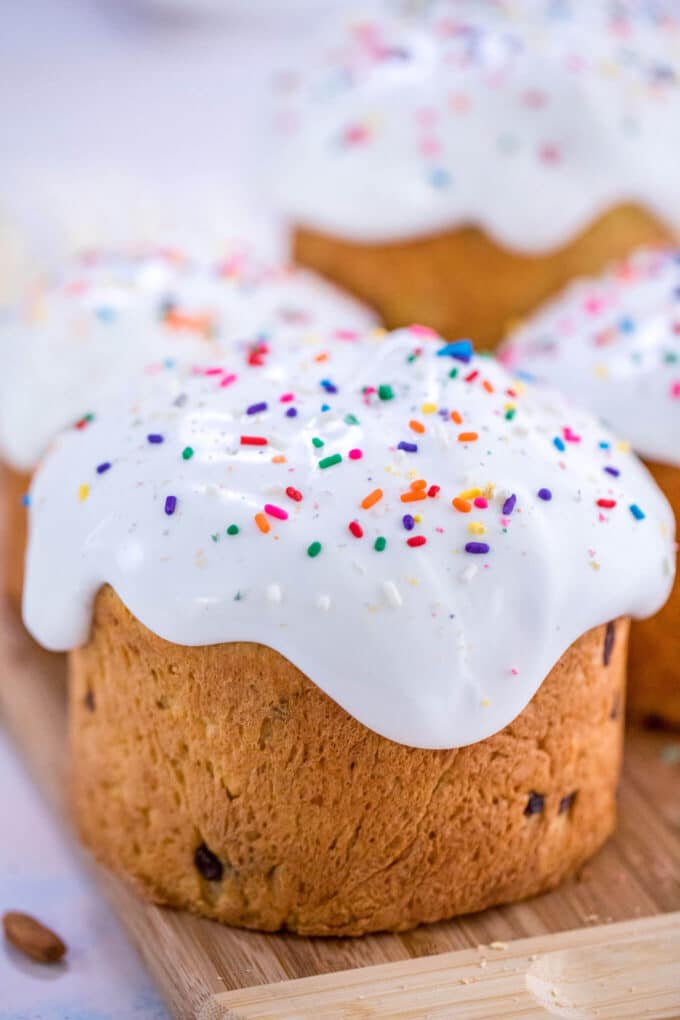 Recipe for Paska bread and baking advices
This totally depends on the size of the paska you are trying to bake. However, for this recipe, follow the below steps:
Preheat the oven to 400 degrees F and brush it with a beaten large egg and two tablespoons of water.
Then, place in the oven and bake it for about 15 minutes.
Reduce temperature to 350 degrees Fahrenheit and bake it an additional 40 minutes, or until golden.
Cover the top of it with aluminum foil so that it does not brown.
Take it out of the oven and turn it onto a wire rack until it is cooled completely.
Is Easter Paska Bread sweet?
Yes. This polish Easter bread is definitely on the sweeter side. It has butter, sugar, eggs, and raisins, which gives it a nice sweet tone to it. However, it is not overly sweet, so you can enjoy it with other meals as well.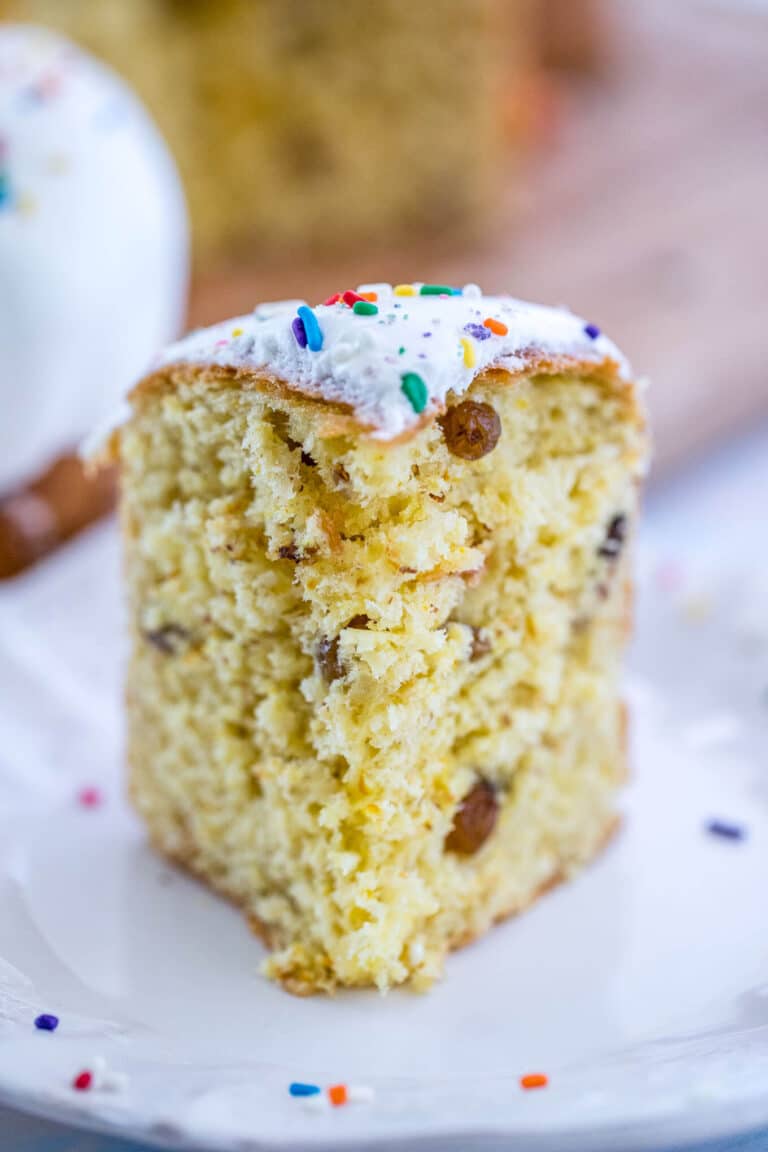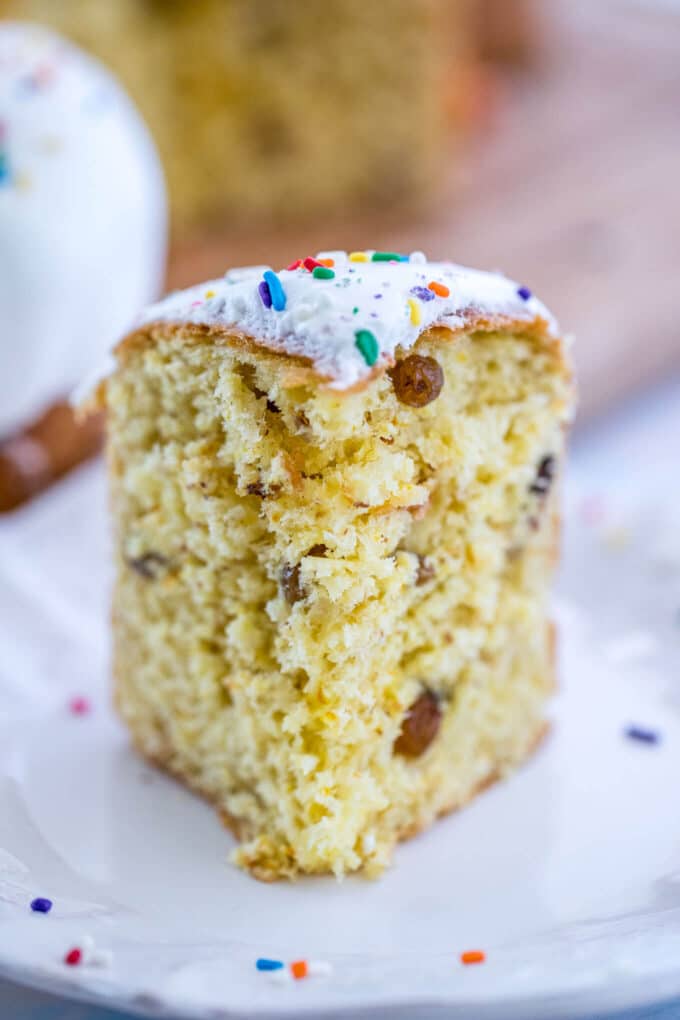 How to decorate the top of easter paska bread?
Braid, cross swirl, rosettes, there are so many ways that you can decorate the paska. Also, by combining 2 cups of powdered sugar and 3 tablespoons of lemon juice together to make a glaze for the top of the paska.
Also, add any sprinkles of your choice to make it fun and Easter themed! If you are a chocolate fan, you could melt some white or black chocolate and glaze the top as well. There are so many ways to top it, just go with what you like, it will taste amazingly delicious.
How Long Does Paska Bread Last?
If kept at room temperature, it will last for up to 3 days. To extend it for a longer time, we recommend wrapping it up and store in a dry place or refrigerate for up to 5-7 days.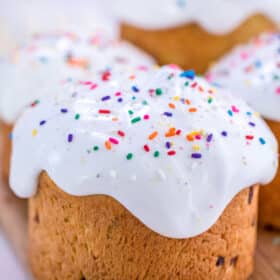 Easter Paska Bread
Easter Paska Bread is a traditional Eastern European recipe that is the perfect sweet addition to your Easter meal. It is easy to make and the perfect dessert.
Save
Share
Print
Pin
Rate
Servings:
4
medium paskas
Ingredients
For the Starter:
1

envelope Instant Yeast

(7 grams)

1

cup

whole milk

(lukewarm)

2

tablespoons

white sugar

1

teaspoon

water

(lukewarm)

1

cup

all-purpose flour
For the Dough:
6

egg yolks

3

egg whites

2/3

cups

white sugar

1

cup

unsalted butter

(room temperature)

2 2/3 - 3

cups

all-purpose flour

zest of two oranges

1

cup

dried fruits

1/2

cup

almonds

(ground)

1

cup

raisins

1

tablespoon

vanilla extract

1/4

teaspoon

salt

1

egg yolk

(for brushing)
Glaze:
1

egg white

1

cup

powdered sugar

1

tablespoon

lemon juice
Instructions
About two hours ahead of time, add raisins to a medium bowl and cover in hot water. Set aside. After two hours, drain and place on paper towels to dry.
For the Starter:
Add yeast and sugar to a large bowl, stir to combine. Pour warm milk and water, stir to combine, melting the sugar.

Start adding the flour, little by little, stirring to incorporate.

Once combined, cover with a clean towel and set aside in a warm place for about 2-3 hours, until the dough is 2-3 times larger.
For the Dough:
Whisk egg yolks with sugar and salt until smooth and creamy.

Separately whisk egg whites until they resemble soft, firm clouds.

Add the egg yolk mixture to the bowl with the dough, gently stir it in. Preferably this should be done using your hands, to make sure you don't over-beat the dough.

Next, add the very softened butter, salt and vanilla, and using your hands or now a mixer with the hook attachment, gently stir in the butter into the dough.

Next, add the egg whites, and slowly beat until fully combined. Add the flour and stir until combined. Knead the dough in the bowl, make it into a ball, cover again with a clean kitchen towel and transfer the bowl to a warm place. Let it rest for 2-3 hours.

Using a food processor ground the almonds, so they almost resemble almond flour.

Add ground almonds, orange zest, dried fruits, and raisins to the dough. Stir well to combine.

Use butter or baking spray to grease the Paska Baking Forms, if desired, cut and add parchment paper inside.

Fill them with dough halfway. Cover with a clean kitchen towel and let them rest for 30-40 minutes, but not longer.
Bake:
Adjust oven rack in the middle or lower in the oven.

Preheat oven to 350 degrees F.

Whisk remaining egg yolk and brush the tops of the Paskas.

Transfer into the oven and bake for 30-45 minutes, a toothpick inserted into the center should come out clean.

Once done baking, transfer to a wire rack and let them fully cool.
Glaze:
Add all the ingredients to a large bowl. Whisk on high speed until firm clouds form.

Distribute the glaze equally over the top of the paskas.

Let the glaze settle and only after that sprinkle with rainbow sprinkles if desired.

Serve and enjoy.
Nutrition
Calories:
1141
kcal
|
Carbohydrates:
128
g
|
Protein:
18
g
|
Fat:
65
g
|
Saturated Fat:
33
g
|
Cholesterol:
466
mg
|
Sodium:
654
mg
|
Potassium:
680
mg
|
Fiber:
6
g
|
Sugar:
73
g
|
Vitamin A:
2050
IU
|
Vitamin C:
3.4
mg
|
Calcium:
224
mg
|
Iron:
4.6
mg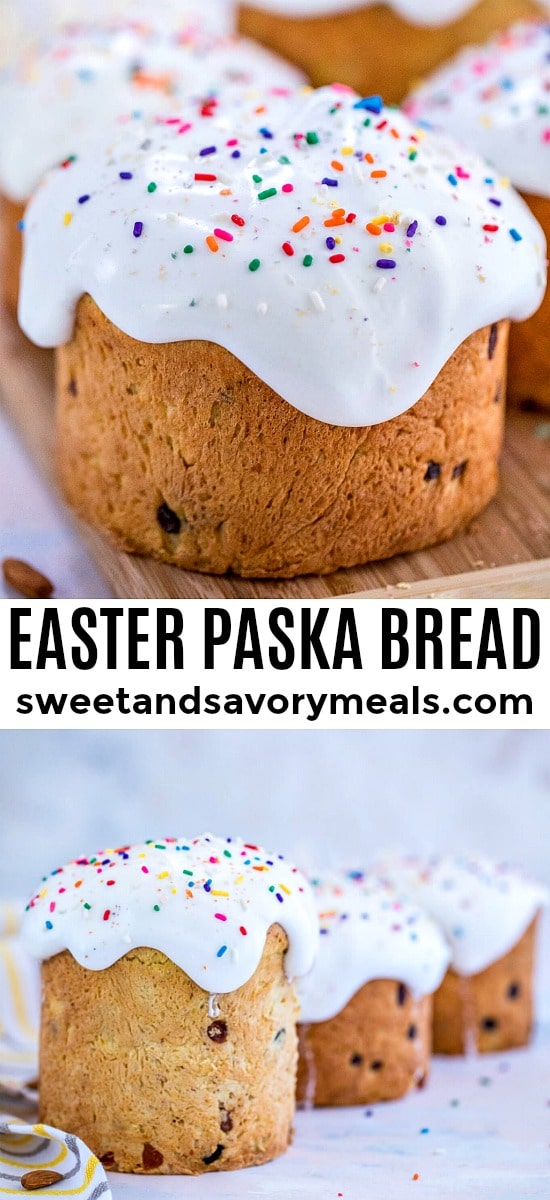 More recipes you might love