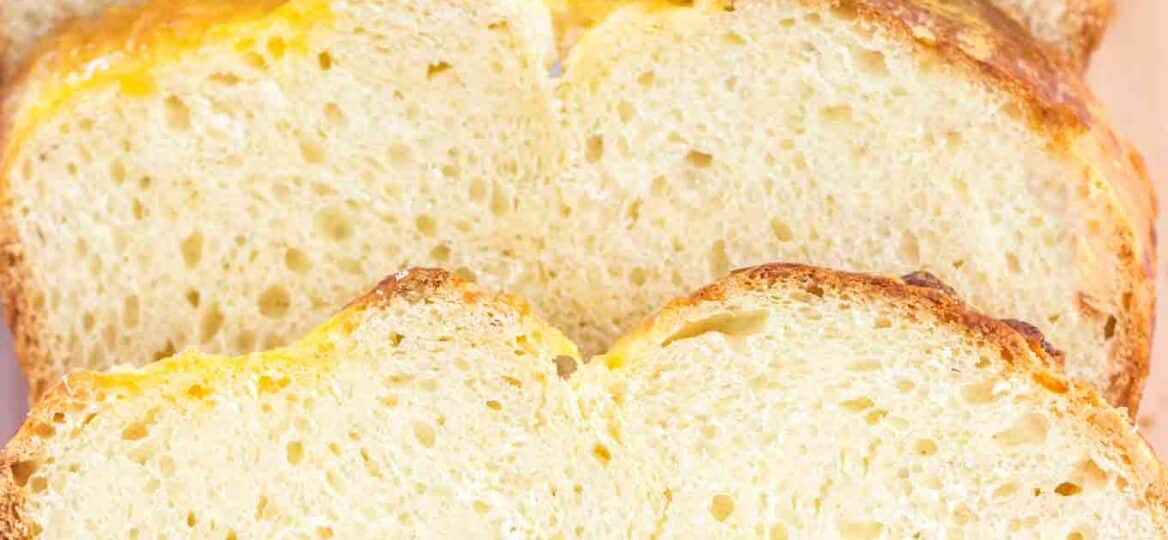 Homemade Brioche Bread [Video]
Homemade Brioche Bread is soft, buttery, and melts in your mouth. The best part is you can braid it in any form you desire. Serve it warm with butter, or make a killer French toast. Also, check out the recipe step by step recipe video below.
We have a variety of puffy and delicious bread on our blog to choose from. On a sweeter side, we have our famous Chocolate Banana Bread and Pumpkin Bread with Cream Cheese Filling. For the dinner option, we recommend trying our Olive Bread and Sun Dried Tomato Mozzarella Bread.
Easy Homemade Brioche Loaf
Last summer we went to South France, and we had the occasion to try the most amazing and delicious local Brioche Bread. After tasting the original version, I was hooked and decided to put the time and effort to reproduce the same taste.
This Homemade Brioche Bread is a version of the French classic Brioche bread, which is deliciously buttery and flavorful. The bread is rich in eggs and butter, which gives it a delightfully tender texture.
We love to use this dough and braid it in our favorite forms. In addition, we have finished the Brioche Bread with some cinnamon sugar topping, to bring the seasonal flavor into it. However, if you are not a fan of cinnamon, you can skip this step, or use some granulated sugar to sprinkle on top.
WHAT IS BRIOCHE?
Brioche is a classic French bread that is made of flour, yeast, with high egg and butter content. Brioche can be shaped in a variety of forms, such as a rectangular loaf, round boule, or in it's most recognizable form a fluted muffin like a roll.
Is brioche bread sweet?
In its traditional form, the Brioche Bread is usually on the sweeter side. Due to high butter and egg content, the bread is very soft and very fine. It also has a golden color after baking, and in some ways, it resembles texture wise the Italian panettone a bit.
HOW TO MAKE HOMEMADE BRIOCHE BREAD
For easy guidelines, watch the recipe video tutorial attached. However, the general steps are as follows:
Prepare the dough:
In a large mixing bowl, add milk, egg, one cup of flour, and yeast. Stir to combine using a wooden spoon. Sprinkle on top the remaining one cup of flour.
Cover and let the mixture sit in a warm place for about 30 minutes. The dough should rise and create cracks on the flour coating.
Attach the bowl to a stand mixer fitted with the hook attachment. Add the sugar, salt, eggs and 1 cup of flour. Mix on low for about 5 minutes and add the remaining 1/2 cup of flour. Also, this dough takes longer than most to develop, increase the mixer speed to medium and let the dough knead for up to 15 to 20 minutes in a stand mixer.
Work the butter with your hands, it should be smooth and soft, but not melted. With the mixer on medium, add the butter little by little and mix until well combined.
Next, place the dough in an oiled bowl and cover the bowl with a towel, or plastic wrap. Let rest and rise for about 1-2 hours. Poke the dough to deflate. After, refrigerate the dough for several hours, or even overnight. This will slow the fermentation and chill the butter, making the dough easier to shape.
Braid together:
Divide the chilled dough into 3 equal buns like pieces. The buns will be braided together to form the brioche. Or when ready to bake just, slice the dough into 2 equal parts.
Divide each ball into 6 smaller balls. Place the balls side-by-side in a greased loaf pan, arrange into 3 short rows, each with two balls of dough.
Then, cover with a towel, and let it rise for 2.5 to 3 hours until it looks very puffy.
Bake:
Place the pan into a preheated 400°F oven. After 10 minutes, reduce the oven heat to 350°F, use an egg wash to brush the bread or some melted butter and bake for about 30 to 35 minutes more.
Brioche should be a deep brown when done, and the internal temperature should read 190°F using an instant-read thermometer.
Once done, remove it from the oven, and let it rest for about 10 minutes.
For cinnamon lovers, we recommend topping the brioche bread with some cinnamon sugar before baking.
How long will the Homemade Brioche Bread last?
The brioche can last at room temperature for up to three days. However, it's best to store it in the fridge, as it will last longer 4-5 days.
You can also FREEZE your brioche for up to 3 months. Simply wrap your baked loaf with plastic wrap and then foil. Then, place it in the fridge for up to 3 months.
Homemade Brioche Bread Recipe Tips:
Since yeast is used making the brioche dough, make sure you allow some time to rest. The dough is ready in about 20 minutes, but most of the time will take waiting for it to rise.
Also, while baking the loaf, try not to open the oven door until a crust is formed and the bread has fully risen and looks golden brown. Because if you open the door, the brioche might fall back flat.
While we recommend topping it with cinnamon sugar or granulated sugar, you can skip this step.
Tools I used to make it: