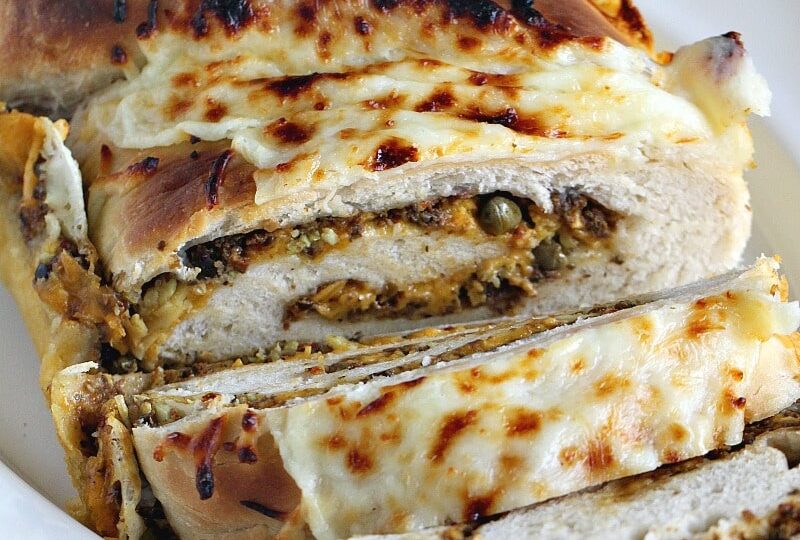 Olive Bread
Olive Bread stuffed with cheddar cheese, black olive bruschetta spread and minced garlic, topped with mozzarella cheese and baked to perfection.
Olive Bread
This Cheddar and Olive Bread is homemade, and is loaded with layers of cheddar cheese. Also, it is stuffed with Black Olive Bruschetta Spread, garlic and topped with melted mozzarella cheese. Now what can be better than homemade fluffy bread that has been stuffed with cheese and topped with extra cheese?!
In addition, the bread can be used as appetizer. It's cheesy, garlicky, fluffy, as well as fabulously delicious. You can eat it as it is, or you can go crazy and make a grilled cheese using it! This Cheddar Cheese Olive Bread is such a great compliment to any meal.
If you never worked with yeast, don't be afraid, the recipe is foolproof, easy to follow and you can even go ahead and use it as your base, changing the stuffings as you like.
Why You'll Love This Olive Bread
Firstly, it is rich and cheese.
Also, easy to find ingredients and minimum prep work and dishes to clean.
Perfect for lunch or dinner, and can be used in variety of ways. For example, to dip in olive oil, or to dip in a Creamy Tomato Soup.
Can be made 1 or 2 days in advance so you don't have to worry in the last minutes.
TIPS FOR THE PERFECT Olive BREAD:
First, try to use freshly chopped garlic, never bottled.
In addition, use quality cheese. This isn't the ingredient to skimp on.
If you like a spicier kick, use some crushed red pepper.
You can use your favorite black olives for this recipe. However, red or green olives will work as fine.
How Long Will Olive Bread Stay Fresh?
The Olive Bread can be stored wrapped in plastic wrap at room temperature for about 4-5 days.
Can You Freeze This Olive Bread?
Absolutely! First, cool the bread completely and fully wrap it in plastic wrap, tightly. After, that wrap in aluminum foil. Freeze for up to 2 months. Defrost before slicing.
If you like homemade bread you should try these:
Sun Dried Tomato Mozzarella Bread