Monte Cristo Grilled Cheese Sandwiches [VIDEO]
Monte Cristo Grilled Cheese Sandwiches are deliciously stuffed with fried ham, bacon, cheese and topped with perfectly runny eggs.
We love good and delicious Ham sandwiches like our popular Cheesy Jalapeno Ham Slider and Bacon Ham Rolls.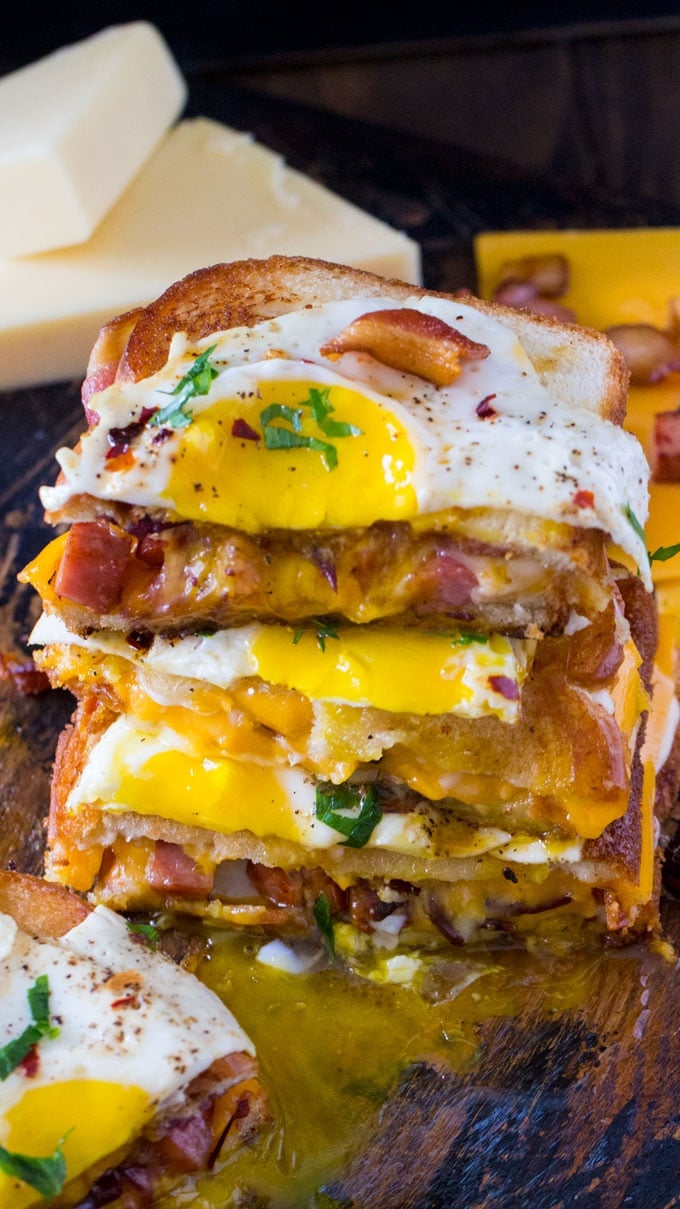 Easy Monte Cristo Grilled Cheese Sandwiches
Monte Cristo Grilled Cheese sandwiches are the ultimate breakfast, lunch or dinner meal that you will want to make over and over again. One single bite will have you run to the kitchen and cook another one.
These sandwiches are made with fried cubed ham and bacon that are placed between two slices of white bread smothered in mayo and a bit of cranberry jam.
Two types of cheese are added: Gruyere and American. The crispy sandwiches are topped with the perfect runny eggs that drip all over the cheesy goodness hidden inside. We can't think of a better "grilled cheese", and hands down, this is our favorite one.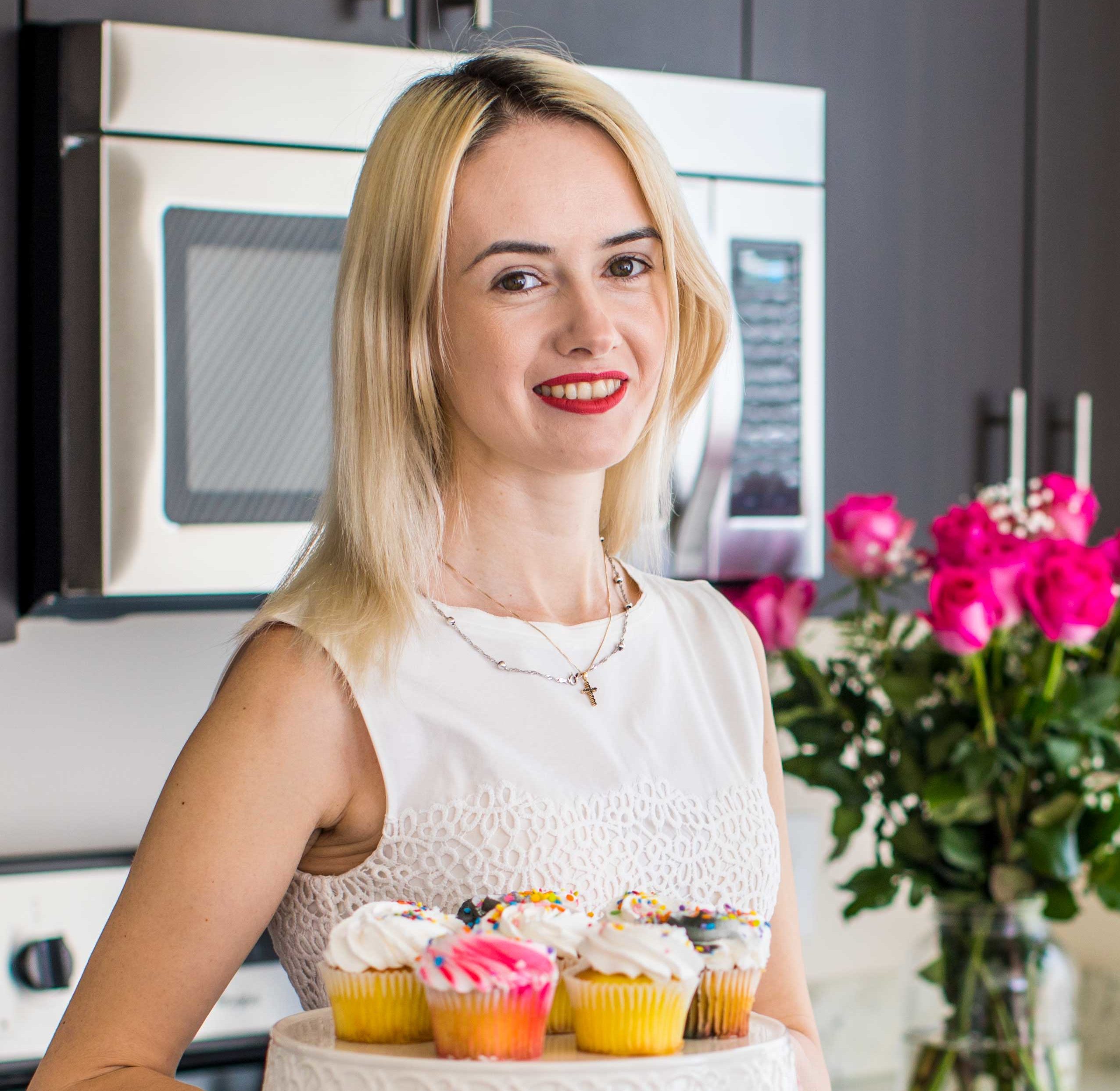 Follow us on Pinterest for more delicious recipes!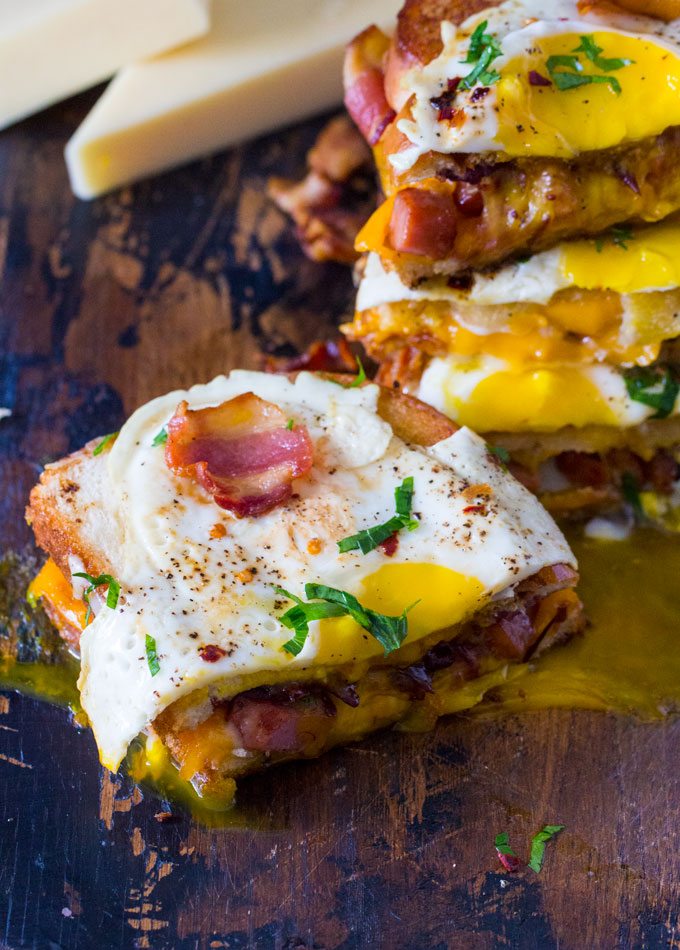 Monte Cristo Grilled Cheese Sandwiches Tips:
I like to use Smithfield anytime cubed ham in this recipe, but you can use sliced ham as well.
Also, I like using gruyere and American cheese. Another great combo is provolone cheese and sharp cheddar or you can go for a spicy cheese.
I used white sandwich bread to make them. However, ciabatta and sourdough also taste amazing in this recipe.
Also, this recipe works well with bread that is slightly older. If your bread is fresh from the store, wait a few days before you use it.
The cranberry spread is optional, but it adds a nice and subtle sweetness and tartness to the sandwich.
Fry the egg over medium, place it inside the sandwiches and pack them for to-go.
You can also make these the night before, but in that case, use bread like sourdough or ciabatta, and you can reheat the sandwiches in the microwave later.
For the best taste, obviously, you should serve the sandwiches immediately with a runny egg on top.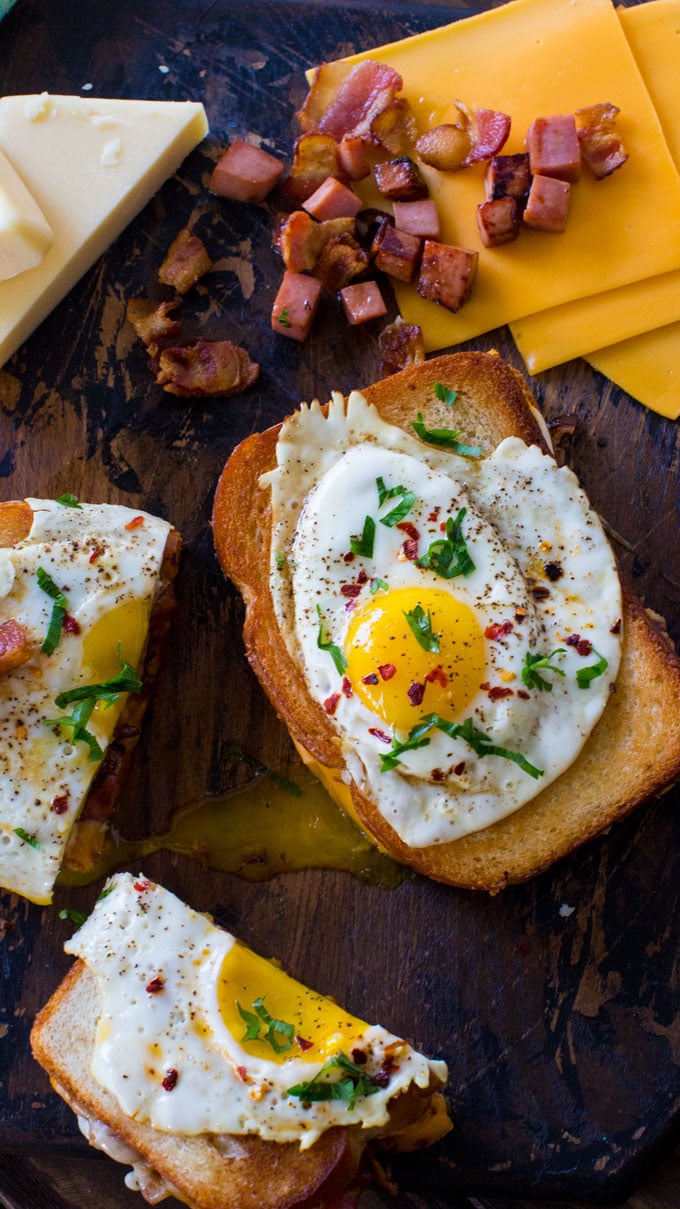 Why do they call it a Monte Cristo sandwich?
It is believed that this sandwich is a variation of a French dish called Croque Monsieur which is very similar. It is basically a grilled cheese sandwich consisting of Gruyere cheese and lean ham.
Then, layered between two slices of crust-less bread, fried in clarified butter and made in a special grilling iron with two metal plates.
MORE BRUNCH RECIPES:
Monte Cristo Grilled Cheese Sandwiches Recipe Video:
Save Recipe
Monte Cristo Grilled Cheese Sandwiches
Author: Catalina Castravet
Serves: 4 servings
Prep time:

10

minutes
Cook time:

15

minutes
Total time:

25

mins
Ingredients
1 pack cubed ham
6 slices bacon (cut into 1 inch pieces)
1 tablespoon unsalted butter
4 slices white sandwich bread
2 tablespoons mayo
2 tablespoons cranberry jam (optional)
6 slices American cheese
1/2 cup gruyere cheese (shredded )
2 large eggs
salt and pepper
Garnish:
1/2 teaspoon red pepper flakes
1 teaspoon fresh parsley (chopped)
Instructions
Place a cast iron skillet over high heat. Once the skillet is hot, add the sliced bacon and cook, stirring occasionally until golden and crisp. Remove from skillet and set aside.
Note: you don't have to add any oil to the skillet, the bacon releases its own fat and it will cook in it. If you are NOT using bacon when making this recipe, add 1 tablespoon of canola oil to the skillet, before adding the ham.
Discard half the bacon fat and add the cubed ham to the skillet. If the ham has some water from the packaging, use paper towels to absorb it. Otherwise it will make cooking very messy when added to the hot bacon fat. You can also discard the bacon fat completely and cook the ham in 1 tablespoon of canola oil. Cook for about 4-5 minutes. Remove from skillet and set aside.
Discard the remaining bacon fat (if used), wipe the cast iron skillet clean. Place it back on the stove, on medium heat.
Smoother two slices of bread with mayo on one side only and set aside.
Smoother two slices of bread with cranberry jam on one side only and set aside.
Once the skillet is hot, add 1 tablespoon of butter and melt it.
Add one slice of bread that was topped with mayo to the skillet, mayo side up.
Top with 3 slices of American cheese, followed by about 1/4 cup of cooked ham and 1/4 cup of cooked bacon. Top with 1/4 cup of shredded gruyere cheese.
Top with a slice of bread that was smothered with cranberry jam, cranberry jam side down.
Press the sandwich slightly. Cook for a few minutes, careful not to burn.
Gently flip on the other side and cook for a few more minutes. Pressing slightly.
You can also cook the sandwiches on the griddle.
Remove the sandwich from the skillet, and crack an egg onto the hot skillet. Season with salt and pepper. Fry for about 2 minutes, the yolk should be runny, while the white cooked. Watch the egg closely so you cook it to the desired consistency.
Place the sandwich on a plate, top it with the runny egg.
Garnish with red pepper flakes and fresh, chopped parsley.
Serve immediately and enjoy!
0 Calories: 481 Carbohydrates: 17 Protein: 20 Fat: 36 Saturated Fat: 14 Cholesterol: 156 Sodium: 1009 Potassium: 179 Fiber: 0 Sugar: 5 Vitamin A: 645 Calcium: 578 Iron: 1.6
Save Recipe
More recipes you might love