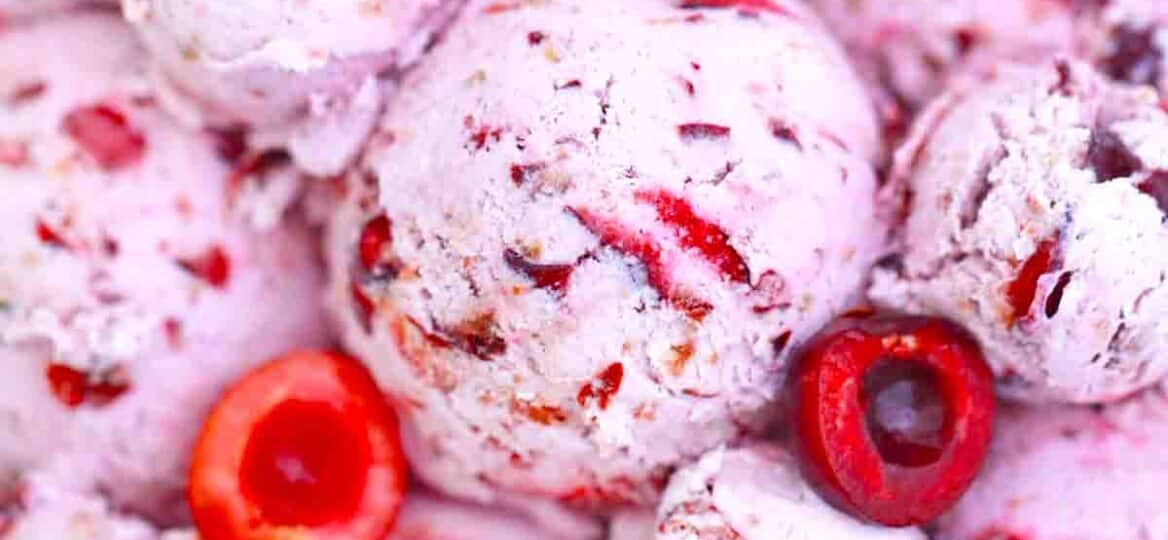 No Churn Cherry Ice Cream Recipe [Video]
No Churn Cherry Ice Cream is easy to make with just a few ingredients, light, fruity, creamy, zesty, and incredible refreshing. All you need is some cherries, sweetened condensed milk, heavy cream, powdered sugar, and lime. The best part is that you do not even need an ice cream maker.
Looking for some other ice cream recipes? Try our sensational and tangy No-Churn Pineapple Ice Cream made with canned pineapple, sweetened condensed milk, and heavy whipping cream. Our No-Bake Chocolate Cheesecake is also easy and delicious with cream cheese, dark chocolate, and cocoa powder.
Remember the old-fashioned ice cream maker you had to churn by hand? That kind of took the fun out of ice cream because it was so difficult and time-consuming. With this recipe, you let your mixer do the churning and then pop it into the freezer for a few hours. Then you and the family can enjoy thick, creamy ice cream any time you want.
Our homemade ice cream is perfect for summer days or any time of year that you are in the mood for some kind of fresh sweet dessert cuisine. No-churn ice cream is simple and fast with just a few minutes of prep time. You do not need an ice cream machine for this delicious dish either. Just a mixer.
Cherry is one of my favorite ice cream flavors so this recipe is special to me. But you can always change it to your own special favorite. Another great no-churn ice cream is this Haagen Daz caramel cone ice cream with chunks of chocolate-dipped cones mixed in.
Or you can enjoy these cherry bars with fresh cherry filling and a vanilla glaze. And also you don't have to wait until Christmas to enjoy these Candy Cane Raspberry Dessert Shots!
Ingredients needed:
You will need just a handful of simple ingredients for this no-churn cherry ice cream recipe. For precise measurements and step-by-step directions, scroll down to our recipe card at the bottom of this page.
Chopped cherries
Fresh or frozen cherries: Pitted.
Cherry juice: From the frozen cherries or made fresh.
Sweetened condensed milk: Not evaporated milk.
Heavy cream: Or whipped cream.
Powdered sugar: Confectioners' sugar.
Zest of 1 lime
Juice of 1 lime
How to make No churn cherry ice cream from scratch?
Thaw the frozen cherries: To begin, put cherries in a large bowl and let them thaw for about two hours, and chill the sweetened condensed milk.
Drain the cherries: After the cherries have thawed out completely, drain them and put the juice aside.
Purée the cherries: Next, use a blender or food processor to churn your thawed cherries on medium-high speed until it is thick and smooth with some lumps. You want to have some chunky texture.
Whip the cream: Then, use a hand mixer to whip the cream until stiff peaks form, and then carefully add the powdered sugar.
Combine it all: After, combine the sweetened condensed milk with the fresh cherries, lime zest, lime juice, cherry juice, and the cherry purée. Fold in the whipped cream carefully.
Freeze: Lastly, pour the mixture into a freezer-safe container and let it freeze for about five or six hours.
Serve: Finally, remove from the freezer and serve your delicious homemade ice cream.
Recipe variations:
Ice cream flavor: If it is not cherry season or you are just not in the mood for cherries, you can use other fruit like peaches or pineapples. Or you can mix them all together for a mixed fruit ice cream.
Chocolate cherry ice cream: Add chocolate chips to the ice cream base just before freezing.
Chocolate chunks: Instead of chocolate chips, you could also use chocolate chunks for an extra chocolatey flavor.
Vanilla ice cream: You can easily make vanilla ice cream by leaving out the cherries and adding one teaspoon of vanilla extract to the ice cream base.
Extra cherry flavor: If you want more cherry flavor, add a teaspoon of cherry extract or cherry sauce to your condensed milk mixture.
Almond extract: For a deliciously different flavor, toss in 1/2 teaspoon of almond extract.
No heavy whipping cream: No heavy whipping cream in your fridge? Try making your own by mixing 1/8 cup of melted butter with 7/8 cup of half-and-half.
Black cherries: Use black cherries instead of regular to make black cherry ice cream.
Boozy cherry ice cream: Make boozy cherry ice cream by adding 1/4 cup of dark rum or bourbon.
How to serve:
This creamy homemade ice cream can be served alone in a bowl or in an ice cream cone. It is so delicious, everyone will be asking for seconds so you may want to make extra. Here are some terrific serving ideas you may want to try:
Add a dollop of homemade whipped cream and a cherry to the top of your ice cream for an extra creamy treat.
This homemade ice cream goes great on top of a warm slice of cherry pie.
Scoop a heaping serving of our homemade cherry pie filling on top for extra cherry flavor.
Some other fun toppings you can use include chopped nuts, rainbow sprinkles, or shredded coconut.
A spoonful of our blueberry sauce would also be a great topping.
This delicious ice cream is even better if you sprinkle some crushed graham crackers or another type of cookie on top. Oreo cookies would be amazing.
Frequently asked questions
Can I use canned cherries for this recipe?
Absolutely. But you may want to chill them first, so they do not get all soggy when mixing. Try using canned red tart or sour cherries for sweet and sour ice cream. One thing though, you do not have to mix these as much as the fresh or frozen cherries or they will turn to mush.
How do I make my own sweetened condensed milk?
No sweetened condensed milk in your cabinet? Make your own with just a few ingredients. Mix two cups of whole milk with 3/4 cup sugar, four tablespoons of butter, and one teaspoon of vanilla extract. Cook in a medium saucepan over medium-low heat for about 30 minutes.
Alternatively, mix a can of evaporated milk with 1 1/2 cups of sugar in a medium saucepan over medium heat. Bring it to a boil and simmer, stirring constantly until it is thick. Either way, you make it, you will be happy with the results.
Is it okay to refreeze ice cream after it melts?
If the ice cream is only partially melted, you can just put it back in the freezer to refreeze. Remember to put a piece of plastic wrap or parchment paper over the ice cream before putting the lid back on. However, if your homemade ice cream has been sitting out at room temperature for a long time, it is not safe to eat.
What is the nutrition information for this ice cream recipe?
In one serving, this ice cream has about 130 calories, 9 grams of fat, 11 grams of carbs, and 34 milligrams of cholesterol. But it also has 400 units of vitamin A and 63 milligrams of calcium.
This is a treat so you can go ahead and eat it without feeling guilty as long as you do not eat it every day. You can use low-fat milk and sugar substitute, but it will not be the same.
How to store leftovers:
Cover: Put ice cream into a freezer-safe container and add a layer of plastic wrap on top before covering. If you used a loaf pan, cover it with aluminum foil to prevent ice crystals.
Store: Store ice cream in the freezer for up to six weeks.
More no-bake dessert recipes:
No churn cherry ice cream making tips:
Place a layer of plastic wrap or parchment paper between the ice cream and the lid to keep it from getting ice crystals or freezer burn.
To make scooping your ice cream easier, dip your scoop into hot water before every scoop.
Let the ice cream thaw for about 10 to 15 minutes in the fridge before scooping for the creamiest ice cream.
Make sure you have pitted cherries. You do not want anyone choking on a cherry pit.
You can use just about any plastic container for this but make sure you put the layer of plastic wrap right on top of the ice cream to keep out the air.
Freezing time may vary depending on your freezer.
Go ahead and add some more sugar to the ice cream base if you think it is not sweet enough.
No-Churn Cherry Ice Cream
Ingredients
12

oz

cherries

frozen or fresh, pitted

1/2

cup

cherries

frozen or fresh, chopped

14

oz

can sweetened condensed milk

chilled

1/3

cup

cherry juice

store-bought or made from fresh

1

lime

juiced

1

lime

zested

1 1/2

cups

whipping cream

3

tablespoons

powdered sugar
Instructions
Add the 12oz of cherries to a medium-sized bowl and allow to thaw if you are using frozen cherries. It will take about 2 hours for them to thaw.

Drain the cherries and reserve the juice.

Add the 12oz of cherries to a blender and puree, leaving in some chunks.

Combine the cream with the powdered sugar and whip until it holds its shape.

Fold the whipped cream into the cherry purée, add the cherry juice, lime juice and zest, and 1/2 cup of chopped cherries. Add the condensed milk and stir well to combine.

Pour the mixture into an 8x8 dish, cover with a lid and freeze for at least 5 hours or overnight.

Remove from the freezer, and let it stand at room temperature for 15 -20 minutes before serving.
Deliciousness to your inbox
Enjoy weekly hand picked recipes and recommendations